Hook. Line. Sinker.
Remember when you first saw these code names describing the block set for release in 2012 and 2013? I do because most code names don't have any inherent connotation but these did. They implied that the Magic community would love it so much that making us want the product would be like shooting fish in a barrel making us want to snap up packs boxes and cases like dangling a wriggling Lure in front of an Island Fish Jasconius.
'Shake Rattle Roll' (Scars block) denotes some excitement sure like 'Blood Sweat Tears' (2015-16) does but not on the magnitude of H-L-S. 'Bacon Lettuce Tomato' (original Mirrodin) and ' Peanut Butter Jelly Doughnut' (Lorwyn-Shadowmoor superblock) just sound delicious. 'Friends Romans Countrymen' (2013-14) doesn't necessarily imply a Caesar themed block next year just as 'Huey Dewey Louie' (2014-15) doesn't mean Tribal Ducks are on the horizon the year after (though a legendary Gordon Bombay would make a kickin' #CMDR). But when you hear 'Hook Line and Sinker' you expect to be enthralled by whatever that three-word phrase is describing. That description sets you up to be impressed. That block had better be pretty popular.
As popular as Ravnica perhaps?
Original Ravnica was nicknamed 'Ctrl Alt Delete' for those of you interested but no one knew how popular it would be until it came out. The City of Guilds struck a chord with the public and they've been trying to recapture the Magic (pun intended) ever since. Well they got it right this time. Magic is more popular now more than ever. But even so code names don't last forever so eventually we'd learn the true identity of the third set after #MTGRTR and #MTGGTC.
Until this Monday we didn't know the name for the third set in the Return to Ravnica block but now we do: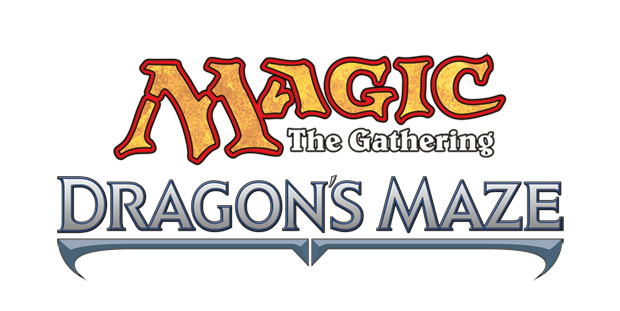 The third set in RTR block is Dragon's Maze and as soon as Twitter got word people were caught hook line andwell
Actually there was some controversy about the fanciful set name. Here's what Twitter had to say about #MTGDGM:
Announcing Dragon's Maze! #MTGDGM bit.ly/QAuvee

— Magic: The Gathering (@wizards_magic) November 12 2012
#MTGDGM Dragon's Maze is the name of "Sinker" It really leaves a bit to be desired but we'll see soon enough.

— Rob R. (@BorImmortal) November 12 2012
The next set is really called "Dragon's Maze?"Oooookay.

— Brian Kibler (@bmkibler) November 12 2012
Dragon's Maze eh? Sounds like one of those bad anti-D&D films from the 80s.

— Charlotte Sable (@JqlGirl) November 12 2012
I cant say I like the set name "Dragon's Maze" very much. Sounds more like a junk rare than a set name.

— Brian Braun-Duin (@BraunDuinIt) November 12 2012
3 months ago; "Gatecrash is my least favorite Magic set name of all time". Last night; "Never mind."

— Justin Treadway (@GriffnValentine) November 12 2012
I don't like it but it could have been worse. Remember Nicol Bolas hangs out in a place called "Pools of Becoming". #awkward #MTGDGM

— Elliot Scott (@Hackworth) November 12 2012
I have no problem with "Sinker" being Dragon's Maze except for all the ridiculous times people will say Pro Tour Dragon's Maze. #MTGDGM

— Simon Irving (@PretzelSimon) November 12 2012
I have no issue with this new set name

— Joel Niddrie (@JoelNiddrie) November 12 2012
Yes the announcement of Dragon's Maze confirms the second Ravnica block is also RGD. #maybeintentional #maybenot #notactuallysure

— Matt Tabak (@TabakRules) November 12 2012
Dragon's Maze hmmmm? Cant wait to see Maze of Bolas: tap remove target player from the game

— Thomas (@HobbesQ) November 12 2012
#mtgdgm troubles me because it's name seems to imply a thematic Dragon element. On top of ten guilds. How can it be anything but a mess?

— Nicholas Grayson (@WUBRG) November 12 2012
"Does Dragon's Maze have dragons?!" all damn day. Really? Did you READ the title?!

— Gerry Thompson's Ego (@Gerry_Ts_Ego) November 12 2012
Excited for my first Magic design lead- Dragon's Maze! #MTGDGM wizards.com/Magic/Magazine

— Alexis Janson (@AlexisJanson) November 12 2012
Congratulations to @alexisjanson on Dragon's Maze her first Magic set lead! #MTGDGM

— Ethan Fleischer (@EthanFleischer) November 12 2012
I worked on a Magic set! wizards.com/Magic/Magazine

— samstod (@samstod) November 12 2012
Very excited to see @alexisjanson lead a design along with @zdch lead developing. Should be SOOO sweet. #MTGDGM

— Evan Erwin (@misterorange) November 12 2012
The invisible ink in today's announcement of Dragon's Maze: "Editing Lead: Kelly Digges." Glad to have him back in R&D! #MTGDGM

— Del Laugel (@dlaugel) November 12 2012
Dude You're Getting a Maze! #OtherDGMNames

— MTG Color Pie (@mtgcolorpie) November 12 2012
I tried to get brand to go for Dragon's Maize but it didn't end up working out. It would have been the perfect set for husker knights!

— Gavin Verhey (@GavinVerhey) November 12 2012
Dragons Mise

— paul jordan (@famousPJ) November 12 2012
Ok I saw the term "Dragon's Maze" with an exclamation point after it and read "Dragon's Mazel"here's what mazel means chabad.org/library/articl

— Adrienne Reynolds (@DreamtimeDrinne) November 12 2012
I'm not the first one to say that #MTGDGM is going to be "amazing" right? RIGHT?

— Joe Spanier (@FoundOmega) November 12 2012
The other big news recently was the most read article in the history of Magic! Well there was a lot of fun on Twitter about it anyway. Wild and fantastic predictions flew and there were some great onesa lot of them. In fact in Roanoke #SCGSpeculation was the third highest trending topic in the hours before the announcement of the new website redesign was made! Feel free to peruse them for yourself but I'll just pick a nice self-referential Tweet for this episode:
Scg announces that the next sweet tweets is about all the funny speculation guesses there were #scgspeculation

— Ben Clinton (@benc86) November 1 2012
We're not gonna Tweet it! No we ain't gonna Tweet it! We're not gonna Tweet it anymore!
Coverage Coordinator and Twitter Admiral for StarCityGames.com
Listen to the @InContention podcast! It's the official podcast of the StarCityGames.com Open Series with @kstube @affinityforblue and myself. Listen in at InContentionMagic.com. Our most recent episode My Two Centennials can be found here.