Modern hasn't gotten a lot of attention since the Modern PTQ season ended and I didn't really follow it much even then. Modern is going to be very important to high-level competitive Magic soon thanks to the Players Championship and Pro Tour Return to Ravnica but lately it's been on the back burner for everyone.
Without playing any games building any decks or looking at any results I was pretty sure Restoration Angel would be a game changer for Modern and one of the things I was most sure of for PT Return to Ravnica was that I wanted to explore decks that use it. I feel like I was probably in the right track since the card showed up in half the decks in the Top 8 of its first high-level Modern tournament Grand Prix Yokohama.
So far the card has only seen play in Pod decks where it serves as both a combo piece with Kiki-Jiki and a value card with…everything. But I think it has applications in more decks most notably blue/white where it will be played just for value without the combo finish.
The Top 8 contained four Pod decks Jund Faeries Affinity and W/B Tokens. That shows a pretty clear best archetype but I'm not sure if that will hold true moving forward. Four players in the Top 8 specifically mentioned Storm as their bad matchup and Birthing Pod is obviously very vulnerable to Grafdigger's Cage a card that should possibly be more popular than it is in Modern sideboards.
W/B Tokens won the event and the list is very interesting.
Creatures (10)
Lands (24)
Spells (26)
Auriok Champion is an unusual choice but it's almost impossible for red decks to beat in this deck and buys a lot of time against creature decks that don't go infinite with Kiki-Jiki.
The deck's basic game plan is to beat creature decks by having more of them and to beat discard by having seven maindeck discard spells.
The most surprising thing to me is how conservative this deck was with its Anthems. It only plays four total "Crusades" splitting Intangible Virtue and Honor of the Pure but it cleverly supplements them with Zealous Persecution an extremely powerful card that I don't think has ever fully gotten the respect it deserves. Hero of Bladehold also helps out here.
The sideboard is also excellent. Kataki and Stony Silence are great against Affinity Aven Mindcensor and Grafdigger's Cage are for Pod Nevermore against combo (supplementing discard which also tells you what to name) Champion and Persecution are for small creatures Dismember comes in against bigger creatures or creature based combo and Timely and Auriok Champion are for aggro. I'm not an expert but it looks well rounded and powerful.
The cards I'm most skeptical about are Hero of Bladehold and Cloudgoat Ranger but the discard makes them look a lot better. If you can cheaply trade one for one with your opponent's answers being able to drop a game ending threat looks a lot better. Having these big finishers also allows the deck to move away from Anthems which makes it easier to win with a single card (neither Anthems nor Raise the Alarms can really win a game on their own) something you want to do after several one for ones.
The tokens in general also help with card advantage. It looks a little odd to play Hero because it "turns on" removal spells that would otherwise just kill meaningless tokens but really this just makes it harder for opponents to sideboard against you. This is because they need to be prepared for a very threatening attack from a slightly different angle but one that still synergizes with the other cards in the deck.
Having put a little work into dedicated token decks in Modern a long time ago I'm very impressed with where this one ended up.
It beat Faeries in the finals:
Creatures (18)
Lands (25)
Spells (17)
Oddly enough I have my reservations about this deck. I like how disruptive it is in a format where combo can be very good but I'm not really surprised that it lost to a deck with access to four Zealous Persecutions.
I like the noncreature spells in this deck quite a bit. I'm very skeptical of Scion of Oona without Bitterblossom. The problem that Scion of Oona addresses is that without Bitterblossom you don't have critical mass of Faeries to be able to play Mistbind Clique so you have to find additional Faerie cards to play to support your tribal synergies but eight three-mana creatures in addition to three three-mana artifacts feels pretty off to me. I love blue creatures with flash but it's hard for me to believe that you wouldn't just be better off with Snapcaster Mage and Restoration Angel as your flash creatures in a deck that tries to play out similarly to this otherwise.
If Vedalken Shackles is amazing (which it is) this deck is pretty good. I just hate relying on a five-mana artifact.
I love that this deck has access to Disrupting Shoal. I wish it had a lot more access to Jace Beleren. I also wonder if the deck should play one of each of the Ravnica Island duals to help the three Engineered Explosives in the sideboard of if they just never come in against decks where you'd want to play them for something other than one or zero.
The Affinity and Jund decks look very traditional to me and really don't interest me at all in terms of considering their exact card choices. They're decks that I don't have a lot of experience with I'd be unlikely to ever play and I wouldn't have much of an idea about how they should be built.
I think there's a lot more going on with the Birthing Pod decks and since it seems to be the premiere deck of the format for now it's worth looking at and understanding what it does and why what its options and points of divergence are and why one might want to go one way over another.
First of all all the Pod decks have access to a combo finish. It's so easy that I don't know why you wouldn't want some ability to win immediately. As the card pool grows we get more options for different ways to combo finish a game so Pod is now divided into Melira or Kiki-Jiki or more accurately Melira or not with both having Kiki-Jiki.
Really I don't think these should be viewed as the two different successful strands of Pod decks that exist though; I think there are two pairs of decks that players worked on together or got from the same source. It's interesting that each of these designs was able to put two players into the Top 8 but I mostly see that as evidence that Angel Pod is a very strong archetype that still needs to be refined.
Let's consider their points of similarity.
All four decks play:
23 Lands
4 Birds of Paradise
4 Wall of Roots
4 Kitchen Finks
4 Birthing Pod
3 Chord of Calling
2 Restoration Angel
1 Murderous Redcap
1 Eternal Witness
1 Spellskite
1 Kiki-Jiki Mirror Breaker
That's 48 cards in common so the last twelve spots are undecided.
The two decks without Melira add:
and either:
Linvala Keeper of Silence
or:
The Melira decks add:
and either:
or:
Among the Melira decks the primary divergence is whether to splash red for Huntmaster of the Fells staying mostly three-color or whether to support a blue splash for Phantasmal Image and Body Double. Not splashing makes the mana better and commits slightly more to the Kiki-Jiki combo; splashing opens up Reveillark / Body Double as a third infinite combo.
My hunch without having played any of these decks is that Melira is easier to disrupt and you just want to be able to combo kill people sometimes. It's probably better not to split the deck and to just focus on the Kiki-Jiki combo; on the other hand I don't necessarily love drawing a bunch of Kiki-Jikis.
Phantasmal Image is a very good card and I like the idea of the blue splash but without Melira Reveillark might not be worth playing which means Body Double definitely wouldn't be. And when you already have Phyrexian Metamorph I'm not sure how important Phantasmal Image is.
I don't like Huntmaster of the Fells as a maindeck card. It feels very low impact in this format. I expect Birthing Pod decks will almost all have four Restoration Angels as the format progresses.
Looking at this Top 8 if I'm going to play one of these archetypes I'd be most excited about B/W Tokens. I expect a lot Grafdigger's Cages and Aven Mindcensors in the format moving forward so I'd prefer to stay away from Birthing Pod.
Outside of that Storm could certainly be very well positioned. Looking through the Top 8 there are shockingly few dedicated hate cards for Storm mostly just Chord targets. I'm honestly confused as to how it didn't make a showing with that little hate around but I'm only looking at the Top 8 so it may have had good finishes or it may be that other decks hated it out. Still if the future replicates the present rather than moving to the next step and preparing for the expected evolution I think Storm would be awesome.
All in all Modern looks like a sweet format that still has a lot of room to grow. It's too bad it won't be showcased much for a little while but I expect Pro Tour Return to Ravnica to be very interesting.
On a different note ballots went out for the Hall of Fame today (at the time I'm writing this) so I've been thinking about that. The number of excellent candidates is huge and includes three people that I (and many others) consider to be solid locks. Those three are Paulo Vitor Damo da Rosa Kenji Tsumura and Masashi Oiso. I think more people are sure about Paulo and Kenji and I'm a little worried about Masashi.
There are several great candidates for the last two slots and I don't have a strong opinion about who they should be yet but I wanted to share exactly why I'm voting for Oiso outside of his (very impressive) stats.
The first time I played against him was at Pro Tour Kuala Lumpur. I won the match but I'd never felt as outclassed as a player while playing against him. I can't describe why I felt that was but it was just very clear that he was on a different level.
I tell people Oiso's great because he made me mana burn for eight.
Story time!
I was playing Mono-Red Elementals in Lorwyn Draft and had Soulbright Flamekin Flamekin Brawler and six Mountains. In response to my activating Soulbright Flamekin the third time he killed my Flamekin Brawler and then blocked my Soulbright Flamekin to trade with it. After combat damage happened he said "Mana burn for eight?"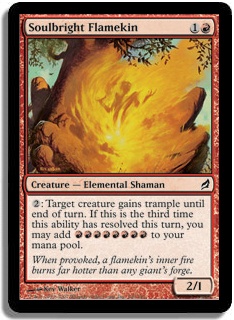 He had cleverly removed my Brawler before I spent my eight mana to increase his power and killed my Soulbright Flamekin so that I no longer had a mana sink then asked about my unused mana.
Now Soulbright Flamekin says "You may add RRRRRRRR to your mana pool" so I simply could have declined that ability and I don't believe I said one way or the other if I was using it. Oiso just asked if I had without pointing out that it was an option after sculpting a board where I couldn't spend it and I fell for it. You could argue that his play was bad—he didn't make me waste the mana and instead would have let me use it on something else if I'd had something else to use it on. I could have just not added the mana since I couldn't use it but he saw the potential payoff saw that it was worth the risk and knew to go for it.
Yes I'm stupid. I burned for eight for no reason but that wouldn't have happened against almost anyone else—he had to have seen the opportunity to put me in this position and have figured out how to make me do it. Even more he had bothered to do it even in a game where he had no pressure and I was at twenty. That was the only damage I took that game. This wasn't a desperate last-ditch effort; he just knew that getting in free damage could help in a game where he needed something.
Later in Worlds in 2008 he was my only loss in Standard. We were both playing Faeries and he went undefeated in that portion. Against me I had Bitterblossom and he didn't and he beat me with Jace Beleren a card I wasn't playing. He played it and kicked it up to five then seven and eventually drew his own Bitterblossom. Then we both had Bitterblossom which meant the game was about life totals so I couldn't really attack Jace but that meant letting him have his own personal Howling Mine.
I'd played with Jace in Faeries before but like most people I tended to focus on the -1 ability and wasn't too impressed by the card. Oiso showed me how it was supposed to work and what it could do and I played it every time I played Faeries after that.
Seriously if you have a vote don't leave him off your ballot.
Thanks for reading
Sam
@samuelhblack on Twitter