Those of you who can remember back to 1/7/11 might remember that my StarCityGames.com comeback article (+ videos) was "How to Make a Mashup." Way back then (for Extended) I had the idea of hybridizing basically B/W Tokens with Polymorph... The only creatures in the deck were one Iona Shield of Emeria and one Emrakul the Aeons Torn. I powered up the tokens part with everything from Elspeth Knight-Errant to Conqueror's Pledge...and of course we enjoyed the crossover combo of Spectral Procession + Windbrisk Heights.
There are a couple of big upcoming events that feature the Modern format (a Grand Prix that WorldsVitational thingy); so I decided to take a break from Standard (especially as Magic Online won't let me game with Battle of Wits in Standard yet) to try out some new and a little bit different Modern deck ideas.
The one featured in this set is an echo of How to Make a Mashup.
We have some better token production—Lingering Souls is quite a bit better than Conqueror's Pledge—and a little bit different hybridization.
Basically this deck is a tokens + Polymorph deck (which now features the full four copies of Emrakul the Aeons Torn) and can power out Through the Breach for Emrakul.
Here's the girl in question:
Creatures (4)
Lands (26)
Spells (30)
One of the basic inheritances of any token deck of this stripe is Windbrisk Heights enabled by Spectral Procession. The mana in this deck is designed to take advantage of that; Windbrisk Heights is a very "white" card (taps for white requires white mana for activation) and Spectral Procession—at least on curve—is exceptionally white-intensive at WWW. While the deck can access the one Sacred Foundry nine ways and has even more access to a black for the back end of Lingering Souls only Watery Grave doesn't tap for white.
There are lots of easy next steps when you go from Windbrisk Heights to third turn Spectral Procession... You can play a fourth land with whatever kind of blue access and Polymorph into Emrakul. Or you can attack piggybacking the Windbrisk Heights... Important to note in that case: Emrakul is actually cast by the Windbrisk Heights and is thus uncounterable.
Lingering Souls is a kind of proxy for Spectral Procession...just another efficient way to generate token creatures. Gather the Townsfolk is just cheap. It is my least favorite card in the deck but is still pretty good at slowing down beaters. And of course whatever tokens can make for Polymorph fuel.
The presence of Through the Breach lets the deck take advantage of draws that accidentally pick up Emrakul the Aeons Torn; and of course having a couple of tokens in play can help you put away the last five damage (sometimes fifteen just isn't enough).
This deck inherits a bit from the various blue-whatever Tron decks. Some U/R ones play Through the Breach + multiple copies of Emrakul the Aeons Torn... Lots of them play a counterspell suite of Remand and Condescend and protect the battlefield with Repeal. I don't have Condescend but I went with Remand and Repeal to help lace the deck together. Drawing a card while defending yourself is cool in a combo / control deck; I felt the white-heavy mana requirements were prohibitive to the kinds of blue cantrip stuff that I usually would want to play in a deck like this one (Sleight of Hand Serum Visions or certainly something from the banned stuff).
A lot of the cards in this deck are intuitive so I'll skip the rundown and just focus on the weird choices...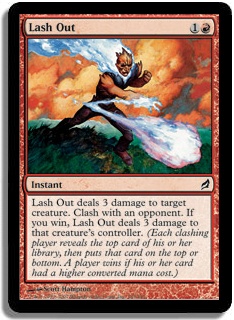 Josh Ravitz was the one who first turned me onto Lash Out back when we were overjoyed to play Magma Jet wherever it would fit. In matchups where it is appropriate Lash Out is just a superior Magma Jet and a superior Incinerate. It will often do six (!!!) damage and in a deck like this will generally improve your fortunes; just imagine for a moment the kind of deck you want Lash Out against and whether it has cards as expensive as Emrakul.
Josh started us playing Lash Out in beatdown decks in order to get an advantage against other beatdown decks. I have since appropriated it to "any deck that can cast it that wants fast answers to small creatures." Lash Out is exactly the kind of card I want against Delver or a legit aggro deck. As I said before it isn't too hard to find the one Sacred Foundry and once you have that Lash Out will help find the combo pieces you need. It can dig for (or push past) lands help you grab tokens or lace Through the Breach and a certain Legendary Eldrazi together...all while defending you from harm.
Subtly Lash Out is another card that lets you interact with Gaddock Teeg. Teeg is no longer a super common tool in G/W or Zoo decks but it is one that this mashup can't really ignore. You have only three real ways to interact with it maindeck (Path to Exile) whereas it keeps you from playing Polymorph Through the Breach or even Spectral Procession. This deck can only cheat to cast-cast Emrakul so you need either a Windbrisk Heights (with three not-dead tokens) or a generous opponent who hands you more than fifteen turns to go that route. What is ooh sucky sucky is that you can't even Repeal Gaddock Teeg! Anyway being able to kill that guy is a bonus you don't want to ignore when evaluating Lash Out.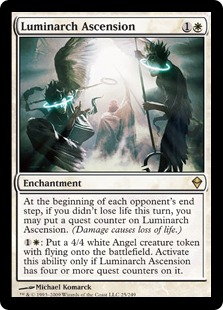 Jury is still a bit out on this; I didn't play against any decks where it would be backbreaking and maybe they don't exist in sufficient numbers in Modern to warrant a slot. I can tell you the thinking was that I wanted a card that was powerful against controlling strategies fast enough to resolve and would not disrupt the machinations of the tokens + Eldrazi strategy of this deck. In fact Luminarch Ascension makes more tokens.
The one thing I felt like the deck might be missing was "some kind of Signet." The problem is that I didn't really know what Signet I wanted. None of the Ravnica Block Signets can make WW which made them less attractive to me. Do you go Azorius Signet? That is kind of messy. How about Izzet Signet? Boros Signet? All these Signets are bad with Spectral Procession and not particularly exciting with the other stuff the deck can do.
So...I went with no Signet at all.
As you will see below the deck performed pretty well against a handful of solid Modern decks so maybe the extra oomph of speed is not needed. The counterbalance is playing 26 lands in Modern (which is on the heavy side) but Windbrisk Heights is kind of a spell and you have to make accommodations for the fact that the deck is four colors. Windbrisk Heights's only tapping for white doesn't solve your disparate needs for Lingering Souls Through the Breach and Repeal support.
Matches for Your Enjoyment:
I am really going to have to learn to play Timely Reinforcements correctly.
LOVE
MIKE