The origins of this deck come from a very simple idea I had last summer. When I wasn't having enough fun with the same old things I'd been playing for a while I wanted to chase a different style of play. At the time I had two decks: Ob Nixilis (as seen last week) and Experiment Kraj.
Ob Nixilis was a grinding control style deck and there's a certain satisfaction to be had playing it out but sometimes that's not what I want to do. Experiment Kraj is a semi-combo deck – no really concrete combos but a ton of mana ramp and powerful things to do with all of that mana and unlike the other deck this one is entirely capable of locking the game into a non-interactive mode and taking a bunch of turns in a row to start taking out players while they can't fight back.
I wanted something for when I didn't want to do either of these things and started to think of ways to have just good clean interesting fun doing something a little offbeat that I can focus on building my deck around.
Somehow I hit upon the idea of building a deck based around Sunforger. This stuck me into red and white and there are a lot of directions you can go once you're there. You can stick with the colors themselves as a pure Boros deck and still get a lot of bang for your buck or you can add any of the other three colors or even all of them at once. I rejected the idea of a five-color deck immediately not wanting to dilute it too far away from the focus of Sunforging for fun and profit and had to consider the other three colors individually. You have a wide variety of Commanders available within the Naya limitations and somewhere within that group of legends something might be found that feels like a good fit. Unfortunately with the Kraj deck being very very green I wasn't terribly interested in that which left us two Dragons one for each of the wedge colors: Oros the Avenger if I wanted to add black and Numot the Devastator if I wanted to add blue. By that same logic of wanting to have something that felt significantly different from a deck I already had since I was chasing new experiences instead of revising old ones black was out and Oros forgotten.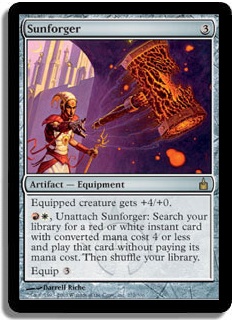 The question came down to Numot versus just plain Boros and I had to ask myself what would intrigue me the most to go and play with my Sunforger. The immediate answer the first card I wanted to play in a deck like this was Master Warcraft. It's a card I have always loved and wanted to get good use out of but before I started playing Commander it clearly had no home in any Constructed format I played. The moral of the story was that you can define 'playable' a lot more loosely in a 99-card deck and this brought me to a theme of wanting to control the attack phase as much as reasonably possible and redeeming badly used cards like Mindslaver by attempting to play a 'fair' Mindslaver as one of the many options for directing the nature of the fight going on at the table.
In figuring out whether I wanted to add any blue cards and thus pick Numot over something like Brion Stoutarm (another card I have loved but which never quite made it to any of my Constructed decks of the time) I had to ask myself if there was anything blue I wanted to Sunforger up and with those fond memories of Master Warcraft a similarly intriguing idea came to mind. In addition to controlling who was attacking where I wanted to have access to Mirrorweave to also control who was attacking with what and the decision was firm. Numot the Devastator was the new General and all that really needed to be done to keep things fresh and interesting was to avoid the heavily controlling nature of blue (the control deck is my black deck after all) and the combo-kill potential of blue (see also: Experiment Kraj) and use blue in this deck to go with the concept of how I wanted the game to play out rather than just building a second blue deck. This one would be a creature deck that benefited by using interesting planeswalkers and trying to direct who was going where with a variety of cards to nudge my opinion in the way of what they wanted to do and using a generous heaping of board sweepers and many overlapping ways to find that single Sunforger and keep it active preferably with some means to put it back into my deck to reuse the cards that make me giggle over and over again.
I wanted to have fun be competitive and do something different with this deck. As far as ideas go this was certainly one worth chasing and it lent a strong identity to the cards I was choosing. That identity was especially necessary given that I had three colors to choose from and thus thousands and thousands of cards to possibly include as this focus on playing the game a certain way would define what was even in consideration and censor a large swath of possible options out of consideration.
If I Had A Hammer
The first class of cards thus to go in the deck are going to focus on the Sunforger plan: ways to find Sunforger if you don't have it already and things to do with a Sunforger once you have found it. There may even be some overlap between these – Enlightened Tutor comes to mind as something that's both able to search for Sunforger and a good spell to have in the toolbox once you do.
To find Sunforger: Sunforger itself Enlightened Tutor Stoneforge Mystic Hoarding Dragon Stonehewer Giant Godo Bandit Warlord.
To find with Sunforger: Enlightened Tutor (again) Path to Exile Oblation Double Negative Reiterate Dismantling Blow Master Warcraft Mirrorweave.
This makes up 13 of our 99 slots and covers the part of the deck we can expect to see over and over again. We're trying to find a single card that tutors repeatedly as part of the deck's central focus and once you have that engine running online it needs to have been worth your while once you're running. Several pinpoint removal spells and some options on card advantage are all included given that you can pay kicker costs after finding the spell with Sunforger and the one tutorable counterspell has to be very high-impact. Absorb is probably the one most expected to see but Double Negative is going to be given a chance to shine given that we're going to be hunting it up for free as appropriate and thus in the sorts of games where Double Negative would do something unique we'll have a solid chance of being online by then and being glad to have it included among the options.
Considering the Sunforger is so very important to the deck we have to be able to work around the reasonable scenario where it dies. It is after all an artifact that doesn't protect itself in a format that is relatively hostile to artifacts staying around a long time what with the proclivity for mass sweepers to kill not just a creature but the weapon it might be holding as well.
Sunforger recursion: Elixir of Immortality Mistveil Plains Academy Ruins Sun Titan Windswept Heath Flooded Strand Marsh Flats Arid Mesa.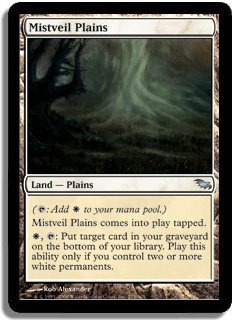 There is definitely a wish that we could do better than this so we're also going to aim to play all four white fetchlands able to get out a nonbasic land allowing us to lean on that Mistveil Plains rather hard. It is after all a very neat intersect: it allows us to restock Sunforger into our deck to find again if it gets destroyed but when everything is running smoothly and according to plan it also lets us recur the Sunforger targets and dodge the Highlander nature of the format long enough to cast multiple utility spells when our engine is active. That brings us from four cards that can go towards recurring a card to eight (nine if you count the Trinket Mage I am figuring goes with that Elixir).
Things To Do With Your Other Hand
We've focused on the hammer that is the central theme of the deck. It looks like a lot of fun – Master Warcraft to steal attack phases the occasional Mirrorweave for ridiculous shenanigans a variety of utility spells plus some recursion effects and ways to hunt for the hammer. But the deck has to do something else and for that we need to discern its intended character and build accordingly.
The first step I took was figuring out which colors were going to be dominant and which were touched on less often to do the jobs the deck wants done. As much as I like to chase the Red cards with this design I only want some of the Red for utility purposes and otherwise see this as a very U/W deck though one with a very creature-centric focus to go with the equipment.
I also wanted to shy the deck away from Blue's countermagic theme to focus more on what Blue can do to advance its own board position. While there would be a few counters to protect your stuff the presumption is that until you have a lot of spare mana you'll be using it mostly on your own turn instead of keeping it untapped so that makes White the core focus of the deck between the three colors with the other two colors assisting those goals with their unique contributions instead of diffusing its character by means of their own inherent natures.
With the concept of staying relevant through a long game clearly in mind we have to pay attention to the fact that we shall intend to keep pace with our opponents by means of card advantage. We can't throw so many card-draw cards into the deck that we choke up with them drawing cards that draw more cards only to never get anywhere no matter how full our hand may be so we'll be focusing on things that go into play or really efficient card draw spells and go from there.
Draw: Crystal Ball Sensei's Divining Top Courier's Capsule Ancestral Vision Brainstorm Jace Beleren Thirst for Knowledge Fact or Fiction Future Sight Weathered Wayfarer Jushi Apprentice Ranger of Eos Aeon Chronicler Consecrated Sphinx
And Friends: Trinket Mage Tolaria West WindbriskHeights Spinerock Knoll
So far we have 38 cards for the deck and a rough idea of what is going on as well as how to build up cards in hand or still have access to options during play thanks to our lands like the one Mistveil Plains and the pair of hideaway lands. We've got 38 cards named but only nine of those are lands out of a probable 35-40 total mana sources so we are actually well past the halfway mark in building the deck after assuming we're going to pick lands based on whatever works instead of overanalyze our options.
We have a definite game plan for creature brawls especially ones that involve having a hammer on-hand but not a lot of warm bodies actually. We know thanks to Ranger of Eos that we'll want a few one-drops alongside that Weathered Wayfarer and want to have some board-controlling utility creatures as well as just solid critters up and down the mana curve. In addition to what we've named so far I have the advantage of knowing the balance of lands creatures and spells already and know that we have room for seventeen more creatures beyond ones already included as part of the tutoring recursion or draw engines. They are:
1cc: Serra Ascendant Figure of Destiny
2cc: Azorius Guildmage Eight-and-a-Half-Tails
3cc: Willbender (let's be honest after all) Deep-Sea Kraken (ditto honesty) Taurean Mauler
4cc: Fumiko the Lowblood Brion Stoutarm Solemn Simulacrum
5cc: Teferi Mage of Zhalfir Baneslayer Angel
6cc: Duplicant Sunblast Angel Draining Whelk Keiga the Tide Star
7cc: Eternal Dragon
Fumiko the Lowblood seems like a dangerous decision but remember if you will that the deck is designed to gum up the attack phase and misdirect people away from where they normally want to be attacking. There are a very limited number of cards that do this effectively and Fumiko is one of them so dangerous though she may be to tempt your fate with she has proven her place in the deck by twisting the game away from how it is intended to go by setting a new rule in place. It's not a rule you want in place when someone controls an Eldrazi or a hundred Saproling tokens but for the establishing turns of the game or after a board wipe has gone off she does a very serviceable job of helping you play the sort of game you want to play especially if she has backup like Baneslayer Angel untapped and ready to go.
Looking at the spells we have some identifiable weaknesses. Trinket Mage gets two things: Divining Top and Elixir. We'll put in an artifact land in each of our colors to work with this and figure the Mage is either going to be Civic Wayfinder or will get Sensei's Divining Top or contribute to our recursion engine. Adding the artifact lands helps Thirst for Knowledge while we're at it and gives Enlightened Tutor some early-game utility so I'm very happy with that addition.
I pointedly do not want Sol Ring in this deck as I've found it can't capitalize on the mana boost enough to warrant the fact that it will be destroyed in every game I draw it but I do want an artifact to help with the mana... given the requirement of 'not dying every time someone pops a sweeper' the obvious candidate is Darksteel Ingot. It's weird to not want Sol Ring but this deck mostly wants colored mana out of its sources and has a very flat mana curve so there's a realistic limit to just how much a Sol Ring can help out a limit that makes the Sol Ring a burden in my playgroup: I can't do anything 'broken' with it (this is by far the least broken of my decks) and really just want to have my mana left alone so it's more a liability than a benefit even as something nice to get with Trinket Mage.
Stoneforge Mystic and Godo currently only get one piece of equipment between the two of them so we'll want a second though which one exactly works with the goals of the deck is hard to say. Ultimately I settled on Tatsumasa the Dragon's Fang for the very large size bonus as well as the ability to play a hard-to-kill creature in the later stages of the game. We'll also want to note the other cards that can allow us to misdirect a combat phase one way or the other and thus put down Mindslaver and Gideon Jura as well at this point.
By similar logic that being the ability to interrupt a combat phase as-planned (one way or the other) this is as good a time as any to put down Time Stop and Cryptic Command. Both are functional counterspells and very powerful but as I've said we don't want to spend a lot of time with a bunch of mana untapped every game; they're being noted here for their ability to hijack an attacker's plans... or a defender's in the case of Cryptic Command as you can use it both to stop an opponent's creatures from attacking or to stop an opponent's creatures from blocking either your own attack or someone else's.
This brings us very near indeed to the end of the spell slots only ten remaining plus the remainder of the 36 lands the deck is playing. Largely they focus on mass removal or the occasional hard problem but there are some interesting uses in there in addition to the ones that seem obvious. I like a U/W deck's ability to play a planeswalker-centric game that has an impact on the attack phase and we've already named two planeswalkers in the deck but I like both Elspeth Tirel and Venser the Sojourner in this deck... Elspeth to threaten as a powerful mass removal spell and Venser works very well with his +2 ability with a surprisingly large number of cards... and has some nasty surprises for the opponent with his less-frequently-seen -1 combat ability.
After that we just have Oblivion Stone Rout and Austere Command as mass removal spells not even playing all of the sweepers we could thanks to the fact that our giant hammer is actually able to answer some very difficult pinpoint problems. All for the best considering we ourselves are a creature deck and don't want to just blow up all of our own guys turn after turn. Oblivion Ring is included as a catchall problem-solver and it should be noted it does a cute trick with Sunforger in play thanks to my own cards like Dismantling Blow and Oblation solving the problem permanently while also providing us with a few cards in the meantime. Word of Seizing is an awesome and obvious inclusion again with the idea that it's a pinpoint answer to a large variety of problems and does not negotiate with people who try to do unfair things and then we just have the three counterspells left to declare.
The first is a very hard worker that being Controvert the Recover counterspell from Coldsnap. With a heavy creature focus such as we have the ability to use Controvert time and again during a long and grinding game makes it ideal even though it's far from mana efficient. The role it plays is a vital one and the services it provides are essential. The second is Muddle the Mixture able to counter only a limited set of spells but those spells tend to be ones that matter a lot in Commander games and it also acts as a tutor spell to search for Stoneforge Mystic aka "Stoneforger plus someone to carry it" as well as a means to put it into play even in the face of opposing countermagic.
The last is cute. If you'll recall we're reasonably good at finding our Sensei's Divining Top and we're reasonably well-laden at the three- four- five- and six-mana marks with this deck all very sweet spots to hit in Commander. Counterbalance then is very high-impact indeed especially given our ability to use it selectively instead of trying to lock down an entire table with it. You can protect the things that matter to you very well with Counterbalance helping to keep the hammer in play and attached to something that's still alive when you want to use Sunforger's ability to search up a spell letting you focus on what's specifically of interest to you and also earn goodwill at the table almost accidentally. Some opponents will give you goodwill for having the ability to counter their spells and simply declining the option making you an ally worth having for the other reason as well: some opponents don't play so very fair at all and a timely Counterbalance lockdown of their say Niv-Mizzet the Firemind combo with Curiosity will keep you on the table's good side especially after it's been made clear you're playing with very limited countermagic.
I'm not as sure how effective Counterbalance is in the deck but at least as a concept it has proven itself to me fairly reliably; the deck has plenty of fetchlands and typically shuffles at its leisure when Sunforger is online so it's even possible to hit blindly with Counterbalance if you don't have a Top and it's very easy indeed to get the Sensei's Divining Top if you want to find it. Counterbalance came up as a second counterspell you could set up with Sunforger (cast Enlightened Tutor profit!) and works very nicely in the later game to defend your interests and maintain your relevance in a long game so long as you can keep it from being useless at an awkward moment.
Filling In The Lands
We want our mana base to be working for us providing enough colors while also Doing Stuff in case we flood out. Unlike my other designs – I have several different monocolor decks at this point – this one doesn't have the luxury of skimping on colored lands and enjoying a wealth of colorless lands that do something spell-like. We can work some utility in; in fact we already have with the hideaway lands and the recursion aspects of Mistveil Plains and Academy Ruins but by and large our lands are stuck tapping for colored mana and had better tap for more than one color more often than not.
Basic Lands: 3 Island 2 Mountain 1 Plains
Utility Lands: Winding Canyons Celestial Colonnade Eiganjo Castle Minamo School at Water's Edge
Miscellaneous Lands: Scalding Tarn Thawing Glaciers Ancient Den Great Furnace Seat of the Synod
Dual Lands: Vivid Creek Izzet Boilerworks Azorius Chancery Boros Garrison Hallowed Fountain Steam Vents Sacred Foundry Mystic Gate Rugged Prairie Cascade Bluffs Glacial Fortress Skycloud Expanse
Numot In Action
Having had this deck for about six months now I've had a chance to get a fair number of games with it and test the waters to see if it performs the way I'd intended it to or if it has problems that still needed working on. The most unfortunate problem with the deck is that it's one of those problematic Commander decks where the Commander is essentially an afterthought; something powerful to do with six mana certainly but with no real synergy tying it to the rest of the deck. Numot has only been cast a handful of times and only been good once where the Commander's particular ability to take down lands was able to cover for the fact that the three-color mana base has no ability to destroy another land at any point whatsoever. Numot was able to break up Urborg/Coffers with a Crucible of Worlds running just long enough to let the rest of the control cards take the game away from someone who was trying to be unfair and murder everyone.
Absent the Commander however everything worked as well as intended. Sunforger is a threat that flies under the radar very well and even the players who have interacted with the deck before have said that it was a fun and interesting way to go about taking over a game that no one felt the deck needed to be attacked for its capabilities. It plays pretty fair and even when it wins it doesn't make enemies if for no other reason than because such interesting games can occur: I robbed a kicked Rite of Replication targeting Primeval Titan once by using Sunforger to get Mirrorweave and turn every creature in play into copies of Stoneforge Mystic and another game was decided by a timely Master Warcraft to point two attacking Eldrazi at a shared opponent only to Mistveil Plains back Master Warcraft and follow up by using it on my own turn to prevent his post-combat blockers from saving him.
All in all it accomplishes the goals I had set for it and while probably underpowered is nonetheless very scrappy and a capable deck for the fun I set out to have with it. The central trick of finding Sunforger is readily accomplishable in a timely manner by most hands especially thanks to the generally forgiving partial-mulligan rules that can effectively let you look at considerably more than seven cards in your opening hand and take advantage of the overlap of several different cards that can all end up with a Sunforger in play.
There's hope in the future to solve the 'Numot doesn't fit' problem with this summer's Commander offerings as it has been foretold that we can expect several new Commander options for each enemy-ally 'Wedge' and soon Numot will not be the only option for those of us who want to beat down with red white and blue.
The final decklist for the deck then is this:
Creatures (28)
Planeswalkers (4)
Lands (36) The Road Not Taken
Following up on the last 99 Problems it was apparent that what was interesting in the designs was not necessarily what was included and why but what didn't make the grade and why not. Deckbuilding in Commander is very strongly an act of volition a means to express your will upon the game as well as put your intentions for how you want the game to play out into the actions you are capable of taking. What you can do in a game is dictated by what the colors themselves are capable of doing – you are constrained by using actual cards after all no matter how tempting an Un-card might be – as well as by what choices you make in inclusion and exclusion along the way.
This deck then concretizes its weaknesses every bit as much as it solidifies its own strengths and not every weakness was intentionally chosen. The ability to only interact with a player's mana base by means of the Commander was not an intentional act when I built the deck initially but through further play with the deck it was accepted as an acceptable price to come alongside the three-color mana base that lets me play all the cards I want to play together. If anything I've come to feel that this gives an added quality to the Commander who otherwise is left as an afterthought most of the time as once Sunforger gets running you can usually sink as much mana as you like into its operation and Sunforger is easy enough to find and can reliably be protected between its own functions and the protection afforded by the recursion elements that can salvage it one way or the other in the likely event of its destruction.
Some of these choices have been made because I want to play the game in a certain way while others have been made because I don't want to play all of my decks the exact same way and hinge on Commander Power Cards #5 9 and 14 (whatever they may be) simply based on the fact that with those colors I am capable of casting them.
Sol Ring and Mana Crypt: Mana Crypt is not in the deck for the same reasons as Sol Ring. Sol Ring has been from time to time but we're seeing a lot of mass sweepers lately and even when I've drawn Sol Ring there is very little benefit I can put it towards as the deck is greedy for colored mana but after that doesn't really gain a benefit from accelerating as the casting costs of the cards pretty much end at six. If the people in my group amped up their power level a little and cut back a little on the global sweeper spells that otherwise can make a Sol Ring a liability it would be in the deck but as-is Sol Ring doesn't actually do that much in this deck. Mana Crypt is just a worse Sol Ring to this deck especially since it likes long games where it would deal a considerable amount of damage to me what with its average toll of one-and-a-half life per turn.
It's certainly not that I don't own a Mana Crypt – neither of my decks I've shown you play it but other of my decks do – but so far both of the decks I have shown you play a long grinding control game and both are unwilling to pay the price of admission that goes with Mana Crypt highly preferring that as much of its mana as possible come from lands rather than fragile things that routinely go away whenever Oblivion Stone happens. Because well this is Commander: Oblivion Stone happens.
Two colorless mana is always a shot in the arm during the early game it's true but this is a deck that wants triple blue double white and occasionally even double red out of its first five lands and Sol Ring and friends does little to contribute to this. We even want to get to six R/W hybrid mana eventually and again Sol Ring doesn't contribute to that team. Even the argument of having it as an additional Trinket Mage target is a little bit fallacious given that Sensei's Divining Top is usually going to be the first card found a colored mana of my choice will fix my mana needs far better than two colorless will and Elixir of Immortality serves a vital purpose in the deck and is wise to acquire if you already have Top and enough mana of each color.
Considering that the deck needs its colored mana so badly that I couldn't even justify adding Temple of the False God to the land slots Sol Ring and Mana Crypt don't do enough to please me and thus are left by the wayside.
Jace the Mind Sculptor: This is a little bit different. While it's true I don't currently own a Jace 2.0 that was by choice rather than economic requirement and Jace's exclusion comes not from availability per se so much as the snap reaction of the table when Jace comes down. Jace 1.0 is a friendly guy prone to helping you out while helping everyone else at the same time and because he is a helpful fellow he isn't targeted very frequently by someone who feels he needs to die.
Jace the Mind Sculptor however is a piece of cardboard that needs to die. This deck is very capable of misdirecting the attack phase and thus very capable of defending its planeswalkers either with their overlapping abilities covering for each other or the rest of the deck serving as life support to keep their loyalty up. No amount of misdirection however will keep three other people from the snap reflex that Jace needs to die so deeply ingrained by now after a year of dominance in Standard and no amount of arguing can say that your getting a Brainstorm every turn is somehow good for everybody.
There's also the price point. Plenty of players play Commander with relatively cheap decks such as the Ashling the Pilgrim build I've seen that starts with seventy basic Mountains and thus is even cheap enough to play unsleeved on top of not being chock full of expensive cards. Some of these players have rules about letting a single card that's more expensive than their entire deck stay in play and that rule is simply "Don't."
Jace Beleren is everybody's friend and an asset to have in play. Jace the Mind Sculptor is pure liability and earns far too much lightning pointed your way to be worth what he can do even in the best of times. I prefer my Brainstorms to cost one and do their job effectively not cost four and convince everyone at the table to attack me as well. Some decks don't care about this downside... I have a U/G deck that has no problems with that compromise and is fine pulling a little bit of ire down on itself if it has to... but with the Numot deck I felt I didn't want the unnecessary heat and drawing too much scrutiny down on myself was a great way for someone to figure out just how I was going to ruin their best-laid plans with Sunforger and keep the ire flowing my way even after Jace had died.
Tundra Volcanic Island Plateau: These are a price point issue pure and simple. The question is not especially one of availability but of what you get for the dollars spent this way and the answer came up to be not enough to warrant the investment when I could spend that money in other places investing in an entire new Commander deck more-or-less for the price of assembling three Revised Edition dual lands. With the options already available to the deck it hits its colors reliably and has no problem casting its spells and you can't even argue they're not a worthwhile investment: dual lands have only increased in price with no reason to think the bottom will ever fall out thanks to the growing popularity and tournament viability of the Legacy format. If I'd spent the hundred dollars to get these a year ago I'd currently have a hundred and fifty and soon enough that might be two hundred as Legacy grows and grows.
But in this deck they'd just be a second Steam Vents that always comes into play untapped and the actual Steam Vents does that already at negligible cost whenever it needs to and the difference is invisible when it does not need to. The focus on fetchlands would of course work very well with these but the decision to focus so much on fetchlands came not from the desire to focus heavily on the three Ravnica-era dual lands to the point where they become overtaxed but instead on the desire to exploit Mistveil Plains for recursion. Without any real tension on the mana base per se there's no benefit to me getting these in there and so they stay out.
Most of the rest of the decks I find myself at the same table as likewise make the same decision with there being plenty of good mana-fixing already available if we want it and so there's a certain amount of solidarity to be gained as well by playing 'at their level' where the level is not merely play style but price point as well. They in the end feel better about their level of involvement because they don't feel especially 'priced out' of the game when others are choosing the same level of restraints on their purchasing power and with all of us making these sorts of decisions I get to happily spend whatever portions of my disposable income I choose to invest in Magic cards in having new and different Commander decks to play with instead of over-focusing on Revised dual lands.
The excess disposable income then is never asked whether I really want to buy that pretty dress for my girlfriend or whether I'd rather have a Tundra instead.
Time Stretch: Let the arguments begin.
I have heard very often that any deck capable of casting Time Stretch should do so.
This however is an unbroken deck and one that is already mana-hungry. If we've gotten up to the ten mana mark that means we can Sunforger twice a turn and shuffle one of these targets back in with Mistveil Plains each turn besides which to this deck's mind is probably the definition of winning. What can it do with two extra turns? Shockingly the answer is not very much besides attack a little maybe get some more growth on its planeswalkers and deploy a few extra threats.
With such unimpressive Time Stretches the card was never really considered for the deck as all that time spent waiting to finally be able to cast it has cost us tangibly with the dead card in hand and the payoff when we get there is actually just not that high. If the Commander had a little more synergy with the deck so that you could actually say that a two-turn window lets you deploy your Commander and get an attack with him for sure while still having your mana untapped when you finally pass the turn back to someone else I'd consider that reasonable. Numot however doesn't really offer much of a reward for this unless someone is threatening to combo off on their next turn with Urborg/Coffers and he needs to devastate that particular countryside.
With nothing much to gain from stretching time I left that up to my other blue decks and quit worrying about it.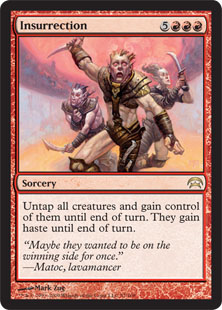 Insurrection: This definitely counts as one way to control who is attacking where and makes people spontaneously disappear out of the game by use of an overwhelming combat phase. However this deck doesn't want to leave the opponent's creatures so entirely unchecked that Insurrection is impressive and shockingly lethal; Insurrection is an amazing beatdown-deck style of card but a poor control card as we have a fairly large number of Wrath effects and no inclination to leave the creatures be in order to build up a better Insurrection.
Add to that its expensive mana cost (we can Sunforger twice for that much mana and accomplish many of the same goals I expect) and the triple Red component when Red is already the minor color in the deck and it just doesn't fit the deck's game plan very well.
We're slaughtering a lot of Commander sacred cows today. Now we'll step away from the big decisions and look at the smaller ones as these should perhaps inform us a little bit more than the heavy-handed dismissal of standard Commander tropes.
Mulldrifter: A hard card to cut since it seems so obvious that this deck wants both cards in hand to keep rolling and bodies in play to do its thing with. Mulldrifter offers you all of these things at only a slightly inflated price and two options on how much you have to pay to get the use of it. Mulldrifter is also the totem animal of one Lauren Lee esteemed editrix of StarCityGames.com so cutting this one when it seems such an obvious fit and then submitting the article to her for editing just makes me feel like I'm beating her up by cutting her spirit guide from what looks like its perfect home. The depressing truth is that I played with Mulldrifter in this deck for about a year and was never once happy to draw it because while it does fit each of these roles on the surface you always overpay for what you get and the impact on the board is always minimal. We do want cards but we also want our five-drop to matter and our turn 3 play to do something besides go to the graveyard and net us +1 card.
In the end it was cut for Courier's Capsule and I went back to being happy that my card drawing effects were largely instant speed as far as requiring me to spend mana on them allowing me to justify keeping mana untapped sometimes and still get value out of it when inevitably there was nothing I needed to counter with the limited counter suite I have available to me anyway. As potent as Mulldrifter is at the tasks previously assigned to it – it even flies while carrying equipment to punch people in the face – the lack of synergy was damning and the price higher than I found acceptable. Cutting it for Courier's Capsule even gave me something else good to do with my Academy Ruins as I could convert excess mana back into cards in reasonably small bite-sized increments by choosing to draw it instead of whatever happened to be coming up next.
Preordain: This one is absolutely wrong. Preordain is card #100 in this deck and I simply haven't figured out which card I can cut in order to fit it into the deck. It's not an oversight as I've said it can so easily be to leave out cheap deck-manipulation cantrips from decks that are able to play them; rather it's that many of the cards in this deck have been included to a very specific purpose and cutting one of them has been very hard to justify. The nearest I have been able to figure out the weak link is the Darksteel Ingot as the early-game 'smoothing' of drawing the Ingot can be replicated with Preordain at a deeply discounted cost and it doesn't serve a highly specific function just happening to be the only mana acceleration artifact I can play and not regret when the inevitable Oblivion Stone Akroma's Vengeance or Austere Command fires off.
I don't feel as compelled to find a home for Ponder or Serum Visions as what Preordain does is highly specific and very welcome to the deck but Visions gives you the draw before the manipulation and thus can give you the shaft before looking to see where the elevator is and Ponder frequently gives you one card that works excellently well for your needs and then shows you two more you'll be stuck with if you accept that fate. With five fetchlands and a Thawing Glaciers plus a few other incidental shuffle effects that might not be as big of a deal as I'm making it out to be but it's hard enough to even consider cutting one of the things I really want just to add a cantrip to smooth draws cutting two makes me wonder where all of these extra limbs I'm severing keep coming from in the first place.
It's entirely possible that the Teferi in this deck is out of place since I really can't do anything to abuse it and can easily make enemies because of it but so far I've been able to put him to decent use breaking up the non-interactive mechanisms of people playing actual unfair decks by means of the benign assistance of Teferi on my side of the table forcing their combo pieces to sorcery speed and undefended against my removal and countermagic. Venser the Sojourner hasn't proven himself yet either being one of the more recent additions to the deck that I have wanted to try out. There are a few considerations of what I can cut to fit Preordain in but until I figure out which is the right one I'm reluctant to cut any of them. If only we could play 100 as easily as Gerry Thompson plays 61 for the exact same reasons.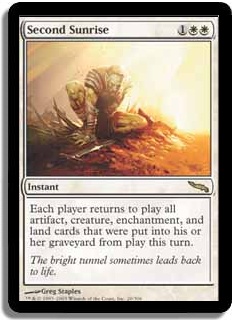 Second Sunrise: If ever a Commander deck wanted a Second Sunrise this would be the one as we have plenty of things that will die to a sweeper and the ability to search for any White or Red instant card costing four or less out of our deck as needed. Unfortunately I kept running into the problem that the sweepers that kill things I want to bring back would kill either the Sunforger or the equipped creature during the resolution of the spell stranding us high and dry when Second Sunrise would in fact be good. Unless more Armageddon effects start to show up in my group this one's going to stay out of the deck with much regret that it's so close to working perfectly and yet so far away from the function I want it to provide. Disappointment at its failings led it to get cut from the deck and I was very happy to search long and hard only to discover the Mistveil Plains that would actually cover my needs and move on from the heartache that came with Second Sunrise.
Sword of X and Y: There are plenty of good options to choose from here from latest in-vogue thing 'Feast and Famine' to let me double my mana usage each turn to the now hyper-expensive classic 'Fire and Ice' to count as card advantage with a free draw each turn. The most probable inclusion however would be 'Light and Shadow' buying back a dead creature each turn but unlike the Ob Nixilis deck the creatures here aren't as high impact; none of them are really so critical that returning them for a second time around is going to impress me.
Without one of these suggesting itself as clearly synergistic for the deck I go back to relying on the Sunforger plan and not worrying too much if the equipment tutoring abilities go dead later in the game. After all if Sunforger is working I'm happy... and spare Stoneforge Mystics can always be held in hand patiently alongside Mistveil Plains in play to avoid calamity in case Sunforger dies. Tatsumasa as the second equipment has reasonably justified itself to me already as being distinctly different from the Sunforger and worth having around as an unkillable threat; a second power-pumping card-advantage equipment is just going to fall short by comparison to the one over which we've hyper-focused the design of the deck.
Absorb: I felt I had to pick one between Absorb and Double Negative and felt the occasions where countering two spells would come up as relevant was just a little bit more important than three life every time was as the deck defends itself well and is not actually lacking when it comes to buffering its life total. I couldn't fit two since I didn't want that many counters and 'having a second copy to search for' is already covered by the Mistveil Plains aspect of the deck and my optimism led me to figure that with long games and the ability to tutor for it on a whim that Double Negative was the more relevant inclusion. So far I haven't lost a game because I didn't gain three life but have had some very excellent exchanges where I countered Enigma Sphinx and the spell it cascaded into or weathered a turn that looked like it was going to get ugly because of Maelstrom Nexus. The first time you counter somebody's Time Stretch and Cruel Ultimatum with a card not even played from your hand you too will fall in love with Double Negative even if it seems very narrow indeed.
Yosei the Morning Star: This is a deck that is comfortable deploying Dragon-sized threats. However it's also one that's unfortunately bad at capitalizing on Time Walk-style effects so the upsides of this Dragon that are usually so often when he dies on an opponent's side of the board feel largely irrelevant when I try to stay positive about having just lost a Dragon. I try to keep the top end of the curve reasonably light so I can play most of my cards still in case I have a hard time getting to six and Yosei just wasn't pulling his weight. If I played anything less than painfully fair with this deck he would probably be a lot better but playing so vanilla with this deck was an intentional choice after pressing on to see how much you can do with a U/G mana ramp style of deck and my trying to pay the table back in 'fairness points' for the fact that this deck sets up very well to play the same sorts of games over and over again recycle the same spells over the course of even a single game and not being able to abuse Yosei enough to play him has certainly won me back a lot of goodwill from players who would otherwise see the deck working at maximum power once and decide I needed to get targeted the next time we played.
Ajani Vengeant: This deck is already built to take good advantage of all the best red white and blue planeswalkers it can get its hands on so it seems conspicuous to see Ajani Vengeant absent when he was the deciding factor in the Standard Superfriends deck of the same colors. The thing with Ajani is he's so very low-impact and against three other players he barely helps in his own defense at all and takes practically forever to do his thing. In Standard this could be forgiven because you could put all of your focus on keeping him alive at the exclusion of all other resources and win the game when he left the opponent crippled but in Commander you have: a) two more opponents getting nervous about being hit with the targeted Armageddon and b) two more opponents still very much alive and kicking even after that ultimate fires off.
Add to that the fact that everyone is going to be nervous about who you pull the trigger on and Ajani Vengeant just sounds like a great way to spend four mana discard a card and make one or more enemies.
Firemane Angel: It seems like Firemane Angel would be a tolerable threat; she holds a hammer very well gives a small but noticeable benefit every turn after you cast her regardless of whether she lives or dies and for the low low price of one billion mana can be returned to play from the graveyard automatically by her own power. While our Commander does cover the color requirements that let us consider Firemane Angel the strategy we've already chosen does not really work with the cost of the recursion included as we can spend ten mana much better on our plan A than on her plan B.
Wurmcoil Engine: One of the easy and obvious Commander auto-includes in that Dragon-sized is the right price lifelink a good ability for the format and the one-time refund of two tokens if the original dies an excellent argument for putting Wurmcoil in everything. However in my groups right now there's something between a running joke and a knee-jerk reflex to counter Plow or better yet steal and sacrifice a Wurmcoil Engine on sight. We really are at steal-and-sacrifice now; I'd be fine with playing a card that everyone else considered must-counter but which in and of itself seemed perfectly innocent but when the opponents are just lined up around the table waiting with their Slave of Bolas or Grab the Reins to make me hurt and make me sad Wurmcoil doesn't go in every single deck you play with them. With this deck I just want to be left to my own devices for a good long while and that means avoiding cards that I know get such knee-jerk reactions.
It may still make the cut based off of how Teferi might not really deserve a slot in this deck after all but for now with everyone pointing their finest weaponry explicitly at cards named Wurmcoil Engine he stays off the lineup. No matter how much fun it is to make Christian Calcano / Anthony Eason tokens.
Mystifying Maze: About the best defensive mana-producing land you could ask to have and yet the mana in this deck is so strictly requiring colored mana that I can't really justify the addition. Academy Ruins protects the deck's engine and Winding Canyons is bonkers in that it gives me so much more interactivity with the table when it gets rolling but to actually defend myself I'll need to spend a card or have a board position set up. This is a perfectly acceptable compromise no matter the fact that every other Commander deck I have is jam-packed with special utility lands. My 'utility' will come from letting me actually cast the spells I have of all three colors and what benefits there are to be reaped will have to be obtained by the trifecta of Izzet Boilerworks – Boros Garrison – Azorius Chancery providing a bit more bang for their buck.
Soldevi Digger: The old-school recursion card perhaps best known for its role in recurring the then-restricted Balance to find over and over again with your four Mystical Tutors allowing you to Balance as much as five times a game despite being restricted in Standard. (Yes I have just inevitably dated myself as that wasn't even my first year playing Type 2 at the time.) Digger would serve very well to put extra Sunforger targets back into the deck as well as protect other resources as well but unfortunately since it only puts the top card back in instead of any card it lacks the pinpoint accuracy that would make it truly worthwhile as an inclusion as it gets harder and harder to catch up with your Digger on an important target after the fact. Leaning on Mistveil Plains will have to suffice even if it makes the deck stagger its creature count in favor of white permanents.
Treasure Mage: With Mindslaver already in the deck Treasure Mage has to be looked at simply based on the fact that it increases the likelihood of engaging a Mindslaver lock.
Mindslaver locks are no fun and you deserve the beatings you get in subsequent games when you perform them on somebody. If we want to find Mindslaver Sunforger can handle that already thanks to Enlightened Tutor so while Treasure Mage would increase the number of games we find Mindslaver by a noticeable percentage we aren't trying to jam Mindslaver as hard as we can and don't really want to focus down that path. That it could come with a free Duplicant instead is pleasing but not enough to justify the Mage in this deck.
Force of Will: My argument against more countermagic came mostly from the fact that I didn't want to leave too much mana unspent on opponents' turns and thus not keep a hand full of countermagic as my plan for facing down a table of enemy mages. Force of Will gets around that requirement by being a free counterspell asking only the investment of a life and another Blue card. The mana savings is well appreciated but for the most part there is nothing I need to counter so badly that it's worth spending two cards to do so; most such problems can be handled for the low price of a Lightning Helix thanks to Sunforger and many interactions are covered by the zero-mana 'ask a neighbor' plan.
Hinder: But if we were going to add another counterspell surely this would be the one? Hinder has the unique position in Commander of being a counterspell that's a permanent answer to an opposing Commander so long as that commander is not Thrun the Last Troll. However the counter suite in this deck is minimal by choice: we have long-game lockdown power with Counterbalance and Controvert a silver bullet to find with Sunforger and use as often as we need to and the best two counters that interact with creature combat Time Stop and Cryptic Command. We actually have another counter that we can afford to play Muddle the Mixture based off its ability to quietly be a tutor for Sunforger by way of Stoneforge Mystic but after that we're not really gaining anything by having another counterspell. Past Counterbalance Controvert and Double Negative the argument for inclusion comes from their ability to pretend to be Sunforger or to serve double duty by keeping the board under control and Hinder answers a Commander expertly but is still not really worth including. If we built the deck from more of a good-stuff approach this would indeed have been an auto-include but so too would the unimpressive Time Stops and Insurrections that card-carrying Commander players are not allowed to leave home without.
Swerve: The cheapest Deflection effect you can Sunforger for Swerve has to be considered as a bullet target based on the fact that we can get it repeatedly and with regularity. That said I don't really see a large benefit to misdirecting the spell to a new target over countering it outright and thus I've left Swerve out of the deck.
Gilded Light: Another narrow card that can get you out of difficult problems you find yourself in. One guy at a Commander group I occasionally show up for has built his Commander deck with a pure combo approach and is a mono-black deck intent on tutoring up Ad Nauseam and finishing an entire table off with Tendrils of Agony. Gilded Light saves you from death in that and other situations reasonably well but it's just as clearly true that if I could find and deploy a silver bullet off the Sunforger to break up the combo targeting Ad Nauseam would break his combo far more adequately than Gilded Light does and even lets you and those non-combo players go back to what you were doing after delivering judicious beatings to the one-trick wonder.
Grab the Reins: The last of the Commander sacred cows Grab the Reins does actually also double as a Sunforger target and thus this was such a hard cut to make. You're even allowed to pay kicker costs after the fact so Grab the Reins with the kicker is a highly affordable five mana! It also contributes to the Steal and Kill Wurmcoil Engine fund and is an excellent Sunforger target to get yourself out of trouble against a Blightsteel Colossus since it acts as just enough of a Ray of Command to steal the Colossus and poison its controller to death.
However cute though it may be to have such an answer I don't feel the compelling need to continue the fine tradition of stolen Wurmcoil Engines and the plan of use against a Blightsteel Colossus fails in the face of two toughness worth of blockers. Strategically it was thus trumped by the Path to Exile we're already using and the compelling argument for its inclusion in the Sunforger suite fell away entirely when I realized that Mirrorweave (either to make unblocked attacking creatures into Blightsteel Colossi or the Colossus into something innocent-seeming) and Master Warcraft (you get to choose who dies or can just choose 'no attack') both were also just better plans overall.
Hope this week's look at Commander deck design was more along the lines of what everybody was looking for and hopefully I'll be back in two weeks with a reader's submission for deck advice... we've looked at my own decks enough now. I'd like to have a tinker with someone else's designs to see if improvements can be made.
-- Sean McKeown
-- s_mckeown @ hotmail.com