Magic Online's 9th Release Championship: 1st Place! (Probably)

Through skill and luck, my account managed to qualify for the 9th Edition release championship on Magic Online. First place was pretty decent: Original art for the 9th version of Will O' The Wisp. Worth at least five bills or maybe you'll just hang it on your wall. Aside from that, lots and lots of virtual packs were paid through the Top 64, and some lithographs would be delivered for the Top 16. Not a bad haul if you can pull it off.
Standing in the way was quite a serious collection of Q'd MODO players, specialists in Ninth Edition Limited all. And of course, whatever was behind curtains 1-5. The opposition we can only take one round at a time. The sealed:
White:
Sacred Nectar
Holy Day
Circle of Protection: Black
Aven Cloudchaser
Aven Flock
Foot Soldiers
Honor Guard
Master Healer
Samite Healer
Seasoned Marshall
Suntail Hawk
Veteran Cavalier
Blue:
Sift
Time Ebb
Traumatize
Boomerang
Mana Leak
Treasure Trove
Annex
Dehydration
Sea's Claim
Crafty Pathmage
Fugitive Wizard
Horned Turtle
Wind Drake
Black:
Raise Dead
Zombify
Dark Banishing
Coercion
Mind Rot
Foul Imp
Gravedigger
Giant Cockroach
Plague Beetle
Ravenous Rats
Razortooth Rats
Phyrexian Gargantua
Red:
Boiling Seas
Flashfires
Panic Attack
Reflexes
Shock
Anaba Shaman
Balduvian Barbarians
Goblin Chariot
Goblin Piker
Goblin Sky Raider
Magnivore
Raging Goblin
Sandstone Warrior
Green:
Natural Spring
Overgrowth
Regeneration
Rampant Growth
Naturalize
Craw Wurm
Elvish Berserker
Elvish Champion (Super Happy Fun Shiny Foil Shine)
Giant Spider
Kavu Climber
Ley Druid
Norwood Ranger
Rootbreaker Wurm
Zodiac Monkey
Artifact:
Fellwar Stone
Ur-Golem's Eye
Wurm's Tooth
Dancing Scimitar
Thran Golem
It's not astounding, I'm afraid. I'm afraid I'll get destroyed, to be more precise. While there are cards that you're happy to play with, nothing stands out as a bomb. Quality for sure, but not quite detonation level.
Green was an auto-include and Blue was an auto-denial. Green had sorely needed creatures and Blue had a turbo deck one's self theme. The problem was no color had everything needed; each color had a little to offer. It was tough to narrow it down, but Sealed is all about tough choices. You just can't play every good card you happen to open.
Deck:
Creatures:
Master Healer
Dancing Scimitar
Anaba Shaman
Razortooth Rats
Phyrexian Gargantua
Ravenous Rats
Gravedigger
Giant Cockroach
Foul Imp
Zodiac monkey
Rootbreaker Wurm
Giant Spider
Craw Wurm
Kavu Climber
Spells:
Shock
Fellwar Stone
Raise Dead
Zombify
Dark Banishing
Coercion
Mind Rot
Rampant Growth
Naturalize
Lands:
1 Plains
2 Mountain
7 Forest
7 Swamp
See, I didn't lie. I would have played Archivist if possible. Four colors is a bit above the norm I admit, but two solid mana fixers! Fellwar Stone has to help something. What we do have in the final product is a way to deal with anything and card advantage. It's not a bad formula in general, but we just couldn't ignore the final product seemed strictly average. Not the worst, definitely not the best. If someone sees a better build, by all means share. It's quite possible those 9th views (below) tainted views of certain cards and/or archetypes. After all, we will be doing this again.
Round 1 Ozmo(R/G/W)-Limited Rating: 1764. Real Name: Micke
Game 1: I get the quick double Rat open which leads to Giant Cockroach. My opponent plays the surprising and annoying Bottle Gnomes to stop the rodents, but the Cockroach bombards through. A couple of key missed land drops means I get to play Phyrexian Gargantuan unhindered. A Naturalize on the Gnomes earns the concession.
Game 2: Micke gets the colors he needs to actually let him do stuff. I assumed from the previous game that he was light on creatures and heavy on removal so I kept a recursion heavy draw with only Razortooth Rats as my creature. Unfortunately Bottle Gnomes comes down again and I can only continue to lay lands.
Micke gets more creatures out but I actually make a move with a nigh-immortal Rootbreaker Wurm. Unfortunately Aven Flock continues to punish me. I get out the Dancing Scimitar at one life and actually stabilize, with plans to get attacking again. Micke then drops Anaba Shaman and I don't find the answer.
Game 3: Knowing he's playing White, I side in Flashfires, willing and eager to sacrifice my lone Plains for five of his. That's what Fellwar Stone is for after all. I start with an excellent draw of Fellwar Stone (no Forest, Mise!) for the Green to cast Rampant Growth for a quick Kavu Climber. This gives me all four colors raring on turn 5. His Anaba Shman makes the two one-toughness evaders in my hand worthless, but luckily he decides to trade his Shaman for mine in combat. I happily accept this deal and lay out Razortooth Rats and Zodiac Monkey. Kavu Climber continues to attack. It eventually trades but not before I upgrade to Rootbreaker Wurm. That combined with the Dark Banishing for his Flowstone Crusher is enough to earn the V.
1-0
Round 2 MrSaavik(B/W)-Limited Rating: 1803 Real Name: Robert
Game 1: Robert has a very solid B/W deck. I gambled and kept a one-land, Fellwar Stone opener on the draw, which paid off as I was able to again speed out Kavu Climber. Robert also had a fine opener with Crossbow Infantry and Skyhunter Prowler keeping a lot of my guys at bay. Climber did trade with something which allowed me Zombify it for another card. It again traded with a fellow, so I Gravedug it and got another card. While this was fun, Robert was still hitting me with his little pecking fliers.
At seven life I had out Gravedigger, Craw Wurm, and Kavu Climber to Robert's Prowler, Infantry, Pegasus Charger, and Venerable Monk. Luckily for me that was the time my deck decided to cough up Master Healer (off the Stone, natch). Things got a lot worse for Robert with the classic Craw Wurm/Master Healer combo. Blinding Angel + Bog Wraith + Millstone still gave him a shot, which was kind of impressive. However a Dancing Scimitar for defense, Naturalize for the Millstone, and just enough life forced Robert into chump blocking mode. A final alpha was enough for game 1.
Game 2: In go Flashfires of course. On the Draw, my turns go:
T3: Mind Rot
T4: Coercion
T5: Master Healer
T6: Craw Wurm
T7: Phyrexian Gargantuan
What? He had some Millstone and some Flier action happening of course, but that start is absurd. The Flashfires took away his Wrath of God out, which he had in his deck! Savagery.
2-0
Round 3-Fernanda(G/W/U) Limited Rating: 1808 Real Name: Claudio
Game 1: This game was quite amusing in a masochistic sort of way. Turn 2 Foul Imp trades with something, gets Raised somehow. Trades again, comes back. Then, Phyrexian Gargantuan. Now if there was some offense from Claudio's side it could have been trouble but the Phyrexian brought me down to exactly 14. In between all this life loss I'm hitting Claudio with Zodiac Monkey. Everything else trades straight up.
Claudio is trying to contain the hits with Samite Healer, Master Decoy, and Puppeteer but I've got enough removal and evasion to sneak through. Kavu Climber into Razortooth Rats earns the concession.
Game 2: Well now I get to bring in both my land killing spells. Briefly, I consider Magnivore but come to my senses. Flashfires would have been a bad play anyway as Claudio never drops a Plains the entire game. I Coerced his Sift and saw a hand full of White creatures which stayed there forever. Claudio did Clone my Master Healer, which was pretty ridiculous. However it was not enough to overcome losing 1/3 of his playables. Big Wurms smash.
3-0. With this strictly average pile? There are some top notch players here and I have to believe my deck is not in the top 12.5%. Of course drawing all four colors to their two does increase edge somewhat...
Round 4-Elgilaso(G/W/U) Limited Rating: 1817 Real Name: Mauro
I've played some interesting named people. Even Bob has a certain finesse to it. I think if said with a French accent, it's rather alluring. Bob. Bob. Am I reaching for material here? This was where the numbers came crashing down.
Game 1: I get stuck with the Red cards in hand. I also get completely worked with Samite Healer and Giant Spider holding off everything. A Coercion reveals Mauro's hand to be Blinding Angel, Thieving Magpie, and Aven Flock. Combined with the Wind Drake and Aven Fisher in play, none of those are problems. No, the problem is Loxodon Warhammer off the top, and into my fat, fat face. Dark Banishing is wasted on a less than worthy target but I don't draw the Naturalize anyway so we're off to game 2.
Game 2: Again with the dual-Rain of Salt plan. This game I had reverse problems, with a pure flood of lands and no action, Red or otherwise. I draw and cast the Master Healer but it's too little, too late.
3-1
In between rounds the players and spectators are chatting. I mention that I have 2 Traumatize and that my game plan is to wait until ten mana and then blow them out with the double casting. Pretty funny, right? Some people did LOL. How many people do you think took some time to not only not frown at this core set wit, but throw me a message that my plan does not, in fact, work? One? Three? Six is the number we were looking for. Do people not have anything better to do? I'll tell you all straight up, the players who did chuckle are the real threats in the room. No one fears the humorless.
With one match left and five minutes left in the round, the server crashes. Boo hoo but it happens. I mean, it happens a lot, but who's counting? The amusing part is when we get back in, there are 35 minutes left in the round instead of the original five. "Sure hope they don't take the full time!" Chuckle.
Four or so minutes later, the server crashes again. This is actually rather unusual, but once again it comes back up after a few minutes. This time there's an hour and five minutes left for the end of round for this one match. "Really, really hope they don't take the full time!" Chuckle.
Well the good news is that they didn't. In fact, the next round started quite soon after the double crash, with around 150 players left from the original 360.
Round 5 mFindLay(R/B/U) Limited Rating: (1833) Real Name: Morgan
Game 1: The was easily the most tense and interactive game I played all day. On the play, I get quick monkey beats. My offense is somewhat slowed by needing to Dark Banish Morgan's Archivist. My Monkey dies but gets Gravediggered back. The same happens for Morgan's Archivist, which is a more effective play all around.
On turn 6 I have out a Zodiac Monkey and Gravedigger against Morgan's Hollow Dogs and Gravedigger. My hand is quite juicy, with Zombify, Kavu Climber, Phyrexian Gagrantuan, and Craw Wurm. This is why I brought back the Monkey against Morgan's R/B/U deck. I figure if I stay alive long enough, I can't lose. I needed another man to double block the Dogs. That's what ends up happening but Archivist is making things really irritating. While I do draw the mana to cast the Fatties McFatFat, I'm still having a tough time racing the card draw. I make a go of it with Gargantuan, Zombify Gravedigger, Gargantuan again, but I'm still falling behind.
The server crashes. I make lunch. The server comes back online.
Game-wise I do manage to get some hefties to stick, but Morgan's Icy Manipulator + infinite chump blockers is actually allowing him to do damage. Back and forth we go for a while, my (generally) better cards against 2x his. At five life to Morgan's one, I'm starting to run out of time. I've got three cards to win with. Shock is the auto, Naturalize would come in handy against the Icy, and Raise Dead would allow me to get back Anaba Shaman and hopefully kill him with that. I've got 15 cards left in my library to Morgan's 7, with him having no cards in hand at the end of his turn. With the cards in play, I should be able to win if I draw one of those three cards, assuming Morgan's next two aren't deadly. I figured 4-5 of his last 7 were lands, so again, one of those three gave me a good shot.
Do I have any fast effects at the end of MfindLay's turn? No.
No, I do not. NO! Why won't it let me say no? Oh right, because we're crashing again.
So four minutes later it comes back online and... nothing. No "time left" in the round in the lower right corner, no game at all really. It's not there, which means the tournament got cancelled for the day.
The adepts are beleaguered for information, but of course have none. The server crashes again, perhaps in disgust with its own fallibility.
Later in the night Wizards releases an official announcement saying they'll talk about it. As of this writing, no announcement has been made yet although I'm sure it will be soon.
It's not the end of the world really. My deck, while adequate, wasn't really Top 8 material. I may have won the game and/or match against Morgan and I could have slapped everyone else around, but I don't think it was likely. So while it was annoying to waste half a day (And get up at 8AM (Oh My God), perhaps it worked out for the best. Or possibly I was destined to win the whole thing and I just got totally robbed. Eh, who cares.
Having qualified for the event via 9th Sealed and a 9th draft, and having played an awful lot of 9th draft leading up to the event, I feel fairly qualified to discuss some of the nuances of this surprisingly interesting format. To contrast, 8th Limited was God awful, and 7th was just Prodigal Sorcerers and Hill Giants.
The first thing about 9th is that White is by far the worst color. Like all colors, it has its bomb rares and uncommons, but the common pool is incredibly weak. While you can pull it off with lots of Decoys and Pacifisms, generally White isn't worth your time with one key exception, which I'll talk about below.
On the flip side of White is Green, 9th's best drafting color. Green has all the pieces for a great deck: acceleration, flexibility, and game defining creatures. Furthermore, the common pool is quite deep, with only a few real stinkers. Green has early game, late game, evasion, and card drawing. The only thing lacking is true removal for the occasional pest, but that's what your second color is for.
Black is probably the next best color but it's pretty close. Black has the second best color hosers (after Green) in Slay and Execute, and that counts for a lot. Banishing is the best common in the set, and Black also contains decent fat and evasion. Foul Imp is quite underrated, as are Hollow Dogs. Hollow Dogs in particular is not getting the attention it deserves, probably because it has to compete with other excellent five-drops.
Blue and Red are mostly tied in power, with Red probably edging out Blue. Red's creatures aren't actually that bad, with two passable two-drops and two three-drops with three power. Sandstone Warrior, Hill Giant, and Anaba Shaman are also quite solid. The problem with Red is of course the twin beauties: Shock and Volcanic Hammer. Great cards and easy splashes. I'll happily play two Mountains in any deck for a couple Hammers and a Hill Giant.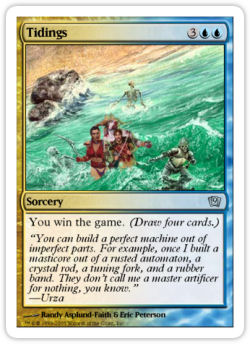 Blue is really a wild card in draft. If you can cut it off, you've got some good workings. Aven Windreader is the best common, but Time Ebb and Boomerang are both very solid and needed for any Blue build. Given no pressure, Blue can do cute stuff, but it's darn vulnerable early on. The ideal situation is something like turn 2 Mana Leak, turn 3 Horned Turtle, turn 4 Sift, turn 5 Aven Windreader. That's a rock solid opening but it can certainly be overcome. Blue also has some of the strongest uncommons, with Confiscate and Tidings taking top billing. Tim Aten described Tidings as Coalition Victory and I'd have to agree. You simply shouldn't lose after casting it.
My favorite archetype at the moment is Green/Black. 1-2 Banishes, a Gravedigger, and a little evasion combined with Green's terrific fat and Giant Growths is a rock solid archetype. Occasionally you'll get overrun by the truly fast archetypes. With eternal card advantage and late-game staying-power, G/B can handle almost any long game. Occasionally getting there is tricky, which is why Green's land fetchers are a little more regarded in this version. Turn 3 Wood Elves into turn 4 Kavu Climber with Gravedigger backup should be enough to win a lot of your games right there.
Contrast this with Green/Red, who doesn't need the acceleration quite as much since its creatures are generally cheaper. Green/Red is about tempo, with a turn like Volcanic Hammer + guy or Giant Growth + guy common and excellent. Treetop Bracers + Ogre Taskmaster is the game winning play.
Now I've spoken above about how awful White is, but there is one archetype where it shines in. That deck is Red/White and built correctly, it's blisteringly fast and highly effective. White's combat enhancing dorks (Infantry Veteran, Crossbow Infantry, Blessed Orator) work very effectively with Red's high power low toughness creatures, like Flowstone Shambler and Lightning Elemental. Both colors have effective bears and spot removal, which all combine to create a powerful archetype. The danger of trying to force the combination is that if you fail, you're playing bad White and/or bad Red cards. These are underpowered colors without their marquee cards, so the error is quite serious. Still, if you can pull it off, R/W is probably the most explosively powerful archetype in 9th drafting.
Finally I'd like to address some cards from each color that I feel aren't getting the respect they deserve. I don't know if these are cards that people just assume are bad without trying them out, or had a negative experience in a past incarnation, but I find these cards are getting looked at in the wrong manner.
Green:
Naturalize: You don't need to start it but you definitely want one somewhere in your pile. 9th has some insane artifacts and enchantments that, while unlikely to be played, are absurdly overpowered. The equipment, Icy, Form of the Dragon, Worship, and Confiscate spring to mind. 9th as a format is slow enough that siding in a single card to deal with a single card is slightly preferable than the standard "killing them before they draw it" maneuver.
Treetop Bracers: There's a good chance this is green's best common. It's like Panoptic Mirror with Angelic Blessing, except there's no waiting and it's far cheaper. Green's pick list is quite mercurial, so I'm hesitant to call any card strictly superior. Still, the power of this card is really high, especially for a common, and especially for how late this seems to go.
Zodiac Monkey: Very startable and annoying to play against as the Green player. Again, Green's depth means there's usually something stronger to pick up. You could make a play for them if you know the rest of the Green is dry, indicating a table full of Green drafters (rare). Just a pain to deal with if you get a slow start.
Biorhythm: It'll probably be rare drafted before you know if you have a deck that can work this card, but it's obviously deadly if it connects. Hint: Turbo Wood Elves.
Red:
Rogue Kavu: Not nearly as bad as it was in Invasion. Horrendous against White and merely passable against Green, it's will almost certainly trade with something decent in Red or Black. Blue as well, if they don't Turtle up. A turn 2 Rogue Kavu can easily get in for six before trading with something decent. Not an auto-include, but definitely decent.
Whip Sergeant: Red has a lot of good three-drops but this one should never get the bench. Your creatures get a solid boost of power for spending an extra Red on casting, plus this guy is flexible towards himself. There are way better cards to take for Red in the beginning, but later on it happily beats out Balduvian Barbarians/Goblin Chariot.
Orcish Artillery: I had the choice of this or a Shivan Dragon in a Red/Black deck a while ago. I took the Dragon cause it was cool and I already had a lot of three-drops and life loss cards. Aside from monetary concerns, it was most likely the wrong pick. The only thing better than one Artillery is more than one. If you know you're deep into Red, it probably beats out Blaze and other goodies. Everyone knows this, right? It's really, really good.
Blaze: Still good.
Flowstone Crusher: Good lord, what a house. Guaranteed to take out two blockers or do healthy chunks of damage, it's way over the top for Red's standard weak creatures in the set. Beats out Shock but not Hammer. [He's positively stupid with an Angelic Blessing or two. - Knut, who has died to Flame Wave or Form of the Dragon in approximately half his many drafts of the format]
Blue:
Thought Courier/Trade Routes: Roughly doing the same thing, either one lets you play extra lands at no penalty. Flooding is pretty rough in 9th, but your mana costs can be high. Cards that let you do something with extra lands are a happy and welcome medium.
Boomerang: It's Blue's Naturalize except overall less powerful and infinitely more startable. Every Blue deck should have one main.
Puppeteer: Master Decoy is White's best common and this isn't even close to Blue's best uncommon. There's nothing fancy here; I just see them go by weirdly late.
Dehydration: Sucks. People overvalue these enough that I never get a chance to grab them, which suits me fine. It costs too much and pretty vulnerable to popular played cards. You can do worse but not having any of these in your pile is definitely not a tragedy.
Giant Octopus: I wish.
Sea Monster (SeaMo): Not really startable, it makes a fine card to have against the other Blue drafter at the table, but only if you have a way to stabilize the ground/air. If they're Mana Leak/Remove Soul heavy, it's not worth bringing in. If your opponent has the air force or permission, you'll lose too much time waiting for your sixth land just to cast a pricey Abyss.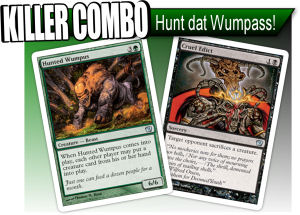 Black:
Festering Goblin: Another card that's not nearly as good as it used to be. 2 toughness is a minimum for most deck's creatures so the chance to get card advantage is very minimal. With weak stats and un-needed speed, you have a card you hope you don't have to play as #23.
Cruel Edict: Wayyyy back when, I had this combo of Coercion and Noble Benefactor. A rather complicated to set up an Extract, it did have satisfying smirk-wiping capabilities. These days we run a similar model with Cruel Edict and Hunted Wumpass. Admittedly it doesn't come up that often, but man oh man, when it does. Edict's solid unless you got lots of Pacifisms, they got lots of Aven Fishers, blah blah.
Execute/Slay: Really, really good when they hit, these plus the Green ones are the only color hosers you can legitimately start. The specific land attacks out of Red seem better but Black really appreciates the extra kill (plus bonus). Red's Geddons seem good but you'd still take an effective creature over them. Unless you're desperate, these two get picked higher than any common creature.
Bog Wraith: Too good for Black and against Black. Get one of these plus a Gluttonous Zombie and the match is already in your pocket.
White:
Master Decoy: Still White's best common. Its killable nature (compared to Pacifism) is offset by the final turn where you get extra points in. White needs all the damage it can find.
Aven Flock: White's second best common. Its nigh-unkillable nature is offset by the fact that it has two power.
Pacifism: White's third best common unless you're W/R where it moves up a spot. Pacifism being third doesn't speak to White's strength, but rather its need to win somehow. A nice card to have regardless.
Angel of Mercy: This card, along with Serra Angel, are the only two White cards that have both 3+ power and the ability to untap. Consequently, Angel of Mercy is White's best uncommon (Ballista Squad is close) and Serra Angel is White's second best rare (behind Wrath of God, not like you'll have to make that choice[unless you're Cube drafting<lucky you!>]).
And there you have it. 9th is a fun format for those sick of CBS and waiting the two months for Ravnica to be released on MODO. It's different, enjoyable, and the rares are actually worth something! Props to Wizards for the most enjoyable core set to draft ever.
My friends, prepare for the deluge of Ravnica articles. I may jump on this bandwagon. However, the next good article coming from my nugget will feature the most exciting draft format of all time. Even writing this spoiler gets me excited. Have fun at the prerelease this weekend.
-Noah Weil
NOSPAMnweil@hotmail.comNOSPAM
Noastic on Magic Online