The Art of 999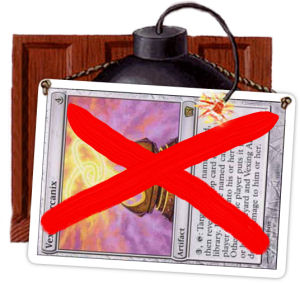 First of all, I would like to take the time to state how much better 9th Edition draft is than 8th Edition. In 888, almost 50% of the games I played were always decided on whoever had more Master Decoys or who had more cards in their deck. That was it. The number of actual "bombs" in the set was very minimal so games very not usually won with one card. For the love of God, Vexing Arcanix was a bomb for me most of the time. Cards like that should not win games. 9th Edition is very different however, because games never go to decking unless it's a Blue/White or Green/White mirror match and there are a ton of cards that win you the game on the spot. Flame Wave, Blaze, the 3/3 landwalkers, Ballista Squad, Orcish Artillery, Elvish Bard, Icy Manipulator, Llanowar Behemoth, Puppeteer, Pyroclasm, and Rod of Ruin all have potential to win games by themselves. Those are just the uncommons. There are many rare bombs in the set to boot - probably double the amount of bombs that 8th had. Even cards like Treetop Bracers can possibly end the game if your opponent has no answers for it. Recently I drafted 999 just to see what it was like and this is what I came up with:
2 Llanowar Elves
1 Kird Ape
1 Grizzly Bears
1 Zodiac Monkey
3 Elvish Warrior
1 Elvish Champion
1 Trained Armodon
1 Wood Elves
1 Rootwalla
2 Anaba Shaman
1 Giant Spider
1 Order of the Sacred Bell
1 Llanowar Behemoth
1 Craw Wurm
2 Shock
1 Volcanic Hammer
1 Giant Growth
1 Treetop Bracers
11 Forest
6 Mountain
Yeah, I didn't lose a game, but the point that I'm trying to get at is that when drafting 999 you are going to get real decks, unlike 888. Some cards like Millstone aren't as good in 999 and it was a straight up bomb in 888. This deck is obviously going to be better than the average 9th Edition deck, but almost all your decks are generally going to be better than they were in 8th Edition.
It's very easy to draft 999 if you drafted 888 at all because a lot of the cards in 8th transferred over to 9th. Cards like Master Decoy, Dark Banishing, Shock, and Volcanic Hammer are all still at the top of the list, but they are some new commons to look out for.
The Colors of 9th
White:
White has what was the best common in 8th Edition in Master Decoy and Angelic Page was replaced by the what I think is superior Pegasus Charger. White does have a problem with having no fat though, as it doesn't have a creature with power greater than two in its common run. My top 5 for White would be:
1. Master Decoy
2. Pacifism
3. Aven Flock
4. Pegasus Charger
5. Aven Cloudchaser
Other cards that deserve mention would be Samite Healer, Crossbow Infantry, and Infantry Veteran. White goes pretty deep, but lacks power. Master Decoy is so good that it is probably the only common in the set that can be classified as a bomb. The other four cards in the Top 5 are all very good and there are still three cards White has not in the Top 5 that would have made the Top 5 of 8th Edition for sure. I would probably say that White is the best color to draft in 999 right now. It isn't too over drafted like Red is and that's the main reason why I think White is the best color in the set right now.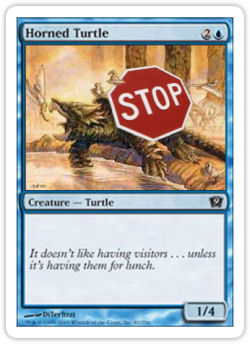 Blue:
Blue has a lot of playables, but none of them have as much power as cards like Shock, Volcanic Hammer, or Anaba Shaman. My Top 5 for Blue looks like this:
1. Aven Windreader
2. Aven Fisher
3. Wind Drake
4. Time Ebb
5. Horned Turtle
Once again, the flyers sit at the top of the list and that is where they should be. Time Ebb is a very underrated card right now - I always get them around 6th-8th. Early game it just destroys your opponent's tempo and late game it literally says "Time Walk" and if your opponent ever puts a Treetop Bracers or Unholy Strength on a creature it just stops that nonsense. Horned Turtle rounds out the Top 5 by having a very large ass. It stops everything that costs three or less mana and most of the guys that cost four as well. Cards that deserve mention would be Boomerang and Sage Aven. The Sage Aven can sometimes be insane for me and other times it is a 1/3 flyer for four mana that lets me know how screwed I am.
Red:
Red has three very good commons in Shock, Volcanic Hammer, and Anaba Shaman and all of them I would gladly first pick.
1. Anaba Shaman
2. Volcanic Hammer
3. Shock
4. Goblin Chariot
5. Sandstone Warrior
If you don't know how big of a fan I am of Anaba Shaman, now you do. I can't even begin to explain how good it is. It was better in 8th Edition, but it is still easily first pickable in 9th also. I thought that Red was going to be the best color by far because of having Shock, Volcanic Hammer, and Anaba Shaman, but it really has just those three cards. When Goblin Chariot is in the Top 5 you know something is wrong. Sandstone Warrior looks like it was going to be awesome, but it really isn't. Few decks are heavy Red in this format because everyone tries to draft Shock, Hammer, and Anaba Shaman. If you ever get a chance to draft the Sandstone Warrior/Seething Song deck please go for it and let me know how it turns out. Red actually has two other playables being Flowstone Shambler and Lava Axe so if you plan on drafting Red know that it is not going to be your heavy color.
Green:
Green gets a nice edition of Rootwalla and Elvish Warrior. At first I though Elvish Warrior was going to suck because of it costing two Green to cast, but if you are Green, it will likely be your main color, so playing it on turn 2 is not a problem at all. Here's my Top 5 for Green:
1. Giant Growth
2. Rootwalla
3. Trained Armodon
4. Llanowar Elves
5. Elvish Warrior
Most people would probably be surprised to see Elvish Warrior above Giant Spider, but the ability to block flyers is a lot worse in 9th than it was in 8th because decks are a lot faster and flyers are a lot less important. Don't get me wrong - I would take Spider over Warrior in a deck playing less than 9 Forests, but Warrior is the best two-drop in the format besides Master Decoy and it has always been really good for me. Rootwalla is probably the best three-drop currently for any color. Being able to pump up to a 4/4 by itself for two mana basically makes it unblockable in the early game and in the late game it turns into a two-for-one for you usually. Treetop Bracers gets honorable mention here because it has the potential just to win games by itself. Putting it on a Craw Wurm late game or even an Elvish Warrior on turn 3 is big trouble for your opponent if they don't have a removal or bounce spell.
Black:
Black pretty much got the shaft this set. Its Top 5 cards are pretty close to Red's, but Red has a much better Top 3 than Black does.
1. Dark Banishing
2. Enfeeblement
3. Gravedigger
4. Highway Robber
5. Looming Shade
Dark Banishing is obviously the best Black common, but Enfeeblement and Gravedigger are pretty close power wise. Gravedigger is pretty solid is combination with Highway Robber however and getting multiples of each is very important to winning with Black. The last two cards rounding out the Top 5 I'm not really a fan of. Highway Robber can be very good in Red/Black with a lot of burn like Lava Axe (nugglesworth) or with Gravedigger, but Looming Shade is only good in a heavier Black deck. I thought about putting Festering Goblin in the Top 5 over Looming Shade, but in the late game Festering Goblin doesn't do much while Looming Shade can get very big.
Those are the color of 9th Edition and here's what order I feel they are power wise in draft.
1. White: Having the best common in the set and having seven other playable commons just puts it over the top of the others.
2. Green: Green is all about fat and it doesn't disappoint in 9th Edition. With the addition of Rootwalla and a better two-drop than Grizzly Bears, Green is at the top of the colors to be looking for to draft in 9th.
3. Blue: Blue is about the same as it was in 8th Edition, it's all about flyers and bounce. It does have the biggest common flyer in the set in Aven Windreader now and the new bounce spell in Time Ebb, but lost Unsummon from 8th. The reason it is better than Red and Black is because it is so much deeper than either of the removal-heavy colors.
4. Red: If I were just going by the Top 3 cards of each color, Red would be #1 hands down, but Red only has three cards, so it sits near the bottom. People are always first picking Shock and Volcanic Hammer also so it's really hard to get a good deck that's heavy Red.
5. Black: Black is pretty interesting to draft. Sometimes you get multiple Dark Banishings and Gravediggers and sometimes you see neither of each. If people around you are drafting Black, then you need to stay away from it because you cant draft a deck that is heavy Black and you likely can't win either. The cards are just too weak to have Black be your main color, and especially not if you are competing with your neighbors.
The Color Combinations:
White/Blue:
This one is pretty classic as it is popular in every draft format. It is especially good in 999 too. Just take as many flyers and Horned Turtles as possible and then make a deck out of them. Horned Turtle is very important to get in this deck because your flyers will not be doing any blocking so you basically can't deal with a Trained Armodon or something like that. Foot Soldiers is another nice card to have in Blue/White.
Red/Green:
Every time I draft Red/Green in 999 I seem to win. You have an answer to everything with burn for creatures and the ability to block flyers. Llanowar Elves are pretty key because you deck will usually end up being pretty slow and your deck will usually be mono-Green splashing for Anaba Shamans and a couple of burn spells or something.
Blue/Black:
Draft flyers and removal. That's it. Gravedigger gets back your flyers when they kill them and Banishing and Enfeeblement keep their guys at bay while you fly over for the win. Watch out for your curve though because your deck tends to lean towards the high end and usually turns out to be very slow.
Blue/Red:
This is my favorite color combination to draft right now probably. Blue is the most underdrafted color currently so take all the Shocks, Volcanic Hammers, and Anaba Shamans you possibly can early on then sweep up all the late Blue cards you see.
I hope this helped you learn more about what drafting 9th Edition is like and what colors to look out for. Good luck and have fun drafting!
The Cak out