SCG Open Series Preview: Buffalo Bound
We're putting some serious miles on our cargo vans and frequent flier accounts this weekend—the StarCityGames.com Open Series is heading to Buffalo NY after a fantastic weekend in Las Vegas NV!
Magic 2013 has begun to settle into its groove and the metagame is starting to stabilize. Naya Pod and U/W Delver look like the two top dogs though it was Zombies that took home the trophy in Las Vegas this past weekend. The Top 8 featured three different Gravecrawler enthusiasts so you may want to start packing Celestial Purges.
On the Legacy side it was business as usual for Esper Stoneblade and Maverick. Stoneforge Mystic came out on top in three games making it two tournaments in a row for Stoneforge Mystic. Expect RUG Delver and Merfolk to start preying on these pesky Kor Artificer aficionados.
If you're coming to SCG Open Series: Buffalo then come prepared. Order your cards in advance and we'll bring them to the site with our crew and equipment ready to be picked up. The cargo van is getting packed Thursday afternoon so if you'd like to have your cards on-site and ready for battle you'll need to place your order before noon on Thursday. Don't be caught without your key rares—grab them at our sales booth!
Speaking of the sales booth here's a map of the venue we'll be using this weekend. It's the Grand Ballroom of Adam's Mark Hotel on Church Street in Buffalo proper.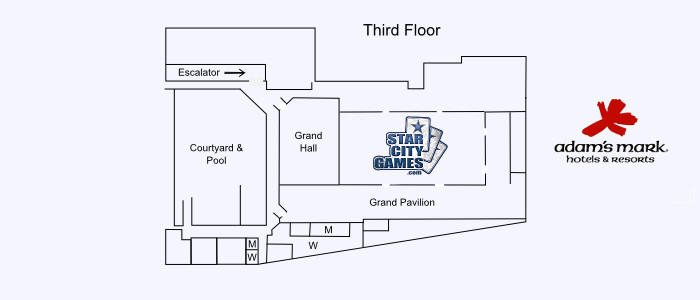 The venue will house three alterists as well.
Lindsay Burley will be selling and creating her unique brand of 3-D cards and tokens! Her work can be seen on her blog or on-site at her table. To arrange special commissions before the event you can contact Lindsay at 3Dalters@gmail.com. Her YouTube page also offers a peek into the creative process.
Eric Claar brings his unique style of alters to StarCityGames.com Open Series: Buffalo this weekend. Known for a minimalist "blueprint" style as well as full art pieces you can check out his work on Facebook and deviantART. For commissions you can contact him through Facebook or email cbalters@gmail.com.
Amber Musick will also be at this event offering custom playmats and tokens as well as creating new works of art and customizing your playmat with original art! Pricing and her current offering of playmats can be found on her deviantART page. Contact Amber at zhycalui@gmail.com to request a playmat for the event.
During the event you're going to want some grub—we're here to help. There are a few options really close to the venue that are ideal for between-round stops to refuel. Personally I'd be eating fresh...but the rest of these are fine too!

Of course after the event your options for consumption and libation expand considerably. Buffalo's got a reasonable night scene and here are a few tips—courtesy Adam Barnello—for making your way into the Buffalo twilight:
The bars close at 4 AM.
They're called "Buffalo Wings" for a reason. See: Anchor Bar. (Note: a number of natives apparently cite Duff's instead though Adam...disagrees.)
Niagara Falls is a few miles away!
The bars close at 4 AM!
Thanks Adam!
We've got SCG Open Series: Detroit redux on @SCGLive with Patrick Chapin and Adrian Sullivan making their way to the other side of the Great Lakes for a weekend of commentary! They were a joy to watch in Michigan and I expect we'll see more of the same come #SCGNY. Accompanying them we'll have Reuben Bresler flying solo—that's right I'll be taking the weekend off! Reuben's going to work his Sideboard magic and handle the written side of coverage.
If you'd like to get in touch with Patrick Adrian or Reuben drop them a line on Twitter! Include the #SCGNY hashtag and you're all good.
Event Coverage Coordinator
---
Help Magic Artist Cyril Van Der Haegen's Fight Against Cancer!
Here at StarCityGames.com we were sad to hear that a member of our community has fallen ill. Last year Magic artist Cyril Van Der Haegen—the mind behind pieces like Maelstrom Archangel Joraga Treespeaker and Springleaf Drum—was diagnosed with leukemia and myeloma two forms of cancer.
In order to assist Cyril with his fight StarCityGames.com will be collecting donations at the registration area of every Open Series weekend throughout the remainder of 2012. 100% of the money donated will be sent to Cyril after each event. Those who can't make it out to an Open Series weekend can read more about Cyril's situation and make a donation online at his personal blog on Fundly.com.
To see some of the incredible work Cyril has done for Magic check out his gallery on Gatherer.
Best wishes
Pete Hoefling
President StarCityGames.com