SCG Open & Classic Series Preview: Minneapolis and Knoxville
G/W Aggro huh?
Denver surprised us all with a victory from the two-color aggressive strategy with Delver of Secrets missing the trophy despite a strong Top 8 showing and a finals finish. Should we expect to see more Strangleroot Geist and Hero of Bladehold tag teams or was Michael Lee's success the true "aberration" last weekend?
Couldn't resist.
Moving forward StarCityGames.com has a trio of Open Series weekends prior to the Atlanta Invitational and we've also got three weekends of SCG Classic Series events in the southeast! Join the Open Series proper and its two $10000 events in Minneapolis or come on down to Knoxville TN for our $5000 Standard tournament.
Decisions decisions! I'm considering Knoxville myself.
For all the latest on the StarCityGames.com Open Series you can check out the In Contention podcast. Our own Reuben Bresler joins Joey Pasco and Matt Kranstuber every week to discuss the latest in tournament Magic and news!
If you're heading to Minneapolis this weekend you're going to want to read on. The event is being held at the Minneapolis Convention Center on 2nd Avenue South in rooms A-J of L100. If that sounded like gobbledygook to you too then behold: a map!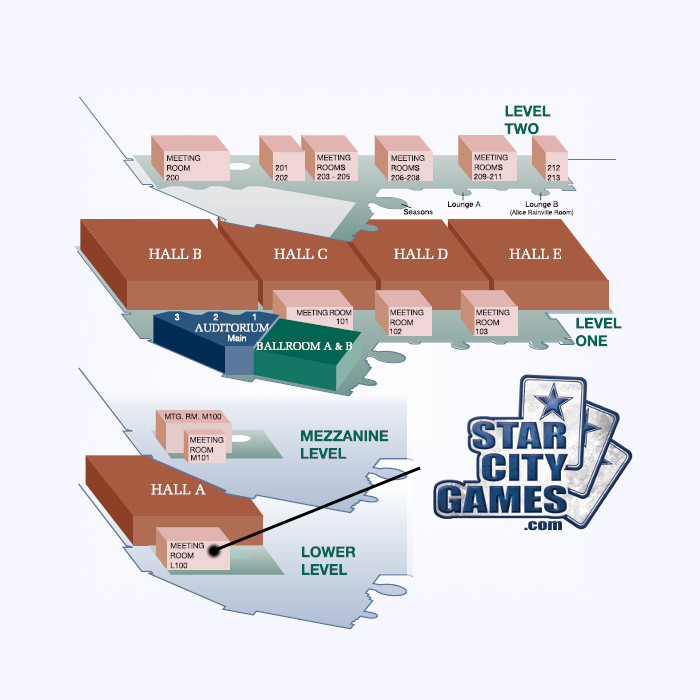 And of course here's the Knoxville Convention Center as well.
We're also looking out for players' stomachs this weekend. Our events staff has combed the area for the nearest food options to make getting your grub between rounds easier than ever before. The chart below lists the best of the available options complete with contact information to make ordering your food (and finding it) a breeze.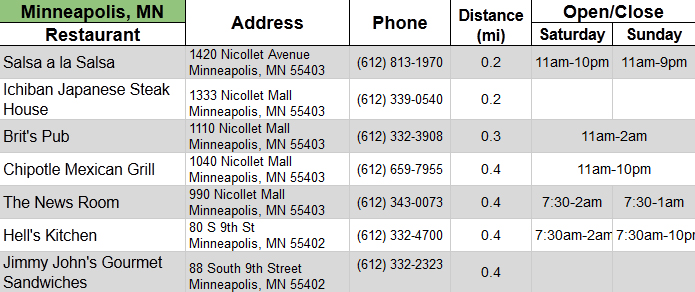 And Knoxville's food options.

Tournament participants for both SCG Open Series: Minneapolis and SCG Classic Series: Knoxville in need of cards we've got your back. If you place an online order before noon on Thursday August 30th then we will offer you free Event Pickup at no cost! Zero shipping and zero complications; we'll have your cards packed on our end and available at the sales booth when the doors open on Saturday. This is the only way we can guarantee that the sales booth has the cards you need so don't get caught lacking that one key card for your deck.
As usual the StarCityGames.com Open Series will host a handful of card alterists in Minneapolis. Meet the talent!
Amber Musick will be in Minneapolis offering her custom full art playmats and tokens as well as creating new works of art and customizing your playmat with original art. Pricing and her current offering of playmats can be found on her deviantART page. You can contact Amber at zhycalui@gmail.com to request a playmat to be picked up at the event.
Chicago's Christopher Barracuda is a fresh face in the altering world. He'll be creating one-of-a-kind alters on-site and accepting commissions for new pieces all weekend. Mr. Barracuda would love to hear about your alter concepts so stop by and chat him up! Check out his creative works in his Photobucket gallery and for special requests contact Chris at christopher.barracuda@yahoo.com.
Lindsay Burley of Pennsylvania will make her way to Minneapolis as well. Lindsay's always selling and creating her unique brand of 3-D cards and tokens as well as custom playmats! Check out her work at her blog and gallery or just drop by her table in Minneapolis and take a look. For special commissions before the event you can contact Lindsay at 3Dalters@gmail.com. You can also stop by her YouTube page for a peek into the creative process.
I'm taking a weekend off of the grind but @SCGLive never stops! Brad Nelson and Jacob Van Lunen will be back in action for Minneapolis reprising their commentary roles after a fantastic weekend in Kansas City a scant few weeks ago. They'll be joined by Reuben Bresler in the Sideboard so tune in all weekend for top-notch coverage of the best in the Midwest. Follow along on Twitter with #SCGMINN and don't forget to check #SCGKNOX for updates on the SCG Classic Series as well!
Event Coverage Coordinator
---
Here at StarCityGames.com we were sad to hear that a member of our community has fallen ill. Last year Magic artist Cyril Van Der Haegen—the mind behind pieces likeMaelstrom ArchangelJoraga Treespeaker and Springleaf Drum—was diagnosed with leukemia and myeloma two forms of cancer.
In order to assist Cyril with his fight StarCityGames.com will be collecting donations at the registration area of every Open Series weekend throughout the remainder of 2012. 100% of the money donated will be sent to Cyril after each event. Those who can't make it out to an Open Series weekend can read more about Cyril's situation and make a donation online at hispersonal blogonFundly.com.
To see some of the incredible work Cyril has done for Magic check outhis galleryonGatherer.
Best wishes
Pete Hoefling
President StarCityGames.com