SCG Open & Classic Series Preview: Portland And Birmingham
Last weekend Zombies won the Minneapolis Open Series while G/W Aggro took down our Knoxville Classic Series. Death to Delver? Not quite as the U/W archetype was still one of the most popular and best-performing decks. The West Coast has a habit of showing up with some off-the-wall strategies—will these players surprise us once more? It might be time for a control deck to rise to the top!
Our In Contention podcast keeps up with everything happening on the Open Series. Join Reuben Kranny and Joey for a discussion of last week's events...and a spicy little jalapeno of a preview card from Return to Ravnica!
For our Portland players please refer to the map below to avoid getting lost en route to the tournament hall. These venues can be tricky labyrinths from time to time!

If you're heading to Birmingham for the Classic Series we've got a handy-dandy reference for you as well.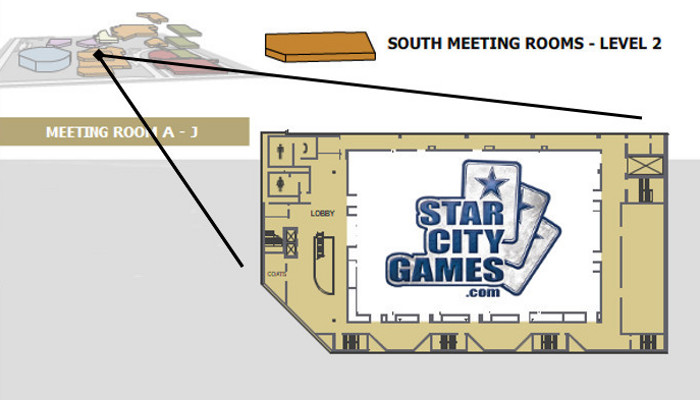 Players have grown accustomed to seeing the food options for Open Series venues in advance and Portland won't disappoint. Peruse the options below and you'll never go hungry between matches!

On the east coast Birmingham players also have a few different places to go get food.

Players attending either Portland or Birmingham should check out our Event Pickup shipping options when preordering cards. The only way we can guarantee we'll have a card you need is if you order it in advance and by selecting the event you're attending in shipping you'll have the cards hand-delivered free of charge on-site! Just make sure you click the right event...
The Portland Open Series is very proud to welcome Magic's rk post and alterist Miranda Roberts to the room! Be sure to stop by rk's booth for prints signings and artist proofs. One of Magic's iconic artists his most popular pieces include Avatar of Woe Ichorid Morphling Tidehollow Sculler and more!
Miranda Roberts brings her alters to the StarcityGames.com Open Series. Specializing in full alters and extended art "borderless" cards Miranda's a specialist in extensions. Don't miss out on these one-of-a-kind cards! You can check out her work and contact her for commissions through Facebook or email himowa@gmail.com.
Reprising their Las Vegas partnership Cedric Phillips and Patrick Sullivan will once more return to the @SCGLive airwaves! Join them for a weekend of commentary stories and good times. I'll be there as well holding down the Sideboard with updates from the tournament floor and the latest decks from the field of players. We'll do our level best to include updates from the Birmingham Classic Series—you can keep up with the Classic on Twitter using #SCGAL but you'll want to keep #SCGPORT loaded up and refreshed for every Open Series update!
Event Coverage Coordinator