SCG Open & Classic Series Preview: Los Angeles and Richmond
It's two weekends in a row out west for StarCityGames.com! Join the crew in Los Angeles this weekend for another Open Series weekend doling out $10000 each day. On the east coast prepare yourselves for the Richmond Classic Series as we move closer to the Atlanta Invitational!
Mixing things up I'll start by giving you the rundown on the Classic Series. This one-day Standard $5K will take place within the Greater Richmond Convention Center at 403 N Third Street. Our location map: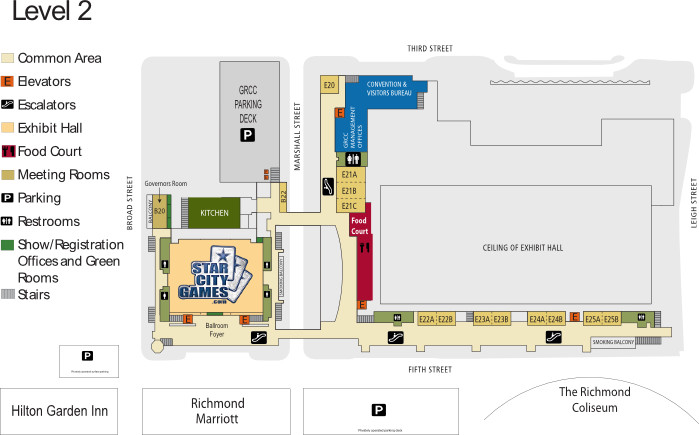 Plus a list of nearby restaurants for our many hungry players.

Now on to the Open Series proper. Los Angeles is an awesome city—so awesome in fact that I'll be staying an extra few days myself! The Open Series will take place at the Los Angeles Convention Center alongside Stan Lee's Comikaze convention. That's 1201 S Figueroa Street—here's our hall's location: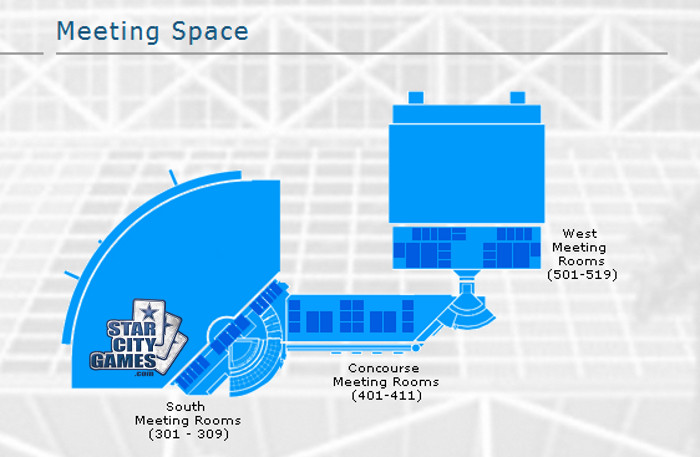 And a handy list of nearby food establishments to keep you fed and watered between the grueling rounds of tournament Magic. Tough life I know.

The Open Series itself is excited to see a trio of artists at the event not to mention an alterist and all the other wonders that Comikaze might offer.
We're very happy to welcome Magic artist Eric Deschamps to our Open Series in Los Angeles!
Eric Deschamps is both a sci-fi/fantasy illustrator and a video game concept artist. For the past decade Eric has worked with a diverse list of clients including publishing video game and advertising companies. His artwork has been featured on Magic cards such as Celestial Colonnade Elbrus the Binding Blade / Withengar Unbound Garruk Relentless / Garruk the Veil-Cursed Jin-Gitaxias Core Augur Koth of the Hammer Lightmine Field Mortarpod Tamiyo the Moon Sage and Venser the Sojourner. See more of his work on his website!
Artist Michael Hayes will also be in attendance!
Artist Michael Hayes from San Diego has had his art featured on Magic cards since the Magic 2012 set. Some cards of note are Vish Kal Blood Arbiter Reckless Waif / Merciless Predator Mind Sculpt and Civilized Scholar / Homicidal Brute. Check out his site!
Then there's Howard Lyons whose work includes a number of Commander favorites.
Howard Lyons began his career studying illustration with artists such as Don Seegmiller James Christensen and Greg Olsen. Over the past thirteen years he has worked in the video game industry as an art director and as a concept artist and freelance illustrator for clients such as Wizards of the Coast Blizzard Entertainment and Electronic Arts. His artwork has been featured on Magic cards such as Basilisk Collar Bojuka Bog Cloudshift Mana Leak (M12) Rings of Brighthearth Sign in Blood Time Reversal Vivid Grove and Wall of Denial. Howard also has a site right here.
Finally we're very happy to have Eric Claar returning to the alterist booth this weekend.
Eric Claar brings his unique style of alters to the StarCityGames.com Open Series. Known for his minimalist "blueprint" style as well as full art pieces you can check out his work on Facebook and deviantART. For commissions you can contact him through Facebook or email cbalters@gmail.com.
If you're in need of singles for either event take advantage of free shipping by placing a preorder on our website before noon EDT Thursday the 13th. Simply select "Event Pickup" as your shipping choice and specify which event you'll be attending and we'll pack your cards with our crew and hand-deliver them to you at the sales booth on Saturday morning!
If you can't make it to Los Angeles never fear—@SCGLive is here! Join Cedric Phillips as he runs it back in the booth for the second weekend in a row this time alongside Patrick Chapin. I don't think I need to oversell either of these guys; I can only hope that my work in the Sideboard alongside them is up to snuff! Follow the action for the Open Series on Twitter at #SCGLA and stay updated on the Classic Series at #SCGRICH!
Event Coverage Coordinator