SCG Open Series Preview: Georgia On My Mind
It's finally here! The Invitational is upon us at last and the best and brightest in Magic are descending upon Atlanta Georgia for sixteen grueling rounds of high-level competitive play this weekend. StarCityGames.com is awarding over $100000 in prizes to competitors in this weekend's events including the Invitational the Standard and Legacy Opens and the return of Draft Opens.
Atlanta is a favorite location for StarCityGames.com and Magic players alike because it's conveniently located for driving players and has America's busiest airport for those flying in. A map of the tournament hall is located here for your convenience: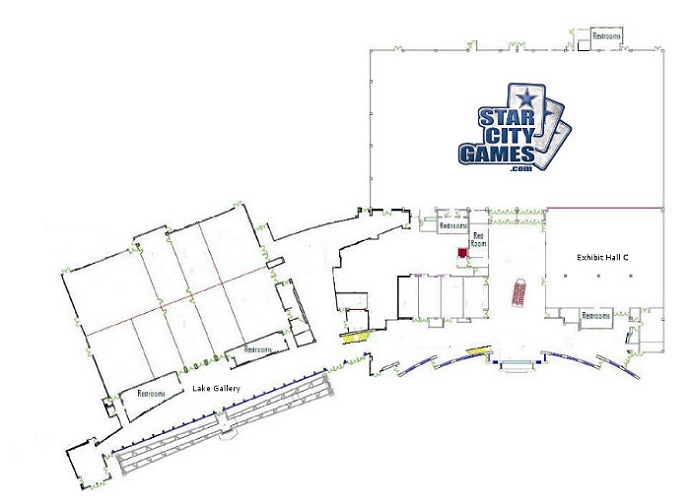 And here's a list of nearby restaurants and cafes:

SCG Open Series: Atlanta featuring the Invitational is proud to be hosting a cadre of alterists at the event all prepared to peddle their wares to eager art fans.
Lindsay Burley will be selling and creating her unique brand of 3-D cards and tokens as well as custom playmats! Check out her work at on her blog then stop by and see these awesome cards at the event! For special commissions before the event you can contact Lindsay at 3Dalters@gmail.com. Don't forget to stop by her YouTube page for a peek into the creative process.
Alterist Chris King will also be in attendance!You can see examples of his alters and place custom orders at his website.
Ron Faris of Black Wing Studiowill be painting custom card alterations at the event as well! Check out his unique alters by following him on Facebook at or visiting his blog. As always you can e-mail him at blackwingalters@yahoo.com for commission information.
In addition Eric Claar will bring his unique style of alters to SCG Open Series: Atlanta featuring the Invitational. Known for his minimalist 'blueprint' style as well as full art pieces you can check out his work on Facebook and deviantART. For commissions you can contact him through Facebook or e-mail cbalters@gmail.com.
Finally Amber Musick will be at this event offering her custom full art playmats and tokens as well as creating new works of art and customizing your playmat with original art. Pricing and her current offering of playmats can be found on her deviantART page. You can contact Amber at zhycalui@gmail.com to request a playmat to be picked up at the event.
StarCityGames.com will also have a massive dealer booth set up all weekend long. Buy sell and trade with America's largest Magic the Gathering retailer!
If you can't make it to Atlanta to join in the fun yourself but still want to see the pros and rising stars of the SCG Open Series battle it out @SCGLive's got your back. Join veteran commentator Adrian Sullivan as he works with a new class of commentators in the booth: former Magic pro and fan of definite articles (The) Ben Seck and host of The Men of Magic podcast Robert Martin. And to support them the ever-so-talented Glenn Jones and I will be providing analysis interviews and general frivolity from the Sideboard! You can follow all of the action at SCG Open Series: Atlanta featuring the Invitational on Twitter at #SCGINVI.
Listen to the @InContention podcast! It's the official podcast of the StarCityGames.com Open Series with @kstube @affinityforblue and me. Listen in at InContentionMagic.com. Our most recent episode Who Blocks? can be found here.