SCG Open Series Preview: Cincinnati
The Open Series returns to Cincinnati this weekend and it's bringing Return to Ravnica along for the ride! Our $10000 Standard and Legacy Opens resume with the last new release of 2012 and it promises to be a set that will shake up both formats.
The primary excitement of course stems from the Standard rotation and the reintroduction of shocklands alongside a number of very powerful gold cards. Early frontrunners in the fight appear to be B/G Zombies featuring the power of Lotleth Troll and green-based strategies leaning on some new friends for Wolfir Silverheart.
That said expect some surprises along the way...
Legacy appears likely to receive some shakes as well. Abrupt Decay is a role-player in Standard but a game-changer in Legacy making the popular Counterbalance strategy much more vulnerable while remaining quite potent against aggressive strategies. Supreme Verdict has a chance at the big time and I wouldn't be surprised to see a few other oddities breaking out.
Let's talk more Open Series. First off the venue map—I know I'll need it so I imagine more than a few of you could also use the help.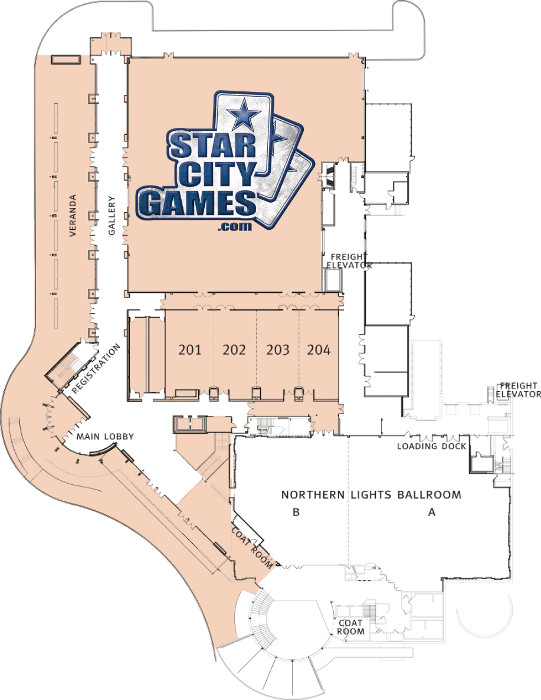 This tournament's going to be a big one I expect. In fact I'm quite jealous of the many players competing for the first Return to Ravnica Standard crown! A big crowd means it'll be even harder to find food but we've gone to the trouble of locating all the venues nearest to the convention center. Plan ahead and even you control players might have time for a meal.

I can't emphasize this next point enough:
Preorder your cards. Please!
This set is in high demand and low supply which means we cannot guarantee our sales booth will provide what you're looking for in show stock. If you want to guarantee that you get a card for your deck preorder it in advance on StarCityGames.com and select the Event Pickup option. Then just show up at the sales booth with an ID and grab your order!
This option expires on Thursday October 4th at noon.
Don't give up if we're out-of-stock online—even if the booth is also out your fellow players will be there bright and early to trade.
3-D Alters' Lindsay Burley will be selling and creating her unique brand of 3-D cards and tokens as well as custom playmats! Check out her work at her blog or just drop by the booth in Cincinnati. For special commissions before the event you can contact Lindsay at 3Dalters@gmail.com. For a look into Lindsay's process check out her YouTube page.
Based out of northern Illinois Chris Bergeson will be creating trading and selling altered Magical cards at this event! Check out his work on his Photobucket and contact him with any requests at Oneiros76@gmail.com. You can also find Chris on Facebook at Oneiros Alters!
Ron Faris will be painting custom card alterations at the event! Check out his unique alters by following his Facebook page or his blog. As always you can email him at blackwingalters@yahoo.com for commission information!
Last but certainly not least Cincinnati marks the return of @SCGLive following the Atlanta Invitational just two weekends ago! Join Matthias Hunt and Zack Hall as they narrate the effects of Return to Ravnica on Magic's two most popular Constructed formats all weekend long. I'll be working with them in the Sideboard serving up deck techs and interviews from the floor.
Whether you're on-site or at home stay updated on Twitter by following #SCGCIN!
Event Coverage Coordinator
I'd be a Dimir guildmage if that guild existed. But it doesn't.

The knife? I use it for...acupuncture. After all life in Ravnica can be stressful. If I happen to see a senator's secrets—or his purse—weighing him down I'm happy to relieve him of either burden.

Actually you look a little stressed yourself. Anything you'd like to tell me? I can keep a secret.