SCG Open Series Preview: Providence
I hope you guys enjoyed last weekend's first glimpse of Return to Ravnica on the Open Series—if you're eager for more then you'll want to get ready for Providence! We're heading deep into the northeast this weekend for another Open Series and expect to see the early stages of this metagame continue to evolve.
U/W/R Control a variety of Zombie decks and Reanimator emerged as the earliest contenders in Standard but I doubt the metagame will stagnate at this point.
In Legacy Abrupt Decay and Supreme Verdict failed to make an impact during week one. Are these cards duds in the format or have archetypes simply not yet adjusted? My money's on the latter.
If you're heading to Providence then this venue map should come in handy! The tournament is taking place at the Rhode Island Convention Center on One Sabin Street in Hall C.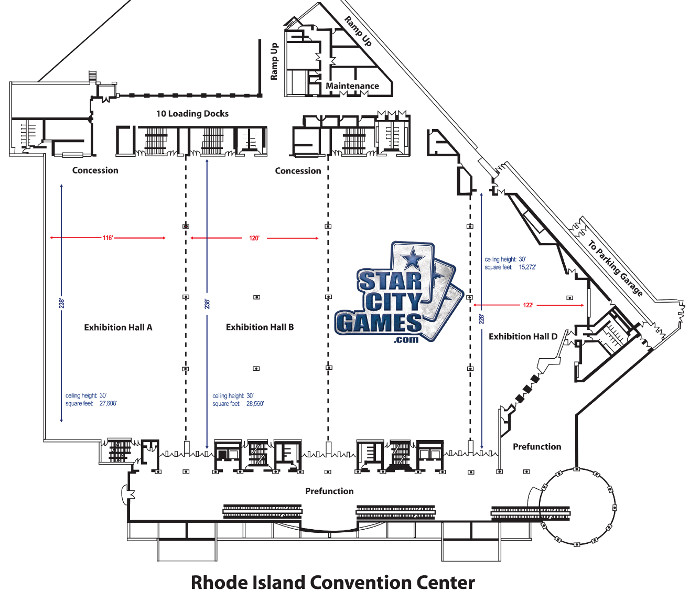 There are a number of food options near the tournament site and our Events team has collected a handy dandy spreadsheet to make your between-rounds feeding frenzy go as smoothly as possible.

Players if you're in need of singles for the weekend's festivities then take advantage of free shipping by placing a preorder on our website before noon on Wednesday the 10th. Simply select "Event Pickup" as your shipping choice for Providence and we'll pack your cards with our crew and hand-deliver them to you at the sales booth on Saturday or Sunday morning! That's the best way to guarantee you get your hands on any hot Return to Ravnica singles not to mention some of the more obscure Legacy cards.
Magic artist Eric Deschamps will appear at the Open Series in Providence! Come have him sign your brand new Ash Zealots and Jarad Golgari Lich Lords or pick up a prints and artist proofs of classic pieces like Celestial Colonnade Garruk Relentless Koth of the Hammer (Duel Decks) Olivia Voldaren Tamiyo the Moon Sage or Venser the Sojourner (Scars and Duel Decks). For more information on Eric and his art check out his site!
Up and coming artist Jaclyn Foglia will be painting and selling her custom card alterations at this event! You can find her work online and visit her Facebook page for more information. To order commissions available for pick-up at the event please contact Jaclyn in advance at jaclyn.foglia@yahoo.com
3-D Alters' Lindsay Burley will be selling and creating her unique brand of 3-D cards and tokens as well as custom playmats! Check out her work at her blog or just drop by the booth in Cincinnati. For special commissions before the event you can contact Lindsay at 3Dalters@gmail.com. For a look into Lindsay's process check out her YouTube page.
If you can't make it out to Providence relax—the StarCityGames.com event coverage team is on the case! Tune into @SCGLive for live coverage from Joey Pasco and Adam Prosak accompanied by the Sideboard's Reuben Bresler. #SCGPROV will keep you inundated with updates via Twitter!
Event Coverage Coordinator