St. Louis is the home of the Cardinals Rams and Blues in the sporting arena but this weekend a battle of a different sort is taking place in the Gateway to the West: the StarCityGames.com Open Series! Last weekend was G/W Humans and U/W Control's time to shine and Brad LeBouef and Chi Hoi Yim walked away with the trophies in New Orleans. Both formats are as wide open and unexplored as the Oregon Trail was when St. Louis was one of the biggest cities in the country and near the starting point of the famous cross-country route. Will you be the next pioneer to earn your stripes in St. Louis?
Keep in mind that we will not be holding the tournament in St. Louis proper. Rather the Open Series is being held across the Mississippi in Collinsville Illinois at the Gateway Center. We've been holding tournaments here for a while and it's a pretty quality tournament site: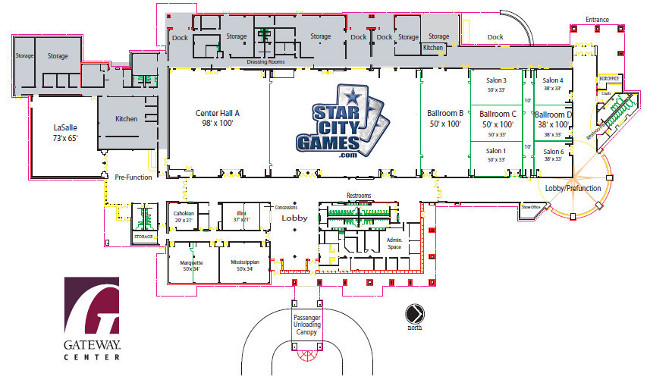 While it's true that we're out in the 'burbs that doesn't mean there aren't food options nearby. Here are some culinary options within reasonable distance from the Gateway Center: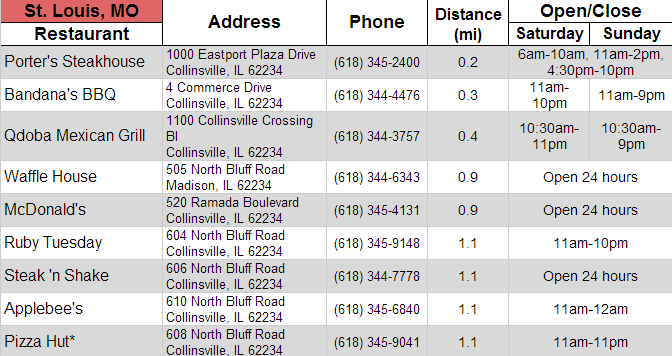 Once you're on site you're going to want to play some Magic right? Well you better make sure you've got your cards! Card prices are fluctuating more than the stock market these days thanks to the ever shifting metagame but you can guarantee that you'll have the Thragtusks Geralf's Messengers and Detention Spheres you need at the event without paying shipping costs by placing an order and selecting "Event Pickup" as your shipping choice before the event!
We have a trio of alterists that will be in attendance as well:
Lindsay Burley will be selling and creating her unique brand of 3-D cards and tokens as well as custom playmats! Check out her work on her website then stop by and check out these awesome cards! For special commissions before the event you can contact Lindsay at 3Dalters@gmail.com.
Ron Faris will be painting custom card alterations in St. Louis! Check out his unique alters by following him on his Facebook page or his blog. As always you can e-mail him at blackwingalters@yahoo.com for commission information.
Eric Claar will bring his unique style of alters to the StarCityGames.com Open Series. Known for his minimalist 'blueprint' style as well as full art pieces you can check out his work on his Facebook page and deviantART. For commissions you can contact him through Facebook or e-mail cbalters@gmail.com.
And then there's the lovely coverage team!
St. Louis will of course be broadcast via @SCGLive. This weekend the matches will be ably commentated by the high-level Magic minds of Matthias Hunt and Zach Hall and I'll be in the Sideboard making sure you at home know about all of the sweet new decks and personalities in attendance.
So join us for #SCGSTL this weekend€"you'll be glad you did!
Coverage Coordinator and Twitter Admiral for StarCityGames.com
Listen to the@InContentionpodcast! It's the official podcast of the StarCityGames.com Open Series with@kstube@affinityforblue and me. Listen in atInContentionMagic.com. Our most recent episode My Two Centennials can be foundhere.