SCG Open Series Preview: Dallas

This weekend the StarCityGames.com Open Series makes its way to the Lone Star State! Last weekend in St. Louis there was a big turnout for Open Series. In the Standard portion Ryan Forsberg used the power of Thundermaw Hellkite to win his first major trophy. And in Legacy Kendal Guthrie earned the win by pulling the RUG (Delver) out from under his competition. Those may have been the winners last week but just like the prairies of Texas both metagames remain wide open! What will win this weekend in Dallas?
As the hashtag for the event (#SCGDFW) might suggest the Open Series will be held at the Fort Worth Convention Center about half an hour from downtown Dallas on the confusingly named Houston Street. So many Texas cities all in one location!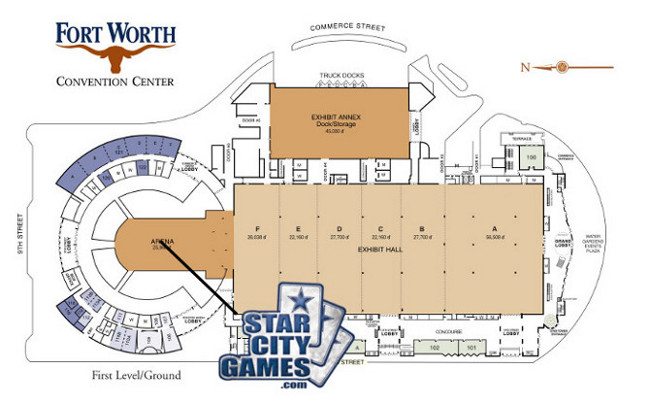 The convention center is right smack dab in the middle of town near both City Hall and the train station so there are a ton of food options nearby:
Once you've gotten to the site it will be time to play some Magic! To ensure that you'll have all of the cards you need you can always place an order at StarCityGames.com. You'll even be able to get them without paying shipping costs by placing an order and selecting "Event Pickup" as your shipping choice before 12 noon on Thursday before the event!
Two alterists will be in attendance this weekend:
Ron Faris will be painting custom card alterations in Dallas. Check out his unique alters by following him on his Facebook page or his blog. As always you can e-mail him at blackwingalters@yahoo.com for commission information!
Eric Claar will bring his unique style of alters to StarCityGames.com Open Series: Dallas. Known for his minimalist 'blueprint' style as well as full art pieces you can check out his work on his Facebook page and deviantArt. For commissions you can contact him through Facebook or e-mail cbalters@gmail.com.
I feel like I'm forgetting something…
Oh yeah the coverage!
The event will be brought to you live both Saturday and Sunday on @SCGLive. This weekend your hosts will be Cedric Phillips and Joey Pasco and they'll be joined by Glenn Jones in the Sideboard with all of the sweet deck techs interviews and analysis you've come to expect from our crack coverage team!
Join us for #SCGDFW this weekend and we'll see you then!
Coverage Coordinator and Twitter Admiral for StarCityGames.com
Listen to the@InContentionpodcast! It's the official podcast of the StarCityGames.com Open Series with@kstube@affinityforblue and me. Listen in atInContentionMagic.com. Our most recent episode My Two Centennials can be foundhere.