By now you have probably read the previous articles I've done on Kuroda-style Red and formed your own opinion - good or bad - on the deck that can be swayed neither by fact nor logic, certainly not the numbers. In the unlikely event you haven't, here are:
The original article, and
The post-Regionals article with Unforge and additional strategies.
Coming into U.S. Nationals, I knew that Kuroda-style Red was not the best deck in the format. As you know from my article last week, testing showed Mono-Blue to be the best. However Kuroda-style Red ended up being the deck I recommended to Josh Ravitz, Steve Sadin, and Osyp Lebedowicz because of French Nationals. I thought that the influx of Blue decks at the top of the French field would make for sticky matchups for my version of Mono-Blue (Jushi Apprentices being faster than Magpies, after all), and at the same time give the Red Deck something to beat up, as the deck performs well against Mono-Blue and even better against the beatdown decks that try to prey on Mono-Blue.
As you probably know, Josh kicked ass and finished Top 8; Steve could have practiced more but honestly just lost two coin flips to go 1-2 in the Constructed portion before dropping, while Osyp simply picked the wrong deck for the tournament: Tooth and Nail. Remember how I closed "The Deck That Never Was" last week? If French Nationals had turned out differently, I would have unequivocally recommended Quash Blue... which would simply have meant Josh losing an actually unfavorable matchup to Neil Reeves in the Top 8 rather than a favorable one.
Back in June, I was eliminated from Regionals by Tooth and Nail in a match where my opponent played badly and I resolved Sowing Salt in both the games he won. This obviously shouldn't add up to a match loss, but the answer arsenal out of Kuroda-style Red just wasn't there to exploit the asymmetries. In one game I Salted his Tower and saw he had the big six... so I played around his Mindslaver "Lauer style." I expected him to make his best play, which was to drop Mindslaver with sub-ten mana and say "Go," when he instead just said "Go." This cost me a turn and I was no longer fast enough to race his topdecked Tooth and Nail a turn or two later. Had I known he was just going to hee haw his opening, I could have played Arc-Slogger and killed him with an untap, but I was afraid that he would, you know, kill my whole board and deck me rather than doing nothing whatsoever. My bad. In the third and deciding game, I Sowing Salted him again but he played four Kodama's Reaches and Toothed me out when I had him dead on board.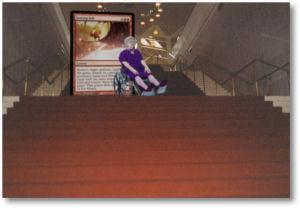 I learned, perhaps too late, that it wasn't enough to just cripple the opponent with Sowing Salt. If I didn't kill him immediately, he could pull out a close game with a late game Tooth and Nail for Sundering Titan. I had been playing for months with the strategic belief that casting a Sowing Salt was like wheeling an octogenarian heiress to the top of the stairs. It didn't quite end her, but a slight breeze or perhaps passing toddler would be enough to send her tumbling to her doom, whereupon her fortune would scatter across the foyer to be picked up by my grubby and opportunistic fingers. I assumed that whenever I lost one of the games where Tooth lost all its Power Plants or some such, it was because I and Kuroda-style Red had done something wrong. Not (necessarily) so: The Kodama's Reach version could pull out of Sowing Salt and resolve a big six or nine the old fashioned way.
The mission, therefore, became to figure out a way to win every game where Tooth was crippled, instead of just winning most of them.
The change was a ridiculously simple one. It dawned on me to "splash Cranial Extraction," and that seemed good enough. For a long time, I tested this version, which was based on my Regionals deck:
4 Sensei's Divining Top
4 Solemn Simulacrum
4 Wayfarer's Bauble
4 Arc-Slogger
3 Beacon Of Destruction
4 Magma Jet
4 Molten Rain
4 Pulse Of The Forge
1 Stone Rain
4 Shrapnel Blast
4 Blinkmoth Nexus
1 Stalking Stones
1 Swamp
18 Mountain
Sideboard:
4 Culling Scales
3 Cranial Extraction
2 Stone Rain
4 Unforge
2 Boseiju, Who Shelters All
Game Ones against Tooth were rough as ever, with Kuroda-style Red winning about two thirds, but not comfortably. The sideboard games were weird. Kuroda-style Red was only losing games where it went first. How does that work? I was losing games where I'd Cranial Reap and Sow on turn 3 when I only had a Swamp for Black mana and then follow up with a Cranial Extraction for Tooth and Nail the next turn. However, I was never losing games where I drew. The even weirder thing was that I was never casting Cranial Extraction in these games, just winning with resource control and burn to the dome.
This is where the strength of the network came in:
Testing was going well, but the deck could still be improved. One night Steve said, "Why not just add two Ice Bridges?" and I countered with "Then why not just add four Ice Bridges?"
Briefly the mana looked like:
4 Blinkmoth Nexus
1 Stalking Stones
1 Swamp
4 Tendo Ice Bridge
14 Mountain
That was the base I actually tested all the way up to Nationals. Inexplicably, it wasn't until last Sunday that I actually drew the Stalking Stones in a game (or at least noticed I had). I called up Josh and told him the Stones was never really hurting me, as I had never drawn it and hadn't previously even remembered it was in my deck, but he said he would rather not risk having insufficient Red mana, and wanted to play 15 Mountains. Tendo Ice Bridge actually made the deck less vulnerable to Mindslaver. Sometimes you could burn all your Ice Bridge counters and not present enough Red mana for the opponent to use to murder you with Arc-Slogger. It was weird, but oddly relevant given the fact that Mindslaver was one of the only two cards that had much strategic value in the Tooth matchup.
Josh introduced the idea of Jon Finkel focus, zeroing in on only what mattered rather than getting greedy, and the numbers improved post-board against Tooth and Nail. Instead of going for Tooth and Nail itself, for Reap and Sow if it seemed convenient, we just named Mindslaver and Sundering Titan. The irony was that in an actual round at Nationals, Josh was up against a player who had dropped Duplicant on his Slooger and who could have wrecked him with Tooth and Nail (but not necessarily a single Titan). Josh showed him Cranial Extraction and about fell out of his chair. His opponent had two Molder Slugs in hand but hadn't dropped either for fear of eating the four-power former Arc-Slogger and he had only one Tooth and Nail left in his deck. Josh took it, chuckled, and started showing him Pulse of the Forge.
The final sideboard came via a combination of me, Osyp and Josh together. Both of them wanted to beat Mono-Blue given French Nationals, and that meant reinstating the Boseiju/Fireball combination. In fact, Osyp wanted to go up to three Boseijus and four Fireballs - an even more aggressive setup than the original version. Unlike U.S. Regionals, where Medium Green was the second most prolific deck, it looked like Sword-encrusted Troll Ascetics would be nowhere to be seen at Nationals. Therefore we decided to go with zero Unforge. As it happens, the rise in Blue and the disappearance of Beacon of Creation made the metagame call a correct one. Hence the Nationals version:
Flores Red, Played by Joshua Ravitz
Top 8, US National Championships 2005
Creatures (8)
Lands (24) Matchups:
Tooth and Nail
The deck this version of Kuroda-style Red was tuned to beat, Tooth and Nail was the most popular deck at U.S. Nationals (though who can say if this will remain the case?). You are comfortably a 60-40 favorite in Game One and the matchup might actually approach 2/3. Players who aren't winning this matchup simply aren't playing all the tricks. You can't leave stray mana and you can't miss a point of burn. Tooth and Nail can explode out of nowhere to win, so assume any games that you are losing via 1-2 life point margins or with cards in your library and Arc-Slogger in play are your fault and not the deck's.
Oddly, you win almost every game where you go second in sideboarded duels, so winning either Game One or Game Two is usually the nail in the coffin. Strategically focus on Mindslaver and Sundering Titan as your Cranial Extraction targets and the opponent will not likely be able to beat you using his "creature assault." Kuroda-style Red was built to beat up on much faster decks such as Red Deck Wins or White Weenie... clunky 5/5s and 4/6s without Swords or Blanchwood Armor backing them up should not pose any kind of a threat to Arc-Slogger and Pulse of the Forge.
Aggro Red/Red Deck Wins
This matchup was originally a 9-1 favorite for Kuroda-style Red, but the more recent versions using main-deck Zo-Zu the Punisher and Sword of Fire and Ice are obviously more dangerous than the ones with the stupid Stone Rains. I went 2-1 against Red Deck Wins at Regionals, losing only a match where my only spells were one Wayfarer's Bauble and one Pulse of the Forge in Game One and I double mulliganed and never played a second land in Game Three; at Nationals, Josh went 1-1 and Steve went 0-2. In their defense, both players would have won all their Red Deck Wins matches had they won their flips. Steve, in particular, had a superb anti-beatdown draw with Wayfarer's Bauble into Solemn Simulacrum, but because he was on the draw, took too much damage from a second turn Chrome Mox + Zo-Zu to properly exploit it.
I would still consider the second most popular deck to be a very favorable matchup. That said, Teddy Cardgame has called Fireball into question more than once. We bring it in against Red Deck Wins, but because they have Sword of Fire and Ice, we can't really say it is empirically better than Unforge was. Just something to think about.
White Weenie
Of the three most popular archetypes, all of which are good matchups, this one is the best. Josh and Steve went a combined 4-0 against White Weenie, with Josh losing only a single Game One to a topdecked Dust Drinker merely because he didn't win the flip; both of them beat professed "God draws" with burn to the face and a certain three-mana artifact. White Weenie simply has no way to fight 4 Magma Jet, 4 Fireball, 4 Culling Scales reliably, and the saddest thing in the world is a Worship with no one around it; well it might be sadder to aim Terashi's Grasp at a Culling Scales only to take five instead of gaining three.
In one sense, the rise in UrzaTron Blue is very good for Kuroda-style Red because White Weenie follows suit. Consider this discourse between myself and Dan Paskins:
[michaelj] Sorry I betrayed you and all true Red mages by adding Cranial Extraction, but I lost to Tooth with Kodama's Reach after resolving Sowing Salt and didn't know what else to do about Mindslaver. Does that count as The Fear if you annihilate the White decks designed to beat you with their foolish Champions, Circles, and life gain?
[danp] Cranial Extraction isn't really a sign of The Fear, although it doesn't match up to the usual criteria of dealing damage or killing something in play (but then nor does Sensei's Divining Top...)
[danp] Beating White decks is more than acceptable, especially the people who turned up specifically thinking that they were bound to beat the Red Deck. Letting the Blue decks run rampant was pretty weak, though - it made for very unwelcome reading. If nothing else, the White decks should have been able to stop them - if they can't even do that, then what's the point of them?
UrzaTron Blue
The clear best deck in the format, UrzaTron Blue is not a favorable matchup. Luckily it's not like Kamigawa Block, where the #2 deck just cannot beat the #1 deck, though; Josh's testing was something like 45% v. Eugene Harvey and 50% against Adam Horvath (game ones only), which is about even if you are playing against the best players in the country.
Post boards you would much rather be playing against Jon Sonne's version, which is tuned for the mirror, than the touch Black deck. The reason is that Sonne's version just has counters and bombs and therefore falls into your "Cranial Extraction the Mindslaver," "Sowing Salt the UrzaTron," and "Boseiju through the counters" plans, whereas the DeRosa version will just Cranial Extraction you for your Cranial Extractions, making for a much more fair - and therefore harder to win - fight.
Not great, but not bad, either.
Medium and Aggro Green
These matchups are unchanged from Regionals era, but get a lot worse boarded because Red no longer has Unforge.
Rats
Imagine White Weenie, but with creatures half the size and sometimes twice the cost. Like Medium Green, the loss of Unforge makes beating Rats harder than at Regionals, but the non-Green versions have no Shamans for Red's Culling Scales.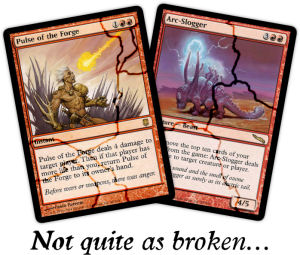 Mono-Blue Control
This matchup is typically Blue's in Game One and Red's after boards. At Nationals, Josh was one mana shy of winning Game One, and got flooded in the subsequent duels, even the one he had Boseiju and resolved Cranial Extraction. Josh saw triple mana source with his Sensei's Divining Top eight different times, which explains the 0-3 and quick exit at the able hands of Mr. Reeves.
Josh says our sideboard strategy was off a little bit. He took out:
-4 Solemn Simulacrum
-4 Arc-Slogger
-1 Shrapnel Blast
-1 Mountain
For:
+3 Cranial Extraction
+4 Fireball
+3 Boseiju, Who Shelters All
The theory was that we wanted to out-land the Blue decks, but Josh just ended up getting flooded. In game two, he had too many lands and didn't even get a Boseiju out of it. In most matchups we would side out a Magma Jet, but Neil's deck had Jushi Apprentice, so that wasn't an option. I think the optimal swap may be:
-4 Solemn Simulacrum
-4 Arc-Slogger
-2 Mountain
+3 Cranial Extraction
+4 Fireball
+3 Boseiju, Who Shelters All
To his credit, Neil sideboarded really well. We were expecting Twincast, which we assumed was his only out against Boseiju, but Uyo was a surprise. More than being "just a guy" or "just better than whatever he is taking out," Uyo is actually superb against the Red Deck. Like in Limited, either you kill it immediately or you lose to it. The big 4/4 is particularly strong against Kuroda-style Red because we don't have any real non-sorcery or instant threats after board.
The only question left is whether the deck is still good... I think it is. Going into Nationals, most of the people "in the know" I talked with recognized it as the second best deck, and even I liked Quash Blue better. It has the purely best spell (Pulse of the Forge) and the purely best creature (Arc-Slogger), but doesn't play the most actually broken mechanics. Kuroda-style Red is kind of like Teen Titans in Vs. It's not the best deck, but if you know all the tricks, you can do impressive things to the board and simulate a degenerate turn... But you're not actually broken the same way Curve Sentinels with Bastion is.
In the same way, Kuroda-style Red doesn't have an UrzaTron or an ultimate foil in Damping Matrix. It is just a good overall package - and certainly the best red Deck - that matches up well with most of the field; a week ago its best matchups happened to be the three most popular decks, but that can change. Most importantly, if you're not good at managing resources, if you're addicted to your Top, or if you can't properly count to 20 when you're being pressured by creatures on the ground, you're going to be frustrated playing it. I would suggest counting to nine rather than 20.
May your opponents lose the flip,
LOVE
MIKE
Quick Shout-Out to the Forums:
The average Forum poster apparently doesn't read entire articles and is willing to prove that to everyone on a daily basis, but conversely, there are some real gems out there. Coming as someone whose Magic writing career originated in plain text newsgroups, I just wanted to thank Gydion, with whom I had a semi-clash in my forums and articles earlier this year. Gydion pointed out Damping Matrix in White Weenie months before the Pro community had it; it was only by reading one of his posts when I was working on my own, bad, White Weenie decks back in April that I was able to discover Culling Scales, and, eventually, it's absurd interaction with Sensei's Divining Top against aggressive decks, little artifacts, and all that. For me, being open to something when I had a preconceived notion that could be improved was the key in making one of my other decks better. Thanks, man.