On Saturday DreamWizards was having a Grand Prix Trial for the Legacy-format GP: Philadelphia. I didn't really have a deck and I didn't have any available cards to borrow; fortunately, there was a Standard side event to be held at the same time. I figured lots of local players would be in the same boat as I and that the Standard event would be almost as big as the GPT. I was wrong, but more on that later. First, let's get to the decklist, which is a completely original creation on my own part:
4 Pentad Prism
4 Talisman of Progress
4 Seething Song
4 Serum Visions
4 Sleight of Hand
4 Thirst for Knowledge
4 Enduring Ideal
3 Confiscate
2 Form of the Dragon
1 Genju of the Realm
1 Zur's Weirding
1 Ivory Mask
1 Meishin, the Mind Cage
4 Shivan Reef
4 Adarkar Wastes
4 Tendo Ice Bridge
4 Island
1 Oboro, Palace in the Clouds
1 Mountain
1 Plains
Sideboard:
4 Mana Leak
2 Boseiju, who Shelters All
3 Boiling Seas
3 Circle of Protection: Red
3 Sowing Salt
At this point I will pause, so I can check the forums for flames regarding my obviously sarcastic comment above. Geez, that guy is such a tool.
Anyway, I did not want to even think about an original deck for this tournament, since I am already sketching out ideas for both States and Extended. So, I just took all of the Enduring Ideals that I was able to raredraft 13th over the last few months, took the Norwegian Ideal deck, and ran with it. The Norwegians ran three Form of the Dragon, but I wanted the fourth Thirst for Knowledge instead, so I went down to two Forms. I couldn't obtain Battlefield Forge in time, but if you can I would suggest cutting the Mountain, the Plains, and the Oboro for three copies of the W/R pain land.
So how much testing did I do? Well, I read Thomas Gundersen's article. Also, I ... um ... nope, that's about it. I did decide to play a Friday Night Magic tournament the day before, as a warm-up. I had never before played a deck "blind" (without any preparation), and I found it to be a very interesting experience. Here are some lessons learned:
1) Know your skill sets. More than enough has been written about knowing your deck's "role," a la Who's The Beatdown?, but when you're playing a deck blind it's also important to know what skill sets you'll need when playing it.
There are certain skills which you'll use in every game: mulliganing well, reading your opponent, and what Mike Flores calls "operations" are some of them. However, there are also some skills that are specific to certain decks and strategies. I could probably write a whole other article about all of these separate skill sets, but a few that I can think of are:
Putting pressure on the opponent. Even the simplest of beatdown decks is not just about playing your men and bashing face. You have to efficiently manage your damage, decide when you have enough threats and when you don't. If there was one thing that was good about the reign of Arcbound Ravager, it was that it helped a lot of players (including me) recognize their weaknesses in this area.
Minimizing the opponent's outs. Sometimes this is the same as "putting pressure on the opponent," sometimes not. For example, if you're playing a control deck that's low on card advantage or countermagic, such as The Rock, you'll often reach positions where you have to ask yourself, "what can my opponent do to get back in this game?" quickly followed by "how can I stop him from doing that?"
Building your own combo. As I wrote in my Mind's Desire primer in February, playing that kind of combo deck requires an odd pairing of patience and aggression. You have to not rush into comboing off too soon, and yet you have to have a good sense for those situations which require an aggressive effort to go off, even if it's not clear that you have or will draw everything you need.
The Enduring Ideal deck that I played is an interesting case. If you can mulligan well, then it actually doesn't involve much of "building your own combo"; you'll usually have a hand with either an Ideal, or sufficient mana to cast one, and you just use the Blue card-drawing spells to finish the combo. Instead, because your combo ends the game slowly, turn by turn, I found that the necessary skill set to win games was "minimizing the opponent's outs."
For example, in the Friday Night Magic tournament, I played against White Weenie twice. This match is trivially easy in game one, since the average WW deck doesn't have enough slots to run Kami of Ancient Law or Terashi's Grasp maindeck - the first Ideal fetches Meishin and your opponent usually scoops the cards soon afterward. Gundersen relates that one of teammates faced a WW deck with maindeck Scour, however. What a rough beat!
In the post-board games, you face a problem: almost every opponent will have Grasp and some will have Kami, Scour, or other enchantment hate. So even if you get the nut draw with turn 2 Enduring Ideal, you still have to do something to keep your opponent's outs small. My preferred method was to try and draw out the first Grasp with a Confiscate on one of my opponent's men, and then try to deny future draws of hate cards with Zur's Weirding.
Many times the percentage you save with plays like these may be so small that it seems like over-thinking or a waste of time, but the alternative - losing an utterly won game to some miracle draw by your opponent - is a lot more painful. Believe me; I've been there.
2) When sideboarding, less is more. If you're playing the deck blind, you might not have much of a clue when boarding. Perhaps you've read an article or two about the deck, which may contain sideboarding advice, but even then reading some boarding advice is not quite the same thing as making the switch during an in-match pressure situation.
Generally, you don't want to get too fancy unless it's absolutely necessary. You don't want to dismantle something like one-sixth of your deck without a damn good reason, because your deck is then changing completely. Who's to say that your strategy is still the same with all of those sideboard cards present in your deck?
I don't have to give a lengthy example here, Mike Flores says it all for me:
"I respect Terry Soh's Troll and Nail deck... but only when it is correctly applied... By [sideboarding in Troll Ascetic], the Tooth player would make himself slower than the Red Deck and present useless cards rather than advancing his fundamental strategy."
Unless you're doing a completely transformative board (which I don't recommend, if you're running the deck blind), this is great advice for you. When boarding, you still want to advance your fundamental strategy. If you were the beatdown in game one, usually you'll be the beatdown in post-board games. If you're playing White Weenie against a Red deck, just because you bring in Circle of Protection: Red or Auriok Champion doesn't mean that you've given up your face-smashing ambitions. If nothing else, you'll want to bring the beats before your opponent finds his Culling Scales and tries to get back in the game.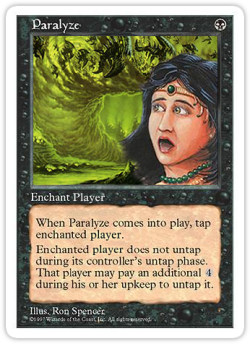 3) Battling The Fear is very important. For those of you new to this fine website, "The Fear" (never forget the capital letters) is a term coined by Red Deck Wins stalwart Dan Paskins. It was meant to describe the neophyte magician's unreasoning terror when he is playing a Red deck and he suspects that his opponents are sideboarding in COP: Red.
I learned this the hard way in the Saturday event. In Round One I faced a deck which seemed to be laying nothing but Swamps and Urzatron parts. When I fumbled with my combo in game 1 he put down an Oblivion Stone and was able to stall until he could Death Cloud me for 16 (!). He knew what my deck was, and he appeared to be running Diabolic Tutor as a four-of, so during sideboarding I immediately developed The Fear of Death Cloud and Cranial Extraction. This caused me to lose game 2 in disastrous fashion.
First, I kept a hand with sufficient mana, including a Mox and Talisman, for a turn 2 Ivory Mask, a turn 3 Sowing Salt, and not much else. In retrospect the keep may have been wrong, since I am not the control deck in this matchup, and I forced myself into needing good topdecks: either Ideal and a lot of land, or two combo parts (Ideal plus Prism or Seething Song). Then, when my opponent went Solemn Simulacrum into Diabolic Tutor, I developed The Fear of Death Cloud, when in fact it would not have been so bad for me - any Death Cloud which would have emptied my hand would have emptied his also, and I had a Mox and Talisman to compete mana-wise.
Instead, I decided I needed to start denying his draws and I hard-cast Zur's Weirding that I had recently topdecked. That may not have been the worst blunder I've ever made, but it was on the shortlist. He was simply able to deny me the cards necessary to play Enduring Ideal and kill me with the Solemn. This is the worst thing about The Fear; having it will usually cause you to lose to a completely different card than the one you were worried about.
Finally, for those of you who do compete in the Legacy format, I thought I'd share some results from the 39-player Grand Prix Trial. The Top 8 consisted of three Goblin decks and one each of Landstill, High Tide, Enchantress, Life (similar to the Extended deck, with some additions like Diamond Valley), and Mono White Control (similar to the Onslaught Block deck, with Swords to Plowshares and Humility). The Top 8 matches were:
I wanted to report all of the results to you, but the possibility of watching a Landstill vs. Mono White Control match threatened to throw me into a coma. So, that's all you get. I assume Landstill and Enchantress met in the finals, but I'm no Legacy expert.
Until next time, here's hoping that you get more than nine people to play in the event you prepared for (so many Legacy players showed up, and stayed in after two losses, that only eight players plus me were left for the Standard side event).
This article written while listening to Kanye West's "Late Registration."
mmyoungster at aim dot com
mmyoungster on AIM
Later.