When testing for Regionals last year, I designed a White Weenie/Jank deck with Mox Diamonds and polychromatic lands, splashing all over for Duress, Incinerate, Shock, and so forth. Even when I won, I just had to ask myself "If you want to play a weenie deck with bolts and disruption, why not just play Wasteland Sligh?"
Yes. Why not? - Mike Flores, We All Learned to Break the Rule of Four
I've been wary of doing set reviews ever since I called Lightning Rift "junk" back when looking at Onslaught. So this is most emphatically not a review of the new Red cards. Instead it is a quick primer of what options will be available in Standard, things to think about and some decklists to test your own creations against or to use as a starting point for your own testing. It is almost certain that I will miss out on one or more cards which other people think are really good. Ask away in the forums if there's a particular card you'd like me to discuss.
There are three places to start when looking for good new cards.
1. Help for what's already out there.
First of all, every Standard format after the release of a new set starts off being very similar to the Block Constructed format of the previous summer. This is because the previous block makes up a majority of the cards available and people have a better understanding of how good those cards are. So a good place to start is with the top performing Red Decks from Kamigawa Block and see what Ravnica (and 9th Edition) have to add to them.
..
...
Hmm.
Here's what I found, a PTQ winner and a Top 64 in a Grand Prix:
Creatures (16)
Lands (25)
Spells (19) Hard Bitten Jan
GP: Taipei Top 64
22 Mountain
1 Mikokoro, Center of the Sea
1 Shinka, the Bloodsoaked Keep
4 Hearth Kami
3 Jiwari, the Earth Aflame
4 Frostling
3 Pithing Needle
4 Hidetsugu's Second Rite
4 Yamabushi's Flame
4 Glacial Ray
2 Genju of the Spires
4 Lava Spike
4 Flames of the Blood Hand
Sideboard
3 Zo-Zu the Punisher
4 Gaze of Adamaro
1 Jiwari, the Earth Aflame
1 Sideswipe
3 Blind with Anger
2 Kumano, Master Yamabushi
1 Boseiju, Who Shelters All
2. Go With the Format.
Another approach is to start with the new mechanics and ideas found in Ravnica and assess how powerful they are. In the past, block mechanics and synergies have been extremely Affinity potent Madness, though apparently this is now being de-emphasized.
Since Ravnica is about guilds, from a Red point of view, this involves looking at the Boros and seeing what they have to offer, as well as noting that it is easier than it has been for a while to splash cards from other colors into your Red deck to help solve particular problems.
Nothing is ever really that new.
The third and last way of proceeding is to consider that, thanks to the color pie, there are never going to be any massive surprises when you look at Red cards. There will be some creatures which aren't quite as good as those in other colors, some burn spells, some land and artifact destruction spells, a rare card which lets you have two attack steps and so on. Over the years, decks that feature a lot of burn spells and decks with a mix of small creatures and burn spells have both proved potent, so we can have a look at what Ravnica offers in the way of new variants on tried and tested themes.
So, let's have a look at the new ca...
Hang on, just got an e-mail.
***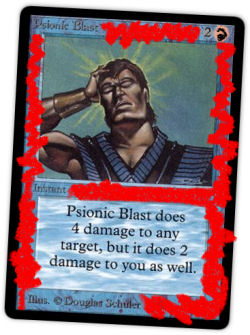 Date: 15th September 2005
From: okk@wizards.com
To: dan.paskins@gmail.com
Subject: we got syonik blast!
Master,
I woz listening to Mark Rosewater and Randy Buehler like you asked me too, an' I found out that they decided to bring back the old blue card Syonik Blast (the blue spell wot does 4 damage)! They arsked me to go and fetch one for them, so I run down to the stoor room an' got it, but I skribbeld out the blue mana symbal and put a red one in instead before I giv it to them! An' they didnt notiss and now we got us a Syonik Blast for Red. Called Char.
Okk
Four damage for three mana at instant speed is one damage more than we would usually get for that cost, and with a pretty minimal drawback, though admittedly against White Weenie using this to kill one of their creatures isn't the greatest. But, yeah, it's taken twelve years and a bit of ingenuity on the part of the R&D goblins, but Psionic Blast is finally Red.
Of the other Red cards, here's a quick run through, skipping the five-mana mediocre creatures which are almost strictly for drafting with:
And then there's the Boros. Boros Recruit isn't as good as Frenzied Goblin or Frostling, but Boros Guildmage is better in a mono-Red deck than any other two drop (unless you need Hearth Kami to pick off artefacts).
I quite liked Sunforger until I counted up how much mana it actually costs to do anything.
And then there are the cards which actually require White mana to play. I feel mildly nauseous even thinking about pairing Red with White, but as incentives go, this isn't bad:
Lightning Helix RW
Instant
Lightning Helix deals 3 damage to target creature or player and you gain 3 life.
Lightning Helix is pretty much strictly better than Incinerate, and they haven't let us have anything as good as Incinerate for years.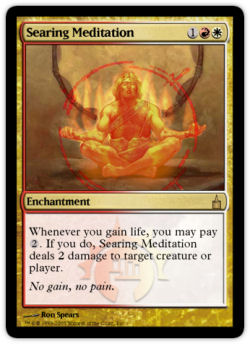 Looking through the other cards, we get a two-mana double striker Boros Swiftblade, a 2/2 flier with haste for three mana (Skynight Legionnaire), a near reprint of Wildfire Emissary (Sunhome Enforcer), a variant on Cataclysm (Razia's Purification), and Searing Meditation, which after my mishap with Lightning Rift I suspect actually has the potential to be quite good, though obviously requiring a deck to be built around it.
So, those are the new cards, what are our options?
Option One is to go in the direction which Ravnica is pushing us. There is a White Weenie deck from Kamigawa which is very strong, though not quite on a level with the very best decks, and we now have the option to put burn spells in it, which means that we can have a deck which is like a Red beatdown deck but with much better creatures:
4 Isamaru, Hound of Konda
4 Suntail Hawk
2 Lantern Kami
4 Boros Swiftblade
4 Leonin Skyhunter
4 Skynight Legionnaire
4 Umezawa's Jitte
4 Glorious Anthem
4 Lightning Helix
4 Char

4 Battlefield Forge
4 Sacred Foundry
1 Tendo Ice Bridge
1 Eiganjo Castle
12 Plains
It might well be that Boros Swiftblade and Skynight Legionnaire are no better than the many other options, including Hand of Honor, Samurai of the Pale Curtain, Eight-and-a-Half-Tails and so on, but the above seems like a reasonable place to start and to find out how much benefit there is from the new Ravnica cards.
Lightning Helix aside, it is not as obvious that splashing White into a primarily Red deck will offer many benefits, because the good White creatures mostly have WW in their casting cost. The main advantage to playing Red beatdown over White Weenie splash Red are the ability to use Genju of the Spires and/or Rathi Dragon. Here's what a mono-Red deck might look like, post-Ravnica, if built according to the same principles as every other successful Red beatdown deck, emphasising redundancy and sticking to the mana curve:
4 Frostling
4 Frenzied Goblin
2 Genju of the Spires
4 Boros Guildmage
4 Hearth Kami
3 Zo-zu, the Punisher
2 Orcish Artillery
3 Rathi Dragon
2 Shock
4 Volcanic Hammer
4 Char
4 Umezawa's Jitte
1 Shinka, the Bloodsoaked Keep
19 Mountain
Not many Ravnica cards in that one, but that's hardly a surprise. If you haven't got the cash for eight rare painlands (insert rant about how dual lands shouldn't be rares because it raises the price level of competing in tournaments unnecessarily), then this is what your Red deck might look like. [But it also helps Wizards sell more cards and has been the standard since Alpha. - Knut, playing devil's advocate]
As for burn decks, let's look at what Flores Red looks like when you lose Pulse of the Forge, Arc-Slogger, Shrapnel Blast, Solemn Simulacrum and Magma Jet:
4 Lava Spike
4 Shock
2 Genju of the Spires
4 Glacial Ray
4 Lightning Helix
4 Char
4 Flames of the Blood Hand
3 Hidegatsu's Second Rite
4 Sunhome Enforcer
2 Jiwari, Earth Aflame
2 Mikokoro, Centre of the Sea
4 Sacred Foundry
4 Battlefield Forge
15 Mountain
Oh dear. A prize for the first player to go turn 1 Lava Spike, turn 2 Lightning Helix, turn 3 Char, turn 4 Second Rite, mind.
Alternatively, we could try something a bit odder:
4 Enduring Ideal
4 Seething Song
4 Wrath of God
3 Jiwari, the Earth Aflame
4 Honden of the Cleansing Fire
3 Honden of Infinite Rage
4 Searing Meditation
4 Lightning Helix
2 Form of the Dragon
1 Ivory Mask
1 Zur's Weirding
1 Meishin, the Mind's Cage
4 Fellwar Stone
4 Tendo Ice Bridge
4 Battlefield Forge
4 Sacred Foundry
5 Plains
4 Mountain
Yes, this is a rough first draft, and no, designing life gain decks is not my strength. But, again, it is a possible starting point, and trying to exploit reusable damage is always worth a try.
One of the great things about Magic is that every year we have to reassess old certainties. The first time I played a Red deck was after staying up all night trying to make a White Weenie deck with Bolts in it, and working out that even though the creatures weren't as good, the mono-Red deck was just better than the White/Red deck. Maybe this is the year when that stops being true, and when the best first turn play that a Red mage can make is Isamaru, Hound of Konda. That apart, we'll know more about how to build our Red decks once we see what the opposition looks like.
'Til then, good luck Char-ing those Blue mages and showing them what they're missing,
Take care,
Dan