When I was younger, my family went to a place called Showbiz Pizza. My brother worked there, and my parents enjoyed going to see their eldest son at work earning a living. Me? I just enjoyed the fact that he was able to give me free tokens and Skee-ball tickets.
Yes, there's corruption even in Showbiz.
Reading that line a second time, I am amused.
They had an animatronic band called The Rock-afire Explosion. Basically, it was a bunch of spooky robots that played rock music while you ate pizza. Honestly, though, if you're a child, there's a point at which a bunch of wide-eyed, plastic, slow-moving, fixed-smile giant animals is going to freak you out a little.
I loved that place, even if I hated The Rock-afire Explosion. As such, I just kinda avoided them, and spent most of my time wandering around the game area. One game in particular that always caught my attention, if not my enthusiasm, was Whack-A-Mole. You've probably seen it before, even if you're not overly familiar with the name. It's usually a large box, with six holes where mechanical moles spring up, often in multiples. Attached to the machine is a giant mallet. The player swings the hammer quickly and fiercely, attempting to send the little bastards back to the machine's undercarriage.
Whack! Up pop two more. Whack! Whack! Up pops another. Whack! Up come three. Whack! The game ends when the timer goes off. The goal? See how many you can whack within thirty seconds! Or just whack until your arm falls off!
Whack-A-Mole isn't necessarily difficult or challenging; it's more of an exercise in frustration. If you let it go on for too long, you realize it's simply a constant barrage of threats without resolution. Even though technically your amount of answers is unlimited as well, if you whack one mole, more will come — the barrage of rodents never stops. (Hey! — The Ferrett, honorary rodent) Even the most diligent and persistent player will eventually succumb to the desire to just say "screw it" and not bother anymore.
I've been working on some Standard decks. Unfortunately, the last few weeks have been my own personal Whack-A-Mole. If it's not problems with my Internet connection, it's my random need for a root canal on the day before Thanksgiving. (Self-pity on: It's hard to write or play Magic when you can't concentrate beyond the throbbing. Self-pity off.) Additionally, Barrett and I are preparing for the grand holiday meeting of parents, which means making the house presentable. You never want your parents to know how you actually live. If you present a perfectly clean and organized house with no flaws, your folks will be amazed! They'll love you more! They'll be proud!
Yeah, like you haven't ever thought that.
Once I resolved one issue, another would come take its place. I'd take care of that one, and two more would appear. We've all experienced the joy of Whack-A-Mole in our day-to-day affairs. I've been thwarted — utterly thwarted —in my attempt to break a card I really, really like. It's the mole I can't just whack.
I'm a Mean Girls junkie, and not just because I have a strange Lacey Chabert fetish that I'm not sure is healthy. I like the movie for its satire, and for its quotes. The one that's been ringing through my skull for the past few weeks is: "Stop trying to make 'fetch' happen! It's not going to happen!"
Whether you've seen the movie or not, suffice it to say that my fetch is Thoughtpicker Witch. Yeah, I'm disappointed, too. So rather than unveiling my uber Thoughtpicker Witch deck, I am revealing...
...the process of failure.
Remember, everything is a learning process. No, really, it's interesting.
There are a few schools of deckbuilding most people are familiar with. One school might dictate that you focus your deck's energies on a very specific threat, and dedicate the entire decklist to facilitating that win condition. For an example, consider a Mind's Desire deck. The scope of its threat is extremely narrow, but potent.
It doesn't necessarily matter how you win in Magic, as long as you have a viable win condition. Decking your opponent? Sure. Killing them with one 20/20 critter? Sure. Burning them out? Check. Winning with one 2/4 flyer over ten turns? Go for it. No win condition is inherently superior to any other. What matters most is that the parts of your deck enable your win condition to occur effectively and consistently. Your deck is the gun, and its threat is the bullet.
Ready!
Aim!
Fire!
It's synergy in action, whether it's based around a single card (Brain Freeze), or an entire mechanic (Madness). A Madness deck's components are geared solely to support the Madness effect. We don't use Aquamoeba because it's a threat; we use it because it's a discard outlet.
We're focused.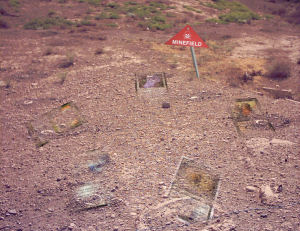 Conversely, another school of thought on deckbuilding operates on the principle of decentralization. In a decentralized deck, you facilitate multiple win conditions that may or may not be in perfect synergy with one another. You don't pack a gun; you lay a minefield. You wait and see what your opponent does, and where he steps. He may dodge one mine, but you still have plenty left over - and if he can't avoid them all at once, he'll never get anywhere near you. While he's avoiding bombs, you're killing him. With gunfire.
Okay, maybe the metaphor breaks down there, but you get it.
Your typical Red/White deck is fairly decentralized. I may beat you with creatures. I may beat you with burn. I may Lightning Helix you. I might Helix your blockers. I might Helix your attackers. The Rock decks? Same. They have a lot of answers, a myriad of threats, and there's no telling exactly which one they'll kill you with in any given game. They'll just throw it all out and sort the through the bloody mess afterwards. Does it matter if you die by Genesis, Ravenous Baloth or Eternal Witness? Nah. The Rock is the deck equivalent of Whack-A-Mole. Everywhere you look, a new threat spawns - and the machine is counting on the fact that its opponent will run out of answers before it runs out of threats. The Dredge mechanic also fits in well here - the difference between Dredge and Madness is that Dredge can operate on its lonesome and start its own engine. It can react to what occurs in game as well as repeat threats. Madness, on the other hand, needs you or your opponent to facilitate it.
Most decks wind up somewhere along the centralized/decentralized continuum, and both methods have their pros and cons. A lot of the extremely focused decks can strut and prance about and look incredible until you stick out your leg and trip 'em up with a carefully chosen hoser. Silly rabbit, Trix are for kids. At the same time, the decentralized decks can suffer from the "too many Indians, not enough chiefs" problem, where you have a bunch of cogs that aren't enough of a threat to punch through on their own and win. If you'd focused building just a teensy bit more, you'd have made Gepetto proud that you were a real deck.
Thoughtpicker Witch made me sit up and take notice at the Ravnica Prerelease. When it hit the board, I scowled and forced myself to alter my strategy. The card was fragile, but I was fairly confident I could do something with it. My opponents all did. It was highly disruptive, and I love disruption. Disruption is like sticking a branch in your opponent's bicycle spokes. It's denying them opportunities. It's making their cards not work at all in the way intended.
A lot of times we think of disruption strictly in terms of discard or land destruction. It's true that a well-timed Duress or Cabal Therapy can win games on its own - that's why we love them. Everyone's run into some crazy land destruction deck they weren't expecting to face in a tournament. There's always some deck you didn't really take the time to test against because you figured no one was going to play it — it doesn't matter what the format is. But someone always does. It doesn't matter if the deck is or isn't viable; someone's going to try and put it together because disruption is that powerful. The one game it works, it's amazing and leaves opponents cursing. We've all heard how land destruction are stupid, and how un-fun it can be to play against discard.
And I like that. On occasion, disruption can backfire on you - heck, I remember being grumpy when I'd run into a Guerrilla Tactics out of nowhere, and I've forced people to discard two cards to Gerrard's Verdict - both of them Squee, Goblin Nabob. Despite those times when I want to smack my forehead in disgust, I believe that disruption is a powerful tool.
Disruption isn't always as simple as land destruction or discard. I remember once mystifying many people by running Cursed Totem maindeck as a core component of my God deck. It shut down their creatures at a time when everyone was running creatures with activated abilities. (It didn't hurt that I was running cards that wanted to have their abilities shut down, like Glittering Lion.)
No one was prepared for the Totem. I developed Ankh-Tide and repeatedly astonished opponents with a second-turn Hoodwink used to bounce their land and control their mana development. These strategies were successful because they were unexpected at the time - nobody can plan for everything.
The best disruption is disruption that helps you to gain momentum. You not only want to set your opponent back, but you want to push yourself ahead. For example, you have synergetic disruption when you combine Pyroclasm/Wildfire with protection from red creatures. You kill your opponent's board while keeping your own intact. On a more grandiose scale, you have Upheaval plus Zombie Infestation. That's the kind of disruption that gives you a big advantage. You gain momentum in the game and that's a different sort of disruption than simple discard. Eminent Domain, that lovely, lovely deck? Unexpected. Disruptive. Powerful.
Did I mention Suppression Field? We'll get back to that later. First, I present to you The Many Trials of Thoughtpicker Witch.
BURN HER! BURN HER!
Seriously, I'm about to, because it's not going to happen.
Obviously, Thoughtpicker Witch was designed as part of the Dimir Millstone-style strategy. It has the advantage of being a milling strategy that doesn't fill the other guy's graveyard with cards he can dredge, regrow, or reanimate. The Witch is also a control mechanism that allows you to dictate your opponent's draws and gives you intimate knowledge of your opponent's hand and resources.
Plus, it greatly annoys people when you toss aside their cards. Particularly if the card they needed was within their next two cards.
I'm fairly certain I exist to annoy certain people, so I'm pretty sure this card was designed with me in mind. I'm glad my girlfriend isn't here to respond in kind to that statement, because I'd be afraid to see her express agreement.
On her own, the Witch is a 1/1 creature that can be easily killed. This makes her a bit more fragile than an enchantment or artifact, which are typically harder to remove. Plus, the Witch doesn't do much on her own. You'll rarely use her as a creature. Her Dimir nature doesn't fit Dimir decks, which don't really have a cheap, repeatable creature base that can easily be sacrificed. Yes, let me sacrifice my Hypnotic Specter!
Dimir's strongest components work by putting things in the graveyard and backing its milling with counter magic or accelerants. Dimir doesn't have room for throwaway creatures to feed to the Witch; she just doesn't fit. But dammit, I was going to find a spot for Thoughtpicker. I was going to give Her Gauntness a deck to call home.
Don't you feel bad for her? Really. When Szadek passed out Dimir Identification Cards, TP had to feel a bit ostracized.
TP: Hi guys!
Vedalken Entrancer: 'Sup. Wanna put some cards in the graveyard?
TP: Not really. I have a better idea.
Belltower Sphinx: Like what?
TP: Let's remove stuff from the game!
Vedalken Entrancer: Removing stuff?
Belltower Sphinx: Why would we do that?
Glimpse the Unthinkable: That's stupid.
TP: No way! This way they can't use it. No recursion! All I have to do is to, um...
Vedalken Entrancer: What? Tap?
Belltower Sphinx: Get hit?
Psychic Drain: Pay a bit of mana and gain life in the process?
TP: ..No. I have to kill one of you.

Those voices in my head probably should have been my first clue. The problems with Thoughtpicker Witch are obvious... But that won't stop me from listing them out anyhow.
Problems with Thoughtpicker Witch:
1. By herself, she sucks as a win condition.
2. By herself, she gets only one activation.
3. She is a lightning rod for all removal spells and will have trouble staying alive past the turn she gets in play.
"A ha!" I said! She needs creatures! She needs creatures that aren't afraid to die! Crunch all you want, we'll make more! He needs critters that you can generate ad infinitum. He needs... Saproling powah!
(Insert horns. Cue the angels.)
Ah, Saprolings. I love Saprolings. They come in all forms. They mutate. They burst. They germinate. They cluster, infest, and awaken. They're symbiotic.
And it's symbiosis we need.
I've had a love affair with token creatures for a long time. They're expendable. I like expendable. Kjeldoran Outpost, be mine forever, please. We don't have the Outpost, but we have Vitu-Ghazi, the World-Tree and we know that Selesnya, Cult of Treehuggers, digs reproduction.
That's it! A Selesnya deck! I'd make a Selesnya deck with less White and more Black. So it's more Golgariesque, minus the regrowing. Really, it's Selesari. Or Golgasnya. (Geshundheit — Ben)
So I played the deck, and I evolved the deck, and actually had a modicum of success. In the end though, its niche was too narrow. I could list all the decks I developed around the Witch, but that would only happen in some alternate-universe article where my intent would be to advertise my disgruntlement with this card completely and absolutely. Therefore, I'll introduce you to a writing technique I like to call "The Summary."
"The Summary"
Wherein Monsieur Mason Bemoans The Uselessness Of Some Cards, The Niceness Of Other Cards, And Introduces Some Surprises At The End.
I'm a pioneer, eh? Let me show you the first deck list.
//NAME: Untitled Deck 1.0
// Early
4 Birds of Paradise
4 Thoughtpicker Witch
3 Sakura-Tribe Elder
// Saproling Makers
4 Selesnya Guildmage
4 Fists of Ironwood
3 Scatter the Seeds
// Win
4 Grave-Shell Scarab
2 Vulturous Zombie
2 Loxodon Hierarch
1 Congregation at Dawn
// Removal
4 Putrefy
3 Plague Boiler
// 22 Land
2 Vitu-Ghazi, the City-Tree
4 Swamp
4 Temple Garden
4 Overgrown Tomb
4 Llanowar Wastes
4 Forest

This deck was more explosive than it might look on paper.

Turn 1: Forest, Birds.
Turn 2: Land, Fists of Ironwood (three creatures in play).
Turn 3: Land, wait, end of opponent's turn Convoke and tap for Scatter, giving me five creatures in play.
Turn 4: Land, Thoughtpicker, proceed to start the milling.
When it came out of the gates with a great draw, it did just what it was supposed to do - take advantage of its opponent. If they were playing a medium-paced deck, you can assume that by turn four they've drawn eleven cards, and played six to seven of those cards. If you can control their draws from that point forward by using Thoughtpicker Witch and the Amazing Saproling Machines (which, coincidentally, I believe to be an early 70s band), you're forcing them to win only with the cards they have remaining from their initial draws. Usually — and I stress the word "usually" - by that turn, you can tell if a person is going to be mana-screwed. You adjust your Witch picks accordingly. You can give them nothing but mana, or take away all of their mana, or just deny them a specific color of mana.
The deck was mana-hungry, but it could deal that problem through Birds of Paradise and Sakura-Tribe Elder. Selesnya Guildmage falls into the realm of "things people don't really perceive as worth killing or countering until it starts doing stuff." The Guildmage is a living, beating Vitu-Ghazi without the white mana requirement. If you happen to get some of that delicious white mana, then it makes all of your 1/1s into doubly large 2/2s.
Of course, the deck also had some problems. Plague Boiler was a mistake from the start. In theory, it was supposed to work like Pernicious Deed, but in reality it was too slow and unwieldy. By the time it was active, I was either effectively dead or outrageously ahead.
Pernicious Deed is great because you can throw it out there and let it your opponents stew in its juices. Forever. Your opponent has to deal with it, because it won't go away, and you're able to play your own game around it very effectively because it's upkeep free.
Plague Boiler, on the other hand, is a pain in the ass. It's a self-hindering mana sink. Tapping three lands a turn to keep it from destroying your own board is extremely self-defeating. Plague Boiler doesn't fit in decks that need oodles of mana available each turn. I was excited about the Boiler when I first saw it, but it's proven to be quite disappointing. It has a niche, I'm certain. It's not Deed, though.
Man, I miss Deed. When I came back to Magic, I only had one deck completely intact deck left to my name. It was my Pernicious Deed/Vindicate/Braids, Cabal Minion Standard tournament deck. Yeah, 2001/2002 Standard.
If the deck didn't start with the Thoughtpicker & Friends Comedy Hour, know what it did do? It generated a bunch of non-evasive small creatures that got their faces beat in. The milling component worked, but the deck was overly reliant upon it - and I paid the price. It wasn't decentralized enough to have threats and win conditions other than milling.
I quickly discovered that focusing on Thoughtpicker Witch wasn't going to work, because the effect by itself isn't worthy of an entire deck. If there were a way to quickly generate a near-infinite number of token creatures, then I could abuse Thoughtpicker Witch every game and mill a person out reliably... But that wasn't going to happen, and there are a zillion things you can do with an arbitrary number of token creatures to win anyway.
My solution to this problem was obvious: Make Thoughtpicker an auxiliary strategy of a disruptive deck. I added more disruption, and more threats, to the deck.
I tried out Dimir Machinations in Version 1.5, only to find out that it really didn't do much. Remember when I talked a while back about being fearless when using a Dredge deck? Basically, Dimir Machinations only matters if you keep all the cards you see on top of a deck. Otherwise, it has the same effect as your opponent playing with fifty-seven cards instead of sixty. In the majority of games, that's not going to mean crap. At the end of the game, unless you have a dedicated milling strategy, your opponent is going to have more than three cards left in their library. For all intents and purposes, those cards are inert. They're useless. They're simply cardboard space fillers, because the rest of your deck can still be used to win.
What made Millstone useful was that it could be used as a repeated effect. You could play them in multiples without redundancy, and the milling effect was cheap. Hitting someone for three cards a maximum of four times a game is not the same as hitting someone for two to eight cards each and every turn. The only thing worse than the Dimir Machinations math is the Thoughtpicker Witch math.
Thoughtpicker Witch hits for a single card each activation. It costs a mana and one creature each use. Worst of all, multiple Thoughtpicker Witches don't stack — they just eat each other.
Man, I really shoulda known better.
And now I'll begin the summary in earnest.
Version 1.5:
More threatening creatures in the win slot. No net difference.
Version 2.0:
Experiment by leaving out Fists of Ironwood, and adding Mindslicer and Grave-Shell Scarab. Mindslicer is an awesome card against control. It sucks in a deck where you have the slightest interest in keeping any of your cards.
Guess what? I wanted to keep my cards. Despite this, I insisted on thinking that Mindslicer was a great way to reset both hands to enable me to control the game with Thoughtpicker Witch from that point on. I was wrong.
Version 2.5:
Mindslicer + Vulturous Zombie. What a combination! I can sacrifice Mindslicer to Thoughtpicker Witch whenever I want! ZOMG!
I'm not saying that's bad in and of itself, but if you go to dictionary.com and look up "cumbersome" and/or "rationalization," I'm pretty sure you'll find version 2.5 listed.
Version 3.0:
The deck was beginning to become ponderous. Severely ponderous. It had Mindslicer. It had Scarabs. It had Zombies. I was still using Scatter the Seeds, despite the fact that on turn 20 it simply became Anything-But-A-Card-I-Wanted-In-My-Hand. I wasn't winning games because of Thoughtpicker Witch. In fact, I wasn't really winning games at all. At least back with 1.0, I was winning games with an explosive start and propensity to sometimes overwhelm my opponent with 2/2 Saprolings (Thanks, Guildmage!).
Version 3.5:
This version is so drastically different from where I began that I have to include it as an example of how not to evolve a deck. Convinced that I needed something to draw fire away from Thoughtpicker Witch, I threw in another disruptive element. This time, it was a disruptive element that everyone knows and loves. It costs 1BB, flies, and is 2/2.
You guessed it.
//NAME: The Pile 3.5
// Early
4 Birds of Paradise
4 Thoughtpicker Witch
4 Selesnya Guildmage
3 Sakura-Tribe Elder
3 Shambling Shell

// threat
4 Vulturous Zombie
4 Hypnotic Specter
3 Mindslicer

// REMOVAL
4 Last Gasp
4 Putrefy

// //23 LAND
2 Vitu-Ghazi, the City-Tree
5 Forest
2 Llanowar Wastes
2 Caves of Koilos
5 Swamp
4 Temple Garden
2 Overgrown Tomb
1 Plains

Yeah, the name is a good indication of how I felt things were going. Thirty cheers for stubbornness! I had a new love affair, and it is with Vulturous Zombie. The Zombie is one of those cards that should come with a giant bull's-eye printed on it. When you cast it, it's like playing Go Fish.
"Do you have any Lightning Helixes?"
"Yes. One."
Places Zombie in graveyard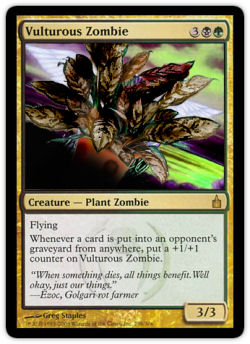 It's a strange card. It's a plant. And a zombie. It flies. I don't know many flying plants, much less ones that are undead, though I suspect a few of the plants around our house are close to that state because we keep forgetting to water them. Perhaps I can convince Barrett to let one die, and experiment on reviving it.
Even though it's a giant lightning rod, Vulturous Zombie is also surprisingly resilient - particularly if you have a Grave-Shell Scarab out to protect it. If the Zombie survives its first turn, it's nigh-invincible. I can only imagine someone putting together a deck with Vulturous Zombie, Hypnotic Specter, and Glimpse the Unthinkable. I don't know if that's the way you want to build a B/U/G aggro deck nowadays, though.
The point of all of this so far is to say this to you:
Don't do this.
Don't take your idea and then run so far away from it that you're miles from where you wanted to be. Seriously. I was aiming for Seattle and wound up in Zaire. (I was aiming for Richmond and ended up in West Virginia, so I can relate — Ben)
Want to know the saddest part of this deviation? This deck didn't do that badly. It had enough of a creature and removal base that it could win randomly. It had enough mana acceleration and mana thinning that I no longer had mana issues with the deck. What I had was a halfway decent aggressive deck.
But Thoughtpicker Witch was useless in this version.
The Witch kept becoming more marginalized, and eventually it simply didn't have a place in the deck. I don't care what your deck idea is.... But stick to the purpose. If it doesn't work, have the good sense to just say it isn't going to work and move on.
The thing is, I should know better - I've had tons of ideas I've tested and rejected. For some reason, though, this one stuck in my head. On some level, I was trying to will it to happen.
Version 4.0 had more discard spells in lieu of creatures. Version 4.5 tried to utilize Savra, Queen of the Golgari and Thoughtpicker Witch in tandem. 5.0 was, sadly, the non-Thoughtpicker version of my Thoughtpicker deck. I built it just because I wanted to see if I noticed it wasn't there.
I didn't.
Finally, the last variant of my Thoughtpicker Witch deck was this:
//NAME: The Pile 6.0
// Early
4 Birds of Paradise
4 Thoughtpicker Witch
4 Sakura-Tribe Elder
3 Stinkweed Imp
// Generators
4 Selesnya Guildmage
3 Selesnya Evangel
3 Seed Spark
// Threat
4 Arashi, the Sky Asunder
// Removal
4 Last Gasp
4 Putrefy
// 23 land
2 Vitu-Ghazi, the City-Tree
6 Forest
2 Caves of Koilos
2 Llanowar Wastes
4 Swamp
4 Temple Garden
1 Plains
2 Overgrown Tomb

I have to say that version of the deck is perhaps truest to the vision I had of abusing Thoughtpicker Witch. It could generate creatures, it had a solid anti-creature rush defense, it accelerated quickly, and it had a useful big threat for emergencies. In an environment filled with Umezawa's Jitte and Sensei's Divining Top, Seed Spark almost always had a target and helped win the war against That Which Is Broken. Arashi served as both a beatstick and as great defense against Meloku the Clouded Mirror or swarms of Leonin Lantern Hawks. Stinkweed Imp is a personal favorite because it turned out to be a surprisingly effective deterrent and removal spell.
You know what, though? When you have an army of small creatures, you can't predicate your win condition on your weenies sitting there waiting to be sacrificed so that you can remove "One-Whole-Card" from the game.
The deck did okay, but that didn't win any tournaments or inspire anyone to build shrines to Thoughtpicker Witch or to make pilgrimages to Washington.
Am I missing something? I still think Thoughtpicker is useful somehow, in some way, as part of a disruptive strategy. I'll be damned if I can figure it out on my own at the moment. Ergo, I realized it just ain't gonna happen.
Seeya, TP. It was good knowing you. Now stay the hell outta my decks.
A short aside: Remember my introduction? Interestingly, Showbiz used to compete against a much better known company you might know called Chuck E. Cheese. However, Chuck E. Cheese (and its particular brand of soft, gooey pizza-like fun) filed for bankruptcy. Showbiz took the opportunity to buy them out - and for a while, the two corporations were run simultaneously. Showbiz got into a fight with the creative company behind Rock-afire and as a result phased out the Showbiz side completely, replacing it with the Chuck E. Cheese stage show, which was now handled entirely in-house.
Showbiz is Thoughtpicker Witch.
Whack!
Whack!
Whack!
Finally. Game over.
Still with me?
Still thinking about disruption?
Good.
What I want to drive home is this: Disruption is best served in spades. I have always based my best decks on disruption. I've had a lot of failures, and I usually don't stubbornly stick to things like Thoughtpicker Witch so stubbornly. I do firmly believe in combining both a focused and decentralized approach to deck building. The key is to take all things in moderation.
1. Focus your deck on disruption. Disruption is shutdown, removal, and denial.
2. Decentralize your deck. Don't overly rely on one card. Have redundancy. Use secondary threats and effects that still provide a disruptive influence.
Maybe that's what makes disruption different, and makes a disruptive deck the anti-fun to play against. Rather than being Whack-A-Mole from the hammerer's point of view, it's playing from the Mole's point of view. Things are different if you're the Mole.
Against a straightforward beatdown deck, people know to just hammer away and outlast the initial rush.
Against a control deck, people know to also hammer away and try and sneak critical cards through counters.
Against mid-game decks, people know they have to pace themselves to eliminate the massive card advantage sweepers.
Against combo decks, people know they need to outrace the combo or stop that one crucial card.
Disruptive decks come in all shapes and sizes. They change the formulas above. They force people to respond differently.
Whack.
A.
Mole.
I've been looking at Extended recently. Real life Whack-A-Mole has prevented me from testing as much as I would like, but I've come to the conclusion that Suppression Field is a house waiting to be built. A first-turn Suppression Field (via Chrome Mox) is highly effective against every Extended deck I've seen. Don't believe me? Think about it.
Arcbound crap? Check.
Cranial Plating? Check.
Fetchlands? Check.
Some of these decks are running a crazy number of fetch lands. I really don't know how a deck can function with so few real lands, unless you're not anticipating any mana disruption. How can that be though? It's almost a travesty to have someone show me a deck list with only nineteen to twenty lands, eight of which can't produce mana.
Remember that "fetch" quote from Mean Girls? Right. "Fetch" isn't going to happen. How's that for tying things together?
Psychatog? Check.
Wild Mongrel? Gotcha.
Troll Ascetic? Yup.
It's good to hinder Psychatog.
Grim Lavamancer? Pwn.
Goblin Legionnaire? Woot.
Sword of Fire and Ice? Cheer!
Frostling. Aye.
Grim Lavamancer is one of the cards I really wish I'd been around for. I love the guy, but I've never played with him or seen him outside of online card databases. Likewise, I dig the effect of the Sword of Fire and Ice.
Sakura-Tribe Elder. Si.
Ravenous Baloth. You know it.
Meloku the Clouded Mirror. Uh huh.
Pernicious Deed. Booya.
All these are cards you're going to see. Repeatedly. 'Tis the season that is upon us.
Isochron Scepter?
Umezawa's Jitte? Check.
There's more, I'm sure. I've listed these off the top of my head. It's a learning experience, I tell ya.
Without further delay, here is the Extended deck I'm working on. Let's cheer for rough drafts.
//NAME: Mole
// creatures
4 Spectral Lynx
4 Hypnotic Specter
4 Exalted Angel
// disruption
4 Suppression Field
4 Smother
4 Vindicate
4 Rancid Earth
4 Gerrard's Verdict
// draw/mana
4 Night's Whisper
3 Chrome Mox
4 Caves of Koilos
2 Tainted Field
6 Plains
9 Swamp
SB: 3 Engineered Plague
SB: 4 Paladin en-Vec
SB: 4 Morningtide
SB: 4 Gilded Light

Creatures:
Exalted Angel's ability to come out on turn 3 or 4 is very nice. The Angel is essentially your kill card. Spectral Lynx stops a few popular critters, like Basking Rootwalla and Watchwolf. Its regeneration is unfortunately hindered with a Field out, but you won't always have a Field in play — and it still stops most Green creatures and survives Pernicious Deed.
The biggest challenge for me was fitting the Hypnotic Specter slot. I considered strongly using Samurai of the Pale Curtain here due to the preponderance in Extended of Flashback, Threshold, and graveyard-feeding creatures like Wonder and Genesis. (They just irritate me.) In the end, I figured that there simply weren't enough permanents being removed from the game with the Samurai - stuff like Wonder probably won't ever hit the board in the first place and therefore won't be affected by the Pale one. Thus, I went with Specter as a more pressure-oriented discard effect.
I also considered Stinkweed Imp. It destroys anything threatening that crosses your path, and is recursive in a pinch - even more so off of Night's Whisper. It flies, and people tend to waste removal on it or try to stall the game, hoping they can kill it later. Both of these outcomes work in your favor. However, it's too passive as a threat. If it had more power, it'd be useable.
Disruption:
Suppression Field was explained by yours truly above. In the removal slot, I have the highly effective and versatile Vindicate, plus Smother. I did consider Chainer's Edict thanks to flashback, but Smother is simply superior in countless situations. I decided that I like to play an early game Rancid Earth paired with Vindicate. Duress might be more generally useful, but I like being able to affect mana development. However, Gerrard's Verdict is a card I like better than Duress in this deck. It pairs Chrome Mox very effectively and always hits on turn two on this side of Basking Rootwalla.
Draw/Mana:
I love Night's Whisper. It's cheap, efficient, and has a reasonable drawback. I couldn't find a reason not to utilize it, unless I decide that Duress needs to go in the deck. The deck's mana curve is almost entirely in the two-to-three mana region. Exalted Angel and Chrome Mox are the sole exceptions. This makes mana a non-issue.
Considerations:
Right now, I have two main questions about the deck. First of all, are twelve creatures enough to win with? Second, is Hypnotic Specter worth the slot? That slot really bugs me. I can't seem to get my creatures where I want them. I did consider Dark Confidant for the deck, but he just seems dangerous to run against anything red, and not too congruent with the costly Exalted Angel.
The sideboard is subject to change. Right now it's stacked with generic answers to decks. Ghostly Prison might be good in here. I went with Engineered Plague for Goblins, Paladin en-Vec for anything with red, Morningtide for recursion decks (although that might become Coffin Purge), and Gilded Light is your anti-Brain Freeze prayer.
Remember what I was saying about decentralized decks? This is a decentralized deck. It has both a lot of questions and answers to throw at your opponent. The challenge of building this deck, for me, is to keep sight of what I'm trying to do, which is to keep pressure on my opponent from the start.
Whack! Whack! Dammit.
Let the beatdown decks be the hammer. It's good to be The Mole.
So, I guess it sticks until I get my groove back.
Hope your holidays go well.
-Mason
Michael.mason8@Comcast.net
P.S.
One last note before I sign off: I do my best to respond to the "Article Comments" threads at least once, sometimes multiple times. However, if you wish to contact me via e-mail, I've started listing it above. One bit of info I'd appreciate is whether or not there are any secret places to play Constructed Magic near the Olympia, Washington area. I'm having a devil of a time because the only nearby place is filled with draft addicts - and while drafting is nice, it's useless for playtesting. Seattle is too far due to the hour-long drive - fine for tournaments, but not for random weeknights. The Internet hasn't been much of help so far, so any names would be appreciated.