"The only reason I won that one game was that I let him take damage from the Karplusan Forest proxies." -Brian David-Marshall
If you read Examining Red Deck Wins (and Wins and Wins) for Standard, you know that I am a big fan of the Pat Sullivan Red Deck, having learned to respect Pat's Frenzied Goblins at Pro Tour LA when he first started chasing past Drift of Phantasms and the usually expert defender Keiga, the Tide Star. Despite utilizing cards that seem expressly less powerful than those typically played by the popular Boros Deck Wins, Pat's deck had a special something that gave it a greater advantage against control decks and across the board. Inspired by Frostling and Char, I chose Pat's deck as the model for a so-called "Zoo Update" at MagictheGathering.com a few weeks back.
To be honest, I didn't give the Zoo Update a second look until last Thursday. As with New York States and Grand Prix Philadelphia, Top8Magic.com ran a Mock Tournament for the next big event. I won the States Mock with my Blue Control deck... which went on to dominate our States. Lightning struck twice at the Philadelphia Mock Tournament, in that it showed a surprising undefeated record by Rich Fein with... Chris Pikula's B/W Deadguy Homebrew. Legacy aficionados especially know how that deck turned out once the Grand Prix rolled around.
With no prize support but the love of the game (and an exploration of the new Guildpact Standard, of course), the Pro Tour Hawaii Mock Tournament drew sixteen players on a Thursday night. After four rounds of Swiss play, there was a single undefeated deck. With a ridiculous 12-1 game record, that deck was Gruul Deck Wins*:
Creatures (26)
Lands (22) * Considering the fact that Kird Ape into Watchwolf calling itself "Zoo" is probably going to be one of the most popular decks at Hawaii, I figure I should give the deck a better, and less confusing, name than "Zoo Update."
Grand Prix Richmond Top 8 competitor John Fiorillo was actually the person who brought the deck to the Mock, but other playtest groups admitted that it had been doing well in their gauntlets. John opened up with a surprising win over Parallax Replenish creator "Evil" Don Lim, playing a straightforward G/R deck. Though G/R has bigger creatures, only Rumbling Slum is any match for a Giant Solifuge... Combined with Frenzied Goblin? Unblockable Solifuges are going to be a recurring theme in this article. In the past, the Sullivan Red style has had to worry about being on the wrong side of a Jitte, but with many Green decks especially opting for Moldervine Cloak or nothing in the former Jitte spot, Umezawa's most annoying armament has become less of an issue main deck.
John's second fight was against a U/b Jushi deck, a.k.a. a bye. Pat rolled Blue Control decks round after round at the Los Angeles Last Chance Qualifier, and there is no reason why the update, with access to more cards, wouldn't be even better in that core role.
"The deck played out really well and seems to have really good matchups," John said. "The only thing I didn't like was Scorched Rusalka, which was kind of weak."
After Fiorillo had to leave, New York State Champion Julian Levin finished the night with his trampling Insects, defeating a pair of decks playing Steam Vent. Julian played the deck in a subsequent Standard two days later, losing only to Ghazi-Glare, the deck's worst matchup.
Having played the deck a lot since the Mock Tournament, I have pretty specific likes and a new understanding of how it flows. As with most non-Blue decks, Gruul Deck Wins has to play with what it draws, with basically no input about draw quality. It can be frustrating to play in the early game when you aren't hitting your drops, but I've found that especially when you can force a lot of one-for-one play, when you eventually hit four mana, the Solifuges become impossible to manage. This deck has a huge advantage against any of the U/R Ninja decks, Wee Dragonauts, or slow kill permission decks in the field. It has a surprisingly good matchup against the decks that seem to be "the same thing, but with better cards," like Boros Deck Wins, G/R or Zoo.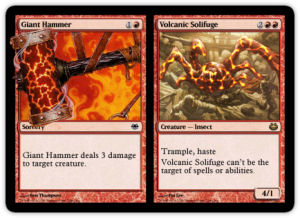 Brian David-Marshall was actually playing Pat Sullivan's own update to his Frenzied Goblins deck, a Blue splash with Izzet Guildmage rather than the faux-Green Gruul update I chose. Gruul Deck Wins was Brian's only loss of the tournament. "Giant Solifuge really feels like a split card. It's like Volcanic Hammer your best creature... and you. I think the mistake people are going to make with this deck is that they think that it is a mindless attack deck. It's not. This deck isn't pure aggro and doesn't play Jitte. It's very much a 'clear the path' deck using burn and Frenzied Goblin, and it waits to play the Solifuge when the opponent can no longer remove it. It's almost a control deck."
In his box tournament, Julian played this sideboard:
4 Umezawa's Jitte
3 Blood Moon
4 Orcish Artillery
4 Shattering Spree
I played several matches on Magic Online the first night Guildpact was legal, and Gruul Deck Wins not only won often, but drew record crowds of watchers (for me, at least). This is the sideboard I played:
2 Pithing Needle
4 Umezawa's Jitte
3 Blood Moon
3 Threaten
3 Shattering Spree
I won my first five matches of the night pretty easily, overcoming multiple Faith's Fetters twice. I lost to an Enduring Ideal deck before picking up my seventh Tournament Practice Room win, and eventually bit it to a R/W life gain/Searing Meditation deck in the hands of one of the watchers (and Gruul Deck Wins actually won the first).
Pat says that Pithing Needle is a zero- or four-of card, and I tend to agree. One of the biggest clusters of mistakes that players have started to make since the printing of Pithing Needle has been to side them in as a general foil, kind of like Duress. That's just awful. Pithing Needle does zero damage and is a poor one-for-one answer. (How many times have you seen someone on the wrong side of a Pithing Needle on Arc-Slogger?) In my case, I wanted two because I felt I needed Pithing Needle against four mana Green enchantments and potentially Circle of Protection: Red... but I never wanted to draw two because it doesn't do any damage. Pat walked me through my mental scenario, and the ultimate decision was that Pithing Needle doesn't belong.
I was trying to figure out how to beat Ghazi-Glare. There are no obvious Red cards that can beat three Loxodon Hierarchs in a fair fight, so I figured circumventing the fight with Rathi Dragon was the way to go. Rathi Dragon is a 5/5 that can deter a 4/4 Hierarch Swing, and can potentially race after the opponent has gained four life. All you need is for the opponent to not draw Glare of Subdual, some kind of Dragon of his own, or Faith's Fetters four about four turns (I figured my zero Dragon sideboard would rest on the strength of those two Needles).
One of the interesting things I've found in testing is how little this deck cares about actually winning the Jitte war. In the past, I'd lose game One with Pat's deck about half the time to Boros, side in my Jittes, and win the Jitte war with instant speed removal and my Hearth Kamis. Last night I beat the Ruel-style Critical Mass, sided in my Jittes, lost; sided my Jittes back out, and won again with Hearth Kami and tactical play. I obviously think that Jitte belongs in the sideboard, but I'm not sure if winning the Jitte war specifically is a core issue for this deck. It can contain an enemy Jitte with eight instant removal spells, Frostling, Hearth Kami, and Scorched Rusalka, so actually holding the advantage yourself - while nice - is not expressly necessary for victory.
Giant Solifuge
In many ways, this is the card that makes the deck. You use your early game cards to steal all the opponent's response, and then you drop one of these. Given how Gruul Deck Wins can control the tempo of a game, the number of potential stops to Giant Solifuge is few.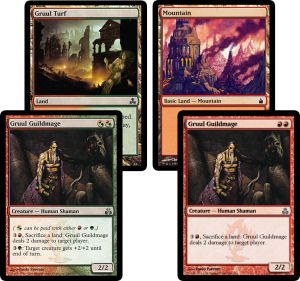 Gruul Guildmage
I initially thought this was the poor cousin to the rest of the Guildmages. Then I started playing it as a five- or six-drop. Obviously, you shouldn't miss your two drop if you can help it... just let that two drop be Hearth Kami. I've attacked for a few points with this guy in some games. Josh suggested playing some Stomping Grounds just to support the Green ability on this card, and BDM said the deck, which doesn't want more land, but kind of wants more mana, might consider Gruul Turf... Right now I prefer the general invulnerability to Dryad Sophisticate, but the issues are reasonable ones to think about.
Pat liked Boros Guildmage enough to play it in his Extended decks, and after the Mock Tournament, BDM has become a strict adherent to Izzet Guildmage (I dealt him nine with Volcanic Hammer). In this deck, though, I think Gruul Guildmage is the right fit for now.
Char
The deck needs instant speed removal to fight Umezawa's Jitte, and this example also happens to kill Meloku. Char is far less "set in stone" for me than you might think.
Frenzied Goblin
A powerhouse, Frenzied Goblin was always great against single defenders. Now that Giant Solifuge is on his team?
Frostling
Still the only Mogg Fanatic that we've got.
Hearth Kami
One of Red's best two drops ever, Hearth Kami is the principle reason Gruul Deck Wins can compete against decks with cheap artifacts. In addition, Hearth Kami can often make the first Pyroclasm the last one.
Scorched Rusalka
Unlike Fiorillo, I quite like Scorched Rusalka and would welcome a third. As I said, it's one of the best decks for Jitte containment, and I win a surprising number of games on its back. You might not have the greed, or a good enough imagination, to fathom Threatening a Kokusho with Rusalka in play, but I've done it. I know what you're thinking: It feels even better. At present I'm not sure what should go, if anything, for a third Scorched Rusalka; Pat suggests a Solifuge or Frostling, but I don't really like either of those choices.
Shock
Though it is quite weak on the power scale, Shock serves a couple of roles. It takes out a Llanowar Elves or Vinelasher Kudzu in a real trade, or can steal five mana and a card from a Skyknight Legionnaire, something that almost inevitably results in Gruul Deck victory. As much as I dislike Shock in some decks, I can't imagine not playing it in this style.
Volcanic Hammer
Especially when considered next to Lightning Helix, Volcanic Hammer was a serious underachiever in the previous format. But with Stomping Ground in the format, the incentives have changed. There are tons of three toughness creatures around, including Kird Ape, Watchwolf, and less optimal - albeit certainly played - drops. Volcanic Hammer is something of a necessity now.
Zo-Zu the Punisher
This creature is the reason to play the deck. Playing Zo-Zu the Punisher before the opponent has broken his Sakura-Tribe Elder is pretty disgusting. On the play, he usually gets six damage in, which is all you can ask for out of a Red card. Zo-Zu shines less on the draw, but is obviously still a powerful consideration in a format that likes the UrzaTron and lots of Farseeks.
Sideboard Considerations:
Pithing Needle
See the above discussion. Pithing Needle is powerful against Glare of Subdual, but most Green/Selesnya creatures can match and beat most Red creatures at the same mana cost, so containing the Glare is less central than it might initially seem. Because Ghazi-Glare is such a nightmare matchup, winning is probably going to be about beating a manascrewed opponent, or drawing a lot of burn, or a convenient Frenzied Goblin... meaning that Pithing Needle will probably not be strategic. I quite like it against Greater Good, though.
Umezawa's Jitte
I can see playing three in Teams if you want to shift one to a Gifts Ungiven or UrzaTron sideboard alongside Godo, but in most situations, you will want all your Jittes. BDM once asked me why it was better to play Jitte than side in Shattering Spree, and the answer is actually pretty obvious: If the opponent doesn't have a Jitte and you have a Shattering Spree, you have a dead card; if he doesn't have a Jitte and you do... you just kick his ass.
Blood Moon
This card has gained a lot of equity because of Shattering Spree specifically. In the old format, I often hesitated to play a Blood Moon I had drawn because it would have just given my opponent the Red mana he needed to Pyroclasm my team; today, however, the U/R(x) decks have much better - or at least more narrowly constructed - mana bases that they will not usually be stranded for Red when they have a Blue source. Similarly, every Annex Wildfire and Hattori-Hanzo Tron deck is going to play four Izzet Signets. Therefore playing the cards in concert with one another is highly strategic. "Giving the opponent Red" is going to be less of a consideration, and nowadays you should be able to Spree the opponent into a stone age of Red mana.
Genju of the Spires
I think I want to play at least one in my now-open Pithing Needle spots. This card is basically unbeatable for decks that both don't block and don't have instant speed creature kill.
Orcish Artillery
This card is superb in a couple of ways. It is obviously strong against small creatures; if you are ahead in the race, you can use it to burn the opponent out. Moreover, Orcish Artillery makes your burn better against the big-bottomed girls that especially Green opponents might bring.
Scorched Rusalka
Given the fact that I don't want to cut either a Solifuge or Frostling, I am considering placing my third Rusalka in the sideboard. I love staring down a Kodama of the North Tree with a Rusalka and two other terrible guys, especially when there is a naked Jitte in play, and watching the opponent slump. Rusalka is obviously better than ever in sideboarded games when Threaten comes in.
Threaten
McKenna likes playing all four copies of this card. In the right matchup, especially with Scorched Rusalka, it is basically the best three-mana burn card you can possibly topdeck.
Shattering Spree
Generally speaking I like to play exactly two reactive "Disenchant" cards in my proactive decks, but Shattering Spree is a special case. You can pop one on turn 2 or 3 to slow down Signet development - something that you wouldn't necessarily want to attempt with a card like Rending Vines or Smash - and still make your drop because Gruul Deck Wins has such a low curve. You will still want to draw one later so that you can axe multiple midgame Signets and/or Icy Manipulators. As I said before, its synergy with Blood Moon is just awesome.
If I were going to play in the Honolulu Last Chance Qualifier, this is definitely the deck I would choose. It dominates a nice chunk of the field, can win many matchups where the opponent thinks he should have a clear advantage, and is hopeless only against Ghazi-Glare.
LOVE
MIKE