Welcome to the world after Rise of the Eldrazi! I would have never believed that this set could make this much of an impact as quickly as it has.
Let's look at the snap evolution of some of the archetypes; what a difference a month makes:

Three of the major archetypes has received a significant upgrade and as you can see from the win percentages those without the new tech were clearly behind the curve. In fact of the major archetypes Jund and Boss Naya were the only ones to not have a noteworthy next evolution of the deck in the field and it showed in their results.
Let's take a look at the field: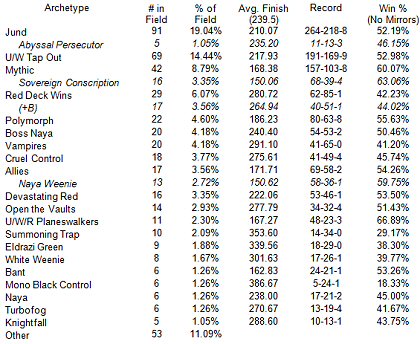 While Jund is still the most numerous archetype in the field it is actually the lowest percentage that we have seen since Dallas. It has usually hovered around 25% jumping as high as 40% at PT San Diego. U/W Tap Out is an unsurprising runner up after its strong showings online and Mythic rounds out the decks with major presence. The trick is although all three posted better than 50% win percentages none of them were in the running for the best deck at the event. That honor goes to the U/W/R Planeswalker deck that took home the title and a top 4 spot to boot. Even with the surprise factor of a new format winning 66.89% of its matches against the field jumps off the page.
Let's break down some of the archetypes performances in Atlanta:
Jund – 19.04% of the Field – Won 52.19% of Matches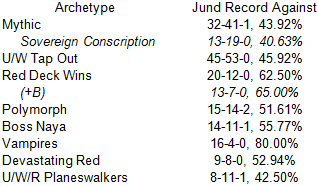 For the second tournament in a row we are seeing a lot of sub 50% numbers out of Jund against top decks. At Orlando it seemed that the format was changing to beat Jund and now it looks like it has been pulled back into the pack of Tier 1 decks rather than simply being the Tier 1 deck. It seems silly to say that an archetype that put a deck in the finals and took five of the top 16 spots is on a downswing but Jund is no longer your only concern when you sleeve up for a Standard event.
Mythic – 8.79% of the Field – Won 60.07% of Matches
And
Sovereign Conscription – 3.35% of the Field – Won 63.06% of Matches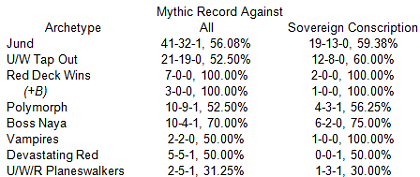 Let's start this trend shall we: the new tech looks good. If you are planning to play a version of Mythic go digging through your bulk rares and pull out your Sovereigns of Lost Alara and borrow your kid brother's Eldrazi Conscriptions. It's just better against everything. Your bad match-up is to the best deck at the event with a small sample size and posting 63% against the field would have even made Jund smile in its heyday.
U/W Tap Out – 14.44% of the Field – Won 52.98% of Matches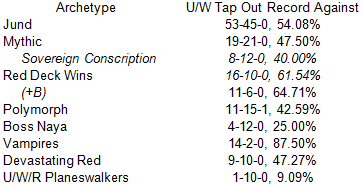 While it's not quite a cavalry charge in World War I this deck is clearly last month's tech. After working towards overcoming the Jund menace for the first part of the year it finally posted a positive result in the match-up. However a losing record against each of the new kids on the block (Sovereign Conscription Devastating Red and U/W/R Planeswalkers) puts this deck in a dangerous place going forward. If nothing changes U/W Tap Out will have had a nice week or two before taking a back seat to the new tech.
U/W/R Planeswalkers – 2.30% of the Field – Won 66.89% of Matches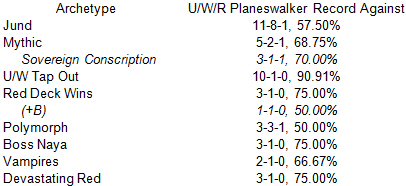 Hmm… the new tech looks good. Reminiscent of Jund in Indianapolis this deck did not have a single bad match-up in Atlanta. The Planeswalkers handled Jund well and completely dominated last month's darling U/W Tap Out. With limited results U/W/R Planeswalkers seems to have an edge on the other two major Post-Rise decks but taking home a trophy and posting these types of results puts an awfully large bull-eye on your back.
Red Deck Wins – 6.07% of the Field – Won 42.23% of Matches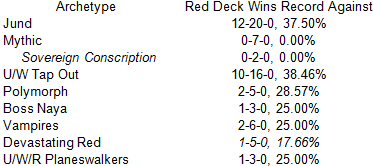 Red Deck Wins was the major archetype that felt the most like bringing a knife to a gun fight. Posting exactly zero positive match-ups against the top decks beating and burning face just isn't what it used to be. But if you are a red player don't despair just look below as the next evolution of the deck showed much better results on the day.
Devastating Red – 3.35% of the Field – Won 53.50% of Matches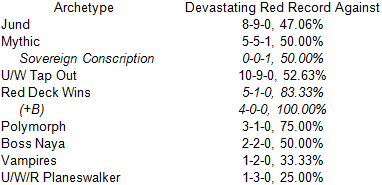 Hey that new tech looks good. While not tearing up the match-ups Devastating Red is clearly the version of Red builds that can hold its own in the new format. Red Deck Wins couldn't manage a single win against Mythic but Devastating Red played that match-up even. With the Jund and U/W Tap Out match-ups close to the 50-50 mark Devastating Red is one of the decks to prepare for in the new environment.
Under the Radar:
So did anything strike you when you were looking at the performance of the archetypes? U/W/R Planeswalkers had the highest win percentage followed by Sovereign Conscription and Mythic but there was one other deck hovering around the 60% mark. Akoum Battlesinger ring any bells? That's right Naya Allies put up some surprising results. In fact altogether Allies had a very good day and placed three decks in the top 25. Pretty good for a draft deck!
Creatures (34)
Lands (23) Justin dominated U/W Tap Out (4-0) on the day and took down the new king in round 8. You will be hard pressed to find a more focused deck than an Allies build as the power of the deck comes from its synergy. A lot of people have dismissed Allies as a viable strategy since it didn't get there pre-Rise and the tribe didn't add anything from the new set but Atlanta's results show that it might be worth a second look. Here's the deck's full match-ups:
Allies – 3.56% of the Field – Won 54.26% of Matches
And
Naya Weenie – 2.72% of the Field – Won 59.75% of Matches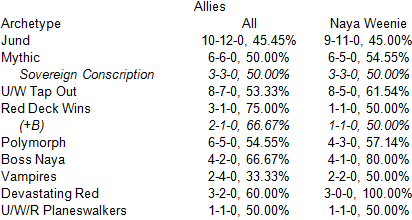 With National Qualifiers coming up here is my recommended gauntlet:
Tier 1:
U/W/R Planeswalkers
Mythic – Sovereign Conscription
Jund
Polymorph
Tier 2:
U/W Tap Out
Naya Allies
Devastating Red
Open the Vaults
Boss Naya
I've got a busy month coming up so if you are in Richmond for National Qualifiers in DC for the Grand Prix or in San Juan for the Pro Tour come on up and say hello!
Special Bonus Archetype Name Section!
In his column last week Patrick Chapin raised a subject that I have thought about a lot due to this article series: Archetype Names. Due to classifying thousands of deck lists I have become fairly familiar with the deck names in Standard and Legacy. As anyone who knows me will tell you I rarely have nothing to say on an issue so I thought that I would put in my two cents.
For me deck names fall into three categories:
Descriptive (U/G Madness Jund) – These names are simply informative and often involve colors or style of deck.
Clever (Knightfall Red Deck Wins Opposable Digits) – These names are a twist on a well know saying or terminology but still are clear about what the deck does or some major theme.
Unrelated (Team America Full English Breakfast) – These names cross the line from inside joke to ridiculous. They provide no information on the type of deck being described.
In my articles I try to stick to the first two types of names. If a name from the third category has clearly made it into common usage among players I will use it. However it does no one any good to be talking in a code that much or even some of your audience doesn't understand just to show that you are 'an insider'. It is not clever if no one else gets it. If you would like to call your tournament winning deck 'The Midnight Train to Georgia' go ahead and congratulations. You and your friends can laugh about how cool a name it is but it will go into the article as Bant until the Magic community as a whole picks up the terminology.