I'm very excited about this new set's release – overall it looks incredibly exciting and I'm hopeful for all that it might bring to the game. For the pre-release I'll be gunslinging in Chicago at the Pastimes Prerelease on July 10th. I don't own an EDH but if someone is kind enough to bring me one I'll be happy to sling it!
A new base set has become much more exciting that it used to be. There was a time back in the day that it was essentially a ho-hum experience that didn't mean anything unless there were specific formats to worry about (5th-Visions draft comes to mind). Things started changing recently with M10 and Wizards' decision to make base sets chasable. Personally I love this decision (even if I'm not thrilled about Mythics).
Then of course there are those cards that have been printed in every base set since the beginning of time. There aren't many left. And now there are even fewer. After M11 here are some of the newly fallen cards that no longer get to say they've been in the base set since Alpha (aside from basic land):
Nightmare (Oh how I'll miss this card – I never got it into a deck but I wanted to)
Rod of Ruin
Air Elemental
Bog Wraith
Drudge Skeleton
Howling Mine (This one also hurt.)
Of course a few managed to make it. A very few.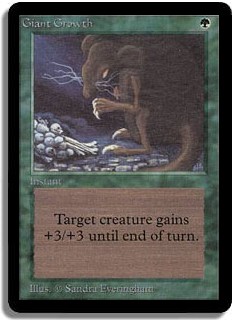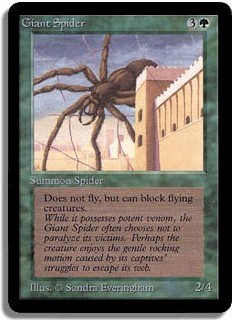 That's it. Ultimately I can't say that I could give a damn about Giant Spider but I hope that Giant Growth is always around.
When we think about spoilers for base sets one of the things that has happened since time immemorial (or maybe around 1997) is that we've slowly expected in the shifting formats of Standard – which thankfully has become the Standard format – is that base sets shove the old base set out of the mix. Wizards though has decided to make the rotations process all the more streamlined and so we are now going to be experiencing something new: two base sets will be legal in Standard.
This means that a lot of the cringing and sadness of rotation are going to be delayed until the release of the new stand-alone set. Now all of the sets will rotate at the same time with M10 falling out with Shards of Alara. This means that a lot of card appearances in M11 like Baneslayer Angel don't matter for the immediate future. It will matter down the line but for now there actually is a lot of overlap.
This spoiler review is going to look at the cards that I think actually matter in the time until M10 rotates out. There are a lot of cards I'm not mentioning largely because I don't think that they are any good or they already are in print. Some of them are like this:
Combust
1R
Instant
Combust can't be countered by a spell or ability.
Combust deals 5 damage to target blue or white creature. This damage can't be prevented.
Enh. If I'm a Red player I'm not particularly excited about Red Terrors in my deck unless they hurt the other player. I don't mind boarding a card like say Spitting Earth but when I'm doing something like that I want to be able to use it against any creature (often particularly Green ones). This card doesn't even deal with Gideon. This is very unexciting. Other than using it as an example I don't plan on reviewing cards like this at all.
Let's go to it!
Commons
Squadron Hawk
1W
Creature - Bird
Flying
When Squadron Hawk enters the battlefield you may search your library for up to three cards named Squadron Hawk reveal them put them into your hand then shuffle your library.
1/1
This card's power cannot be denied. Bitterblossom "only" made a 1/1 flier a turn too. Of course the power of Bitterblossom didn't come from the card advantage but from the relentless and free nature of it. If Bitterblossom read "each upkeep spend B1 to make a 1/1 flier" it wouldn't be the card that dominated Magic for so long (and might again). So to make Squadron Hawk do something you're going to have to be willing to do work. The most common cards to do this are things like Jace the Mind Sculptor but at that point it almost feels like too much work despite the card advantage.
Essentially there is something here that can be tapped but it is going to likely be particularly specialized. In decks that can recycle dead Hawks this could be an incredible long-term game plan essentially always having out three Hawks for 3WWW but at that point you almost need to ask yourself why you aren't doing something else for the mana that gains card advantage like making a Titan. This card is likely to be essentially the Squee Goblin Nabob of the format providing card advantage that is really potent if it gets help. Now it just needs the help. This is pretty low on the list but worth keeping in mind if you're looking for engines. Fauna Shaman comes to mind for example.
Foresee
3U
Sorcery
Scry 4 then draw two cards.
Preordain
U
Sorcery
Scry 2 then draw a card.
I liked Foresee quite a bit back in Time Spiral Block but I'll have to say that I was ultimately more pleased with Careful Consideration's massaging of the hand ability. These two cards add all the more library manipulation and card draw options for the player who wants them. The debate about Preordain versus Ponder is a cute one but what is more important than "which is better" is the thought you can double-pack them into a deck like Pyromancer Ascension which might finally have enough juice to actually be a deck. For that kind of deck Foresee is also likely to be played.
Foresee really is fighting against a lot of other options. Divination is cheaper and that can be the difference. Foresee is far more powerful but at that point you could also be Sculpting Minds. Still Foresee is pretty good at helping put particular cards together. You can expect that Foresee will be a mainstay the moment it is available.
Scroll Thief
2U
Creature - Merfolk Rogue
Whenever Scroll Thief deals combat damage to a player draw a card.
1/3
Even if this card is fairly weak it has a lot of potential value as a sideboard card (Jace Beleren version 1.6). In a dedicated Merfolk deck though it actually is likely to be able to connect. Coralhelm Commander and Merfolk Sovereign can do a lot of work to make this a potent body. While this is no longer really the day of Ophidian having another potential critter for Merfolk really is of value as this tribe has long been suffering in Standard for lack of good options after the passing of Lorwyn.
Pyretic Ritual
1R
Instant
Add RRR to your mana pool.
All rituals are good even crappy ones. This card's ostensible use is to quickly press out something important but not crazily expensive. This means that it isn't going to be all that hot at making a fast six or seven drop monster but it is going to be useful as a means to pump up Kiln Fiend or Kargan Dragonlord already aggressive cheap cards just a moment sooner. In other formats it will likely be pushed into various combo and semi-combo decks but in Standard its basic use is as an (even more) bad Simian Spirit Guide. There are a lot of reasons that it can get eclipsed by other cards for the purposes of an aggressive Red deck but it is still worth remembering that it can have real potential value.
Cultivate
2G
Sorcery
Search your library for up to two basic land cards reveal those cards and put one onto the battlefield tapped and the other in your hand. Then shuffle your library.
I've heard a lot of critique about this card as "not setting up the 'four'" or other crap and it is basically just bunk. It doesn't matter that a lot of valuable stuff happens at the four-drop mark and that this card doesn't ramp into it. It does ramp and it does so in a way that also manages to build your card advantage. Against a deck like Jund ramping is valuable particularly if you do so in such a way that you are less weak to Blightning. Ramping to five is also valuable whether it is Baneslayer Angel or even having breathing space to put a Raging Ravine into play with your powerful four-drop. This card is fabulous and if there is a deck that can use it it will.
Plummet
1G
Instant
Destroy target creature with flying.
Hallelujah. A shame this wasn't out in 1997 or any of the years since.
A simple remedy to all manner of problems Plummet is one of those cards that are going to see play in sideboards. Some decks just can't handle a Baneslayer and a single Green mana is all that they need to manage the problem? Sign me up! The fact that it kills Birds of Paradise is even more excitement inducing. This card is bound to flit in and out of sideboards as the metagame demands.
Sylvan Ranger
1G
Creature - Elf Scout
When Sylvan Ranger enters the battlefield you may search your library for a basic land card reveal it and put it into your hand. If you do shuffle your library.
1/1
Wow. This is one of the best cards in the set. Yes it is only 1/1 but Borderland Ranger was never as good as Civic Wayfinder and the 2/2 body certainly mattered but so does one less mana. Expect to see certain builds of Jund main deck this (Monument builds) and expect it to complement (or replace) Elvish Visionary in other decks.
Mana Leak
1U
Instant
Counter target spell unless its controller pays 3.
This card is obviously going to see a lot of play but one of the key things to remember with it is that the lack of utility the card brings in a late game is real. It has to contend with Deprive here or Unified Will depending on the kind of deck that might want to deploy it. Very little feels worse than drawing a late-game Mana Leak and having it be dead largely because the decks that use it are usually relying on it so heavily to do work whereas decks that are built with Negate only tend to rely on it to do that work.
Uncommons
Condemn
W
Instant
Put target attacking creature on the bottom of its owner's library. Its controller gains life equal to its toughness.
This card is both far better than and far worse than Path to Exile. The pain of an early Path could be huge but at the same time Path's ability to nab any creature whenever was incredibly powerful. Condemn will be a mainstay certainly and even push out Path in some instances (against decks that mostly care about aggressors and not blockers or utility creatures) but for the time being is not likely going to be a part of an overwhelm strategy for White-based control.
Jace's Ingenuity
3UU
Instant
Draw three cards.
Almost too late to the party this card is definitely going to be player in a number of Blue-based decks. Mind Spring is the obvious competition for now but Jace's Ingenuity stacks up pretty well. The opportunity cost comparison between the two cards clearly favors Ingenuity even if the raw power of a Mind Spring is higher. Some decks simply don't need to draw a whole lot of cards – they just need to get some.
Corrupt
5B
Sorcery
Corrupt deals damage equal to the number of Swamps you control to target creature or player. You gain life equal to the damage dealt this way.
While it knocks Tendrils out for a window they both will be available. This means that you can expect that a Black deck can actually have the option of an incredibly amount of life-gain. Life gain usually isn't all that hot of course but when it is also paired with the possibility of creature control the extra life buys all the more time for yet more answers. A dedicated anti-creature deck in mono-Black is likely to be a real powerhouse now. Of course if creatures aren't important then too bad for that deck…
Reassembling Skeleton
1B
Creature - Skeleton Warrior
1B: Return Reassembling Skeleton from your graveyard to the battlefield tapped.
1/1
This creature is just intriguing. It reminds me a lot of Carrionette a favorite of Jamie Wakefield's back in the day and a card that was always really worthy of paying attention to. The best thing about this card from a deck-building perspective is that it just keeps hanging around. If you're playing a certain kind of control deck how do you handle this card's endless ability to be on the table? What if equipment are involved? This card is definitely real despite its small body.
Ember Hauler
RR
Creature – Goblin
1 Sacrifice Ember Hauler: Ember Hauler deals 2 damage to target creature or player.
2/2
This little guy is a solid little monster to be sure. 2/2 for two is the baseline for a reasonable creature with an ability. Being an Aeolipile at will is simply a great ability. The worst thing about a creature is that it relies on attacking to deal damage a luxury that sometimes doesn't make it good enough. The best thing about a creature is that it can attack again and again building up the damage. As small as it is being able to do both will make this card really potent and even though it takes mana to make work this Big Brother to Mogg Fanatic is easily going to see play.
Fire Servant
3RR
Creature - Elemental
If a red instant or sorcery spell you control would deal damage to a creature or player it deals double that damage to that creature or player instead.
3/3
Yes this card can be killed by a Lightning Bolt. But what is more important about a card like this is how it changes the game. If you've never seen a Furnace of Rath in play you don't really realize just how insane it is. For some opponents they plan on beating a Red deck with just increasingly huge men. How on earth are you going to be able to answer their huge things again and again? As a sideboard card Fire Servant can make you laugh at most big creatures. Against decks that aren't good at removing critters Fire Servant is going to be a powerhouse.
Autumn's Veil
G
Instant
Spells you control can't be countered by blue or black spells this turn and creatures you control can't be the targets of blue or black spells this turn.
Wow. Simply wow. As a hate card this one is simply fabulous. This is one of those cards that is so versatile that you can expect to see it used by all kinds of decks. While clearly not a main deck card this will definitely leap into sideboards immediately whether as a protection measure from elim spells or as a solid plan against counterspells. Great card.
Back to Nature
1G
Instant
Destroy all enchantments.
I always loved Tranquil Domain. It was a secret favorite of mine the kind of card that would just decimate certain decks. This is nearly a straight-up improvement of that card. Against a table-full of Oblivion Rings and Spreading Seas what a blow out. Essentially an anti-Blue-White card it is good enough at messing with some of the favorite tools of those sneaky colors that it is a very important card to remember when you're working on sideboards.
Voltaic Key
1
Artifact
1 T: Untap target artifact.
Really? Really?
There might not be Grim Monolith any longer but I love this card with Chalice and more than a few other cards as well. I predict that my Martial Coups are going to be bigger than ever…
Rares
Knight Exemplar
1WW
Creature - Human Knight
First strike
Other Knight creatures you control get +1/+1 and are indestructible.
2/2
The simple act of getting two of these creatures out is a clear-and-easy combo. Indestructible is a solid enough ability without enhancing power and toughness as well. Knight of the White Orchid Knotvine Paladin Rafiq of the Many Sigiled Paladin Steward of Valeron Student of Warfare and White Knight are all the reasonable cards that get pumped up by this and others are things worth thinking about with a stretch. This card's primary purpose I imagine will be semi-insurance on Day of Judgment effects or being an annoying lightning rod (both of which are more than reasonable).
Leyline of Sanctity
2WW
Enchantment
If Leyline of Sanctity is in your opening hand you may begin the game with it on the battlefield.
You can't be the target of spells or abilities your opponents control.
Absurd. Remember to get your Back to Natures. I'm just not sure why a functionally better Ivory Mask was necessary. This card doesn't even have the dignity to give you shroud it gives you super-shroud – Troll Ascetic-style shroud. While obviously it doesn't have much use in multiples (other than access) it is definitely a card to consider when you're figuring out how you'll deal with all manner of decks especially a poor deck like mono-Red.
Conundrum Sphinx
2UU
Creature - Sphinx
Flying
Whenever Conundrum Sphinx attacks each player names a card. Then each player reveals the top card of his or her library. If the card a player revealed is the card he or she named that player puts that card into his or her hand. If it's not that player puts it on the bottom of his or her library.
4/4
A 4/4 flier for four is just fine. This card doesn't carry with it the kinds of risks that a Goblin Guide does (or at least not the degree). A lot of people will be piling it on with Jace the Mind Sculptor or other manipulation. Playing off of it blind though isn't unreasonable; simply naming what you want to get is the better plan here rather than naming what is likely unless you're already chock-full of cards. Of course your opponent can do the same.
Overall I'm pretty sure that since this card is over the magic Lightning Bolt hump this card is destined to see play pretty much immediately.
Leyline of Anticipation
2UU
Enchantment
If Leyline of Anticipation is in your opening hand you may begin the game with it on the battlefield.
You may cast nonland cards as though they had flash.
Suffering from the common Leyline problem of duplicates this card is still incredibly good. Flashing everything really is crazy. Standard doesn't have as many cards that make the ability absolutely absurd but even if it isn't absurd doing things like casting Consuming Vapors or Day of Judgment to off a man-land is great. Cruel Ultimatum sure seems great as an instant! Balancing this against the real cost of a card is the key though and can't be overlooked. This isn't an answer card like Leyline of the Void which limits the use of the cost of the card to greed rather than pure answer. Flashing Mind Shatter though… ooooh my my.
Captivating Vampire
1BB
Creature - Vampire
Other Vampire creatures you control get +1/+1.
Tap five untapped Vampires you control: Gain control of target creature. It becomes a Vampire in addition to its other types. (This effect doesn't end at end of turn)
2/2
Another Lord is not a bad thing for a tribe that has had its ass handed to it over the last few months. Expect this cheaper lord to make the uber-aggressive builds of vampires more viable particularly in combination with Vampire Nocturnus.
Dark Tutelage
2B
Enchantment
At the beginning of your upkeep reveal the top card of your library and put that card into your hand. You lose life equal to its converted mana cost.
Dark Tutelage is not Phyrexian Arena and it is not Dark Confidant. But particularly for decks that run Birds and Elves this is a great engine for card advantage despite the cost. Sometimes just unloading an avalanche of card advantage is good enough. This card particularly combines well with a slew of cheap one-for-ones like Lightning Bolt or Mire's Toll.
Nantuko Shade
BB
Creature - Insect Shade
B: Nantuko Shade gets +1/+1 until end of turn.
2/1
While this creature definitely has some diminishing returns it is still a powerhouse good enough to have won a Legacy Grand Prix not all that long ago. Bear plus Ability is always a great start and newer players are most likely going to be reminded of Lavaclaw Reaches for this card's ability to just end games. Some players have advocated only playing a few of this card in a deck and that is totally reasonable. Playing four though is a decision to say you're willing to take bigger risks with the card and I expect I'll lean more in that direction myself.
Phylactery Lich
BBB
Creature - Zombie
As Phylactery Lich enters the battlefield put a Phylactery counter on an artifact you control.
Phylactery Lich is indestructible.
When you control no permanents with phylactery counters on them sacrifice Phylactery Lich.
5/5
I'm actually surprised that this card is not Mythic as it strikes me as more appropriate for what I think that Mythic should be – generally good cards with limited if not diminishing utility in multiples. Outside of Standard it's fun to think about this card with Darksteel cards but inside Standard this card seems like a big risk. Maelstrom Pulse and Oblivion Ring are very very real without even talking about work arounds like Path and Condemn. As a sideboard card against decks without good answers the Lich is going to be an incredible threat.
Cyclops Gladiator
1RRR
Creature - Cyclops Warrior
When Cyclops Gladiator attacks you may have it deal damage equal to its power to target creature defending player controls. If you do that creature deals damage equal to its power to Cyclops Gladiator.
4/4
In a Red control deck I love the idea of this guy whacking at Birds and Elves while he swings. There are a lot of decks that simply cannot deal with this guy. Brian Kowal used to call Flowstone Giant "the lumberjack" because it would chop down Wall of Blossoms and Wall of Roots left and right. I have a feeling that Cyclops Gladiator is the new lumberjack.
Destructive Force
5RR
Sorcery
Each player sacrifices five lands.
Destructive force deals 5 damage to each creature.
I'm salivating.
No really.
Leyline of Punishment
2RR
Enchantment
If Leyline of Punishment is in your opening hand you may begin the game with it on the battlefield.
Players can't gain life.
Damage can't be prevented.
This is an incredible card totally shutting down silly things like Kor Firewalker. Again it still has the Leyline problem but that's generally fine. A Red deck can make two decisions about that: it can minimize the number of Leylines and just hope to get lucky or it can suck it up. Even with such a potent power I know that I'm likely to only run one or two of a card like this unless something unusual is going on; drawing multiples that you don't need usually isn't made up for by stopping Obstinate Baloth and friends.
Reverberate
RR
Instant
Copy target instant or sorcery spell. You may choose new targets for the copy.
Personally I love neo-Fork. There are a lot of spells that I want to copy when I'm a Red deck. My own Lightning Bolt is great but so is copying their Mind Spring or Time Warp. If you've ever Twincast your own Searing Blaze you know how great that is and I have to tell you RRRR is a lot easier to get than RRUU.
Fauna Shaman
1G
Creature - Elf Shaman
G T Discard a creature card: Search your library for a creature card reveal it and put it into your hand. Then shuffle your library.
2/2
Here is a place for those extra Hawks you're carrying around…
This card is good to be sure but it is less hot than some of the people have hyped about it. Selecting a single creature a turn for a mana is a slow process and if I had better things going on I don't know that I would necessarily even kill this guy right out of the gate. Vengevine and Bloodghast are clear great ways to use him but that really is a lot of work to get going if you don't already have one in your hand. If you're using its ability that also means that you really aren't using its body at the time. This card is really quite good but don't go too crazy trying to acquire it.
Leyline of Vitality
2GG
Enchantment
If Leyline of Vitality is in your opening hand you may begin the game with it on the battlefield.
Creatures you control get +0/+1.
Whenever a creature enters the battlefield under your control you gain 1 life.
This card is actually pretty fabulous breaking the Leyline rule of failing to be valuable in multiples. For a deck that is going to be generating a lot of creatures having them be more resilient as well as pumping up your own life total can be a real important deal. This card might actually have a home in token decks that need a little bit of time to get value out of them. Alternatively since it really isn't hating anything out it could just fall flat.
Obstinate Baloth
2GG
Creature - Beast
When Obstinate Baloth enters the battlefield you gain 4 life.
If a spell or ability an opponent controls causes you to discard Obstinate Baloth put it onto the battlefield instead of putting it into your graveyard.
4/4
The bastard child of Loxodon Hierarch and Wilt-Leaf Liege Obstinate Baloth is absolutely going to have a huge impact on Standard immediately. Ravenous Baloth was always a really potent card against Red and this one is just immediately better. Combine with that the incredible way that this card stops Blightning from mattering as well as how great the card simply is as an efficient beater against a controlling deck and you have a card that you likely should own four of circa immediately.
Jinxed Idol
2
Artifact
At the beginning of your upkeep Jinxed Idol deals 2 damage to you.
Sacrifice a creature: Target opponent gains control of Jinxed Idol.
Jinxed Idol was always a way that Red decks would get around Circle of Protection. These days it is more likely to be a way that token decks provide frustrating-to-deal-with damage. Against decks with few to no creatures a Jinxed Idol can be a real problem. Expect to see this as a mainstay in sideboards.
Sword of Vengeance
3
Artifact - Equipment
Equipped creature gets +2/+0 and has first strike vigilance trample and haste.
Equip 3
This is a really solid equipment to find with a Stoneforge Mystic. Sword of Vengeance is one of those rare bits of equipment that acts as both offensive and defensive: vigilance can be incredibly important in a race and it means that there won't be a need to re-equip that often happens with equipment. While not likely as useful in non-Mystic decks this is definitely a card that is going to see play.
Temple Bell
3
Artifact
T: Each player draws a card.
It knocked out Howling Mine and in play is almost certainly better. Voltaic Key can make this card better yet though Pithing Needle undermines it quite well. The third mana for Temple Bell is actually really difficult to handle for a dedicated Howling-style decks but this is partly made up for by the way that it doesn't give as much up by being out. Expect this to complement Howling Mine decks until Howlers and Fonts rotate out often instead of Jace.
Triskelion
6
Artifact Creature - Construct
Triskelion enters the battlefield with three +1/+1 counters on it.
Remove a +1/+1 counter from Triskelion: Triskelion deals 1 damage to target creature or player.
1/1
Oh Pimp-Bot. Oh Pig. This card has had a lot of nicknames over the years and while it seems a might slow these days (particularly when it is competing with Inferno Titan at the same cost) there is still a real chance that this card is going to be able to make the kind of impact it did back in the day machine-gunning down Birds and Elves in decks that normally can't necessarily manage it. We'll see if it is simply a relic or if it can still do the work it used to…
Mystifying Maze
Land
T: Add 1 to your mana pool
4 T: Exile target attacking creature an opponent controls. At the beginning of the next end step return it to the battlefield tapped under its owner's control.
There are a lot of utility lands in Standard right now that Mystifying Maze is competing with. However in a control deck a card like Mystifying Maze is just an incredible boon even if it is tying up five mana. After a Day of Judgment a Maze will hold down a single creature begging them to drop another which can potentially be exploited by another Day. While not a card to play a whole ton of it is still worth thinking about in small numbers if you can afford the colorless.
Mythic Rare
Sun Titan
4WW
Creature - Giant
Vigilance
Whenever Sun Titan enters the battlefield or attacks you may return target permanent card with converted mana cost 3 or less from your graveyard to the battlefield.
6/6
Grave Titan
4BB
Creature - Giant
Deathtouch
Whenever Grave Titan enters the battlefield or attacks put two 2/2 black Zombie creature tokens onto the battlefield.
6/6
Inferno Titan
4RR
Creature - Giant
R: Inferno Titan gets +1/+0 until end of turn.
Whenever Inferno Titan enters the battlefield or attacks it deals 3 damage divided as you choose among one two or three target creatures and/or players.
6/6
Primeval Titan
4GG
Creature - Giant
Trample
Whenever Primeval Titan enters the battlefield or attacks you may search your library for up to two land cards put them onto the battlefield tapped then shuffle your library.
6/6
I've already talked about the Titans but I'm just going to reiterate how incredible several of them are. Seriously get your Primeval Titans now before they get more valuable.
Gaea's Revenge
5GG
8/5 Creature - Elemental
Gaea's Revenge can't be countered.
Haste
Gaea's Revenge can't be the target of nongreen spells or abilities from nongreen sources.
I keep imagining this card with trample but I know that it doesn't need to go that route given its near-untargetability. Hasty big monsters are really awesome in general and this one is no exceptions. Very little can answer it that isn't a Dragon or a whole slew of critters. I expect Jamie is biting his lips in anticipation over this one…
Denouement
Overall I really love M11. Kudos to everyone involved in it. There are a lot of M10 cards that I'd love to see in M11 (Hypnotic Specter Howling Mine e.g.) but basically I love the look of it. I've made vocal my general feelings on Mythic in several articles in the past but given that they've dedicated themselves to the path that they're on I'm happy that they chose to reprint Baneslayer Angel instead of making me feel like I'm having someone spitting in my face. That said I do hope that they change their basic philosophy on Mythics at large.
I'm already brewing any number of decks and I see so many possibilities I don't know if I can possibly work on them all so to my mind that is another way to count M11 as a success: anything that helps encourage innovation and creativity tends to be a great add. There seems to be a general move towards even more expensive spells than before so I'm curious how this is going to play out in Constructed.
I expect that I'll get a better sense when I'm in Chicago this weekend. If you're in the area come down to the Prerelease and let's play some Magic.
Have a great weekend…