[Editor's Note: Click on any of the card images to go to its preorder page!]

Ben Bleiweiss summed up Scars of Mirrodin perfectly with this chart:

Commons:
Scars of Mirrodin: 10 Good 91 Bad (10.1% Good)
M11: 25 Good 76 Bad (24.75% Good)
Rise of the Eldrazi: 31 Good 70 Bad (30.69% Good)
Worldwake: 17 Good 43 Bad (28.33% Good)
Zendikar: 31 Good 70 Bad (30.69% Good) - Doesn't count full-art lands
Uncommons:
Scars of Mirrodin: 9 Good 51 Bad (15% Good)
M11: 22 Good 38 Bad (36.66% Good)
Rise of the Eldrazi: 15 Good 45 Bad (25% Good)
Worldwake: 14 Good 26 Bad (35% Good)
Zendikar: 17 Good 43 Bad (28.33% Good)
That is Atrocious. It is Pitiful. It is Mind-Numbing. And it is Completely Unacceptable.
Combining these two categories we see that Scars has (according to Ben whose overall views mirror mine on this) nineteen "good" non-rare cards which is less than half the number that appeared in the last three sets of similar size and is even fifty percent less than Worldwake.
How was this allowed to happen? It was obviously a conscious choice. A decision was made to create a Limited format built around cards of a distinctly lower power level and to save what power there was for the rare slot. I am very much not a fan of that decision and it made my eyes bleed while trying to go over the set and find something to talk about. I also made the mistake of reviewing cards as they were spoiled rather than waiting which meant that once I was two-thirds of the way through I'd already seen all but a handful of the cards worth considering. As my brain grew more and more fried by the process (I'm fine now thank you for asking) I drifted more and more towards deadpan snarking. I make no apologies for it.
The second problem is that this is an artifact set whose artifacts are priced as though artifacts should cost more than colored spells rather than less. They're available to everyone and more vulnerable so I suppose that is as it should be but it's not making those cards all that attractive.
The final problem with Scars is that it revolves around two highly insular concepts: metalcraft and infect.
Infect gives poison counters so any deck that uses it has to go all-in and there aren't many choices available to those who do that.
Metalcraft is a threshold effect where its best cards don't count towards accomplishing the threshold and Mox Opal is part of the metalcraft picture so that threshold must be met quickly. This greatly restricts the options available and sends the deck down a path it isn't currently fully equipped to take. If it later is equipped it could become quite good at some point in the future but it's hard for that deck to be good enough and not ruin everyone's fun.
White
I always lead off with white which allows me to use my renewed creative juices and explanations of un-playability on a reliably unexciting color before getting to the meat of the set. Scars disrupted that plan. Could this be white's time to shine?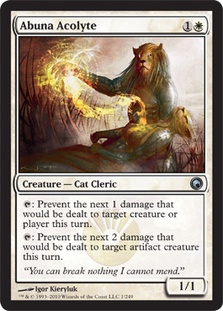 "Take care. That which is broken cannot so easily be mended." - Venser the Sojourner
I'm not convinced there's an amount of damage prevention that makes this card worthwhile. If the bonus is only for creatures I know there isn't one.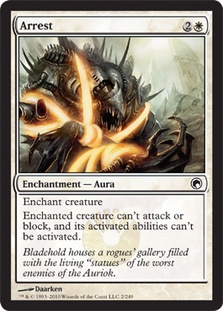 Give it another one.
I have nothing against the classics and will no doubt enjoy drafting this many a time but that's all that anyone will be doing with it.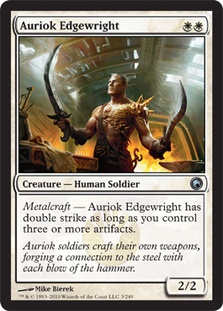 It's a poor workman who chooses amongst his tools.
Double strike is what turns ordinary equipment into a quick twenty damage and now Kor Duelist has his larger and wiser partner in crime within white in addition to the option to go red for Goblin Gaveleer. Such a deck will include few if any cards that aren't either mana artifact-friendly creatures or artifacts. For a while now I've been putting fewer and fewer spells into my creature decks because of the rewards for building synergy between permanents — as well as my sacred quest to play more mana sources than anyone in the history of Magic which is coming along nicely.
All the metalcraft cards face the same dilemma: If a deck can reliably assemble the required artifacts without either sacrificing too much card quality or opening itself up too much to mass removal then the reward is a class of superstars that can dominate the game. If it can't it'll prove too unreliable to be worth playing. The exact distribution of artifacts and in particular artifact mana and cheap equipment will determine which side of the line Standard falls under but even if Scars of Mirrodin fails to deliver enough pieces on its own there's still plenty of time left for the final pieces of the puzzle to show up later.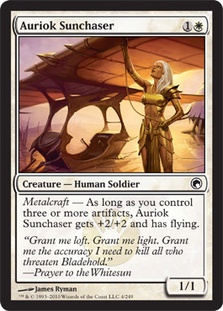 "Didn't we used to have an extra axe lying around here somewhere?"
"Don't look down."
The upside of this creature is good but not eye-popping and certainly worse than both Auriok Edgewright and Carapace Forger. However when paying the buy-in cost for such a strategy it's important to get critical mass of the payoff and this can provide it. There's a lot of solid competition but nothing else as focused on the goal so it's not impossible this could occasionally get the nod.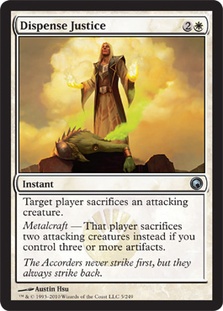 In Mirrodin there is no longer justice. There is only war.
If you're already all-in on metalcraft and playing a defensive white deck this seems like a solid sideboard card against aggression since it's reasonably priced and deals with multiple threats. If metalcraft isn't reliable then giving the opponent a choice of what to sacrifice and letting them attack before you can cast this (so Titans will trigger) seem like crippling issues.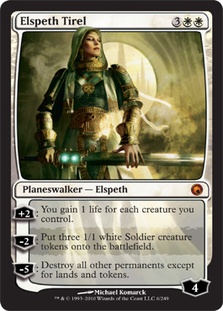 "A standing army is one of the greatest mischiefs that can possibly happen." - James Madison
Elspeth Tirel will destroy all in her path if given the chance and will do it disturbingly quickly. She pairs well with all of her natural companions. Look at all the possibilities! Elspeth Tirel and Gideon Jura share the same mana cost but that isn't as awkward as it appears because the rest of your curve builds itself elegantly around that slot. Day of Judgment is a perfect setup and complement to both cards as is Jace the Mind Sculptor. Garruk Wildspeaker fits the bill as well since either can protect the other while it builds up counters. Also both provide excellent assistance when the other goes ultimate. Ajani Goldmane makes all those tokens large in a hurry. New-school Elspeth even goes well with old-school Elspeth Knight-Errant since the old one can be allowed to die to set up the new one or in rare cases finish things after the old version gives you a handy emblem.
Of all of these possibilities the control strategies and especially Gideon Jura seem most attractive. It's rare that players have eight power on the table under normal circumstances especially against a Day of Judgment deck. Therefore it isn't that hard to play Gideon Jura to gain the one-turn window necessary to set off Elspeth Tirel.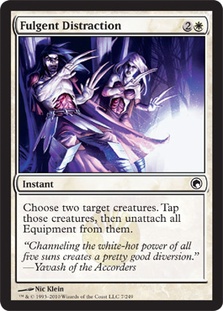 "I'm looking but I fail to see why this is the best use for the channeled white-hot power of all five suns."
This can buy a lot of time in exactly the right situation but that situation requires equipment that's expensive to equip and even decks focused on equipment tend not to have too many expensive pieces. Then you buy a good amount of time but time is all you buy. Better to pay to wipe the creatures off the table outright.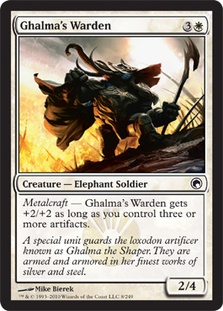 Warden outfits his own guardians. It's not the most efficient path but it gets the job done.
There's a sharp contrast between the creatures that become outstanding under metalcraft and those that become fringe. This comes from that second category.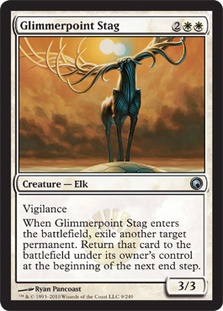 For one brief shining moment it is master of its domain.
I briefly thought this was going to be the creature version of Oblivion Ring and was debating whether that was something I'd be interested in. This is a creature big enough to be worth having around but having to constantly worry about them killing the Stag and getting their card back was going to be a major issue and the fourth mana is one of the biggest effective power jumps. As nothing but a blink the effect is minor either duplicating an existing "enters the battlefield" effect unreliably or clearing a temporary path - neither of which is worthwhile.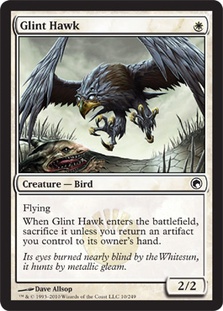 Eyes nearly blinded by the Whitesun it is still hunted for what it often wears around its neck.
If you return an inactive Mox Opal this works as an outstanding one-drop that has many excellent potential companions. If you return an active Mox Opal you get the Glint Hawk for free if you can locate a white mana. If you use a Memnite or other zero-drop then it's the same as using an inactive Opal and there are sometimes good reasons to want to recast permanents. The risk of being stranded without the ability to play a card that's only strong early means you'll need an extremely high artifact count. I worry about this and Auriok Edgewright clashing with Tempered Steel but there's a lot of upside here and he has plenty of good potential companions.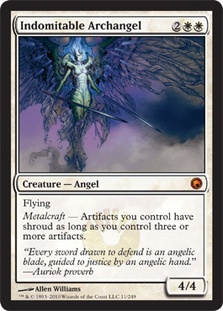 Watch the artifacts round they go. How to target them nobody knows.
Every time I see a creature with these kinds of stats I have to do a double take before reminding myself that things are different now: creatures are bigger and this flat-out isn't good enough. The ability is interesting but has the fatal weakness - the Archangel doesn't protect herself and also doesn't protect your artifacts when you're first putting them into play which makes it impossible to stop the opponent from using his artifact removal. Even Precursor Golem gives them an opening to use something at instant speed. A creatureless artifact deck could perhaps use this as a nasty surprise against hate after sideboarding but if you can keep a 4/4 flying creature around in that type of deck any number of things would've worked. The standard for metalcraft creatures is far higher than this.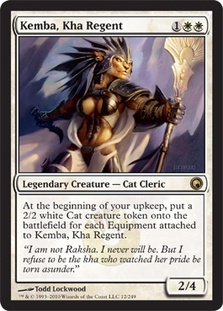 "Cats are easier to impress than you might think."
Those willing to lug around large amounts of equipment have a lot of choices for who's going to carry them. Kor Duelist and Armament Master are natural fits for such a strategy and Armament Master doesn't play well with Kemba but Master also requires certain others in order to play well and will continue to decline in value.
Kemba's great strength is that it's at its best when you have no other creatures since it gives you reinforcements and takes full advantage of all the equipment you have lying around instead of creatures. Kemba also has the issue that there are Titans and similar cards everywhere that provide better continuous effects than Kemba can hope to provide which puts such a deck in an awkward position.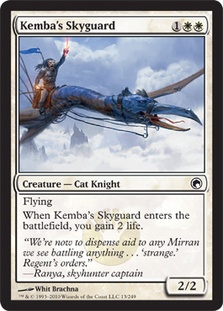 Cats can survive a fall from any height but usually won't.
When good men are hard to find send in the flying cats. When there are a variety of good men available send in the men.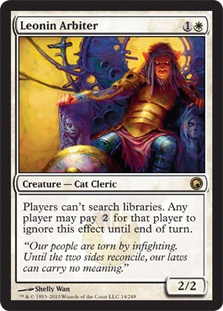 You can't search your library until after you feed the cat.
This is going to severely slow down or potentially even break the mana development of decks that rely on mana ramping and to a lesser extent can wreck havoc with fetchlands. Getting this out there on turn 1 would be especially devastating in the formats that allow that although I'm assuming Mox Opal won't be tapping for mana on turn 1 in Standard. Against the types of decks that want to play two-drop white creatures that kind of setback will often be the game and there are enough incidental searching effects out there to maindeck the Arbiter. It clashes with Steppe Lynx since Lynx encourages the playing of fetchlands. Arbiter has similar problems with Adventuring Gear so the price in card quality will be high. I don't see a way to overcome that in Standard but in older formats things get more interesting.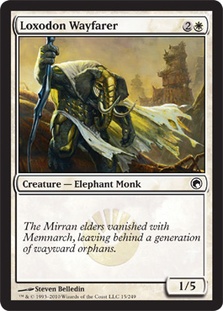 It would be fair to say there are not many ways for Elephants to go.
This is two-mana's worth of defensive creature. Alas it costs three mana to cast him.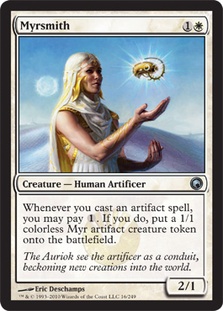 He'll try follow your example but it never seems to amount to much.
If you're trying to fight through targeted artifact removal this can be a way to keep artifacts on the board and enable metalcraft. However it's not a way to get there naturally and walks straight into all forms of mass removal without generating much of an additional threat. It's also slow and at no mana point is it as efficient as the alternatives. There might be some special cases where one needs fuel for sacrificial effects but I doubt such decks can play enough artifacts to make this work.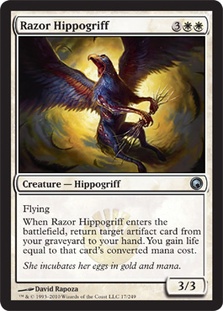 Even the past is visible from the right perspective.
The life gain makes this worth pausing to think about even if it can't be chained. Potentially it's the sum of three effects - none of which separately are that impressive but together result in a lot of incremental advantage. The problem is that the artifact needs to be expensive enough to be both worth bringing back and gain you a substantial amount of life. That seems difficult to pull off. All the artifacts that tempt me seem to be cheap and the methods to discard them don't impress.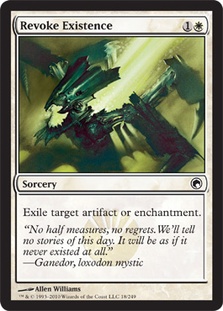 It's not a right it's a privilege. You've lost it.
Instant speed is almost certainly more important than exiling over destroying especially with the ability to wipe out metalcraft without notice so this could be better but it's still a necessary card for the brave new world. Those who need it will use it and the name is one of the things I've always wanted to do.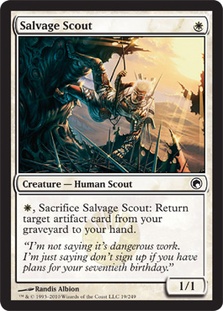 Despite the name such scouts are rarely salvaged.
The advantage of having one-drops is what they do for you right away rather than what they can do for you later. As a first turn play this isn't impressive and later on getting much out of it is highly awkward. This type of ability gets better when put on larger men.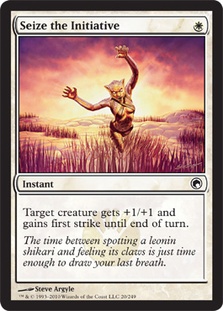 There's nothing to stop them from taking it back. Prey that they choose not to.
Harm's Way showed how good white combat tricks can be and still be on the fringe given how awkward it is to play combat tricks under the new rules. I fear that it's all but impossible to print tricks good enough to get the job done. This isn't trying.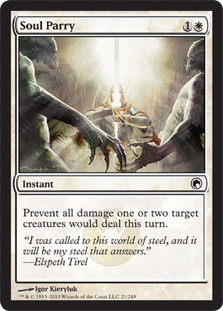 He who parries with his soul risks losing all else.
Having a critical mass of Fog-style effects can enable strategies that would otherwise collapse into nothingness. This is a situational supplement to other such effects if combined with ways to sweep the board. If you're clearing out the threats on a regular basis then often they won't be able to have three meaningful attackers. It's miles behind a card like Angelsong but it's possible that the right deck wants more Fogs that badly.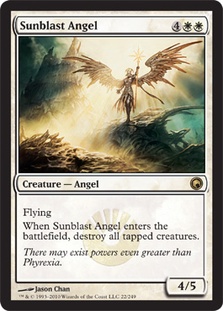 Look directly at her. Or else.
This potentially goes into the white control complex alongside Elspeth and Gideon Jura. Gideon Jura makes sure that all creatures are tapped and provides a way to soak up the damage you'd otherwise take by tapping them plus runs smaller men into the Sunblast Angel later on. The interaction with Day of Judgment and planeswalkers in general makes it hard to hold creatures back in any case. It's also nice that Sunblast Angel has the perfect statistics to fight against Vengevine. The fatal problem here is that it's deadly to have too many cards that don't do much against decks that aren't focused on creatures. There are a number of similar cards that should get that nod first. If one wanted to overkill the situation this would be an interesting way to pile on a little bit more.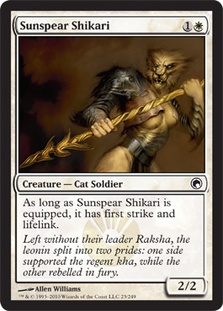 Some day they will call me Knight!
There isn't anything here to hope for and several ways to get a lot of mileage out of equipping. Kor Duelist will usually be a better creature once equipped at a fifty percent discount.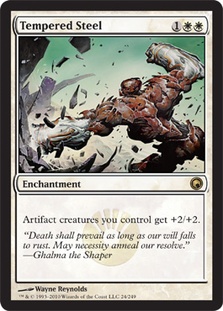 Steel is harmless without a bad temper to go along with it.
This is by far the strongest double-Crusade effect Magic has ever printed. Time of Heroes didn't have a reasonable creature set to work with and all of the others were both restrictive and cost four mana. Tempered Steel costs three mana the same as the well-respected Glorious Anthem and can easily be made to boost every creature in your deck. It's metalcraft for the metal Knights without the threshold requirement. The problem with Tempered Steel is that it has competition. If you're playing enough artifacts to take advantage of Tempered Steel you're also going to trigger metalcraft which means that you'll be tempted by any number of highly resourceful non-artifact creatures. Getting this into a deck is harder than it looks.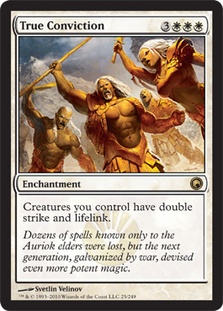 With the conviction that all men are created to fight we can get four score for every point.
There's enough power here to potentially justify six mana but alas it's split between offense and defense. At the times when the life is most needed this requires the creatures to mix it up and is likely too slow while the times the life is not as important allow the opponent to fight through this. At the owning-the-world level this won't get the job done.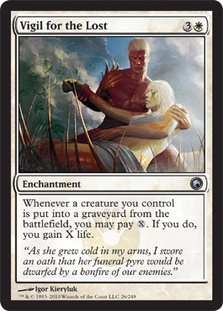 We do not hold the vigil for those we have lost but rather for those they leave behind.
This is a ludicrous amount of investment. First there's a card and four mana then you have to have a creature die before you can spend and spending only gets you one life point per mana. At no point does this ever get even remotely efficient and it's a highly unreliable mana sink. It could net a huge amount of life but not in the places life is most needed.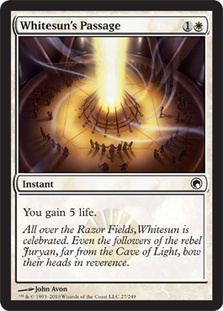 It will happen again. No one will remember this day.
Five life is flat out not enough. The standard is eight.
Believe it or not white is the strongest color in Scars of Mirrodin. White gets multiple good one-off cards in Leonin Arbiter and Elspeth Tirel and it gets a lot of strong options for abusing metalcraft and/or artifact creatures with Tempered Steel Auriok Edgewright and perhaps Auriok Sunchaser. As we'll see later that's as good as it's going to get. If metalcraft fizzles white is down to two cards but they're a fine two to be stuck with.
Blue
Normally this is where the stars come out to play and we find out what broken thing blue is going to be up to this time - which would ordinarily go double for an artifact set. What happens if they built the set and blue didn't come?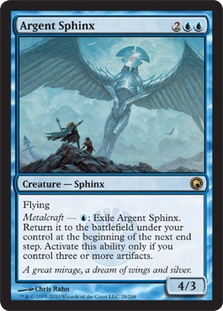 Where does one go with three artifacts?
This is one of the better metalcraft creatures to be stranded with when you don't have metalcraft since in practical terms its stats are still serviceable and its ability is a classic. The problem is that you must work very hard to get metalcraft and when you do the results need to be devastating much faster than this. I'd definitely endorse this card were it not to require metalcraft. There are some cards that are absolutely obscene with it. In the right control deck that happens to naturally get three artifacts and wants a reliable finisher this could be an interesting choice but I also don't think it's big enough given what else is out there.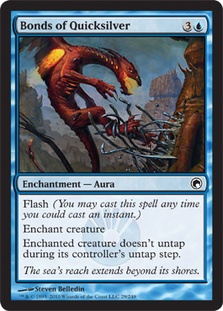 Even if they break free they will still have something to not fight for.
Instant speed removal is a nice thing for blue to have but the price here is beyond outrageous.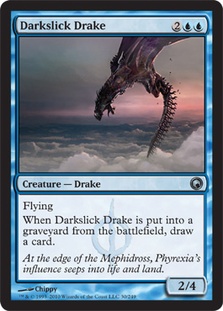 Only when everything goes dark does one get remotely slick.
Even as a pure cantrip creature this would be well below the Constructed curve.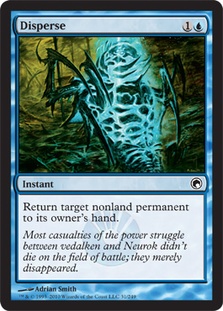 Nothing to see here.
Move along people.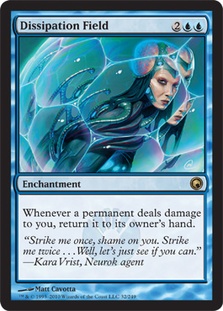 That's enough. You need a time out.
This is the blue version of No Mercy which was a card that was deceptively unplayable. Magic is a short game and control decks don't have enough life to play with to allow creatures to hit them. It's even worse in the planeswalker era because Dissipation Field doesn't protect Jace and friends at all and there's no way I'm giving them up for this. I'd be far more interested if there were a way to use this with your own permanents to pick them up and get some sort of bizarre engine going but nothing is coming to mind.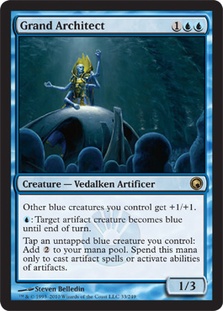 He wants it done right so he usually ends up doing it himself.
It's tragic that this isn't a Merfolk thus preventing it from creating decks that can combine two great tastes that would go great together. Without a natural tribe to fit into it's tough to imagine there will be enough other quality blue creatures. On his own he still provides good value. However a lot of ways to boost artifacts provide outstanding value and him not being an artifact along with other blue creatures you play not being artifacts is going to be problematic when trying to achieve metalcraft. It's going to be tough to find the right place for this but there's a lot of potential if that place can be found.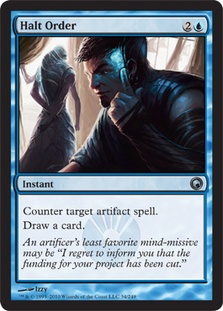 While built to craft a new order such creations inevitably lead to chaos.
Artifacts will never be plentiful enough to maindeck a card like this over a more universal counter given how often they won't have any artifacts or won't cast them on the right turn. As a sideboard card there isn't enough impact compared to other solutions to artifacts.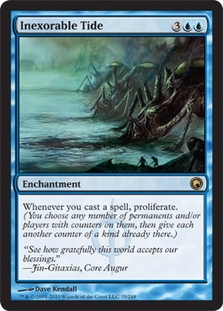 Proliferation proliferation.
This is a lot of mana to pay for a bunch of counters especially with a turn delay almost certainly attached. Any deck capable of turning this into a win with poison counters or otherwise was casting enough spells that it shouldn't have needed the Tide to win and would've been better off with something that has a stronger short-term impact. If this was cheaper it might've been a whole lot of fun.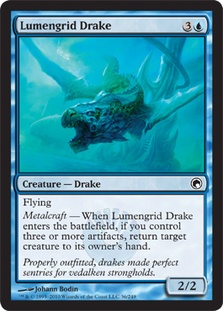 The Drake is carrying WHAT? Run away!
This is a bad Aether Adept when you have metalcraft. Let's not talk about what happens when you don't.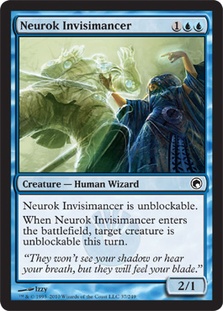 He has an unstoppable strategy: He follows by example.
This is a small upgrade on Phantom Warrior. However evasion isn't an expensive ability and unblockability isn't substantially superior to flying given the ability to block other flyers.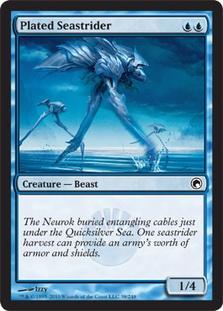 How do you stride if you're planted?
Not as you might expect by drawing a card.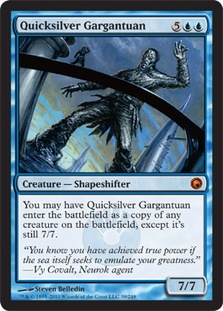 Anything you can do I can do bigger.
Being able to choose amongst various abilities is a nice feature but we live in a world with Titans. This doesn't compare unless one is already in play. In which case it does and is actually an excellent answer to Frost Titan if it comes up but this card is relatively abysmal.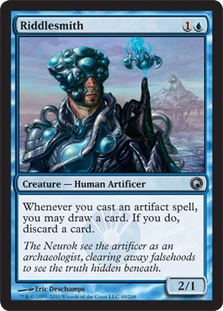 Why does the second copy keep getting discarded?
Artifacts and graveyard engines have a long history of not mixing. There aren't any worthwhile artifacts I can think of that do anything out of the graveyard and there aren't many artifacts that do much to interact with the graveyard once they're in play in a profitable manner - with the exception being Crucible of Worlds.
That leaves two basic approaches. One approach is to try and fit artifacts into a graveyard-based deck that also includes an engine not built around artifacts but that seems like two minds where one is quite sufficient. A deck like Dredgevine can't cope with another big requirement.
The alternative is to play an artifact deck that casts so many artifacts that it gets to do this often and then play Riddlesmith "fairly" which is the more likely approach. There will often be lands to discard. Digging will help find expensive spells and the three artifacts needed for metalcraft. Meanwhile you're given a serviceable body to work with and perhaps grow with Grand Architect. That shouldn't rule out fitting in Vengevine especially if there are a number of worthwhile artifact creatures out there but if it works this card is more likely to work in fair mode than unfair mode.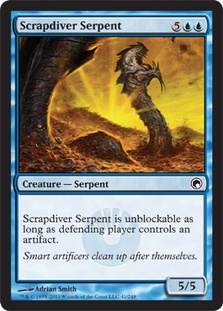 That's too bad. We were all going to volunteer.
At one mana cheaper and always unblockable I'm not remotely tempted.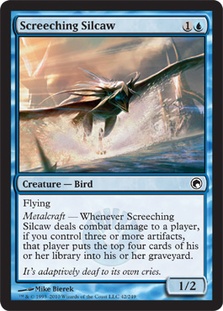 There's a maddening noise waiting inside the heart of everything if you know where to look.
Decks that want to win this way aren't going to be interested in trying to force through a 1/2 even if metalcraft were automatic.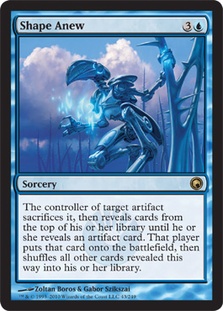 "When you say shape do you always mean 'make it really freaking huge'?"
This is Polymorph for artifacts so you'll need a way to generate an artifact. If you can do that the good news is that it's much harder to kill an artifact than a creature so you're more likely to get what you want. One idea is to use Trinket Mage to retrieve a single zero-cost (or one-cost) artifact in the deck then aim at that. There also has to be something worth getting and that's a problem. All the best colorless cards are Eldrazi.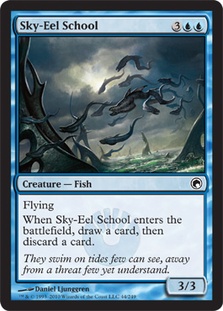 While much is learned it is fortunate that much is also forgotten.
Contrast this with Sphinx of Lost Truths and wince for the fate of Scars of Mirrodin commons.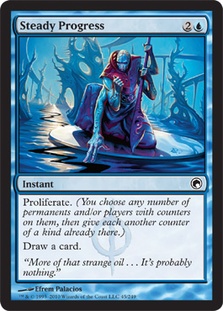 You can counter on it.
Proliferation isn't being priced as if it is particularly valuable. If this was a good idea Thrummingbird would be a scary card. The only reason Steady Progress would be a good idea without there being a massive mispricing elsewhere would be if one counter could win the game outright and there don't seem to be any places where this is the case.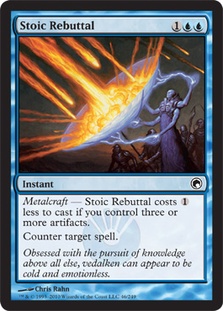 Counterspell costs three now.
This is strictly better than Cancel in a potentially significant way so any deck with three or more artifacts has no reason not to snap this in. However it won't be a substantial upgrade unless it gets cheaper a substantial portion of the time. Even if this happens it has to happen relatively quickly to be a big deal so it's not that big of an incentive to play counters in an artifact deck that would otherwise not play them. Neither is it a big incentive to play more artifacts in a deck that was already considering playing Cancel. I expect the majority of those who play this card to play it for the wrong reasons.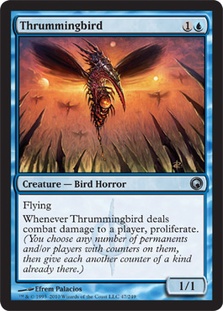 Quoth the rummer little more.
Counting on creatures to do tasks like this rarely goes well since they tend to die or get blocked when they most need to get through but continuous counters is still intriguing. What are we adding counters to? The more avenues a deck has to work with the more this appeals. The most obvious approach is to try to get +1/+1 counters onto your creatures perhaps with Ajani Goldmane while also giving Ajani a bonus counter of his own. There are a number of other potential engines to use here but in every case there seems to be a clash between playing enough cards to get things working in the first place and then getting Thrummingbird going. This is a luxury that will be difficult for anyone to afford.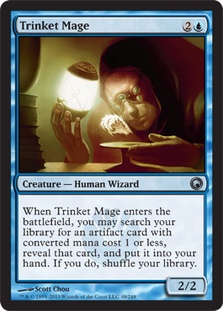 What has it got in its pocketses?
Mox Opal is the perfect place to start trying to abuse Trinket Mage in a new era. Chimeric Mass is a poor card in general but provides a way to scale up when necessary. Then there are classics like Brittle Effigy and plenty of good new ideas as well. Those are good but what makes Trinket Mage shine is when there's one target that's worth getting most of the time to build a solid foundation with the others to provide options. Right now I don't see that killer application to take the place of Sensei's Divining Top.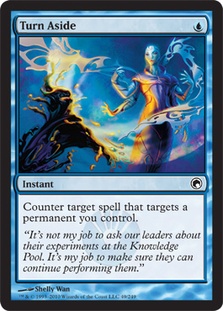 You'll never amount to anything if you can't control yourself.
One-mana counters are great but they are at their best on turn 1 and this is unlikely to be usable then. Later on it's not going to grant much advantage when it works and is going to look awful when it doesn't.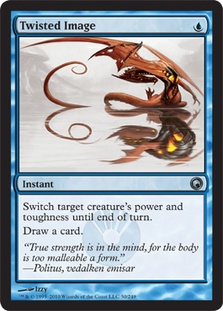 If you give away your power who will protect you?
This can mow down Cunning Sparkmage Birds of Paradise Noble Hierarch and Wall of Omens among other creatures. In the right matchup it could be worthwhile since when it works it's highly efficient and effective. When it doesn't work it cycles harmlessly or could turn out to be a useful trick in a more normal combat. I doubt there will be many blue decks who consider zero-power creatures a problem worth tackling explicitly but if they see an opportunity the price is right.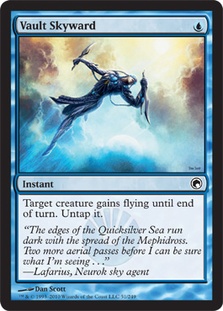 The good news is they usually stick the landing.
Another cute little trick that wouldn't interest me even as a cantrip.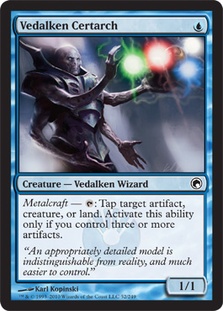 "An appropriately detailed model will show we need tax cuts for the rich so they can create jobs. Making artifacts."
This would be awesome if it were an artifact itself. Sadly it isn't so it lowers your curve below where you'd likely want it to be. The problem is that when you work for cards it's vital that you get something special. This would be a great bargain without the artifact requirement but the impact level isn't that high - more the ability to save a little mana over time than anything else. It's the wrong type of payoff and decks trying to run this won't come together properly.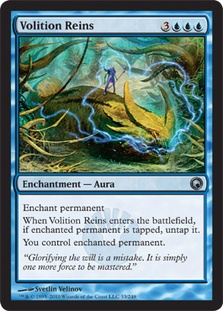 Be careful not to think of it as your own.
For those who are interested in this sort of thing and can afford the colored mana this is an upgrade to Confiscate. Untapping the permanent you take is a substantial bonus especially when taking a creature. Often you'll now be in a commanding long-term position and the goal is to stabilize the board. It still seems too expensive to be used as a general "good stuff" card but in the right situation this could be the best tool for the job.
Blue has a plausible artifact supplement in Grand Architect and Trinket Mage but there's no actual blue of any use in this set. Where are the quality counterspells the card drawers the fliers or the bounce spells? All such requests have fallen on deaf ears. Volition Reins is the closest thing in this set to a potential staple. Despite all that I have a feeling that Jace and his friends are going to be all right.