One of my favorite decks from a few months ago was definitely Pyromancer Ascension. The budget deck quickly caught fire on MTGO and jumped into the real world where Guillaume Matignon used it to claim a spot on the French national team this year. In the wake of the World Championships following the rise of U/B and the dominance of control in the Standard format three players decided it was time to break out the Ascensions once more. Mike Pozsgay and Caleb Durward were still playing when I wandered off in search of Deck Techs so I sat down with just Drew Levin to discuss his pet deck for the weekend.
Drew's decision to test Ascension began last year just after Worlds. "I was having a conversation with Nick Spagnolo when I was visiting his house over the holidays about the state of standard. He told me that U/B is a really good deck fairly resilient and that it has no played outs to a Pyromancer Ascension." Naturally that was an important realization. "It means that Pyromancer Ascension is essentially a 2 mana Jace that they can never Jace back. I thought that was a really interesting way to frame the deck."
The Ascension itself is vulnerable but with disenchants not being especially popular at the moment it's well-positioned. The card's similarity to the long-term advantage of a planeswalker is a novel comparison. "It doesn't really do anything at first in a way but it will eventually give you a ton of resource advantage."
Constructing the deck was easy as the skeleton remains much the same. "It plays like a normal U/R Control deck. All U/R control decks are at their core essentially the same" Drew explained pointing out the historical complements of burn card advantage and counterspells that accompany the win conditions of choice. "In this deck you have all of those elements except some of them double. For example your early removal doubles as pseudo-Banefires. Foresee is a good card on turn 4 but it's an absurd Mind Spring on turn 8 or 9."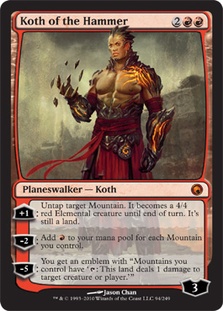 Once the seed was sown it was time to grind out some games. "So Nick and I tested the deck for a while and came to the realization that Memoricide is actually pretty good against the deck. If they just keep you off Ascensions with a bunch of black discard spells and Memoricide you then your deck doesn't really do anything." That meant they needed another threat that would put U/B in real danger. "We figured that the best card you could play against that sort of strategy would be Koth of the Hammer. We started off with 3 in the sideboard and moved to 2. What you really want to do is draw it off the top of your deck around turn 6 or 7." Given that the Scars of Mirrodin mythic has only made minor waves in Constructed thus far they were hoping to catch opponents off-guard. "Koth will have enormous surprise value just coming down to 'Shriekmaw' their Jace."
As the exciting idea grew so did the interested parties. "I talked with Caleb Durward about the deck and he started working on it independently talking to Pozsgay about it." Drew found himself fadapting most of their changes. The Durward-Pozsgay duo nearly broke it in Richmond with B/R Vampires and have proven themselves very capable of tweaking a deck to the max. "They cut the Spell Pierces that we had in our list for Deprives main and Negates in the board. That slightly worsened our U/B matchup because one of the ideal sequences is to Spell Pierce their Duress or Inquisition then land an Ascension." The reason for such a sacrifice was another Titan of the format so to speak. "We realized that Valakut was about as close to unwinnable as it got so we had to do something about them. Now we're boarding in 9 counters."
As for the other matchups Drew's summary was simple. "Blue control decks of all stripes are good matchups and the Oracle decks are positive matchups. White aggro is good while green aggro is 50/50 and red aggro is bad. Kuldotha Rebirth is bad for us" he admitted given their decision to run Arc Trail over Pyroclasm. The bonus granted in fights against Lotus Cobra and Oracle of Mul Daya may wind up being well worth it however.
Has Pyromancer Ascension reclaimed its spot in the metagame? We'll find out this weekend!
Planeswalkers (2)
Lands (23)