BUG is a Tier 2 deck in most books occupying the space between RUG and U/B Control. Traditionally the deck tries to combine the former's mana acceleration and effectiveness as a Jace deck with the superior removal and disruption available in black. Jeremiah decided to take advantage of the newest cards in Mirrodin Besieged updating the deck with some infectious elements. Phyrexian Crusader one of the most popular cards in the new set has been combining with Inkmoth Nexus and Skithiryx the Blight Dragon to deal out some poison damage.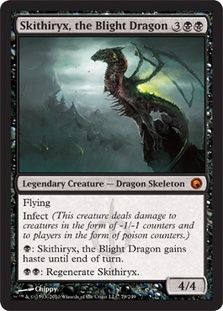 "I'm running Skithiryx over Grave Titan basically" Jeremiah said. "The regeneration has been huge. If you have a Skithiryx and a Nexus out they basically have one turn. It's rough for a lot of the decks in this format to deal with." With everyone preparing to beat Grave Titan and loving Go for the Throat leaning on a regenerating beater and an artifact land doesn't sound so bad. The green lets him accelerate out all those threats and a hasty Skithiryx is incredibly dangerous. Jeremiah took the opportunity to squeeze in one more dangerous combination—Shape Anew and Blightsteel Colossus.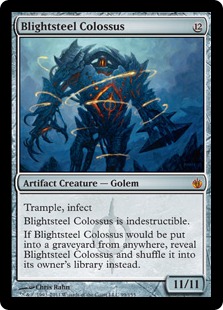 "My buddy wanted to play U/B Shape Anew but I just wanted to be faster" he said. "A lot of people think that when you play a turn 2 Lotus Cobra you're going to play Grave Titan—but when you Shape Anew into a Colossus on turn 3 they're just cold to it. Shape Anew's the backup plan but you can do it as early as turn 3. You want to just be fast." Indianapolis didn't seem like quite the event to be playing this list as Jeremiah admitted to having a tough matchup against Kuldotha Red. "It seems bad but I've been getting them with the maindeck Disfigures." Another card he's mained that has been paying off is Spreading Seas. With Valakut all over and even the Kuldotha Red deck going light on lands but possessing the dangerous Contested War Zone the card has been pretty money.
The most interesting card in my book was Phyrexian Crusader. Protection from Lightning Bolt is a fantastic ability and the guy is really hard to block effectively. "A lot of people don't know what he does" Jeremiah said. "He's really hard to beat in combat." Two omissions stuck out: Preordain and Doom Blade. Preordain seems too good to leave out but Jeremiah found that with his high number of cantrips meant he needed cards that were actual business. He'd have to cut Explore to squeeze in the blue staple and in the end decided not to. The removal spell was a different story however. Where many players are going for Go for the Throat Jeremiah chose to stick with old reliable: Doom Blade. "Really I was worried about other Shape Anew decks" he admitted. "I thought people would use Gerry's list."
Jeremiah's sideboard has a couple saucy choices. The two that stand out the most are Whiplash Traps. "I boarded in the Whiplashes in Round 1 and they were great" he said. They're great value against Elves and other Vengevine decks but they're also quite strong against Devastating Summons a mainstay of Kuldotha Red. In fact Jeremiah loves his sideboard except for the triple Consuming Vapors. He played them out of fear for Blightsteel Colossus but in retrospect just wishes he had Black Sun's Zeniths for all the aggro decks in the field. The Memoricides have certainly been good providing Jeremiah with a heavy advantage against Valakut.
Creatures (13)
Planeswalkers (4)
Lands (26)