Towards the afternoon we heard whispers of a Furnace Celebration deck doing well. Ben Wienburg finally spotted it at Table 10 and pointed it out so I began to follow its progress. After taking Ben to 3 games in his first loss I knew this deck was something we wanted to throw a spotlight on. You might have seen it under the camera but this feature should shine a little light on one of the most unique decks in the room.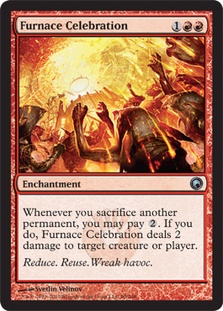 Michael Rooks the deck's pilot has been working on the archetype for quite some time. "I played it in the Richmond Invitational and it did really well so I decided to run it again" Michael said. "It's got an abysmal matchup with Valakut but since Caw-Go is so popular I figured I'd try to dodge the matchup." I'd seen him carve up two Caw-Go turkeys already so I asked him if he thought the matchup was a good one. "Caw-Go is really favorable as well as Boros. Those are like the two best matchups" he said. "Really anything that wants to play Squadron Hawk!"
Of course the deck has its problems. In addition to a horrendous Valakut pairing Michael is strangely afraid of traditional control decks. "Dedicated U/W control decks are a little tough especially with Baneslayer Angels." His deck has a lot of difficulty amassing enough damage to kill or race the 5/5 and has few ways to beat it in combat.
Michael Rooks brought a unique Furnace Celebration concoction to the Open this weekend!
The deck began humbly enough "When Scars came out I was actually drawn to the Furnace Celebration/Awakening Zone combo. The first iteration was really super-cute with Chandra's Spitfire and Raid Bombardment. I ran that at States and didn't do so well with it" he admitted. "I tried adding Molten-Tail Masticore and it did really well. It made it much easier to survive sweepers and burn them out." I hadn't actually seen the Masticore at work just yet but Michael was confident in the card. "He's been good but I tend to board him out against quick aggro decks. I played Kuldotha Red a couple rounds ago and I boarded him out. He's like the top of my curve." With that additional longevity and two favorable matchups on the rise Michael sprung the deck on this metagame at just the right time.
Michael's sideboard features a lot of equipment—some good and some bad. The Basilisk Collars in particular have underperformed all day. "I honestly don't know why I'm still running them" Michael said. "They're in there to try and give me a chance against the big monsters that Valakut is going to play but I've all but given up on Valakut. They should probably be something else." The other one Sylvok Lifestaff is the exact reverse. "They've been amazing. I've only played one aggro deck but they're amazing against any of them" Michael said. "In Grand Prix Nashville I was just playing side events and a friend told me to add them. I ran to the dealer and bought them for $0.25 and just started winning boxes."
The tournament started off well for Michael but a string of late losses left him out of contention. "Playing against Ben Wienburg in the sixth round was a really tough one" he said. "I think I lost that one to a poor play on my part. Playing against RUG involves a lot of decisions and I think I made some wrong ones." If you think this deck looks as cool as I do then Michael has a few words of advice. "It's a whole lot of fun to play but prepare to do a lot of math. If you don't think you're going to be playing against Valakut give it a shot!"
Creatures (19)
Lands (24)