Tommy Brown combined a Waffle House playmat with his Mono Green Infect stylings for an undefeated start.
If you were watching SCGLive during Round 4 you might have been surprised at what you saw. Twitter users requested a unique feature match and the feed delivered a match between Eldrazi Green and Mono Green Infect. The Infect player Tommy Brown emerged triumph and continued undefeated until Round 6 where he fell to 5-1 in a tight match against Caw-Blade.
So what inspired Tommy to try and poison his opponents to death? Practicality was important. "It was extremely cheap to build" he said and in fact he'd devised the deck for a completely different tournament. "The only reason I built it was for Magic Game Day and then I came here" he said. "I've really been into Block as far as Mirran/Phyrexian and I really enjoy the flavor. I think it stinks that there's not a lot of people playing Infect as it's kind of a premier engine in the set." Tommy set that right this weekend and more than a few players have turned their heads.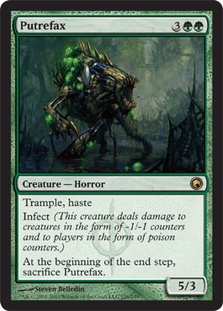 Tommy showed up at the Standard Open not really expecting to play but his friends convinced him to give it a go. He took that Block Constructed deck added some Standard cards that suited the theme and proceeded to bash face. "It's a little bit better than it was" he said. The major Standard additions were Giant Growth Groundswell and Vines of the Vastwood. The pump spells and the explosiveness they provide have proven key to Tommy's victories so far.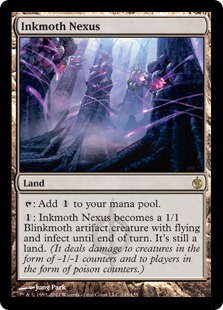 Given the peculiar nature of the deck's origins predicting its success against the field is tough. That said the tournament has taught Tommy a few things. "I've found that Valakut Ramp seems to be a good matchup" Tommy said. "Within the first 3 or 4 turns I can hit them with more poison counters than they can deal with before they go off. Decks like Boros and Vampires are a little too difficult." Against Boros and Kuldotha Red his primary concern is their ability to race—hence the sideboarded Obstinate Baloths. They'll buy him plenty of time as he jockeys for a win via evasion and pump spells. "Contagion Clasp helps against them as well."
Tommy's first loss actually came at the hands of Caw-Blade where he lost the deciding game to a Baneslayer Angel. He sideboarded in Pistus Strike but just couldn't dig his way down to it before the match was over. The matchup is a tough one. "Caw-Blade is pretty intimidating because it has a lot of fliers" Tommy said.
The card that has shone its true worth in Tommy's matches has been Inkmoth Nexus. "Inkmoth Nexus is house!" he said. "I feel like it should be worth more than it is. I've won several games where I swing with Inkmoth Nexus for ten poison alone." Its ability to dodge sweepers such as Pyroclasm Slagstorm and Day of Judgment have made the Nexus his most valuable card this weekend. Against the blue control decks its ability to slide under a counter shield and represent a viable threat is incredibly potent.
Tommy's 5-1 but two more wins should see him in the elimination rounds. A hyper-aggressive strategy like this one might just infect the format if players aren't prepared for it!
Creatures (15)
Lands (26)
Spells (19)