Edgar Flores has made a name for himself in record time with four Top 8 appearances in only three Open Series weekends. Going into the Memphis Standard Open last week Edgar had big plans. "Saturday morning I was like 'Alex I'm going to make Level 5'" Edgar said. Alex Bertoncini didn't believe him but as Alex scrubbed that event Edgar spent the day fighting for a trophy and falling just short. Edgar skipped Level 3 and Level 4 jumping straight to Level 5 and into the thick of the Player of the Year race following his Top 8 finish in the Memphis Legacy Open.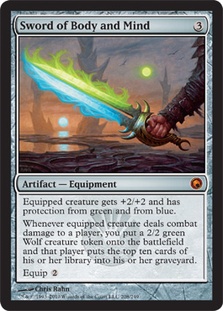 Edgar's claim to fame has been his dominance of Standard with U/W Caw-Blade over the past few weeks and his weapon of choice hasn't changed for Fort Worth. A couple very minor sideboard tweaks to his Memphis list are all Edgar made room for just like every other Open. "For the one after DC Edison I cut a Mana Leak for a Jace Beleren in the main" he said. "That was really good. This week my list is the same list as Memphis. In Edison I didn't have the Sword of Body and Mind but I like to have options." Edgar's equipment list has remained very similar to the original list from the Pro Tour while other players are cutting down to just a pair of Sword of Feast Famines. The places where Edgar differs from his peers have given him a lot of success thus far so it's wise to listen.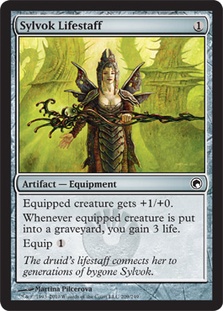 Sword of Body and Mind has given Edgar the potential to mill away Valakut's Mountains an advantage that nearly gave him a victory last weekend. The Sylvok Lifestaff has been left behind by many players but Edgar still likes it. "I like to have the option of the card against any aggro deck" Edgar explained. "It's the first card I search for against them. I hate drawing it but it's fine." The main commitment Edgar has made is to the U/W core avoiding splashes and sticking with Tectonic Edge. "They're one of the best cards to take advantage of the game' Edgar said citing their strength against RUG Valakut and the mirror match. "I went to Nick [Spagnolo]'s house and I was beating him with Tectonic Edge just setting him back."
Many of you might wonder how Edgar achieved his master's degree in Squadron Hawks but it's simple. He just played a lot of Magic. "I've been playing it for a while testing it at FNMs and regular four-round dailies" he said. "I've always done 4-0 or 3-1 always." His local success has led to an Open Series story we won't soon forget. Edgar has some tips for those looking to fight with Caw-Blade. One of the things he feels people still aren't doing correctly is waging the Jace war. It's crucial to stick yours or be prepared to immediately remove theirs. Of course Mystic advantage is also very important in the mirror. "Usually whoever casts Stoneforge first wins the game if they play it right" Edgar said. "I have won matches where they had Stoneforge first just because I could see the lines they were going to make and play right around them."
Edgar has also caved to popular demand and created a Twitter account. If you're interested in hearing what Edgar has to say as he travels the Open Series circuit follow his account: @edgarfloresftw. I've seen a lot of impressive cardplay in my day but if Edgar logs another Standard Top 8 I will certainly be seeing something new!
Creatures (8)
Planeswalkers (7)
Lands (26)