A number of players on 18 points had been forced to duke it out this round with Top 8 on the line and among them were Mark Hendrickson and Zach Krizan. Mark has been tearing up the field with a new take on the aggressive Mono Red deck while Zach is playing a G/W Fauna Shaman build. The winner of this match would lock the Top 8 while the loser would be left crossing their fingers for a Top 16 finish—them's the swings folks.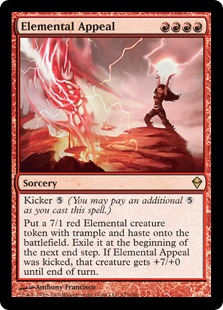 Zach began with a Stirring Wildwood while Mark had a Mountain and a Goblin Guide—Zach sighed as he flipped a card knowing the volatile danger a red deck could present. He dropped a Nest Invader onto the field after playing a Forest but he lost both of those creatures to an Arc Trail as Goblin Guide whiffed on a Vengevine. Journey to Nowhere removed the 2/2 but Mark bounced back with a Spikeshot Elder to renew his offense.
Zach dropped another Journey onto the Elder and played Squadron Hawk to fetch up another three sending the turn to a suddenly stymied Mark. Mark had only a Teetering Peaks on his fourth turn while Zach dropped Vengevine onto the field immediately sending 5 damage at his opponent's face. Mark cracked an Arid Mesa and used Searing Blaze to ward off the Vengevine for a turn and Zach added a Sunpetal Grove to the board. He could've dropped Baneslayer Angel that turn but had chosen to get aggressive instead.
Koth of the Hammer untapped a Mountain and attacked nothing available to save the planeswalker from Zach's Hawks and Vengevine—interesting. Zach played a land and cast a Hawk and a Fauna Shaman sending the revived Vengevine successfully into Koth. A very surprising Elemental Appeal gave Mark some beatdown and Zach sighed. "I didn't expect that" he admitted but Mark's earlier aggression with Koth had paid off—Zach decided to chump with his entire team taking 2 trample and falling to 7 life. Zach sent in the Vengevine to put Mark on 13 and then cast Nest Invader followed by Baneslayer Angel. Mark groaned drew his card shrugged and scooped.
"If you don't block with everything I kill you" he said and Zach certainly believed him. Seven is often the perfect number against a red deck.
Zach 1 Mark 0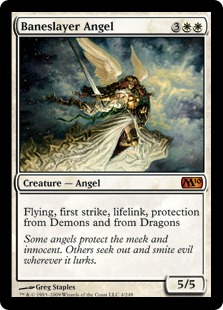 Mark kept his hand for the second game quickly but Zach took his time before doing so. Mountain Spikeshot Elder met Forest go but Mark lacked a second turn play to press his tempo advantage. Nest Invader hit the field earning a pause from Mark but he ultimately untapped and drew for turn rather than burn a precious spell. Searing Blaze was a much more reasonable answer to the 2/2 and Zach fell to 15 as the Elder attacked past his Eldrazi Spawn.
Zach cast just a Fauna Shaman on the third turn losing it to a Lightning Bolt. Mark attacked for 1 again and cast Molten-Tail Masticore. "Whoa" Zach said again up against the wall thanks to an unexpected spell. He cast Baneslayer Angel sacrificing his Spawn to do so and sent the turn to Mark with fingers crossed. Mark discarded a Scalding Tarn and ended the turn sufficiently stalled for now.
Zach attacked with his Angel to go to 19 and then dropped a Fauna Shaman a Birds of Paradise and a Squadron Hawk to find the trio. Mark shot the Birds with his Elder and then discarded Ratchet Bomb for his Masticore on the upkeep. Staggershock removed the Fauna Shaman and the Masticore earned a chump from Squadron Hawk but the Angel was all that really mattered now.
She swung again jumping Zach to 24 and he played two more Hawks. The Masticore died to protect Mark's last card as Staggershock shot the Baneslayer a Teetering Peaks combining with the Elder to finish her off. Zach smiled untapped and attacked before casting a second Angel and his last Hawk. Mark sighed drawing a card and passing in grim shape. "I needed a land there" he said. Zach attacked with all three Hawks his Angel and a Stirring Wildwood with Mark on 8 life. He was forced to throw his Elder under the bus while shooting down a Hawk falling to 1 life with Zach on 29. He drew failed to find a miracle and scooped up his card.
Zach 2 Mark 0