Matt's G/W Vengevine build is off to an undefeated start.
Matt Sperling piloted Caw-Blade to a solid finish in a tournament just a couple weekends ago but he decided to try something different this weekend. "I had played against Naya playing Caw-Go and I just found that Vengevine and Fauna Shaman were kind of tough outs" he said. "I started looking at Naya and thought 'What if I could cut the red add Lotus Cobra and just make it faster?' That was the genesis of the deck." That's exactly what Matt set out to do and he wound up with a dedicated Fauna Shaman deck prepared to harness the power of Vengevine.
The big question most people ask when they hear you're running Fauna Shaman and Vengevine together is what the other creatures are. Birds of Paradise is a given but it's the silver bullets that make each deck unique. Matt's are a little more unusual than most but that's been the key to his success. "I knew I wanted more than one way to kill an artifact so I'm playing a Viridian Corrupter and a Kor Sanctifiers main with additional copies in the side" he said. "Acidic Slime was a bit slow and clunky—I wanted them to be a little bit cheaper." These effects allow him a very important Sword advantage in the first game thanks to his own Stoneforge engine.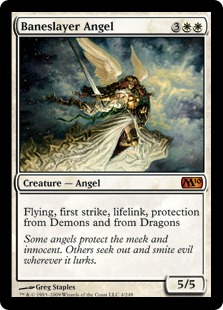 At the top of the curve Matt's packing a couple of big guns. "I think Baneslayer is really well-positioned in the format in game 1s and game 2s" he said. With Mono Red among the more popular decks the Angel can be an absolute haymaker. Even so it's not bad against other decks that lean on Lightning Bolt for removal. "Sun Titan is my big fatty of choice" Matt added and the power level of the card in game 1 is incredible thanks to the Sword war. In sideboarded games being able to tutor for it gives you an additional edge against potential opposing Sun Titans. "The Mirran Crusader is interesting" Matt said. "You can play a Precursor Golem or a Mirran Crusader as a creature to tutor for if they have Go for the Throat but if they have it then your Fauna Shaman is dead—it's kind of illusory." Mirran Crusader's synergy with his equipment base earned it the nod over the Golem.
This is yet another deck to use one of the best planeswalkers in the format: Gideon Jura. "Gideon's actually just good against everyone" Matt said. "You can play around Day of Judgment by playing it as your threat and it's one of the only ways to kill an opposing Baneslayer Angel or Linvala." Both of those cards are typically beasts against the aggro decks without removal so removing them in addition to removing an opposing Gideon makes the planeswalker a combination of threat and Vindicate—it kills what you need to kill the most and it also bashes face. As Matt said "It has a lot of applications."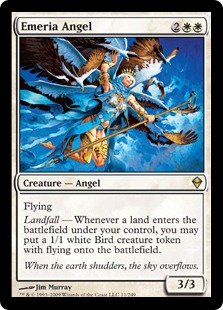 Matt didn't do a lot of playtesting before the tournament relying on previous experience and theorycrafting to build the deck. That said he does have a general idea of its place in the metagame. "I've played against U/W Caw-Go twice with this deck and it's good but if they have Sun Titans and Baneslayer Angels it gets tough" he said. "Caw with black is a better matchup for me." His other good matchups include aggro decks like Boros and Mono Red—especially mono red! His sideboard is packing a lot of fire for those players. "Valakut's bad" he admitted "just like for every other Vengevine deck."
Speaking of Matt's sideboard it features a very cool addition to the traditional creature suite: Emeria Angel. "They're really good against Caw-Blade" Matt explained. "If they have Day of Judgment in their deck you just play it after their Day or to make them Day." Going farther the Angel's strength becomes more apparent based on the "removal" that players are depending upon. "People are using Jace-bounce Tumble Magnet-tap or Hawk-block—all those cards only deal with 1 creature" Matt said. "If you stick Emeria Angel they're just dead a lot of the time. Because I'm already playing fetches for Lotus Cobra I also get to freeroll the Emeria Angel."
His Viridian Corrupters may look a little awkward and perhaps appear to be worse than Viridian Shaman—but appearances can be deceiving. "I poisoned someone out last round" Matt said. The game state wasn't very favorable for Matt thanks to multiple Wurmcoil Engines but he wasn't out. "I made him attack Gideon with all his creatures and then used Bonehoard and Viridian Corrupter to attack for 11 poison!" That's a "got 'im" if I've ever heard one.
Creatures (30)
Planeswalkers (2)
Lands (25)
Spells (3)