Brian Kibler is known as one of the major proponents of Caw-Blade and piloted the deck successfully well before the Sword of Feast and Famine came out—back when it was just Caw-Go! Since then Brian has tried to expand his horizons and lately that has meant infect. If you've been following his articles on StarCityGames.com then you probably already know a lot about the archetype and might have even seen his MTGO videos demonstrating its power. In an effort to educate players even more about his latest iteration Brian sat down to chat about his infatuation with infection.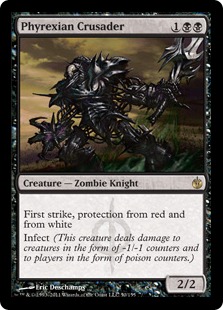 The card that started it all was Phyrexian Crusader. "Basically after Paris and a number of the Opens had shown that Caw-Blade and Boros were among the most popular and successful decks in the format I thought about what beats them and what targets them" Brian said. The Crusader naturally came to mind as he's a brick wall on defense and unstoppable on offense and Brian began looking for cards that worked with the 2/2 and ways to make infect viable in the format. "I thought back to the conversation I had with Evan Erwin which was 'what would infect need to be viable?'" Brian said. "I said 'a good proliferate card' but maybe it was already there—maybe it was just Contagion Clasp." Players might have scoffed at the suggestion a few months ago but the times have changed. "Now that there are a lot of decks that give you value when you play Contagion Clasp. You can get some value on the front end and a ton on the back."
The back end of course is the proliferate effect. "The proliferate aspect of the deck is a big deal especially with Tumble Magnet" Brian said. "It just becomes Icy Manipulator." Tumble Magnet is one of the deck's most powerful cards and it's one of the field's most popular this weekend thanks to its potency against Sword of Feast and Famine. "Tumble Magnet is good in the decks that are just trying to fight Sword but it is fantastic with infect creatures" he said. "You can get guys through very effectively. It was best with Vatmother but basically it can force damage through as well as play defense." The investment of a mere three mana can buy a player several turns' reprieve from an opposing threat which is often enough to mount a comeback.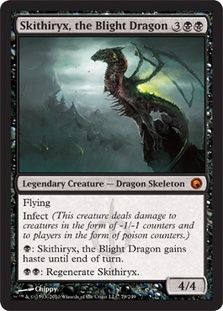 Brian has added Skithiryx the Blight Dragon to the deck an oversight he was all too happy to correct after a little testing. "The reason that Skithiryx wasn't in the deck at first was because he was 6.5 tickets on Magic Online and that sounded like robbery" Brian admitted. "The deck began as something I brewed because I was bored—then I started winning and I kept winning." Eventually he had to try the Blight Dragon on for size. "My initial version was very rough and certainly had cards that should've been in the sideboard or not in the deck at all but Skithiryx is awesome! He can win you games that Vatmother wouldn't and when they get to the magic number of 6 poison they are in danger of dying at any moment" Brian said. "Plus he's a dragon—how can I not have him in my deck?"
With the deck's threats decided Brian had to fill out the correct support. What would Crusader and the boys need to get through for lethal and what could the opponent do to stop him? "The original deck only had two Deprive as counters but the original deck was built much more aggressively" Brian explained. "The more I played it the more I realized I needed more things against planeswalkers." Mana Leak joined the deck and one Deprive remained out of a desire for just a fifth way to shut down the opponent in addition to threatening more hard counters. "For Into the Roil I wanted a card that could beat a Gideon on the table and that was just the best one I was able to find—the best broad one" Brian said. "Into the Roil has a ton of value in a lot of other situations."
Kibler on the warpath at 5-0!
"The deck's biggest weaknesses are planeswalkers—specifically Gideon Jura" Brian admitted. That makes a lot of sense as poison creatures have low power-to-cost ratios as a result of the impact poison has on a player. It will kill a player doubly fast as damage which makes the cost trade worthwhile but planeswalkers do not share that vulnerability. That vulnerability to planeswalkers drove Brian to adapt other unique solutions. "I wanted to fight their Jaces with Jace but big Jace was too expensive" Brian said explaining the absence of the Mind Sculptor. "With proliferate you can keep drawing cards and keep him out of range." Being able to follow a flurry of disruption spells with the planeswalker remains a very strong strategy and it gives him enough card advantage to overcome most opponents.
You might be surprised to see Phyrexian Vatmother hitting the board but Brian thinks it's only necessary in a couple of matchups. "Against the red decks you have to have a clock" he said. "Even though your deck has Phyrexian Crusader you need something to kill them and you have no lifegain." Often a red player under insignificant pressure can simply assemble 20 points of burn and point it towards your dome. "Vatmother forces them to burn it in which case they generally lose or to die to it" Brian said. "It's also important against Valakut to have a significant threat. They can block your Crusaders long enough to assemble all their mana pay for your Mana Leaks and kill you with a Titan."
Above all the deck offers Brian a lot of variety while being fun to pilot. "The deck has a lot of things that can dramatically influence the way your opponent has to play the game" Brian said. That's the sort of edge that an experienced player like Brian will be able to easily abuse and that's why he's sitting at 5-0.
Creatures (10)
Planeswalkers (2)
Lands (26)