Hello again!
I've just returned to Roanoke, VA, after six straight weekends abroad for the StarCityGames.com Open Series. It's been an amazing trip, and I've loved (almost) every minute of it, but I'm definitely glad to have a bit of a break.
Now that I'm back in the office, priority numero uno is catching up on Too Much Information in time for Grand Prix Dallas. Between six weekends of Standard Opens and the Grand Prix in Barcelona to learn from, the Standard metagame has achieved untold levels of definition. I wish I could tell you that this article will snap the format in half, but if I could do that, then I'd probably be out winning tournaments myself. If you're just looking for an intense look at the Standard metagame, then you're in luck. Until New Phyrexia shows up, we're going to find ourselves working to beat a very established field. One of the Lewis Laskins or Conley Woods of the world might show up to Grand Prix Dallas and smash the tournament to pieces with some card you didn't even play in draft, but it's far more likely that we'll see more of the same this weekend.
Four Open Series weekends have gone by since my last update, so this article is a special-super-mega-awesome edition that collects all of those results together. Rather than smash them into one big graph and observe the results, I decided to first break down each event by archetype popularity and success before combining the results together to examine matchup advantages. This will give us the best of both worlds—a narrative regarding fluctuations in tournament deck choice and trustworthy matchup data. As always, I've eliminated the decks with less than a percentage point in showing and grouped sub-archetypes under their heading, with one exception. I've separated out the three most famous flavors of Caw-Blade; they've grown popular and distinct enough to merit separate analysis. You're of course welcome to take a look at the matchup data yourself, so I'll be providing a link to that information right here. The chart combines all four events, so you'll have to work those filters for most of your analysis.
The Memphis Open Series picked up right where Edison left off, and offered plenty of food for thought.
Memphis Standard Open Metagame Breakdown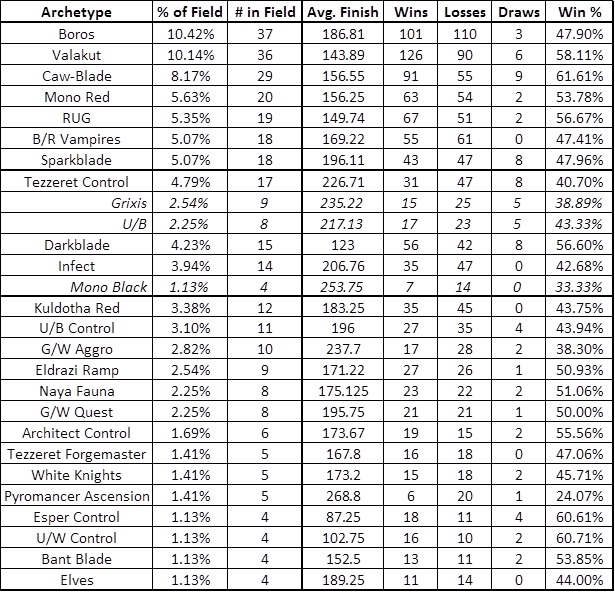 Let's start with a look at the movers and shakers since the Edison Open, analyzed in my previous column. Following Caw-Blade's split-up 17%, Boros maintained its perch as the next most popular deck, nonetheless experiencing a significant drop in popularity. That dip reflects its failure to post any results over the past couple events, and the plummet continued over the next couple weekends. Valakut followed the opposite trend, picking up speed and even taking down the trophy this weekend while performing well against all comers. Patrick Sullivan's victory in Edison with Mono Red signaled a likely jump in popularity, which is exactly what happened in Memphis. Mono Red vaulted from the lower levels onto the first tier, and it posted a reasonable win percentage in the process thanks to an advantage against underprepared Caw-Blade pilots. Gerry Thompson has said that Caw-Blade can take the edge in the matchup, but you have to respect the deck's presence in the format or it will beat you. Fortunately, a lot of the cards that kill Goblin Guide kill Lotus Cobra too . . .
The biggest shift since Edison came from Caw-Blade. Sparkblade was one of the most popular decks in Edison, and AJ Sacher posted a Top 4 finish with the archetype on the heels of Gerry's Standard Open victory in Washington, D.C. For Memphis, the Open Series grinders began to fracture. AJ stayed in red while Gerry and some friendsmoved into black after seeing the list played in Edison by Ben Lundquist and Gerard Fabiano. Edgar Flores continued to play U/W Caw-Blade and even made the finals of the Memphis Open. These factors account for Sparkblade's drop in popularity, in addition to players running scared of Mono Red.
As stated above, Valakut won the Memphis Open in the hands of Joey Mispagel and his return to Summoning Traps. As the Open Series continues, keep an eye on Tezzeret and Infect: two fringe strategies seeing a lot of interest with highly variable levels of success—they got beat up a lot this weekend, but that won't always be the case. After Memphis, we hopped on our StarCityGames.com Blackbird jet—hidden under the basketball court, of course—and zoomed down to Dallas Fort Worth.
Dallas/Fort Worth Metagame Breakdown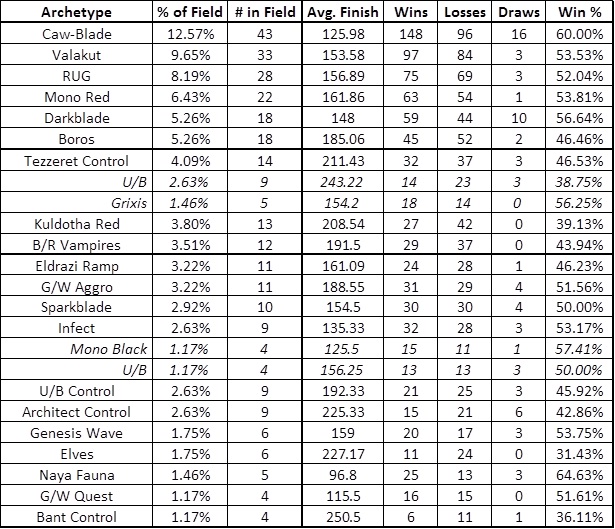 Tier 1 remained largely unchanged as we moved farther south on the circuit, with small shifts in the numbers rotating the popularity a bit. Caw-Blade leapt to the front of the pack, breaking 20% of the field when united with its other variants, while Boros once again dropped by about 5% for good reason—the deck was not winning. Mono Red and RUG both experienced growth, although Mono Red had been reported to already be popular in the area. "Mountain, Goblin Guide," may actually be synonymous with "Good morning" in the Lone Star State! Its numbers here could be a result of that native interest, but its strength against Caw-Blade also pushed it to a successful win percentage.
Over a smaller sample size, Grixis Tezzeret-based decks and Infect strategies turned up stronger numbers this weekend. No Tezzeret players broke out strong, but Tezzeret himself has already been proven to be a competitive strategy between Patrick Chapin's Pro Tour Paris Top 8 and Simon Bertiou's Sunday appearance at GP Barcelona on the following weekend. The deck can go in a lot of different directions, and finding the right build for the Standard metagame has proven to be an intensely difficult task for the hive mind.
As for Infect, the deck possesses a hidden strength that few players appreciate. Caw-Blade doesn't like it when people try to just run their Hawks over and ignore any attempt to play a game of highly interactive Magic. Hunter Burton's tempo-oriented mono-black strategy actually finished in 17th place, and anyone interested in an aggressive Infect build would be wise to examine the list. I'm looking forward to playing with it myself over the next couple days because Virulent Wound is the dirtiest way to kill a Lotus Cobra that I've ever seen.
Speaking of new tech, Naya Fauna made the Top 8 in the hands of Ryan O'Connor, sparking interest in the archetype. I wrote a Deck Tech on the creation, while Ryan also composed a tournament report for the front page. Not many people played the deck in Fort Worth, but their collective result demonstrated the strongest win percentage in the field.
After that, we headed for the west coast, and Los Angeles.
Los Angeles Metagame Breakdown
The City of Angels featured an incredible number of west coast ringers, making it one of our most star-studded events in some time. The top decks once again experienced a changing of the guard, with RUG and Mono Red continuing to pick up steam—don't forget that Goblins is a distinct Mono Red strategy, further bolstering the Mountain clan's numbers. These decks have a game one edge against Caw-Blade, with Lotus Cobra and Goblin Guide both causing major headaches when they go unanswered. People are smart, and I'd expect these two decks to remain at the top of the heap alongside Caw-Blade at the Grand Prix this weekend, as they aren't miserable against the rest of the field, either.
Brian Kibler spent the week prior to Los Angeles publicizing his U/B Infect list, and players listened. Nearly everyone who showed up with Inkmoth Nexus this weekend played one of Brian's lists or something not too far off in the main event. Most of those pilots flopped, but Brian himself recorded a Top 4 finish before falling to Gerry Thompson in the semifinals, and he maintains that the strategy is for real. Brian's testing has proven that the most important card in this strategy is actually Tumble Magnet, and the Magnet has grown more and more popular since. Phyrexian Crusader preys on Mono Red in a way that drains the light from an opponent's eyes, so tuning an Infect list for the Grand Prix could pay off huge thanks to that natural edge.
The other fringe decks continued to fight for survival. Grixis Tezzeret experienced a crushing drop back to reality on the heels of an encouraging weekend in Fort Worth, while Naya Fauna's numbers remained strong, even with the surprise factor gone. Players have been searching high and low for a Vengevine deck, with both Naya Fauna and G/W Aggro making headway.
Last but not least, the Atlanta Standard Open.
Atlanta Metagame Breakdown
Headed into Atlanta, I believed Primeval Titan was poised for a comeback—boy, was I wrong. Not only did Valakut get thrashed, but the surge of Eldrazi Ramp players that Raphael Levy's Barcelona report encouraged barely broke even. Their presence certainly affected Mono Red, although RUG's win percentage did not suffer significantly. Atlanta proved that if you aren't playing Caw-Blade, you should probably be playing RUG, at least among the top-tier strategies. Mono Red is viable, but it's harder and harder to do well with the deck as players adapt to its presence. Darkblade nearly overtook Caw-Blade as the most popular variant, while Sparkblade literally vanished from the metagame map—the tribes have spoken!
Moving down, I don't see anything particularly interesting until reaching G/W Aggro and U/W Control. Harrison Greenberg broke into the Top 8 with the G/W Aggro deck that he's been playing since the Edison Open, "Jumanji," but fell flat against Charles Gindy's Darkblade list in three games. The archetype had the best win percentage of anything in the tournament and has remained above water in most Open Series weekends since Memphis. Harrison's build ran an extreme package against Mono Red and also splashed in Memoricide to deal with Primeval Titans; the splash is easy enough to implement, so there's a good chance that it will become the industry standard.
Another innovation came at the hands of a deck built by Billy Postlethwait and played into the Top 8 by David Sharfman. Their U/W Control deck packed a proliferate engine alongside Venser, the Sojourner and a lot of cantrip creatures. While handily crushing red decks, they leaned on endless Tumble Magnets and growing planeswalkers to tame Sword-wielding opponents until an emblem could come online and remove the opponent from the game. While Sharfman fell in the quarters to RUG, both players swore by their Caw-Blade matchup—the deck could be a sleeper for GP Dallas.
If you combine all four Open Series events into one massive metagame chart, it presents a clear picture.
March Metagame Breakdown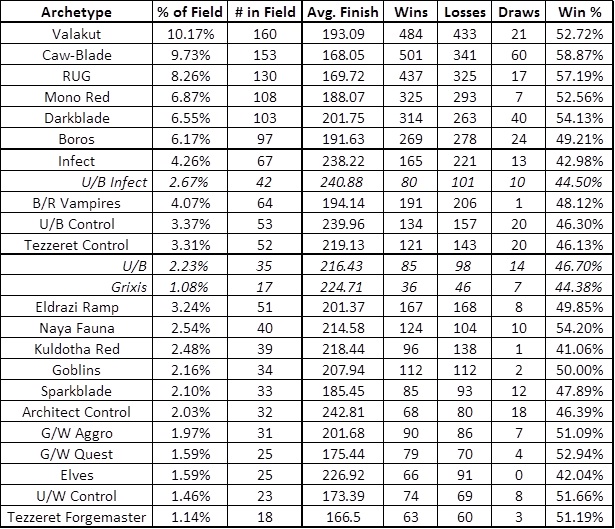 As entertaining as it is to tinker with the Tier 2 players I've discussed thus far, there's a pretty clear split between the winning decks and the rest. Most of the less popular decks barely break past 50%—even the weaker Tier 1 strategies have had weekends of significant success, such as Valakut and Mono Red sneaking away with trophies in Memphis and Edison. The deck to beat is clearly Caw-Blade, both with and without black, along with RUG. Strong disruption and being the best Jace deck look like a powerful way to win the game against the top archetypes, and I wouldn't be surprised to see a new take on U/B taking the Grand Prix by storm. If you can win the Jace fight with a shell that also defeats aggressive decks, you could have a real contender on your hands. Of the Tier 2 strategies, only the Vengevine ones appear especially viable, with Naya Fauna owning solid numbers despite not really existing before Ryan O'Connor's run in Fort Worth.
Let's move onto the matchup analysis. I'm going to use our combined results table to calculate these, as that should give you a strong general concept of the matchups. Keep in mind that individual card choices, strategic directions, and sideboarding tactics can all change or even reverse these numbers—this is only a basic guide. We all know these decks by now, so the analysis will only draw your attention towards the most relevant aspects of the figures below. If you'd like a deeper analysis of the individual Standard archetypes, check out Brad Nelson's latest offering on Premium.
Valakut – 10.17% of Field – Won 52.72% of Matches
Best Finish: Joey Mispagel, 1st place – Memphis Standard Open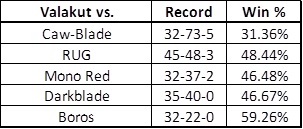 Rumors of its demise having been greatly exaggerated, Valakut continues to chug along. Its win percentages against the upper tiers are low, but the margins are small. I think Valakut's primary draw is how good it is against the decks that aren't Tier 1—if you remove all of the Tier 1 decks from Valakut's results, it has a win percentage of 58.93% against the rest of the field. That makes a lot of sense, considering that Valakut's greatest strength is its ability to ignore whatever you're doing and just kill you dead. Most fringe decks aren't prepared to defeat its angle of attack, and a lot of players also approach the matchup incorrectly. Valakut is the deck that forces players to "get serious" in order to win.
However, you're going to want some spice if you take Valakut to Grand Prix Dallas. Summoning Trap has proven itself to be a powerful option, and most players attribute the much weaker RUG matchup to Green Sun's Zenith supplanting the powerful instant. If you think you've solved the deck, then by all means run it, but my advice is to stay away. U/W Caw-Blade just won two Standard Opens, and it's your worst matchup by far.
Caw-Blade – 9.73% of Field – Won 58.87% of Matches
Best Finishes: Rick Zou,1st place – Los Angeles Standard Open; Edgar Flores, 1st place – Atlanta Standard Open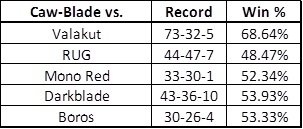 U/W Caw-Blade has taken the Standard metagame by storm, and it isn't going anywhere. Other players and pilots much stronger than I have offered tech and advice, so I won't focus on this archetype too much—we've all heard enough. I do want to point out two things, however. First off, going into black for a supposed improvement in the mirror matchup has been shown to be actively destructive according to this chart. Darkblade's mana inconsistency and vulnerability to Tectonic Edge is a weakness that the U/W version exploits at a profit. Second, check out RUG's strength against this archetype. It's edging just better than a coin flip, and the deck isn't bad against the field, either. That's two points for Lotus Cobra, ladies and gentlemen.
RUG – 8.26% of Field – Won 57.19% of Matches
Best finish: John Winters, 2nd place – Atlanta Standard Open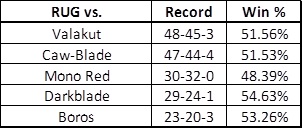 Many players believe that RUG is an answer to Caw-Blade, and experience has shown that pressuring your opponent to kill a 2/1 on the second turn is not a bad place to be. RUG boasts favorable win percentages against both Darkblade and Caw-Blade, with its vulnerability to Mono Red slightly holding it back. Players have exaggerated RUG's weak matchups lately, with Mono Red and Valakut both improving, as those players adapt to defeat Caw-Blade and assume that they can handle an Inferno Titan. That leaves RUG with a threatening opening, and someone is probably going to exploit it. Like Valakut, RUG does some very powerful things, and that makes it a strong choice against the random decks as well. If you're a slow player, then that's another reason to consider RUG—it doesn't draw nearly as often as the various Stoneforge decks do.
The trade-off with RUG remains the same. While you're certainly beating a lot of people, you're not really crushing any of them. On the upside, you're also not getting smashed by anyone, either. Considering the versatile options available within the color, RUG is poised to break out. A version packing its own sideboarded Sword package alongside Thrun, the Last Troll could be very, very interesting against this field.
Mono Red – 6.87% of Field – Won 52.56% of Matches
Best Finish: David McDarby, 7th place – Memphis Standard Open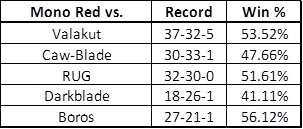 Patrick Sullivan put Mono Red back on the map after a win in Edison, and what do you know—he spiked it with a deck that can beat Caw-Blade. Much better at the time against Sparkblade, Mono Red is little better than a flip against updated U/W lists and actively weak to Darkblade and its heavy suit of spot removal. Winning matchups against both Titan decks and delivering a whooping to Boros are both feathers in its cap, and there's also the joy of sending Bolt to the face to consider. Mono Red is one of the best aggressive strategies you could be playing, but I don't think it's where anyone really wants to be for Dallas. Fifteen or more rounds will probably be too many to successfully dodge a critical mass of Kor Firewalkers, and you're not surprising anyone with your Goblin Guides and Ember Haulers.
I'll also point out that the less-popular Goblins variant is worth consideration. In Fort Worth, Kyle Kilhefner posted a finals finish with Goblins before falling to Gerry Thompson's blade, but he spent the rest of the day eating Caw-Blade alive.
Darkblade – 6.55% of Field – Won 54.13% of Matches
Best finish: Gerry Thompson, 1st place – Dallas/Fort Worth Standard Open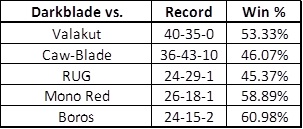 Ah, Darkblade. Players have continued to debate which deck best combines Squadron Hawk with Stoneforge Mystic, and after watching these guys play for six weeks, I'm still not sure. Darkblade is a great deck, no doubt about it, but the most appealing thing about the archetype is how good it is against aggressive strategies. In spite of its access to disruption, the deck is underperforming in the matchups where that disruption should matter the most. If you expect an aggro metagame in Dallas, and all signs indicate that you should, then that justifies the choice of Darkblade—but it's a very close call. Neither is specifically better than the other against a general field, but Darkblade certainly has the edge against creatures. Pick your own poison if you're deciding between these two.
Boros – 6.17% of Field – Won 49.21% of Matches
Best finish: Michael Pozsgay, 10th place – Memphis Standard Open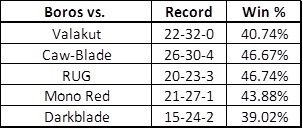 Boros spent the last six weeks becoming the Standard whipping boy. The deck showed up in big numbers but has failed to even post a Top 8 finish in the last month. The closest it got was in Memphis, and even Top 16 began to elude the archetype after that showing. I could wax philosophic on the pitfalls and dangers of the archetype, but just look at the chart. You're not breaking 47% against anything on Tier 1, and you're scratching out multiple 60/40 matchups. Boros doesn't even look good against the remainder of the field! Put down the Steppe Lynxes, and walk away.
I know we're slipping this one in at the buzzer, but it should help prepare you for what promises to be one of the sickest Grand Prix of the year. Good luck to all attending—I'll be checking the coverage all weekend, so give me something good to watch! An update on the Legacy metagame is coming soon, and the format is becoming more and more relevant with Grand Prix Providence looming on the horizon and the Open Series sailing onward. I'm only on hiatus for a couple weekends, and then the StarCityGames.com Open Series is back on the road for Boston. Until then, happy battles!
-Glenn Jones
Coverage Content Manager