Nate Pease, Caleb Durward, and Joe Bernal are hoping to avoid evil in Standard with their Puresteel Paladins.
After taking the Pro Tour Nagoya Block Constructed portion by storm, Puresteel Paladin began making waves in Standard. At first it was just another deck not quite as good as Caw-Blade—Stoneforge Mystic and Jace in the wrong shell—but that has certainly changed now. Following a Sam Black article on the archetype, Caleb Durward began working on Puresteel Paladin in the new Standard format. "I thought [Sam's deck] was sweet, and half the time my Stoneforge tutored for Basilisk Collar anyway," he said. "So I just subbed in Trinket Mage and added Flayer Husks and more Swords. You have to draw them naturally now."
After strong finishes in both a $3k and PTQ in Columbus, Caleb knew he was onto something. Testing and tweaking the archetype, and following its progress on MTGO, Caleb rolled into Cincinnati with Nate Pease and Joe Bernal both convinced to play the archetype. Of course, some of the more unconventional card choice rankled the boys. "I'm not playing Accorder's Shield in my deck," Nate admitted. He just couldn't do it. "Accorder's Shield won me my last round," Caleb added in its defense.
While the deck may look like a device that loves to battle, Caleb cautions players not to assume the deck will be aggressive. "It's an engine deck," he said. "Generally, on turns 1-4 you're setting up the engine and building up to win." That's where Preordain really shines. "Half the cards, in any given matchup, are going to be close to dead—the other half are going to be insane." Joe agreed. "Anyone who cuts Preordain from this deck is just wrong. The quality of spells is so awful that you have to dig to your awesome cards."
Spell quality came up comically in Joe's last round. "My opponent tapped out for Grave Titan, and I played a Flayer Husk and equipped Sword of Feast and Famine." Joe sighed, and Caleb laughed. "Yeah, Flayer Husk won that fight," he said. The comparative power level was a total joke to Joe, but this is a deck that hinges upon its symmetries.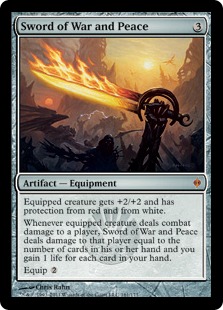 Half the cards in here are just to make metalcraft sweet," Caleb said. "People look at the number of creatures you have and say, 'You don't have any threats.' Flayer Husk and Mortarpod are threats—you just put a Sword on them, and people die." Playing the living weapons tactically is also important, especially in conjunction with Puresteel Paladin. You'll often want to hold Flayer Husk until you can guarantee you'll draw a card, for example.
One of the most powerful cards in the deck is Etched Champion, nearly as key to the deck as Paladin. "I want my Puresteel Paladin to set up Etched Champion," Caleb said. The Champion began seeing play when Brian Kibler popularized it at Grand Prix Singapore, and these guys swear by the 2/2. "This guy is just insane," Joe said, and Caleb nodded. "Just put a Sword on him and they can't answer this. You get in with the Sword, and they have nothing." In fact, Etched Champion has been so good that all three players agree there should be a third in the maindeck. Of course, finding something to cut is a different story!
The matchups have worked out favorably so far, but Caleb admits that they vary between close and favorable, for the most part. "I don't dislike any of my matchups. Against Valakut, game 1 you're a dog but game 2 and 3 you're a pretty big favorite." That matchup boosted his own winning percentage considerably during the early weeks of Standard infancy. "Against the aggro decks, if they go turn 1 Goblin Guide or Vampire Lacerator, you're in bad shape—if they go Pulse Tracker or Grim Lavamancer, you're looking good."
One pairing, at least, remains very solid. "The Deceiver matchup is so good for this deck, you just have to sit on a ton of removal spells…and not put Sword of War and Peace on your Spellskite!" Caleb laughed, jabbing at Joe for making this error in a previous round—fortunately for Joe, his opponent also missed the negative interaction. Maindecking Kor Firewalker has led to a couple hilarious game 1s against Mono Red so far today, and will likely continue to do so.
Caleb recommends the deck, but also recommends playtesting it. "The deck has a lot of close matchups, which is good in the Open Series," he said. "You have to play tight."
Creatures (12)
Lands (23)
Spells (25)