Double, double toil and trouble;
Fire burn, and cauldron bubble.
Fillet of a fenny snake,
In the caldron boil and bake;
Eye of newt, and toe of frog,
Wool of bat, and tongue of dog,
Adder's fork, and blind-worm's sting,
Lizard's leg, and owlet's wing,
For a charm of powerful trouble,
Like a hell-broth boil and bubble.
-- William Shakespeare, Macbeth
Nowadays the Magic lingo for brainstorming deck ideas is called "brewing"—and knowing Magic players, it's probably a call-out to handcrafted micro-brew beers, right? Still, given the set that marks this brand new Standard—Innistrad—I think the image of three witches brewing up trouble in a boiling cauldron is more apropos.
Two weeks back I tossed out a few ideas for Innistrad Standard. At the time there was about 40% of the set spoiled, but already there was plenty to get excited about. Well, Monday brought the whole set to our eyes to get us stoked and ready for Prerelease this weekend, so now we've got a whole menu of special ingredients to mix our witches' brews! Here are some of the deck ideas that I've been tweaking.
BABY I'M HOWLIN' FOR YOU (AGAIN)
Last time I talked a little bit about Werewolves and at the time didn't think there were enough high-quality cards to make a competitive Werewolf deck. Now that the entire set has been spoiled, do we have enough to work with?
I think we do! Two cards in particular stick out to me as linchpin cards.
Reckless Waif gives us the potential for some serious beatdown on turn 1, especially on the play. Turn 1 is often wasted in modern Standard, and without Preordain around, the odds go up that your opponent will have to play their land and pass, allowing your cute Waif to transform into massive beatings.
Then there's Full Moon's Rise, a fantastic enchantment that really enhances your team. The attack bonus is cumulative; the trample pushes through chump blockers; and extra copies can be sacrificed to save one or more of your team—allowing you to overextend and not worry about getting wiped out by Day of Judgment (I particularly like the flavor irony that the night's Moon trumps the Day). Since Werewolves are Werewolves no matter which side of the transform divide they're on, they get all the benefits all the time.
Realizing that Werewolves are Werewolves led me to thinking about trying Adaptive Automaton to increase the Werewolf count, and here's my starting point for a nice R/G Werewolf beatdown deck:
R/G Werewolf Beatdown

4 Grim Lavamancer
4 Reckless Waif | Merciless Predator
4 Full Moon's Rise
4 Moonmist
4 Mayor of Avabruck | Howlpack Alpha
4 Daybreak Ranger | Nightfall Predator
4 Kruin Outlaw | Terror of Kruin Pass
4 Adaptive Automaton
4 Instigator Gang | Wildblood Pack

3 Kessig Wolf Run
4 Rootbound Crag
4 Copperline Gorge
7 Forest
10 Mountain
Grim Lavamancer is not quite as badass without fetchlands around to fuel his fire, but he still provides some nice reach. Besides, he is a Human Wizard, so while the Mayor is chilling in the daytime, Grim Lavamancer can benefit from the +1/+1.
I'm curious—how would you go about building a Werewolf deck?
THE ACTION OF SAVING OR BEING SAVED FROM SIN, ERROR, OR EVIL
I imagine beatdown fans the world over saw Tree of Redemption and groaned. Imagine trying to beat through and around this guy, getting your opponent down to single digits, only to have the Tree swap its toughness with your opponent's life total?
Thirteen toughness? Insanity!
Naturally, my first instinct was to put this in a deck with Mimic Vat…
Creatures (28)
Lands (24)
Spells (8)
I've been wanting to build a really good Mimic Vat deck for a while, but the problem has always seemed that, while trying to set up the Vat recursion to slowly take over the game, you suffer too much damage from fast, aggressive decks. Tree of Redemption seems to be the perfect candidate to patch up this problem. Having a Tree on the Vat seems like it would really put your opponent in a massive bind trying to beat you through damage, at least until they get some form of artifact destruction (and hopefully for their sake you don't have a Spellskite out there to take the hit).
SUQ'ATA INSULT EXTENDED TO PLANESWALKERS
All the midrange green fans out there probably sighed with happiness alongside me when they saw the spoiler for Bramblecrush. A new and improved Creeping Mold? Sign me up! Apparently in Innistrad even planeswalkers can be used for fertilizer—yikes!
Between Dismember, Beast Within, Bramblecrush, Acidic Slime, and Karn Liberated, who needs any other colors? You can handle any permanent you want!
Creatures (24)
Planeswalkers (1)
Lands (25)
Spells (10)
I made one small concession to adding another color for Kessig Wolf Run as a target for Primeval Titan—giving Dungrove Elder trample has got to be an absolute beating.
LIFELESS PAGEANT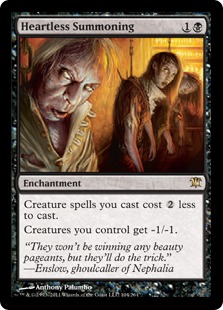 When I first saw Heartless Summoning, I instantly thought about casting artifact creatures for free. Of course, most artifact creatures you can cast for free with a single Heartless Summoning on the board will also be killed by the Summoning, and that certainly puts a small damper on things. Still, there are some artifact creatures you don't mind dying—Necropede and Perilous Myr spring to mind. If there are two Heartless Summoning in play, you also wouldn't mind playing Solemn Simulacrum for no mana and instantly get a Rampant Growth and draw your card.
Of course, if you're playing out all your artifact creatures for free, how do you keep the cards flowing? I thought about Moriok Replica (which can work with just a single Summoning on the board), but then I saw this Creeping Renaissance, first spoiled over at Muse Vessel.
Such a great card in general—I love playing permanents, and this card lets you overextend on them without having to worry too much about mass removal. In a Heartless Summoning engine deck, the Renaissance could let you refuel and, in some cases, instantly play a lot of the cards you just got back all over again.
Creatures (28)
Lands (24)
Spells (8)
I'm not sure if recurring Pierce Striders and Perilous Myrs will "get there," but I think the engine concept has a lot of interesting potential. One other side tangent along these lines was using Inexorable Tide + Core Prowler + 2 Heartless Summoning to set up an unbounded proliferate loop, but I wasn't sure exactly how to craft a deck around that, and by this time my head was hurting, so I tabled the idea for now.
Heartless Summoning has some other nice potential outside of free creatures—it can function more or less like a Lotus Cobra that's always getting you two mana, so long as you don't mind all your creatures being smaller than they would otherwise. I've tweaked the list to be more of a midrange "rock" deck, keeping a fair number of artifact creatures along with Glissa, the Traitor to keep them recurring. Glissa's pretty cool in this deck actually because no matter how small she is (provided you don't have three Heartless Summonings in play), she's equally deadly to just about any creature she rumbles with.
Creatures (29)
Lands (24)
Spells (7)
There are a lot of interesting twists to this basic idea you could go with—ditch Glissa and cut back on the artifact creatures, add in Viridian Emissary who is nice enough to die under the Heartless Summoning (especially nice when your opponent doesn't cooperate and kill him off). Maybe add Summoning to a Birthing Pod shell, letting you cast more expensive creatures earlier and then Pod into something even bigger.
NECRONOMICON EX MORTIS
Bound in human flesh and inked in blood, this ancient Sumerian text contained bizarre burial rites, funerary incantations, and demon resurrection passages. It was never meant for the world of the living. The book awoke something dark in the woods.
--Ash, Army of Darkness
Any self-respecting necromancer has already been excited about Liliana of the Veil, an excellent way to dump large monsters to reanimate into our graveyard. All we really needed was a good reanimation spell since Rise from the Grave didn't get reprinted in Magic 2012, and we got it in Innistrad with Unburial Rites.
But wait—that's not all! We've also got a card that gives us a way to pitch monsters into the graveyard and reanimate them all, if we're patient enough— Grimoire of the Dead! After three activations, boom—cash in the book for an army of monsters.
Creatures (22)
Planeswalkers (4)
Lands (24)
Spells (10)
I figured four Rune-Scarred Demons would be a must—reanimating the first one lets you go tutor up the best singleton to put the game away.
Many of you will be chuckling at the Vengeful Pharaohs, a pet card of mine I've been desperate to find a home for. Well, if not in this deck then when?
B-POD WITH JUST A SMIDGEN OF INNISTRAD
Last up is my take on Birthing Pod. I know everyone is going to have some flavor of Birthing Pod deck they're going to want to talk about; the card I want to add to the mix is Kessig Cagebreakers. If you can attack once with Cagebreakers in a Birthing Pod deck, it's gotta be close to game over! Of course, giving your opponent a turn to respond before you can swing for lethal isn't always prudent, so I decided to add red for Urabrask the Hidden, and blue is nearly a given with its clones (and Frost Titan isn't too shabby either).
Creatures (26)
Lands (25)
Spells (9)
Seems weird not to add Skaab Ruinator to a Pod list with blue, but it seems to me that you've got to make a choice between Ruinator and Cagebreakers. I'm not sure I've made the right choice here, but I think Cagebreakers is at least worth considering.
I've still got another handful of deck ideas I'm working on as well, but these are a bit more "shovel-ready" than the other ones at this point. If you've got some deck ideas you're working on along similar themes or have some ideas on how to build on these beginnings, please let me know in the comments below or on my Facebook page. Next week I plan on doing an overview of Innistrad with an eye towards Commander.
That's it for this week. Have a great weekend everyone!
Take care,
Bennie
starcitygeezer AT gmail DOT com
Make sure to follow my Twitter feed (@blairwitchgreen). I check it often so feel free to send me feedback, ideas, and random thoughts. I've also created a Facebook page where I'll be posting up deck ideas and will happily discuss Magic, life, or anything else you want to talk about!
I've started a blog, it's not Magic-related but you may find it fun to read and comment on. I update at least once a week so check on it often and let me know what you think! This week I got to do a guest-spot on a much more popular blog called Simply Solo, and that was pretty exciting—it drove quite a bit of traffic my way. I also recently revamped my blog header with a perfect drawing from the awesome MJ Scott, check it out!
New to Commander?
If you're just curious about the format, building your first deck, or trying to take your Commander deck up a notch, here are some handy links:
Commander Primer Part 1 (Why play Commander? Rules Overview, Picking your Commander)
Commander Primer Part 2 (Mana Requirements, Randomness, Card Advantage)
Commander Primer Part 3 (Power vs. Synergy, Griefing, Staples, Building a Doran Deck)
My current Commander decks (and links to decklists):
Damia, Sage of Stone (Ice Cauldron shenanigans)
Glissa Sunseeker (death to artifacts!)
Glissa, the Traitor (undying artifacts!)
Jor Kadeen, the Prevailer (replacing Brion Stoutarm in Mo' Myrs)
Previous Commander decks currently on hiatus:
Thelon of Havenwood (Campfire Spores)
Melira, Sylvok Outcast (combo killa)
Konda, Lord of Eiganjo (The Indestructibles)
Vorosh, the Hunter (proliferaTION)
Progenitus (Fist of Suns and Bringers)
Savra, Queen of the Golgari (Demons)
Uril, the Miststalker (my "more competitive" deck)