Unbelievable.
There has never been a Standard format so dynamic so long in the modern era (a.k.a. "since StarCityGames.com Opens revolutionized tournament Magic"). This is the fourth month of Innistrad Standard and still the metagame twists and turns. We have a new best deck. Rankings and categorizations of decks continue to fluctuate. There are eleven main archetypes with countless variations. There is a good blend of aggro ramp control and aggro-control. The games actually take more than a few turns to play but don't usually drag on forever. Even Mono-Black Control sees some play!
This is one of the most remarkable Standard formats of all time not just because it is so good on any given weekend but because it has continued to stay fresh fun and interesting after thirteen major events (and countless States and Magic Online events). It is looking like Dark Ascension may hit before we have fully figured out Innistrad!
Speaking of Dark Ascension make sure to check back here on StarCityGames.com on Wednesday. I have a preview card going up on Select as spoiler season takes off this week! With the Pro Tour just days after the set release the spoiler season is going to be doubly exciting.
As for this weekend Grand Prix Orlando and StarCityGames.com Open: Los Angeles ensure that there will be a ton of top-rank Standard play on both coasts. We have had several weeks off from major tournament play due to the holidays and scheduling — but the Magic Online metagame didn't stop for a moment and the format has twisted in some exciting directions.
Let's take a look at the Top 16 from StarCityGames.com Open: Atlanta and see how that impacts the current state of Standard.
Top 16 of StarCityGames.com Atlanta
4 U/W Delver Aggro
3 Wolf Run Ramp
2 U/W Humans
1 Illusions
1 Grixis
1 Esper Control
1 Tempered Steel
1 Puresteel
1 U/B Infect
1 Mono-Black
Notice the term "Delver Aggro" instead of "Illusions?" As the format has continued to evolve adherence to the actual Illusion tribe has diminished to be replaced with equipment. What equipment? Some Sword of War and Peace but mostly Runechanter's Pike!
That's right — the arguably best/most popular deck in Standard plays Runechanter's Pike!
We first discussed playing Delver of Secrets/Runechanter's Pike/Snapcaster Mage/Vapor Snag in my Innistrad Set Review but it wasn't until the addition of Moorland Haunt that the deck had the right pieces to come together. Some people at the time ridiculed the idea but see? See? SEE?!? This is why we don't concern ourselves with which ideas look best "as is" when we are brewing! The real question is "What has potential?"
Here is the metagame as it stands heading into Grand Prix Orlando and StarCityGames.com Open Los Angeles: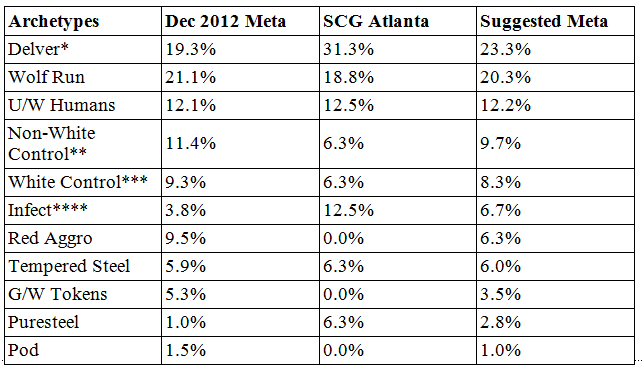 * - Including Illusions Delver-Blade and everything on that spectrum
** - Usually Grixis or U/B but any non-White Control deck such as U/R Control.
*** - Usually Solar Flare Esper or U/W but also includes any other White Control decks such as 5CC.
**** - Usually Mono-B or U/B Infect but includes Mono-B Control
Suggested Meta = 67% Dec 2012 Meta 33% SCG Atlanta Meta
As you can see this is quite a diverse format (especially considering it is made up of only five sets!). It appears that we have a number of very clear divides for the tiers:
The biggest winner of the week was U/W Delver of course though Infect-affiliated strategies did make an excellent showing. Mono-Red has plummeted now that the Delver-decks have evolved to have a lot more game against it (instead of rolling over and dying). G/W Tokens was once considered the best deck in the format (at least by some) but has fallen so far as to be generally considered nearly unplayable (with most of its pilots hold-overs from an earlier iteration of the format). It went from a quarter of the top tables in Vegas to 17% of the field at Worlds (and posting a combined losing record) to 6% in St. Louis to under 4% in Charlotte (including getting blanked entirely in the Invitational) to a goose egg in Atlanta. G/W's day in the sun is over and will need a serious redesign (or Dark Ascension) to mount a real comeback.
Traditional Solar Flare has also been finally dying out after months and months of mediocre-to-poor showings. Grixis has been more successful for a while and U/B has often been as well. As such I have re-split U/x Control vs Solar Flare to now be Non-White Control (Grixis U/B etc) vs. White Control (Solar Flare Esper U/W etc).
The split between White and Non-White is not just to make two piles that are close in size. White Control decks are functionally very similar in certain ways (in access to Day of Judgment Oblivion Ring Timely Reinforcements etc). Likewise Non-White Control decks have a lot of similarities (namely the lack of these things but better use of black and/or red).
A consolidated look at the metagame: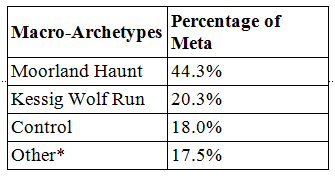 * - Infect Red Aggro G/W Tokens Pod

Interesting isn't it that Moorland Haunt props up an archetype in each of the four tiers combining to form almost half of the field? We're finally seeing the real paper-rock-scissors emerge — Moorland Haunt/Kessig Wolf Run/Control. These three major styles form well over 80% of the format and should be the primary targets for our preparation. Moorland Haunt is our top priority… And if we can get edge against most of those decks while beating either Control or Wolf Run we should be in pretty good shape.

Before getting into what I'm planning on playing in Orlando let's take a look at this week's gauntlet and the new technology they bring to the table.
Up first: the quasi-new bad boy on the block Delver Aggro. This is the unholy spawn of Illusions and U/W Blade though technically I suppose they have had quite a number of children (and it isn't clear yet which is the strongest). Illusions-proper still sees a fair bit of play but here are some examples of the range of non-Illusions based builds. First the champ former National Champion and Pro Tour Champion Charles Gindy:
Creatures (16)
Lands (21)
Spells (23) This is my favorite of the U/W Delver decks letting go of the attachment to the existing Illusions deck entirely. Phantasmal Image is a very powerful card (and still finds a home in the sideboard) but with so many mirror matches the card is not nearly as well positioned as it was (especially since it can't carry a Sword). Phantasmal Bear meets a similar fate. Midnight Haunting was already gaining some traction in Illusion decks being a great source of addition beats that synergizes with Snapcaster Mage and Delver. Additionally it combos nicely with Runechanter's Pike (both ways!)
Merfolk Looter is surprisingly potent as this is a deck that really doesn't want its sixth land. (Not to mention the Looter's ability to fuel Haunt and Pike!) Besides this is definitely a deck that has a lot of situational cards like Gut Shot and Vapor Snag. Finally someone has to carry the Swords and Pikes.

This brings us to the other new addition Invisible Stalker. He's not completely new having rotated in and out of various blue aggro decks; however Runechanter's Pike and Sword of War and Peace are a very different sort of thing to be doing with him especially with how aggressively Delver of Secrets lets you come out (the blue Nacatl). The combination of Geist of Saint Traft and Invisible Stalker makes for an awful lot of hexproof guys to carry gear...

Every gauntlet should begin with this deck as it is the real deal and will be everywhere. Here are some other variations that show the range of stuff being considered:
Creatures (12)
Lands (19) This build is quite similar to Gindy's though I would like at least one Sword of War and Peace in here. I'm especially excited by Inkmoth Nexus and would want to blend that with Gindy's build. Now that we don't have to cast Lord of the Unreal we have a little more flexibility with our mana. I think I'd cut back a little on the removal and play a few more threats though.
Creatures (18)
Lands (19)
Spells (23) This build is basically just Illusions with Porcelain Legionnaire and a few random odds and ends instead of Lord of the Unreal or Phantasmal Image. Illusions used to be the one deck besides control that wasn't vulnerable to Ancient Grudge. Between Runechanter's Pike Sword of War and Peace Inkmoth Nexus and Porcelain Legionnaire this is definitely not the case anymore. Additionally a fair number of control decks are playing cards like Pristine Talisman and Batterskull. Is it finally time for maindeck Ancient Grudge?
The decline of maindeck Phantasmal Image is a couple point for legends (namely Olivia and Thrun) but Phantasmal Image as a sideboard card has reached record highs (basically negating this advantage).
How can we gain advantage against Moorland Haunt decks (and specifically Delver decks)? Well one of the best things we can do is to be fundamentally well positioned. This means rather than picking a card to try to hose them (as they are quite resilient) we find weaknesses in their game plan and explore which game plans exploit these weaknesses. For instance one common trend among all of the Delver decks (and most of the Moorland Haunt decks) is an incredible reliance on one-toughness creatures. This makes cards that deal exactly one (especially repeatedly) very appealing. Why only one? Well it's okay if you deal more but then you're paying for more than you need most of the time. There are less Lord of the Unreals less Mirran Crusaders.
Inferno Titan Grim Lavamancer Curse of Death's Hold Chandra the Firebrand Olivia Voldaren Geistflame Daybreak Ranger Embersmith Garruk Relentless Mortarpod Spikeshot Elder Molten-tail Masticore and Sorin Markov are excellent ways to exploit an opposing army of small creatures. Having access to cards like these (especially the highly reusable ones) can give you a strategic advantage over Delver decks.
Arc Trail and similar cards are tempting but generally in the wrong way. Delver decks often don't commit multiple creatures so it's not an optimal one-toughness hoser. It doesn't kill Geist either making it less good as a "sweeper." It's still a fine card but not as good as one might guess.
In addition to exploiting the fragility of the creatures in Delver decks we also probably want to make sure to play a lot of cheap spells. We generally want to count on playing multiple cheap cards (whether they are creatures removal permission or whatever) to keep the Delver player busy while we try to beat them with trumps that exploit their small bodies.
It is also important to take into consideration the recent adoption of equipment instead of Lord of the Unreal to buff their guys. This means that sweepers are going to be far less effective (Day of Judgment is no longer a great card though still fine). It also means that every creature is potentially lethal. This means we either need to be able to deal with Swords (and Pikes) or have a method of killing every single creature or have a way to go over the top. (It's a minor point but it is worth noting that Nihil Spellbomb is actually pretty decent against Runechanter's Pike.)
Without question the first stop in the gauntlet has to be the "best deck in the format": U/W Delver. If you can't at least split with it you are probably playing the wrong deck (though personally I wouldn't want to play a deck where I didn't feel favored here). If you can pull that off the next level is trying to also beat Kessig Wolf Run or Control. Obviously it would be nice to beat all three — and if you can good on you! You probably broke it.
Wolf Run hasn't evolved much recently. This is primarily as a result of having been the main focus for so long that it was already significantly more evolved than the other archetypes. It's interesting to see the three Wolf Run decks in the top 16 split between the three main schools of Wolf Run: Wolf Run Ramp (Inferno Titan and Galvanic Blasts like the World Champ) Wolf Run Naya (with Day of Judgment Elesh Norn Grand Cenobite and Blade Splicer) and Wolf Run Green (with Dungrove Elders and Swords) making appearances. Traditional Wolf Run Ramp is still the best version to start with in your gauntlet unless you know your local metagame to be different. Here's a current build:
Creatures (14)
Lands (26)
Spells (20) Notice the use of Autumn's Veil against
Counterspell
s and
Doom Blade
s. Also we're talking a lot of Swords everywhere as per the format.
Next we have the control decks — which are relatively even split with a slight edge to non-White Control decks. The most popular style of non-white control recently has been various
Grixis
decks. Here is the build that top 8'ed this weekend:
Creatures (6)
Lands (26)
Spells (28) Snapcaster Mage and Olivia Voldaren continue to play pivotal roles though we see Batterskull replacing Wurmcoil Engine (to help fill the void on the curve now that Precursor Golem isn't good anymore). The Titans have been replaced with Sorin's Vengeances to change the field of battle against Wolf-Run (and Red Aggro). Additionally against anyone without Counterspells Grixis can play a very Wolf Run game of its own casting Sorin's Vengeance on seven to ensure it lives to turn 9 to Snapcaster it back. More discussion on how Sorin's Vengeance changes Grixis can be found here.

I agree with playing no Lilianas anymore as there are just too many rinky-dink 1/1s to mess things up. What seems strange to me however is Brown's use of fifteen black mana and only ten red mana. He has two Black Sun's Zeniths but he also has two Slagstorms. I suppose a certain threshold is needed to cast Sorin's Vengeance reliably but this makes me very dubious of the Stensia Bloodhall when we probably should just be making our red mana more reliable. That said it can provide an excellent back-up road to victory so perhaps it's Dissipate and a couple of blue mana that we should be eyeing. I'm sure it goes without saying that Desperate Ravings is a nice upgrade to Jansen's original Sorin's Vengeance variation of Grixis.
I haven't always been the biggest fan of Chandra the Firebrand but she does seem better now than ever and I would strongly consider playing one of her. The combo with Sorin's Vengeance doesn't come up that often but she does provide a nice new angle of attack (now that we are Liliana-less) and is just good in the format.

I am not sure of what I'll be playing in Orlando… but shockingly I am leaning towards Grixis. The advances made by players like Jansen and Brown as well as the advances in control in general by Michael Jacob and Gerry Thompson are all very interesting to me. Besides in my experience Grixis is just about the best way to fight Delver decks now that they have adapted so much against Mono-Red and Wolf Run.

As for White Control decks this week's representative in the top 8 was Michael Braverman's Esper Control incorporating Pristine Talisman as written about by Daniel Unwin. Tom Martell Adrian Sullivan Ben Dempsey Michael Jacob and Gerry Thompson have all been incorporating Pristine Talisman in a number of places to great effect letting them get away with significantly larger mana bases cleverly working around Solar Flare's classic flaw of a terrible mana base.
Creatures (4)
Planeswalkers (2)
Lands (25)
Spells (29) While this isn't nearly as bad against Delver decks as straight U/W this build is still a bit slow as you are relying on two- three- and four-mana spells to kill one-drops. That said it does offer a strong game against other control decks (with plenty of mana permission and a variety of threats including instant-speed White Sun's Zenith) and Wolf Run. This build doesn't feature as much card drawing as I would like (only seven Think Twice+Alchemy+Snapcaster as opposed to Grixis with eleven). However I would strongly consider a Blue Sun's Zenith in the maindeck.

Both of these styles of Control make the top five most popular decks and would be fine additions to a gauntlet — though if you want to test against one of the other decks such as Mono-Red or Infect cutting one of the control decks is fine.
Finally we come to the "other" Moorland Haunt spot in the gauntlet. U/W Humans is the most popular approach without question — though if you suspect a lot of Tempered Steel will be in your metagame this is likely the deck to cut to make room.
Creatures (27)
Lands (24) Not a lot has changed in
Humans
though Gideon's Lawkeeper and
Fiend Hunter
appear to be back in fashion. As always this deck is fine though not exciting. Still it posts solid results and has a solid following. The best way to beat decks like this are to have lots of answers to Geist of Saint Traft
Mirran Crusader
Hero of Bladehold
and
Angelic Destiny
(when your opponent has a
Doomed Traveler
in play) then follow up with something game-winning like a Titan or Sphinx or Olivia or whatever.
One more list I would like to briefly discuss from the top 16 is Mono-Black Control. Infect and Mono-Black Control are very intertwined and have been on the move up. They are still very weak to Control decks but their other weakness G/W Tokens has all but died out.
Creatures (14)
Planeswalkers (4)
Lands (25) Orellana has abandoned the fragile
Plague Stinger
s and Whispering Specters in favor of
Phyrexian Obliterator
Hex Parasite
Spellskite
and Wurmcoil Engine. This tremendously ups the raw power level of the deck even if it is not as completely focused on the poison kills. There is certainly some inefficiency from trying to damage a guy with eight poison counters but the threats in Orellana's build have the most raw power in the format (Liliana Crusader Obliterator Wurmcoil
Karn
).
Hex Parasite
Spellskite
Ratchet Bomb
and
Despise
offer a variety of early defense that all serve potent utility roles against slower decks.
Virulent Wound
Geth's Verdict
Victim of Night
Ratchet Bomb
Black Sun's Zenith and Liliana make for a boat load of early removal to buy time to start dropping bombs.
Amusingly in some ways this style of Mono-Black actually plays out a little like Tap-Out Blue. Just kill things instead of counter things buying yourself time to start dropping bombs (and not worry about such nonsense as "card-advantage"). Say what you will about Mono-Black but you have to admit — it's been at least been decent since the rotation.

I was originally going to do some modern brewing today — but after spending the better part of two days jotting down ideas without a chance to play any games I wasn't actually that much further away from the stuff I have discussed here in earlier weeks nor did I have anything that jumped out at me. I want to get a few games of the new format in first though the first decks I am eyeing are Esper Grixis and 5CC. Esper's weakness to Wild Nacatl (from having no Lightning Bolt) is gone so this option is looking real good. The biggest problem with Esper has traditionally been finishing the game due to no Cruel Ultimatum Punishing Fire or similar semi-soft lock. Wurmcoil Engine is very reasonable candidate as is Identity Crisis though we'd have to play a lot of card drawing to actually get ahead enough to consistently ride these in this format.
Esper seems to lead us to Esper Charm and Teachings as our card drawers though Gifts Ungiven is certainly on the table. Gifts for an Iona and an Unburial Rites is certainly a very impressive end-game and one of the areas I definitely want to explore. Besides storage lands like Calciform Pool make casting Iona a lot more than a pipe dream.
Teferi seems like he will likely play a role and both Snapcaster and Vendilion Clique are strong considerations combining with manlands to give us a bit more ability to close out games before they slip away. Mana Leak and Spell Snare are still the top dogs — but having access to a Negate a Logic Knot and a Pact of Negation as well as some amount of Cryptic Command seems good.
Wall of Omens seems like it might make a comeback depending on how good it turns out to be against Jund. Sideboarding Relic of Progenitus and Baneslayer seems huge but I would also remember Rest for the Weary as a tool against burn.
Here is a starting point for working on a mana base though this obviously needs to be tailored to your specific build:
3 Tectonic Edge
1 Dreadship Reef
1 Calciform Pools
2 Creeping Tar Pit
2 Celestial Colonnade
2 Misty Rainforest
1 Marsh Flats
1 Watery Grave
1 Hallowed Fountain
2 River of Tears
1 Glacial Fortress
1 Seachrome Coast
2 Mystic Gate
2 Sunken Ruins
1 Island
1 Snow-covered Island
1 Swamp
1 Plains

If you are more double black or more double white feel free to slant the mana a little that way. If you play Iona Pools > Reef. If you play Engineered Explosives and at least one artifact creature (like Wurmcoil Engine) you want an Academy Ruins. Depending on your build you may want a second Watery Grave or a second Hallowed Fountain.
I see a lot of people plating tons of Marsh Flats but it's not like you have more Swamps and Plains than Islands anyway. Marsh Flats #2 would be my 4th fetchland but an over-reliance on them can screw you when you play Islands and Cryptics. I am probably playing at least one too many manlands at the moment — so if you want another Fountain or Grave that's your place to look first.

As for Grixis we've obviously lost Punishing Fire — but we've also lost the need to fight it or to fight Wild Nacatl. With Desperate Ravings instead of Esper Charm we're likely to lean towards Gifts instead of Teachings possibly setting up Cruel (maybe with Snapcaster and Rise/Fall). Godo+Batterskull is definitely an option though as always it takes up so many slots...
Vendilions and Snapcasters are more important in Grixis which is likely to play a much more aggressive role. In fact I'd probably start with Delvers and go from there.
As for a mana base that really depends on what you are doing since a Delver deck is going to look a lot different than Cruel Control. Either way not having to play four Grove of the Burnwillows goes a long way towards making our mana base real easy.
As for 5CC the tricky thing is you think "Okay! Vivid Lands" but then you want to incorporate Scalding Tarns and one each of Hallowed Fountain Watery Grave Steam Vents and Blood Crypt (at the least). Now we're talking a lot of tapped lands and a lot of pain plus really awkward Spell Snares (which seem awesome in this format). I don't yet know what the solution is beyond exploring Grixis and Esper first. I would really really like a smooth mana base and both of those combinations seem to have good chances to have enough to not need the fourth color.
All right. I'm for today but be sure to join me back here on Wednesday for both sides of an exclusive Dark Ascension preview card!
Patrick Chapin
"The Innovator"