Hello again!
We begin today with a riddle. What could make StarCityGames.com superstar (and honorary Asian) Gerry Thompson…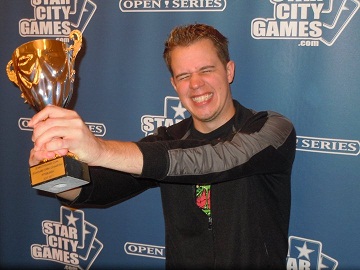 …do something as terrible as this?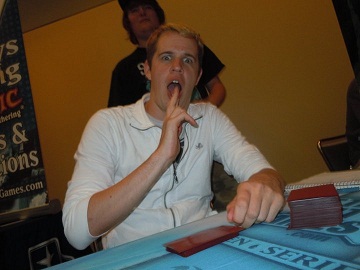 The answer requires a back story.
Let's jump back to the height of Caw-Blade. Believe me, I'm groaning just as much as you are. All those stupid Squadron Hawks, silly Stoneforge Mystics, and the most unbalanced planeswalker in history, Jace, the Mind Sculptor. Ugh. To make matters worse, at this particular tournament (StarCityGames.com Open: Baltimore), Gerry and crew had actually broken the format wide open. This tournament was right after the ban of Jace, the Mind Sculptor and Stoneforge Mystic had been announced; for just one last tournament, Papa Jace and friends could ruin the lives of Magic players everywhere. Thank Tebow that this was the last time Caw-Blade proper would actually be legal because once they added the Splinter Twin combo to an already too powerful deck…
Creatures (10)
Planeswalkers (4)
Lands (27) Creatures (9)
Planeswalkers (4)
Lands (26) The results speak for themselves. Ali and JFord are already very powerful mages, but given a deck with the power of an already banned deck with Splinter Twin? The field didn't stand a chance. Four of the Top 8 were piloting this monstrosity, including the two finalists.
It was popular opinion that if you were not playing Caw-Blade, you were an idiot. I guess I just have a thing for underdogs.
The answer to the aforementioned riddle is this: beat the most overpowered deck in Standard history with Vampires.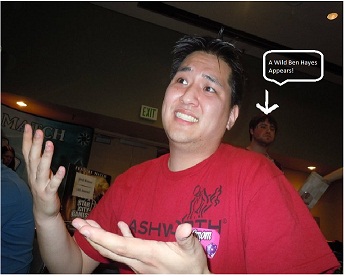 Creatures (26)
Lands (23) In the past, I have had success with my favorite tribe, Vampires. Whether it is Mono-Black Vampires or, more recently, B/R Vampires, I have always had affection towards the little bloodsuckers.
Why would this be relevant now? Would I be so quick to drop my current infatuation with Hovermyr for a new heartthrob? Dear reader, allow me to introduce you to B/R Zombies.
Creatures (16)
Planeswalkers (3)
Lands (24)
Spells (17) Braaaaaaaains!
What does Dark Ascension bring to the table? Let's take a card by card look at the deck choices.
Here is the main reason that I want to revisit the swamp-based, aggressive deck in the first place. Having access to eight one-drop beaters with two power really addresses our need for early pressure. Of course, we would want more if we could get them, but playsets of Gravecrawler and Diregraf Ghoul provide a measure of consistency to our game plan. A one-mana, two-powered creature is definitely powerful. If this was all that Gravecrawler did, he would still be a fine card. The main challenge to breaking Gravecrawler is making sure that you can use his recursion ability.
--Aside--
Before we go too far, let me be clear: Gravecrawler is no Bloodghast. The similarities are there, but it is much more similar to Vampire Lacerator than it is to Bloodghast. Both are one-drops that we use to apply early pressure on our opponents. Bloodghast has always been one of my favorite cards to play in Standard. The landfall requirement to return our Bloodghasts was much easier to achieve than having to have another Zombie in place. Having haste when our opponents were low on life also gave us an added bonus to an already sweet card. So, while Gravecrawler is definitely a powerful card, let's not go overboard with the Bloodghast comparisons. I have played with Bloodghast, won with Bloodghast, and you, Gravecrawler—you are no Bloodghast.
--End Aside--
A one-drop, high-impact, aggressive card with the ability to buy him back is a sweet, sweet deal. But where Gravecrawler has the chance to have a very powerful impact is by landing on turn 1 to bring the early beats, while giving us the ability to bring him back after our opponent attempts to stabilize by clearing the board.
Being able to re-buy your one-drop creature allows you to sidestep a lot of the answers that people will have for your aggressive creatures. Slagstorm, Whipflare, or Day of Judgment would normally sound a death knell for an aggressive deck that depends on cheap beaters—but not with Gravecrawler.
So how do we bring Gravecrawler back?
How kind of WotC to print a card that goes hand in hand with my new favorite one-drop. Geralf's Messenger gives us a very solid body at the three-drop slot that helps us achieve our goal of draining our opponents to zero. The best thing about the Messenger is that he survives the first sweeper all by himself. Not only that—he gets even bigger! Think about that for a moment. We want a card that can attack for decent chunks of life, burn our opponents, and be resilient to our opponent's board sweepers. Messenger fits all these requirements to a tee.
With Geralf's Messenger as the first option to return our Gravecrawlers, we follow it up with Zombie Infestation. Looking at our list, we have a good amount of one-drops and an overload of three-drops. Our twos are severely lacking; enter Zombie Infestation.
Zombie Infestation is good because it synergizes with our game plan by providing a steady stream of creatures, and its drawback does not affect us that much because we have cards that we want in the graveyard anyway.
Faithless Looting will give us another way to gain value out of our Gravecrawlers and Chandra's Phoenixes. While discarding those two creatures is fine, digging for either more threats or burn spells to end the game is also very important. Faithless Looting is perfect for this particular role.
Chandra's Phoenix
Here's another important cog in our machine. It's very similar in some ways to Gravecrawler in how it functions with our discard cards, but that's not all it does. Being able to be discarded for either Zombie creatures (Zombie Infestation) or better card selection (Faithless Looting) is all well and good, but the Phoenix also gives us an evasive threat that can beat for two. Its body on the battlefield is much more impressive than its recurring Zombie counterpart, and being returned to our hand instead of directly onto the battlefield gives us more chances to use our Zombie Infestation or flashback our Faithless Lootings.
The main thing that we are missing with B/R Zombies is the reach that Vampires had in the form of Kalastria Highborn. The early game was simple: attack our opponents with low-cost threats. Turn 1 Lacerator, turn 2 Bloodghast, turn 3 kicked Gatekeeper of Malakir was one of the dreams that we got to live with Vamps. If our opponent did manage to stabilize, Highborn provided us with an engine to deal the last points of damage to the dome. Whether it was through a sacrifice outlet like Viscera Seer or by simply jamming our Vampires into the red zone on a suicide mission, Highborn let us drain our opponents down to zero. Oh Kalastria Highborn and Bloodghast, gone but never forgotten.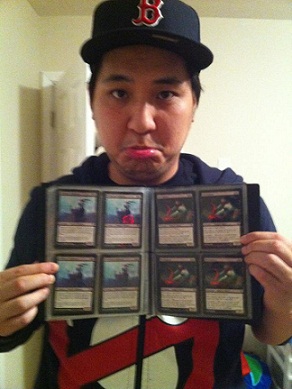 We've already discussed how we're going to be bringing the beats with our Gravecrawlers and Diregraf Ghouls on turn one and Geralf's Messenger on three, but how will we replicate the endgame that we no longer have with Highborn? We'll burn them out, that's how.
Let's face the facts: we're going to be battling with creatures. A lot. Our entire early game is comprised of tapping our creatures sideways. Once the board state gets gummed up, we need a way to deal the last crucial points of damage to our opponent. Here is where Brimstone Volley shines. We can sacrifice our creatures in combat to deal minimal damage, but we have a hidden agenda here as well. If Brimstone Volley only dealt three points, we'd be looking elsewhere. However, turning on Volley's morbid trigger allows us to deal a quarter of our opponent's life total in one shot. This will also lead to game states where they might be hesitant to kill our creatures, in combat or otherwise, for fear of taking five to the dome.
Our one-of Devil's Play can also serve as an early removal spell for a troublesome creature, while giving us an X-spell to send to our opponent at the end of the game. Do not be afraid of "wasting" it on a Delver of Secrets. The deck has a lot of inevitability as it is, with recurring creatures and Brimstone Volleys. Devil's Play is not the only option for ending a game. It will sometimes be better to cash in Devil's Play on an early troublesome creature, as opposed to it being the actually game-ender.
I wavered back and forth between Geistflame and Gut Shot. Gut Shot is great when you have to kill an early Delver or mana accelerant, giving you the window to play either Diregraf Ghoul or Gravecrawler in addition to the removal spell on turn one. I settled on Geistflame instead because it plays better with our discard outlets of Zombie Infestation and Faithless Looting. Having flashback gives us the option to pull the trigger on removing the same type of guy early and another card to pitch to our discard. It also brings back our Phoenix by shooting our opponent for one. The versatility that we get from Geistflame is ultimately the reason that I chose it, but I can't fault you if you want to play Gut Shot.
Both planeswalkers help us to clear a way for our Zombies to crash into the red zone. They are also helpful if we are behind early and need to stabilize. Casting planeswalkers puts our opponents in difficult positions where they have to not only deal with the creature threats that we put out, but also the planeswalkers' game altering ultimates if left unchecked. Another way that Liliana of the Veil and Chandra, the Firebrand have the opportunity to shine is in the versatility of their other abilities.
In control matchups, we can force the mutual discard with Liliana, and our discards are oftentimes going to be more beneficial than negative. They will be forced to pitch cards that they may want to cast or lands that they need to cast their spells, while we get to bin our Gravecrawlers, Phoenixes, or flashback cards, all of which have more utility in the graveyard.
Chandra's -2 ability allows us to fork any of our burn spells, providing us with a little extra reach with which to end the game. Casting a morbid Brimstone Volley with Chandra doubling it allows us to end the game out of nowhere with ten points of damage going to the face. Our opponents have even more to consider with an active Chandra, both for the safety of their one-toughness creatures and for their own life totals.
The biggest non-secret of Dark Ascension is the arrival of Lingering Souls. Lingering Souls, Sorin, Lord of Innistrad, and Vault of the Archangel provide a very easy-to-follow template by creating a W/B Tokens deck that you can be sure will be popular this weekend at the StarCityGames.com Open: Richmond. That, along with the popularity of U/W Delver, W/G, and W/U Humans, means there are tons of places among the top tier of decks with white creatures that can stonewall our army of Zombies. We need a trump: enter Sword of War and Peace. We can skate right past all the white Spirit and Human tokens they can produce, as well as the Soldier tokens from any Timely Reinforcements we run into.
New school R/B Zombies has a few things in common with R/B Vampires. They both have a number of one-drops that battle for two damage: Gravecrawler and Diregraf Ghoul filling in for Vampire Lacerator and Pulse Tracker in the one-drop slot. Liliana is doing a Gatekeeper of Malakir impersonation, albeit with a bit more upside. Our endgame is definitely different. Instead of having it be creature-based with Kalastria Highborn and other Vampires, we have actual burn spells.
Sideboard Cards to Consider
Artifacts are everywhere these days. Whether it is Sword of War and Peace and Runechanter's Pike in U/W Delver, Shrine of Burning Rage in Red Deck Wins, anything from Tempered Steel, or Hovermyr, we need a card that can help answer them. It is rough adding another three-drop, but having a body attached makes me lean towards Manic Vandal over something like Shatter. Ancient Grudge could be considered, but we are already stretching the manabase by having so many black one-drops, and Geralf's Messenger being BBB, it's pretty hard to justify lands that produce green mana like Shimmering Grotto.
It might be somewhat counterintuitive to include a card like Ratchet Bomb in our aggressive deck. A Ratchet Bomb set to one will wipe out our aggressive drops, but I'm more concerned about the abundance of tokens that I expect to make up a large part of the metagame. In those matchups, you will generally use it to sweep up the Spirit tokens with a converted mana cost of zero. Also, keep in mind that a flipped Delver of Secrets/Insectile Aberration has a converted mana cost of zero as well.
Another thing Ratchet Bomb offers is a level of protection against problem cards that R/B generally has, enchantments in particular. Honor of the Pure, Intangible Virtue, and Oblivion Ring are all trouble enchantments that you can expect to run into this weekend, and Ratchet Bomb is the only answer that we have to get rid of them.
If we anticipate an abundance of white token decks this weekend, a potential trump is Hero of Oxid Ridge. It goes along with our plan of attacking for the win, giving us a Falter effect against their army of 1/1s and boosting our attackers. It also gives us a trump to any Timely Reinforcements that would otherwise be a pain to battle through without a Sword of War and Peace. Just be mindful that you will want to bring in Ratchet Bombs as well to counter any anthem effects they might have to boost their creatures.
Manabarbs is a card that I also want to play against control and ramp decks. With their expensive win conditions like White Sun's Zenith, Karn Liberated, Consecrated Sphinx, Grave Titan, and Primeval Titan, dealing them a point of damage for each tapped land will allow us to get them into burn range or lock them out of the game completely. Keep this card in mind whenever you are dealing with a deck that relies on expensive haymakers to win the game.
Cards that Missed the Cut
Olivia Voldaren would be a welcome addition as a trump card that we could play, but it missed the cut because while the power level is there, it doesn't fit with the aggressive nature of the deck. I would rather sacrifice power for consistency in this build.
Falkenrath Aristocrat was also considered. The problem with the Aristocrat is her low toughness. Gut Shot is a real thing, and the abundance of 1/1 flying Spirit tokens can easily stonewall her. I would rather just attach a Sword of War and Peace to make any of our creatures a hard-to-answer threat rather than rely on either of these four-drops to make an impact on the board.
There are a number of similarities between Hellrider and Hero of Oxid Ridge. Beyond their mana cost and haste, they both provide a way for our creatures to get past our opponent's defenses. I believe that the upside of Hero is greater. Hero is a bit more fragile than Hellrider, but I want my Falter effects to be game-winning against a bunch of tokens, not just deal a single point of damage.
While the deck is lacking two-drops, Highborn Ghoul just doesn't do enough to warrant a spot in the list. On the plus side, it does give us a bit of evasion as well as provide another Zombie for Gravecrawler. However, we aren't depending on a tribal theme with Cemetery Reapers, and it is a very fragile creature that dies to every removal spell.
Every land in this deck needs to provide either black or red mana. If we add Stensia Bloodhall to the list, we have to treat it as a spell that does not return Chandra's Phoenix. The potential threat of not being able to cast our spells led me to pass on Bloodhall.
Hovermyr is the most underrated card in Standard at the moment. It has flying, vigilance, and…oh we already did this last week? I guess it's time to wrap this up.
In conclusion, if you're looking for an aggressive deck that plays similarly to the B/R Vampires of the past, give this deck a shot. I missed out on the opportunity to participate in the Monsters vs. Humans event at Prereleases last weekend so I'll make up for that by converting as many Humans into Zombies as possible this weekend. Come join me at the StarCityGames.com Open: Richmond this weekend. Try and hide behind your Grave Brambles, but just know this: I am coming for your braaaaaaaaaaains.