"Rock my world until the sunlight
Make this dream the best I've ever known
Dirty dancing in the moonlight
Take me down like I'm a domino." -Jessie J
It's both spring and spoiler season which means that love is in the air as is passion and optimism. Ever notice how many love songs are ballads to hyperbole? Being swept off our feet is exciting dangerous alluring and makes us feel alive. Consider the alternative "a moderate reasonable and totally under control amount of desire and interest?"
For all of us that love Magic and are passionate about the game sometimes thinking about it in the shower when we awake from a strange dream or while sitting at a desk spoiler season is an opportunity to find adventure excitement and love again. Discovering new cards and new interactions is not just playing "another season of basketball." Each year the teams are different but the game is still basketball. When we play Magic the rules are different every time. Each card we encounter is like a new person that might have the power to change the rules.
Meeting new people that change what we thought was possible is incredibly exciting. Life-changing people are certainly not limited to just romantic encounters but when we remember who people really are there is all the value in the world in looking for the good in everyone. Not everyone is going to be life-changing but there is something to love about everyone if only we understand them.
A lot of people are addicted to falling in love. Each new person in their life is The One. Maybe they put that person on a pedestal seeing only an idealized version that ignores any flaws or weaknesses. Focusing on the best case the highlights the cream is actually valuable in the right contexts but is also intoxicating. After all friendships and relationships are not always as healthy and happy as one's interest and excitement initially.
Part of the excitement of Magic is that we don't know what all of these news cards are going to end up being like. Sometimes like Snapcaster Mage everyone can tell they are going to be an important part of our Magic lives for the next many years. Other times like Delver of Secrets they are going to surprise us initially being underestimated and written off by most people. Then overtime they blow us away with just how much they really bring to the table. Eventually many people actually get fed up with just how much they make us not able to play with other cards (while others look to find the opportunity in all of this).
Every once in a while we are going to encounter a life-changing card that brings years of happiness and powerful experiences. I am not talking Skullclamp as Skullclamp really was a heart breaker promising a fantasy to absolutely everyone. It was not long before Skullclamp was properly rated as the best card of its generation basically unbeatable. Everyone looks for something different in life but to me that isn't love. I actually love Skullclamp now more than I ever did back in the day. Why? Skullclamp is exclusively a Vintage card these days so rather than just being "obviously broken in half and ruining tournament Magic for years" it is not only legal but misunderstood. It is extremely powerful but more importantly it is interesting.
Interesting does not mean powerful no matter how much 90% of people think when evaluating cards.
"Tamiyo the Moon Sage would be more interesting if cost 1 less.
Cloudshift would be more interesting if it was a cantrip.
Angel of Jubilation would be more interesting if it had haste."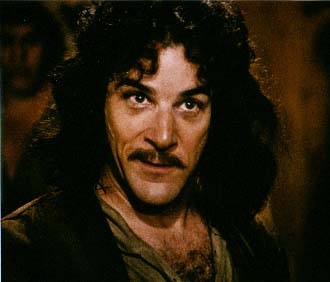 "You keep using that word. I do not think it means what you think it means." -@iaminigomontoya
Sure obviously every card is more interesting when it costs one less is a cantrip and has haste assuming your definition of interesting is powerful.
Necropotence on the other hand was initially misunderstood by nearly everyone. Overtime it became a monster rivaled by few in terms of its longevity of dominance. Those were more innocent days of course and we'd never get away with a Necropotence reprint the same way 5th Edition did. Was Necropotence completely busted in half? Yes but there were many many formats where Necropotence was forgotten or overlooked as people always underestimated it even after it was banned in every format save Vintage.
I played Necropotence at 1997 Regionals and might have been the only one in Ohio to do so. It was in that tournament that I faced Erik Lauer for the first time. He was playing U/W Control with Disks Wrath of God Counterspell and Thawing Glaciers. I was playing Black Knight Serrated Arrows Choking Sands and Drain Life. Of course I also had Dark Ritual and Necropotence.
That was an era where black was just obviously the worst color by a clear margin. Even Hypnotic Specter had been rotated out! The thinking was that Dark Ritual made getting mana easier for black decks. Necropotence made getting cards easier. As a result every other black card had to be worse because you could just put them in decks full of Dark Rituals and Necropotences. It was not until later that WotC tried an experiment and just got rid of Necropotence and Dark Ritual.
As a side note can you imagine how many people assumed that removing Dark Ritual was going to spell the end of Magic? It was a sacred cow that would be like rotating Counterspell.
There is no man on Earth who loves Necropotence as much as Erik Lauer. Erik had tried to make Necro work for that tournament and had not found a way. After I Necro-ed him into oblivion he shook my hand and told me he was very jealous of my deck as there is nothing in this life he enjoys as much as activating Necropotence. I had won his respect and he vowed to play Necropotence every time it was legal from then on. How were we able to have such a powerful set of experiences? The two of us knew Necropotence better than almost anyone but there was still more to discover more to understand about it. Not everyone agreed that it was so broken; it would still dominate even when every card besides Dark Ritual was stone terrible.
So much of the opportunity in Magic comes from properly rating cards that others are underestimating (as well as better understanding ones that others overestimate). Every card that people misunderstand is an opportunity. Every once in a while we will encounter a card that brings us years of happiness a card the world may come to respect or see the good in but that we truly love.

Years may go by with new cards coming and going some of which we like a great deal until one day out of nowhere you walk face-first into The One. A card you love so much you want to sing songs to.
So that's really the heart of it. It is possible to find that pot of gold. Tarmogoyf Baneslayer Angel Delver of Secrets Knight of the Reliquary: cards really do turn out to be perfect 10s despite the debating raging on for years. Sometimes combos exist when no one suspects like Dragonstorm. Sometimes control is awesome when no one thinks it is possible (about two-thirds of the time people think this). Sometimes aggro is good when people don't realize it is possible (like red aggro in Time Spiral + Planar Chaos Constructed).
That the reward is so high for finding the pot of gold at the end of the rainbow has quite an impact on the perspectives of Magic players. Magic is exceptionally top-heavy with regards to reward and being at the forefront of technology only increases this. Everyone wants to play Cryptic Command before it is good to buy their Jaces and Tarmogoyfs before they cost a hundred dollars to have been an early technology adopter.
This is only one of many factors at work of course but it can set us back. After all it is a bias that over 90% of players have. For many they think every new card is broken while a roughly equal number think every new card sucks. In reality both of these biases are the same thing and reveal an underlying element of the personality of the one whose opinion we are seeing.
Remember thinking a card is playable does not mean thinking it is broken.
Information bias is an extremely common form of distortion of one's ability to evaluate information. It is a bias in the way one thinks causing them to overvalue new information even information that is mostly or totally irrelevant to the decision at hand. When people are choosing a course of action curiosity and confusion over goals causes them to take new information and value it as being more significant than it really is.
It stems from evaluating things from the perspective of balancing these two perspectives:
A) This new information suggests doing some thing such as play a particular deck.
B) Everything before now had things being where they were.
If B) suggested six possible courses of action all of which seemed relatively close and A) suggests definitely doing one particular course of action that was one of the six it is easy to have a cognitive bias leading us to think we should obviously do A. The flaw in the logic is evaluating A) and B) as being equal when in reality every piece of information we ever had up to this moment tends to be greater than one new piece of information.
Of course we can't just err the other way either. After all from time to time we do get new information that changes everything new information that completely alters our worldview. Keeping an open mind is great but doing so while gaining awareness of our biases is far better.
Why does everything have to be to the extreme either terrible or broken? Why can't a card just be a role-player fluctuating in power as the context shifts? Discovering a new use for a new card doesn't mean the card is broken just as a new card not being as good as Primeval Titan or Snapcaster Mage doesn't mean it is terrible. Addiction to hyperbole gets in the way of rational thinking and rational thinking is crucial to the ability to accurately observe the future before it happens.
Today's article isn't about Temporal Mastery nor is it about Tibalt the Fiend-Blooded. I will write about both of those cards in time but for now suffice to say they each have their uses. I am not talking fortune cookie style horoscopes that are little more than tautology. I am suggesting that Temporal Mastery will not break Standard any more than Time Warp did. As for Tibalt he is going to require some greater thought as to how best to use where when and why. My snap guess is Sarkhan the Mad level but it is possible he turns out even better. The notion that he is terrible is a patently preposterous position particularly peculiar parsing previous planeswalker performance.
Information is power in war. Competitive tournament Magic like business is really war underneath. Seeing the future gives us the greatest information to evaluate our course of action. To best understand the future before it happens it is useful to realize that the future is not just about fantasizing and daydreaming about how we wish things were. Understanding the future is about looking at things' true nature. Whatever is deluding ourselves buries us deeper in confusion rather than ascending towards enlightenment.
How to see things' true nature is a tricky subject to allude to with words as what we really seek is to experience those things not symbols such as words. One perspective we keep coming back to is looking for the good in everyone (and every card). There is good in everything and everyone and as long as we do not see any good in someone or something we can be rest assured that we do not yet understand the subject's true nature.
What about Thraben Purebloods? Isn't a 3/5 for five obviously just much much worse than Baneslayer Angel?

Sure and I am not even suggesting arguing about the single white mana symbol Control Magic or five Engineered Plagues on Angels. Baneslayer is more powerful than Thraben Purebloods but there is a lot more to a card than how big the numbers are. Thraben Purebloods can go thirteenth in draft providing that 23rd playable we end up needing. Or perhaps we don't play it 85% of the time but in the right matchups it happens to give us another role-player to help combat our opponent's Hill Giants.
As a guy that has won an important draft that included a game won by Thraben Purebloods that would have been totally lost if I had not drafted it over hate-drafting a Ghoulcaller's Bell I can tell you Thraben Purebloods may not be as good contextually as Siege Mastodon (a card I actually used to get the pro point I needed to lock up the gravy train one year) but it has its uses. This use may be as a thirteenth pick 23rd card that aspires to be a mediocre role-player but understanding this asset when others are quick to throw it away is valuable and good.
I can't speak for anyone else but for each new card I am going to look to understand when it would be good where why and how. Even though 99% of cards are not in the 99th percentile for card power this doesn't mean they don't have uses to understand. The primary card I would like to consider today is Restoration Angel.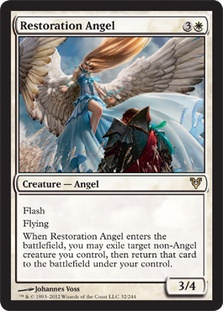 Restoration Angel is my favorite of all the new Angels (so far). What is amazing to me is how little hype and hoopla she has generated thus far when her power level is so high. This is surely a result of her being pushed in a way that previous cards have not been and people are notoriously underwhelmed by cards good in a new way (while over-impressed by cards that are good in a way that other cards have been good).
Let's take a look at Restoration Angel line by line and try to understand this thing. So first of all we are starting with a 3/4 flier for 3W. That is already such a great rate; it would be a fantastic first pick uncommon in draft. Next we factor in that it has flash. How good is flash? That is an ability that is extremely contextual but just think about how good flash on a 3/4 flier for four is. They attack with Delver of Secrets—surprise!
Strangleroot Geist? Huntmaster of the Fells? Blade Splicer? It is like Restoration Angel was engineered to have the perfect body for what the format needs.
Now we get to her final ability the ability to Momentary Blink one of your guys. How good is that? Well Cloudshift is in this set and will surely be at least a limited role-player with chances to show up in Constructed (though likely it is only about one notch stronger than Raise Dead). Is the effect worth a mana and a card? Maybe not but it is very possible that it is generally worth a card.
Would you play a 3/4 flier with flash that drew a card when you played it? Absolutely. That card would be bananas. Are you kidding? That is just out of control.
Restoration Angel's ability may be worth a card in the right context but she is a four-cost creature that you don't always want to hold. That ability might start to become worth less than a card if you just have to snap play it at the first good spot because you need to develop your board. As a result there are definitely going to be times where you get actually zero value out of it.
However there will also be plenty of times where you are able to get much more than a card's worth of value out of it.
All those creatures that Restoration Angel has the perfect body to block? They also have comes into play abilities that are perfect to exploit with Restoration Angel. With Strangleroot Geist they go to all the trouble of killing it; then when they try to kill it again you restore it (which is worth far more than a card). Restoring a Blade Splicer doesn't just give you another 3/3 first strike creature it can do so at instant speed the same time you are adding a 3/4 flier to the board. If you played Splicer on 3 then attacked on 4 how in the world is your opponent supposed to attack you on turn 4? That is worth far more than a card.
A turn 3 or 4 Huntmaster is extremely powerful and even though they die a fair bit they certainly live a fair bit too. The ability to save your Huntmaster from a timely removal spell can be absolutely backbreaking. Even if you just restore him to get an extra Wolf and two life that is still far more than a card.
Every time you save a guy from a removal spell you are getting your card. Every time you reset a 187 you could be getting a card. Sometimes you will get both and it will be amazing. Is there going to be a lot of variance in her performance? No question but on raw power (stock mana if you will) Restoration Angel's ability is worth about the same as drawing a card which is extremely impressive on a 3/4 flying flash creature that is so easy to cast.
Where could she go? I am imagining a lot of future homes for this one (a card I am confident will be easily one of the top 10 cards in the set). Her ability restore 187s and persist point us toward Birthing Pod-esque decks for starters. In particular I would be interested in playing her in a deck that uses Birthing Pod because why not but isn't really a Birthing Pod deck. She is about the value and the tempo and if we had a deck that only really needed to or wanted to Pod twice she is liking Podding twice at once but not getting to do it anymore.
You know whose deck comes to mind?
Creatures (29)
Planeswalkers (2)
Lands (24)
Spells (5) This isn't even really a Birthing Pod deck and if somehow the name of Kibler's deck is auto-changed to Naya Pod know that it is an error. This is a deck that has a couple of Birthing Pods as a late game plan a new angle of attack and another dimension of play. He doesn't have uncastables he doesn't have tons of fatties and he doesn't need Birthing Pod.
I wonderwhat some Restoration Angels would do in a beast like this? One possibility is to just jam a couple into Kibler's deck:
Creatures (30)
Planeswalkers (1)
Lands (24)
Spells (5) This might be the right way but it is also possible that Restoration Angel removes the need for the Birthing Pod chain at all. For instance what if we tried something like:
Creatures (30)
Planeswalkers (1)
Lands (24)
Spells (5) Yes I realize there is no way to Tutor for Inferno Titan. Maybe it is right to play two but sometimes the diminishing returns of a card make one the right number even with no library manipulation. Also yes that is Bonfire of the Damned which might be the most underrated miracle card (mostly because no one fantasizes about Brainstorming that one back on top of their deck).
Here is the thing about miracle cards; sometimes you draw them in your opening hand or before you can/want to cast them. In those games you have an over-costed card. Other times you draw them from the top and they are undercosted. They aren't really split cards so much as cascade cards with variable output. We ought not to be scared off from the mechanic because it is from the cascade school of mechanics as cantrip is too! After all when you pay for an Obliterator you get an Obliterator. When you pay for Phyrexian Rager sometimes you draw an Obliterator sometimes you draw a Swamp...
When you have to pay retail for Temporal Mastery it is very clearly a seven-mana Time Warp that exiles itself. When you draw Temporal Mastery off of Ponder after shuffling you have a seven-mana Time Warp that exiles itself (despite how excited people are to declare Ponder + Temporal Mastery busted in half).
Why is Brainstorm so much better than Ponder for Miracles? It gives you something to do with the expensive version (saving you the two mana of value you lost compared to Time Warp) and gives you a Time Walk on top of your library (saving you another three mana compared to Time Warp). Compare this to Ponder which does nothing to the bad card in your hand lets you set up the Time Walk next turn if it was already in your top three and can let you shuffle if it is not in your top three (which is followed by a draw you pray is not it).
Is Temporal Mastery abusable? Sure but remember that we aren't talking about winning the game. We are talking about taking an extra turn. Consider Temporal Mastery in Standard. Cards 1-9 it is a seven-mana Time Warp (read: terrible rate). Then if you get it any later turn (as long as it was not from something like Gitaxian Probe or Ponder) you get a Time Warp that saves you three mana (and can't be saved for the perfect moment). How good is Time Walk on turn 5? It is good but at that point it isn't that much better than Time Warp. Three mana is three mana but are you even getting five-mana worth of value out of your turn anyway?
Are you going to get Time Walk for two mana sometimes? Yes but the same was true with Explore and Memory Lapse. However when Explore and Memory Lapse weren't at their best they weren't that bad.
It isn't just about how much the effect is "supposed to cost." It is also about the opportunity cost to you. Your cards aren't neutral random combinations of numbers. They are selected by you to further your game plan. Every time you draw a seven-mana Temporal Mastery you aren't just giving up a random card you are giving up access to any other card you could have played whichever you thought was next best.
However this article is not about Temporal Mastery. Right now it is about Bonfire of the Damned. You want to understand Temporal Mastery? Look at the future more. There is a "meta"-game going on and that is the game of Wizards of the Coast designing these cards with full knowledge of all the mistakes they used to make many years ago. What do you suppose are the odds that they forgot how dangerous Time Walk was and just printed a broken Time Walk without testing the hell out of it?
Tarmogoyf and Delver of Secrets were basically untested. Jace the Mind Sculptor and Bitterblossom were known to be super strong but in new ways that were not fully understood. When mistakes happen it is usually not because they just decided this would be a good time to reprint Skullclamp without testing it. Of course they want to make it look sexy dangerous exciting and tempting. It might be good hell it might even be broken in Legacy (a format they are fine with breaking from time to time). However the notion that Temporal Mastery is somehow busted in Standard Delver (with Noxious Revival!) is comical.
Bonfire of the Damned has a bit less variance than some of the other miracle cards. Even when you draw it in your opener or when you don't want to play it it isn't that bad. Three mana to deal one to them and all their dudes is not a great rate but it isn't embarrassing especially in the format as it stands today. Five mana to deal two to all their stuff is actually downright respectable. The ability to sink more mana into it later is just icing on the cake.
Then you factor in that some of the time you are just going to peel a Bonfire and it's going to be an easy Flame Wave at a huge discount. That soundsexactly like something I might be interested in.
As you can see this deck does not aspire to "break" Restoration Angel. Rather it uses the Angel for value and to add a couple much appreciated dimensions to the strategy. Fliers can be difficult for a deck like this so having such a beefy one can be just what the doctor ordered. Having a flash flier can add an element of reach to the strategy. Resetting your Fiend Hunters can allow for some really awesome plays in combat.
Naya seems like an awesome home for Restoration Angel but it is far from the only one. Blade Splicer is a great 187 to reset. What about Snapcaster Mage?
Could we put Restoration Angel in Delver perhaps with Blade Splicers? Maybe.
What about Caw-Blade? What if we had a more Caw-Blade-esque build with Sword of Feast and Famine Day of Judgment some planeswalkers some permission some O-Rings Blade Splicers Snapcasters and so on. Playing Blade Splicer on 3 followed by Restoration Angel on 4 then Sword of Feast and Famine on 5 is an impressive line.
There are countless potential applications for Restoration Angel and the Angel is actually at an aggressive enough cost that we are actually getting paid for going to the trouble. There is a lot of good in Restoration Angel and I for one am looking forward to seeing what develops with her because sometimes you never know...
"You got me losing my mind
My heart beats out of time..."
Patrick Chapin
"The Innovator"