I haven't played a game of Magic in the past week. Not a one. I've spent the past seven days in Las Vegas for Electric Daisy Carnival and it was awesome. If you're at all interested in electronic music or just like huge crazy parties I highly recommend checking it out. This year the event sold out which meant over three hundred thousand tickets. That's a whole lot of people partying in the same place! In the midst of all that I actually had one Magic player recognize me and introduce himself which was pretty cool. I suspect the fact that I was wearing my tiger hat helped him spot me. If you want a glimpse into what the whole thing is like just search for videos on YouTube or check out this mix – it was my favorite set from the entire show.
Anyway enough about that – you're here to hear about Magic not music. Thankfully Wizards has been kind enough to give me quite a bit to talk about this week despite the fact that I haven't touched a card. M13 spoilers have begun and there are already quite a few cards out there for us to look at. So let's go!
One of the biggest bits of news about M13 is that exalted is returning as a major mechanic. I'm of the opinion that people still vastly underrate the value of exalted. As a man who likes to attack I've been a huge fan of exalted for a long time. Noble Hierarch and Qasali Pridemage were incredibly key pieces of my Pro Tour-Austin-winning deck allowing my Wild Nacatls to attack through opposing Tarmogoyfs and my Baneslayer Angels to even race an opposing Progenitus.
Exalted is the perfect mechanic for the sort of decks I like to build and play – aggressive midrange creature decks. The power of exalted lies in the fact that it allows creatures to remain relevant for substantially longer than they otherwise would. And not just the creature with exalted itself of course but any creature you might play. The presence of a Noble Hierarch and a Qasali Pridemage lets a Wild Nacatl attack into Tarmogoyfs with impunity.
Creatures that allow you to apply pressure early in the game usually fall off in relevance quickly but with exalted they can go toe to toe with monsters up the curve and come out ahead or just dominate creatures of the same size. I seriously doubt either Hierarch or Pridemage will be back in M13 unfortunately. Arbor Elf has already been spoiled which makes Hierarch seem even more unlikely and Pridemage is a gold card which makes it a long shot to show up in a core set even if Nicol Bolas is confirmed in already.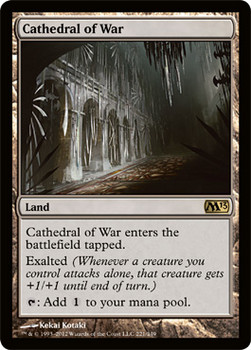 While exalted was the Bant mechanic in Alara block it seems that it's going to be seen everywhere in M13 – even on lands! Cathedral of War is an interesting card that's not immediately obvious how to evaluate. It has two major drawbacks – it produces colorless mana and it comes into play tapped – but the power level of its effect is pretty damn high. Getting spell effects from lands is a big deal as we've seen with the popularity and power of cards like Moorland Haunt Gavony Township and Kessig Wolf Run. Those all require mana to activate though and a commitment to multiple colors. Cathedral of War only requires that you spend the land drop to put it into play!
I expect Cathedral of War will find a home in mono-color aggressive decks since those are the decks that can make the best use of the exalted ability and are the best able to afford both the colorless land and stuttering on mana. I would not be surprised to see them pop up in mono-red decks in particular since aggressive red decks certainly have the problem of seeing their threats get outclassed quickly. Every point of damage counts when your goal is to add up to twenty – even a single hit with an exalted-boosted creature is worth about a third of a card and that adds up quickly.
What about Infect? Scars block won't be around alongside M13 very long but Infect creatures essentially get twice as big a benefit from Exalted since they only have to deal ten. Infect has experienced something of a surge in popularity on Magic Online recently thanks to Wild Defiance but those are very much all-in one shot versions. I could see Cathedral of War fitting into an infect list with more control elements – perhaps mono-black for discard and removal. Plague Stinger kills in just five swings alongside a single Cathedral – and can you imagine trying to win a fight against an exalted Phyrexian Crusader? That's just not going to happen.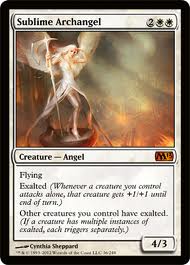 Even if the Bant colors no longer have exclusive rights to Exalted it certainly looks like they'll still get the pick of the litter. Sublime Archangel is no joke. By herself this little lady is effectively a five power flier for four mana which is already an excellent deal. But giving exalted to your whole team? That can add up fast! Remember exalted is like a pseudo-haste creature because it gives the power boost to your attacker that is already in play. Say you're playing a G/W deck with mana creatures – you could very easily play a turn one Birds of Paradise into turn two Blade Splicer. A Sublime Archangel on turn three means your Golem token attacks for seven right away. And if you play a second Sublime Archangel on your fourth turn? The angel you played last turn attacks for fourteen – they're dead.
Obviously that's a best case scenario but it helps illustrate a point. Unlike most exalted creatures Sublime Archangel actually thrives when you have lots of creatures in play. Generally having to attack with only a single creature when you have quite a few of them is a significant cost but Sublime Archangel puts all of them to work no matter how puny they might be. I doubt it would be very effective but I'm sure someone will try some kind of Eldrazi Spawn/Sublime Archangel contraption in some format. Awakening Zone never looked so dangerous!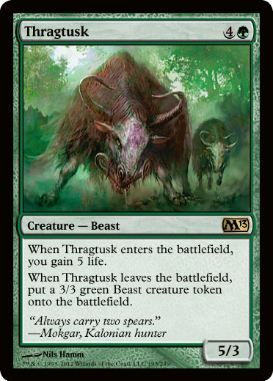 Speaking of cards that fit into decks with mana creatures Thragtusk is an absolute beast. Five mana is a spot on the curve for green decks that only recently started to have any competition thanks to Wolfir Silverheart and Zealous Conscripts but that competition is certainly going to get a bit tougher with this guy around. Thragtusk is very clearly intended to be the ultimate speed bump giving you five life as soon as he hits the table and a backup 3/3 whenever he leaves play. That last part is important – not when he dies but when he leaves the battlefield. That means that he not only works well with Birthing Pod (though I'm still not convinced you need to go up from five nowadays) but also with Restoration Angel. If assembling an army of Golems wasn't enough value for you already now you can get five life to go with your 3/3 every time you blink a Thragtusk!
The "leaves the battlefield" clause also means that Thragtusk matches up well against Vapor Snag. I'm not sure if a five casting cost creature that needs to get past Mana Leak is going to be what finally brings down Delver but it's nice to see a higher cost creature other than a Titan that isn't just embarrassed by bounce spells. That said everything that makes Thragtusk so awesome against Delver makes it similarly awesome for them when they copy it with Phantasmal Image. A green creature deck isn't going to be happy to have to fight through five extra life and a 5/3 plus a 3/3. I'm certainly going to be happy when Image is gone and I don't have to worry about all of my blue opponents doing every cool thing I do for cheaper. Thankfully the return of the original Clone in M13 all but ensures Image is done for but that doesn't help us until Return to Ravnica lets us say goodbye to M12.
We do get to say hello again to some old friends in M13 before then though. Some of the more notable cards returning are Vampire Nighthawk and Vampire Nocturnus. Zombies have been the go-to black tribe lately thanks to the powerhouses from Innistrad block and we haven't really seen Vampires since Zendikar block rotated. The color commitments of Nighthawk and Nocturnus make it seem like they may be difficult to play with the red vampires in Innistrad but Cavern of Souls goes a long way toward making mana work for tribal decks. However Nocturnus naturally wants your deck to be full of black cards so you might not really want to go down that road anyway. Stromkirk Noble is a pretty big draw though and you could always play Bloodline Keeper instead of Nocturnus if you decided to play heavier red.
The real problem is that vampires are lacking solid early drops – Nocturnus was really the last thing they needed with Bloodline Keeper Olivia Voldaren and Falkenrath Aristocrat all already clogging up the four drop. Vampire Nighthawk is a solid creature but the tribe needs a curve that starts below three – Stromkirk Noble and Vampire Interloper are the only real early drops. Could the return of Nocturnus and Nighthawk signal the return of Vampires as a major tribe in Ravnica? There were only three vampires in all of the old Ravnica block which would seem to suggest not but who knows what changes the plane may have seen since we were last there.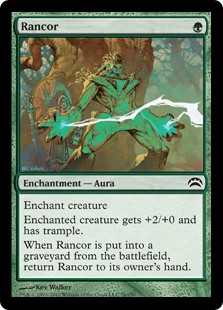 Also returning is a truly old school favorite in Rancor! Rancor hasn't been officially confirmed in M13 but there are sufficiently convincing pictures out there that I'm willing to believe it. It's hard to say what kind of impact Rancor might have on Standard but I doubt it will be an immediate one with Vapor Snag around. Cheap instant removal makes creature enchantments of any kind hard to play even ones that return to your hand when the creature dies. The threat of having your creature Vapor Snagged in response will keep Rancor on the sidelines at least for a while but I would not be surprised to see it make its presence felt once Delver is no longer king of the kill.
If it does have a chance to shine before that it will likely be alongside hexproof creatures like Dungrove Elder. I can certainly see some kind of aggressive mono-green deck with Elders Strangleroot Geists and the like popping up in the vein of the Stompy decks of yore. On a related note I'd love to have the opportunity to play Dungrove Elder with the Ravnica dual lands that we will inevitably see return come fall so I hope to see the big bad tree come back for another round in the core set.
Anyway that's going to do it for this week. I unfortunately won't be making it out to the Invitational this weekend in Indianapolis – I couldn't justify leaving immediately again right when I got back from Vegas. Good luck to everyone who is competing and hopefully we'll see some sweet tech to end the reign of Delver. I'm going to be playing in a 5K tournament in San Diego on Saturday myself and then probably going up to watch a League of Legends tournament in Pomona. Only a little different than last weekend right?
Until next time
bmk
@bmkibler on Twitter
www.twitch.tv/bmkibler