Warning: Spoilers!
Jace Beleren...
Today, I'd like to talk about a couple M13 cards, particularly the third three-mana planeswalker to ever be printed. First, however, I do have a little to share on my experience this weekend, flying cross-country to compete for a slot on the US National Team in the World Magic Cup Qualifier in Baltimore.
The whole World Cup Qualifier experience had a very different feel than National Championships in previous years. To start with, you can't win.
That's right, you cannot "win." Sure, you can win the tournament, but the title of National Champion has already been awarded (this year to the very deserving Brian Kibler). Instead, you are competing to merely qualify for another tournament (a tournament with half the prizes of a Pro Tour, and unlike the team portion of Worlds, one that is not held at the same time as a full Pro Tour).
So, already the events have taken on a much more "PTQ-esque" vibe, while Nationals often felt like a very special kind of Grand Prix. Unfortunately, while Nationals was always extremely prestigious, the World Magic Cup Qualifier tournaments were not.
To start with, picture telling a muggle you know about the National Championships. If you told them you won the National Championships, they would not have to know very much at all to really respect that and get how awesome that is. If you told them you finished 10th at the National Championships, they would think that is a pretty incredible accomplishment.
If a friend of yours finished 10th at the Dominos National Championship, the Scrabble National Championship, or the Curling National Championship, you would (rightfully) be pretty impressed and get how awesome that is, even if you aren't even totally sure of what curling is. Now, picture if they finished 10th at a World Curling Cup Qualifier event.
"What's that?" you ask.
It's a sport in which players slide stones across a sheet of ice, similar to bocce ball and shuffleboard.
No, not curling, the World Curling Cup Qualifier event. What is that?
It was a tournament to qualify me to be part of a team of four people to represent the US in another tournament.
That's cool! So you are going to represent the US at the biggest curling tournament of the year?
Actually, the World Curling Cup tournament is only half the size of professional curling events, and I didn't win. I finished 10th in the qualifier.
Ahh, but you must have won some money after flying across the country to compete in this thing?
Yes!
Awesome! How much?
One hundred dollars.
The fact of the matter is that the 10th place prize at the National Championships wasn't exactly letting us retire early, either, but the prestige of the National Championships made it all worth it. Prestige that the World Magic Cup Qualifier system has failed to capture.
Here is a breakdown of the prize support for some of the biggest Magic tournaments held this past weekend:
The StarCityGames Invitational in Indianapolis featured $75,000 in prizes, with $15,000 being awarded to first place. Additionally, players receive Open Points, qualifying them for future prize-heavy events. The biggest non-WotC tournaments of which there will be four this year.
The Grand Prix in Manila featured $30,000 in prizes with $3,500 to first. Additionally, the Top 4 got plane tickets and invites to the Pro Tour, and the Top 64 all received some number of Pro points (which can be worth a lot to someone trying to level up on the Pro circuit). There are now more Grand Prix than ever before, with this one setting the record for Southeast Asian GP attendance.
The SCG Open Series (also) in Indianapolis featured $20,000 in cash prizes, with $2,400 to first in Standard and another $2,400 going to first in Legacy (Standard on Saturday, Legacy on Sunday). Additionally, players received Open points helping them qualify for one of the four $75,000 SCG Invitationals held this year.
There was a San Diego tournament the same weekend featuring $5,000 in cash prizes, with $1,500 to first. Additionally, the top 16 received invites to a $50,000 year-end tournament.
The World Magic Cup Qualifier in Baltimore also featured $5,000 in cash prizes, though with just $700 and a plane ticket to Seattle for first, as well as a awarding a single invite to a $150,000 tournament later this year.
Ok, competing with an SCG Invitational is going to be tough, but if the replacement for the National Championships only cracks the top 5 events of the weekend if you count the Standard Open and Legacy Open as one event, there is a problem.
This is also a reminder that money really does the lion's share of the work for legitimizing the competition for Magic tournaments. Without enough support to make the event worth traveling to (I believe I was the only gravy-trainer to actually show up to the WMCQ in Baltimore...), the tournament takes on a very different meaning. Instead of being the 250 best players in the country, this event was really "some of the players in the greater-Baltimore/DC area."
The World Magic Cup is a new system and one that is going to take some refining, but it is (obviously) very good for the game as a whole. It seems pretty clear that the lesson has been learned that what is right for Iceland might not be right for the United States as far as tournament organization goes. I am looking forward to cheering on Team USA at Gen Con this year. It is definitely going to be exciting to watch!
There is no urgent call to action necessary, but this is the perfect time to share your perspective with WotC about the WMCQs, whatever it may be. Did you attend one? Follow one? Want to follow coverage for one but were unable to? Have you ever been to a Nationals? How did that compare to this? We are the best way they have to learn what works, what doesn't, and to improve things. The community, the scene, doesn't build itself. The people in it build it by sharing ideas and perspectives.
For reference, here is the list that I played in the WMCQ, with advice from Luis Scott-Vargas and Gerry Thompson:
Creatures (16)
Lands (22)
Spells (22) I was eliminated by a couple of Wolf Run Aggro decks, one with Birthing Pod and Hound of Griselbrand and the other a Dungrove Elder / Wolfir Silverheart build. Five mulligans in the two matches hurt a lot, but I still could have had better chances with more experienced sideboarding, familiarity with the pacing, and not punting turn 3 of one of the matches (Mana Leaking a Wolfir Avenger instead of Dismembering it, opening up the door to getting Dungroved into the Stone Age).
I would totally run this list again, spending the prep time working on a plan for improving these sorts of matchups. At least one Timely Reinforcements can replace a Phantasmal Image. I am not sure what other 1-2 cards I'd add to buff this area, but I wouldn't want to overdo it.
Ok, let's get down to business!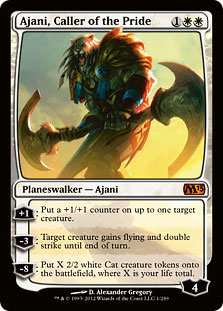 Ajani, Caller of the Pride was already sure to get a lot of hype, if only because it joins Jace Beleren and Liliana of the Veil in the three-cost planeswalker club. How good is it, though? After all, Tibalt, Chandra the Firebrand, Sarkhan the Mad, and Chandra Ablaze have all set a precedent that planeswalkers can be merely niche role-players. Or is that just red ones...
When I was telling the first Magic player to ever win four figures in a weekend (Dan Burdick) about the new Ajani, our convo went like this:
PC: Have you seen the new three-mana Ajani?
DB: Three-mana? You have my attention.
PC: Its starting loyalty is four, and it has +1...
DB: Let me stop you right there. The card is busted. That much loyalty is ridiculous on a three-cost planeswalker. I don't care if the card doesn't do anything. How are you ever going to kill it?
He jokes, but the point about how outrageously meaty the new Ajani is, is no joke. Planeswalkers have a reputation for being best when they have a defensive ability to protect themselves. Ajani's ability is like that of Jace Beleren; he can start at five loyalty for only three mana (and just tough it out). However, what if the abilities do not meaningfully affect the board? What if your opponent can afford to just not attack him?
The +1 ability giving you a +1/+1 counter every turn is already enough to make the card a winner. It is like a Dragon Blood that costs zero to use instead of three. Whatever your threats, Ajani makes them bigger and better every turn. It is like he has haste (since the counter goes on a creature that can attack immediately) and it is like he is a Dervish (since he is leading to one more damage per turn than the turn before).
This ability fights Day of Judgment, lets you win creature stand-offs, and has a ton of synergies (such as ways to use +1/+1 counters for profit like Spike Weaver, proliferate boosting all your guys with counters and your Ajani, and double strike doubling the effectiveness of your +1/+1 counters).
Speaking of double strike... The second ability obviously works fantastic with the first, rewarding you for having gone to the trouble of putting a few eggs in one basket. That is just part of the package, though.
To really appreciate just how devastating that second ability is, remember what it is like to surprise your opponent with an Elspeth, Knight-Errant in a creature standoff. Elspeth merely gave your Knight of the Reliquary flying and +3/+3, but could often win games on the spot. Imagine if she gave flying and double strike instead?
Little Ajani's threat of killing someone out of nowhere is very high, particularly when you factor in that he lives through the move. You can actually "go for it" and even if it merely knocks them to four, you still have the guy and you still have Ajani.
Dan's prediction was that Ajani would have a very flashy ultimate, because with that good of a -3 ability it would take something very appealing to get you to not -3 for that many turns in a row (or a shortage of guys).
After little Ajani's ultimate, a shortage of guys is probably the least of your worries. This ultimate is pretty over the top, though obviously far more beatable than a Jace or Tamiyo ultimate. While there are some similarities to Garruk, Primal Hunter's ultimate, there is a big difference between them. A big part of why Garruk's ultimate doesn't mean much is that his main ability also makes tokens. Ajani gets there on power but without a token making ability. As a result, the token making ultimate actually adds a new dimension to the card.
Of course, make a 2/2 for every point of life you have looks better to most people than it really is (since they naturally imagine having twenty 2/2s, when really by the time Ajani ultimates they could have much, much less life). Still, it is often going to be enough to win the game.
Amusingly, one of the keys to Ajani being strong is his ability to do nothing. His +1 ability lets you put a +1/+1 counter on up to one target creature, which is an ugly and brute force wording that ensures his effectiveness even if you can't keep a creature on the table. "Up to one target creature" is not quite as bad as Cavern of Souls, but the powers that be certainly aren't going to let the designers and developers get very many of these types of points per set. This is relevant because they are generally not going to waste their "ugly, forced template points" on a card that isn't engineered to make an impact (just like Cavern of Souls).
Overall, I think Ajani, Caller of the Pride is almost surely weaker than Jace Beleren and Liliana of the Veil (and Sword of Feast and Famine, for that matter...); however that is a pretty outrageous bar. He is definitely a maindeck card that can be played as a one- or two-of or as a four-of (like Elspeth Knight-Errant, albeit at a more modest power level). The card is new and does a variety of things that are hard to evaluate without context (How big of creatures will I be playing? How much are counters worth? How often will this ultimate win?); however, if I had to snap evaluate, I would guess he is somewhere above the Ajani Goldmane league but below the Ajani Vengeant league. He is good more places than Goldmane was, but he is less likely to be insane in one deck (like Goldmane was).
So M13 has six planeswalkers? Jace Memory Adept, Garruk, Primal Hunter, and Chandra, the Firebrand are all returning after their debut in M12. Nicol Bolas is back as the first core set gold card. Gideon Jura and Sorin Markov have been replaced by a new Ajani and a new Liliana. That is a lot of sweet cards, but only two of them are new planeswalkers. With all five Titans rotating out, that leaves a void that Wizards is surely going to try to fill with at least a few more Baneslayer level excitement-generating cards.
I could totally see counting Nicol Bolas, even if he is a reprint, but that makes three (debatably). What are the other A+ homeruns in the set?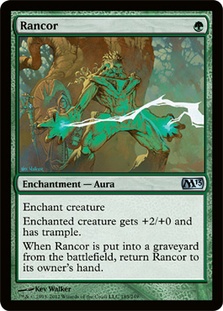 Rancor gets the Lightning Bolt / Mana Leak award for M13. It has been promoted to uncommon (thank god), but is still on the short list of pushiest and most exciting cards Wizards could ever reprint (if it is even safe).
Rancor surprised a few people at first, since at the time, creature auras were not exactly known for being tournament powerhouses. However, +2/+0 and trample for one mana is already a fringe playable rate. Then you get to add in the ability to draw a card if the guy dies... and that card is Rancor!
Part of what makes Lingering Souls so sick is that it is like a Midnight Haunting that lets you draw a card for free, and the card you draw is better than Wizards would normally print. Rancor is a similar type of card, letting you take a mediocre but playable card and tack on "draw a card that is better than you would normally be able to get" for free.
Granted, you don't draw the card unless the creature died, but every turn the creature doesn't die your Rancor is a two-power haste creature for one mana that is nearly unblockable (sometimes leading to more than two damage). You think Goblin Guide was good? You haven't seen anything yet. Rancor is 100% five-stars and going to be a popular tournament-winning card during its entire life in Standard.
I already have visions of losing a lot of games to Rancor on a Strangleroot Geist (talk about annoying!), but it is very interesting to consider the implications of Rancor on deck construction. Once we live in the world where Rancor is just a thing people do, instant speed removable gains utility (since you can kill or bounce the creature in response to Rancor to fizzle it). Revoke Existence has new purpose (with an enchantment you actually want to exile). Pacifism type or Icy Manipulator type effects are better (since they can ignore the aura).
Rancor is definitely the type of card that is easy to use wrong. I can already imagine just how many people are going to be jamming Rancors into ever-random midrange decks when it is really pretty close to a mono-aggro card. However, the power level is so berserker-looney-tunes-insanity on it that there will be times where it works.
Something else to watch for is if WotC intentionally or not prints an abusable combo that uses Rancor's recursive ability to loop. For instance, if you had a way to sacrifice enchantments or permanents, Rancor lets you get as many sacrifices as you like.
Another possible way to abuse Rancor is with infect (which will only be legal with Rancor for a few months). Every power pump is potentially dangerous with infect, so not surprisingly the best power pump aura ever printed has us on alert. As long as you don't get your Rancor fizzled, it's like a Mutagenic Growth that works every turn (even if they kill the first creature).
Rancor's weakness to instant speed removal and being mostly limited to relatively straightforward aggro decks puts something of a cap on how dominate it will be; however, the only other time Rancor was legal, it was a top tier strategy in formats where Tolarian Academy, Tinker, Yawgmoth's Will, and Yawgmoth's Bargain were all legal (including Extended).
A premiere theme of M13 seems to be, "Ok Green Mages, you win. Here is everything you ever asked for to get revenge for blue ruining Eternal Witness."
Green not tricky enough for you? How about Yeva, Nature's Herald, a 4/4 flash creature for four that gives all your creatures flash? The green Teferi plays a more gentlemanly game, but is a bigger body for less mana.
What about Titans? Green had the best Titan, and they are all rotating. Well, as it turns out, green might be the only color getting a new Titan. Now, my army of high-paid attorneys (read: Tom Martell and Matt Sperling) have informed me that I should probably use the word Mulldrifter instead of Titan (mostly because it is more accurate).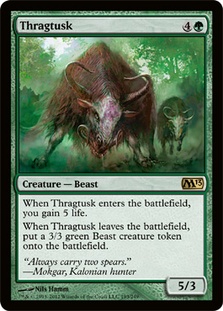 Thragtusk is pretty ridiculous. Just look at how much it outclasses the perennially popular Obstinate Baloth and Loxodon Hierarch. To start with, a 5/3 that gains you five life is not actually that much worse than the two four-drops. At four mana, it would certainly be significantly better than either of them. So what are you getting for that extra mana? If it dies, you draw a card. Except that card is a zero-mana 3/3 that starts in play!
Day of Judgment? Go for the Throat? Slagstorm? Thragtusk powers through it and does so with a casting cost that is easier on the mana (and more splashable) than Baloth or Loxodon ever were.
What about bounce? That is historically the weakness of all these death trigger guys. Oh that's right, Thragtusk was engineered to get the job done. He keys off of leaving the battlefield instead of dying. This means Vapor Snagging him is a losing proposition (they better save it for the token after they find another way to kill him, such as trading their Angel for him).
Thragtusk is so strong on rate, people will just play him; however, he is also extremely synergistic with tons of great cards. Every Green Sun's Zenith deck in Standard is going to want at least one; that much is obvious. Also, he is a natural fit for Birthing Pod decks, giving you a five-drop that gains life (complimenting Huntmaster at four) that effectively has undying (without getting hosed by Snag like Vorapede).
Thragtusk is absolutely fantastic with Restoration Angel, Cloudshift, Phantasmal Image, and pretty much any way you can think of to make him enter play or leave play multiple times. The Image combo is so good, a number of people think it might be Thragtusk's biggest weakness. After all, Phantasmal Image is already such an overpowered card that people are looking for any excuse to play it. The Green Mage that has to face the Delver deck that is able to dig to multiple Phantasmal Images is going to have the smile wiped off their face quickly (assuming Delver decks are still as good at digging as they are today, which is to say way, way too good).
Fun Fact: 16 out of the Top 32 decks at Grand Prix Manila were Delver, and 16 out of the Top 32 decks at the SCG Invitational were too!
Thragtusk is like Mulldrifter in that he is a body that draws you two cards. Instead of two random cards from your deck, he gets you a zero-mana card that gains five life and a zero-mana card that gives you a 3/3 if Thragtusk leaves play (which is easy to arrange). Then, instead of flying or evoke, Thragtusk merely gets +3/+1!
Thragtusk is the real deal. He is more of an Obstinate Baloth / Mulldrifter hybrid that happens to have a ton of synergies with so many awesome cards than a Titan; however, this guy is going to be a winner his entire life in Standard (and could actually crossover, despite how tall of an order that is for five-drops).
The context is not completely perfect for him day one, since blue is so broken in half at the moment; however, Birthing Pod and Restoration Angel are already two of the most powerful cards in the format. He is going to have excellent homes out the gate, but even when Pod rotates, Angel is going to be around for a long time. Zealous Conscript and Wolfir Silverheart seem to have begun a trend for five to be the new six, and Thragtusk is a very worthy new member of this class that will help shape the new Standard.
Patrick Chapin
"The Innovator"