They will regret banning nothing in Standard.
It all began with Phantasmal Bear, but what has it become? Standard is flooded with tempo decks based around Ponder, Snapcaster Mage, and primarily Delver of Secrets. Whether they decide to be more resilient to aggressive decks by playing Blade Splicer or go for the blitz aggro plan with Geist of Saint Traft, Delver is dominating Standard because it is too good.
I will say that the average player does not pilot Delver very well. I will also say that this hypothetical pilot has a better chance to win a given match just based on the quality of cards in the deck, and the tempo that player can generate using the format's powerful, cheap removal gives him a significant advantage over every other creature-based deck in the format. I will go on to say that, unlike every other deck in the format, Mana Leak is actively good in Delver. Since you are applying so much pressure with the efficiency of Legacy decks, the opposition has no choice but to run every single relevant spell into a Mana Leak.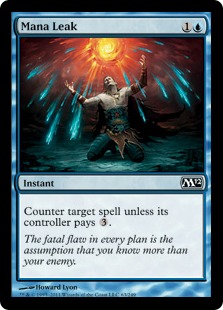 But, aside from all of this, the best players in the room can take these powerful blue spells and manipulate every game so that it plays out in a similar fashion and almost certainly to their advantage. While you may want every good player in the room to continually make it into the elimination rounds, I honestly don't think that's what you're shooting for every time you design a new card or set. I think that, as a whole, Research and Development creates cards and formats in order to build the best experience possible for the average player. I don't think the average player enjoys playing with, or against, Delver decks. I don't think it is in the best interest of Wizards of the Coast to leave Standard untouched for the next three months.
If you didn't read my article last week, you can find it here.
While I don't think that my reasoning is perfect, I feel like my constant play in the format should help prove to you the merit behind my arguments. I helped create Delver. I helped shape Delver into what it is today. I am sick of it, because it is just too good. Every time "the gang" sits down to have a discussion about what to play in Standard, it almost always degenerates down into, "Why not just play Delver?" This generally comes from the mouth of Mr. Gerry Thompson, whose love for Sun Titan and grindy control decks knows no bounds. But that isn't to say that Gerry doesn't have range. After all, he's been playing a lot of crazy decks in Legacy (like Dredge). My main argument is that, when a deck is so polarizing, it definitely isn't good for the game. Whether or not it has an outstanding win percentage is irrelevant if it continually puts four of the ten best players in the room into the Top 8.
The worst part about Delver decks is that there really isn't one card that you can ban to "fix" the problem. If you start by banning Ponder, then we will just replace it with Thought Scour or Gitaxian Probe. If you ban Delver of Secrets, we can become more like Caw Blade, foregoing the aggressive route in favor of something a bit more grindy but still potent. If you ban Snapcaster Mage, we could become a turbo-draw deck that uses Runechanter's Pike and Invisible Stalker.
So why ban anything?
Perhaps that was the point after all. The only way to really fix the format would be to ban much more than they were willing to ban. In order to fix the problem, they decided that waiting for M13 would give them a bit of breathing room. If that didn't help at all, then more than half the deck would be rotating with the release of the fall set anyway.
Honestly, I'm content playing Delver until it rotates. Give me the free wins. Give me the early flipped Delvers that drive my opponents crazy. I love watching people flip tables and get frustrated beyond belief because I "got lucky." Well, when you play enough instants, he's bound to flip eventually. To be honest, Delver is rarely the creature that kills them. Generally, it is the combination of all of your best cards that usually gets the job done. Your entire deck is this Phyrexian mana based machine that slowly chips away at your opponent's life total while also chipping away at their sanity.
A blue mage's paradise.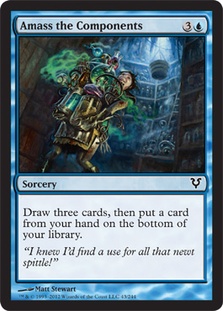 On the other side of the coin, I've thrown everything I can at Delver. I've tried aggro decks. Control decks. Combo decks. Nothing works, or at least nothing works consistently enough to consider playing. Delver allows you the functionality of an aggro deck with the card advantage of a control deck and the card selection of a tempo deck. When you Amass all of these Components, there isn't much that any other deck can do.
If anyone ever told you that their deck "beat Caw-Blade," what did you usually do? I, for one, would generally laugh in their face. Even if they actually did beat Caw-Blade, their win percentage against the rest of the field wasn't even close to that of Caw-Blade, so what was the point? Everyone should've just played Caw-Blade, right?
I feel like, at this point, about a third of the people in a given tournament have accepted this fact and just play Delver. This is not healthy, even if these people aren't getting the same expected results of, say, Yuuya Watanabe (who has won multiple GPs with Delver in the last few months). Delver gives the better player in a matchup a significant advantage because of the sheer efficiency and card selection at their disposal. They will usually find what they need in time thanks to the help of efficient removal.
I could go on and on and tell you that Delver is the nut and you should play it (which you should), but I can't stand to hear myself think about it anymore. The deck is far and away the best choice for anyone who reasonably expects to win a tournament. There is a reason that Delver draws the best players in the room towards it: because it amplifies play skill.
When the average person casts Ponder, they will generally see a few spells and a land. They will usually keep these on the top of their deck and think very little about this decision after that. The best players will see a spell that is useful, a spell that is not, and a land that does them more harm than good, and they will shuffle those cards away. I feel like Ponder, in general, allows decks to play 3-4 fewer lands than would normally be necessary. Decks playing four- and five-drops could rarely get away with only 22 lands (let alone nineteen!), and even Caw-Blade regularly played 26 or 27. This makes Ponder the best draw at nearly every stage of the game, and that just isn't good for a format like Standard where the other colors don't have anything remotely close to Ponder.
If you want to see the current monster, check out Yuuya's winning decklist from Grand Prix Manila.
Creatures (15)
Lands (19)
Spells (26)
I won't go into too much detail, but when a Standard deck is only playing nineteen lands, then something just can't be right. We'll leave it at that.
...
This past weekend, I attended SCG Open Series: Indianapolis featuring the Invitational, and it was an absolute blast. We tested during the week leading up to the event, and most of us settled on Delver for the Standard portion (shocker) and Reanimator for the Legacy portion (since Reid Duke had dominated with the deck the weekend before). It looked absurdly powerful, but we didn't really take into account the increased amount of hate we would see from the "fair" decks.
I ended up going 4-2 in Standard (with two byes as well) and 4-3-1 in Legacy, good for 21st place and $500. There were a few matches that I played where I wasn't sure exactly what I could have done to win, but I feel like there is always room for improvement. With Legacy, this is magnified due to the inherent nature of the card selection. When you play with cards like Brainstorm, it is difficult to not make a mistake almost every time you cast it.
I feel like my biggest mistake was putting too much merit on Griselbrand, acting like it is an end-all be-all when that is just clearly not the case. I lost multiple games this past weekend with a Griselbrand in play (once for three turns), but part of that could be my own mistakes. This happened twice against Maverick, as he had Karakas, and it happened twice against two different RUG Opponents (one was burn and another was Gilded Drake). Against both opponents I felt like I had set up a very dominating board position, but their decks dug them out of their respective holes, and Griselbrand along with the other fatties could not save me.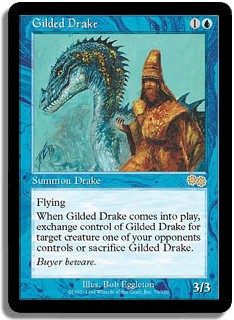 While I do think that Griselbrand is too powerful to exist in Legacy, the current metagame is warping nicely to accommodate his presence, but I don't necessarily think that's a good thing. Most decks are giving up on Spell Snare in favor of Spell Pierce since many of the premier combo decks in the format are immune to Spell Snare. While Griselbrand is still one of the best fatties every printed, he's still a fatty that has to be cheated into play and there are plenty of ways to attack those strategies. At the very least, we have another three months to break him before WotC can ban him. I hope that it doesn't come to that, because I enjoy Legacy very much and don't want every round to be a combo slugfest.
One of the biggest cards from last weekend was Gilded Drake, since it can steal nearly any creature coming into play off Show and Tell and Force of Will can't really stop it. I expect some Sneak and Show decks to pack Simian Spirit Guide to go along with their Pyroblasts in order to help solve this problem, since they can draw 7-14 cards, hit a Pyroblast and Simian Spirit Guide, then kill the Drake with the ability still on the stack. Lotus Petal is fine, but I think that Simian Spirit Guide will supplement the Lotus Petals in order to enact this specific scenario.
Gilded Drake is also a solid topdeck. Most decks featuring Griselbrand will generally need 1-2 disruption spells to combat opposing disruption. Afterwards, they aren't guaranteed to draw an answer to Gilded Drake, and especially so if they're only able to draw a single time. Factor in the effect that Stifle could have on the deck and RUG actually stands a chance! With Spell Pierce coming back in a huge way, RUG has all the tools it needs to fight off nearly any combo deck at the moment. Expect it to be on the rise at Grand Prix Atlanta.
Maverick also has a surprisingly decent matchup against both Sneak and Show and Reanimator, thanks to Karakas and Knight of the Reliquary. With Crop Rotation and additional copies of Karakas after sideboard, you should be able to disrupt most combo decks enough considering you still have access to Thalia, Guardian of Thraben and Wasteland. Maverick is one of the only decks I've witnessed that can proactively deal with Griselbrand without much effort. Griselbrand might be able to draw fourteen cards, but then you're on a short clock against an aggro deck, my friend. Even if they can get Griselbrand back into play, they will have to find a way around Karakas. I suggest trying out some fatties that aren't legendary since there are a lot of decks in Legacy that are using Karakas to their advantage. I've also seen a lot of decks boarding in their own Karakas in order to help preemptively destroy their opponents'.
Since Maverick has been my pet deck for the last few months, I've taken it upon myself to try and consistently update it from tournament to tournament even if I don't necessarily play it myself. This past weekend, Drew Levin decided to play it in the SCG Legacy Open on Sunday. While Drew didn't heed my advice completely, he ended up with a solid list for the tournament and did quite well. Unfortunately, he ended up getting 10th place after picking up an early draw. Here is his list:
Creatures (26)
Planeswalkers (1)
Lands (22)
Spells (11)
I still maintain that you don't need the second Karakas in the maindeck, and Drew admitted that a second Cavern of Souls in order to make his Thalia uncounterable would probably have been better. With Crop Rotation, finding Karakas after board shouldn't be that hard.
Purify the Grave was exceptional all weekend, since a lot of players had jumped on to the Reanimator train thanks to Reid Duke and everyone who did well with it at the SCG Invitational. Along with Bojuka Bog, Crop Rotation, and Scavenging Ooze, you shouldn't have much problem with graveyard decks.
Thrun, the Last Troll was a concession to the rising number of RUG and Stoneforge decks this past weekend. For some reason both decks came back in full force, and Thrun was an all-star. Since most decks can't really deal with a 4/4 hexproof creature outside of Force of Will, his immunity to countermagic is a fantastic asset.
Linvala and Gideon Jura are both for the mirror but can come in for a variety of matchups. With so many random things going on in Legacy, I really like having cards like Linvala to shut down Metalworkers, Goblin Welders, or even opposing Griselbrands (thanks Show and Tell!). Gideon Jura can show up in any matchup where you're playing against a fair deck, because those games tend to go pretty long. Having Gideon can clear the way for your Knights or just win a stalemate on the spot. The card is very good, and I'm always glad to be playing one.
The Dauntless Escort and Harmonic Sliver are both Tutor targets but for completely different things. Escort is great against any Perish deck since you can protect it with Mother of Runes. Additionally, he acts as a lightning rod for a lot of spot removal, allowing your Knights to remain safe. Harmonic Sliver is mostly an answer for Cursed Totem but can act as a Disenchant against any matchup where you need one.
Drew thought that the Garruk Relentless was good but wasn't sure if Elspeth was just better. I told him that getting two white mana could be difficult, since you now have more lands in the deck like Cavern of Souls. I also really like Garruk's ability to fight opposing creatures. Killing an opposing Stoneforge Mystic or whatever just feels so good, and afterwards you have a pseudo-Birthing Pod for the next few turns. I've even used the Overrun ability a few times!
All in all, I am glad that nothing was banned in Legacy. I think that the format still has a lot of room to grow and accommodate Griselbrand, but he isn't nearly as good when the spotlight is shining right on him. Going forward, I'll be keeping an eye on him to make sure he doesn't get too degenerate, but Legacy is a gigantic format full of plenty of hate cards. I even saw someone bust out Flusterstorms to help fight through their Misdirections and Force of Wills!
I haven't ever played with Land Tax in a Constructed format, so I won't make any assessments until I've had a chance to play with/against it. I will say that it is causing quite a stir and very few people are excited about its return. This doesn't really bode well for me, as I really don't like grindy cards. I feel like drawing three extra cards a turn can't be bad, but it might just be worse than Griselbrand.
Thanks for reading.
strong sad on Magic Online
@strong_sad on Twitter (Follow me!)