I will be the first one to admit it. I made a terrible mistake this past weekend, and it cost me dearly in the SCG Invitational. That's not to say the weekend was a failure or that I didn't enjoy myself, but that I made some classic pre-tournament blunders that I haven't made in years. Call it lack of confidence, call it buying into hype, call it buying into a deck on nothing but Nick Spagnolo's extremely convincing smooth talk and salesmanship, but it's going to be a lesson I remember for a long time. I simply cannot, I repeat, cannot pick up and play a totally different kind of deck than I'm used to playing mere hours before a tournament simply because a bunch of other smart people are doing so.
More broadly than that, I can't ever let myself buy into certain hype claiming a metagame shift I haven't even really seen myself! This is especially true in Legacy, where I had the option of playing the powerful RUG Delver deck I played in Worcester or my pet deck, Stoneblade, but chose not to in favor of metagaming for the tournament with BUG Control. The big problem with metagaming for Legacy is that it's not the type of format where you can predict what you're going to play against.
Obviously, when you're a control deck you need some idea of where to target your game plan so you can play appropriate answers, but the problem with BUG Control was that its answers were even less flexible than Stoneblade's and it had no proactive way of winning the game once it stabilized the board. It also totally ceded the U/R Delver and Mono-Red Burn matchups, which Stoneblade never did. Basically, what I'm leading up to is the fact that I thoroughly regret playing BUG, especially when Stoneblade had such a stellar comeback weekend.
Despite Drew Levin's warning that Stoneforge Mystic was not a card to play this past weekend, it snagged several Top 8 spots in the SCG Invitational and one in the SCG Legacy Open. Meanwhile, I was playing this grindy deck that could draw lots of cards with Life from the Loam but had a hard time closing the door on a game. It also relied on its Brainstorms a bit too heavily to get its answers in the early game and to swap out excess lands for real cards in the mid-to-late game. My list was quite similar to Matt Costa's, who managed to Top 16 the SCG Invitational despite being hamstrung by a 4-4 Legacy showing.
Creatures (4)
Planeswalkers (5)
Lands (24)
Matt, my friend, why didn't you remind us of the lessons you taught in "Getting Aggressive," such as how in a world of such powerful threats that actually putting down a threat becomes the best way of controlling a game? That's what I always look for subconsciously in my control decks nowadays, and that's what has kept Stoneblade in my arsenal for so long.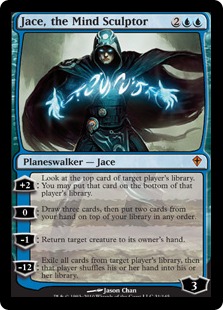 What does a Jace, the Mind Sculptor offer you when your opponent can simply Red Elemental Blast it and put you back on parity? You may have inevitability, but your opponent is going to reload at least two more times because his RUG Delver deck has about eight lands left going into turn 10and is always drawing gas. And if you are just dredging Life from the Loam and your opponent suddenly drops a Nimble Mongoose and a Tarmogoyf on turn 12? You're basically back under the gun with nothing but the top of your deck offering you hope. Better draw some more Edicts or you're just dead.
Not to mention the fact that any amount of reach is live against you because you have no way to regain lost life in the maindeck. The thing that was supposed to push BUG over the top was a good matchup against other control decks, but that's just not true since the other control decks are locking you out with Counterbalance into Entreat the Angels or simultaneously threatening you with Stoneforge-Batterskull and trying to pick a spot to resolve a Jace. You can't answer everything they throw at you, which is pretty unfortunate considering you're supposed to be the best control deck going long.
Basically, what I'm trying to say here is when Dave Shiels explained that I just am not cut out for playing this type of grindy control game, he was absolutely right. I'm the guy who resolutely wanted to play Hero of Bladehold in Caw-Blade even when everyone one else wanted Emeria Angel and more baby Jace, remember? Just kill them once you've stopped their tempo; that's always been my M.O., but I seemed to forget that in the hours before the SCG Invitational started. That's lesson number one from the weekend, and if you ever see me sleeving up a do-nothing control deck at an event in the future, feel free to smack me upside the head and remind me what I explained here today.
Now that the postscript is out of the way, the event was actually reasonably fun all around. Driving from Baltimore to Indianapolis is always an experiment in tenacity, but I had Javier Arevalo, Kurt Spiess, James Buckingham, and Josh Wagener along for the ride in the old minivan, which was about the right size for a crew driving ten hours in a minivan. It was there that Javier first planted the seeds of my folly by suggesting BUG Control as the best answer to a Griselbrand metagame. I started feverishly brewing up a decklist, believing that by maxing out on Diabolic Edict and Innocent Blood I could beat up on Maverick, RUG, and Griselbrand strategies. There are a few holes here, but the idea still has merit.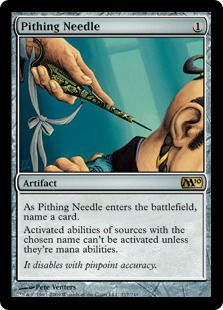 The biggest pitfall was the laughable idea that a Griselbrand will ever be vulnerable to an Edict, considering the amount of potential Force of Wills that an opponent can find. We needed Pithing Needle in our sideboard, then. I didn't like this two-card awkward combo that did nothing with either half, but I kind of silenced myself and went with it. That was a dumb idea, since the one time I played against Sneak and Show in the SCG Invitational, the Pithing Needles might as well have been aces of spades for all their relevance. Discard and permission are the real answers here, not some half-baked idea about locking out a deck that can still just Sneak an Emrakul in on you.
Anyway, the highlight of the trip was when Call Me Maybe came on the radio and I proceeded to double the volume while declaring it "the best pop song ever" (which is true). Needless to say, my cohorts found this announcement laughable. I still stand by my statement, and the five or so other times we heard the song over the weekend, it was blasted through the car stereo because it's just that good.
We got to Indy without much trouble, although now that it's been a couple of times that I've driven there that the one exit off I-70 onto Ohio Street in the city has started to become a bit too familiar for a random exit in a city 500 miles away from my hometown. Play the game, see the world indeed.
We were basically settled on playing Delver, and Matt wanted to go back to Geist of Saint Traft and Sword of War and Peace to gain percentage in the mirror match, which makes logical sense even if it reduces the value of Restoration Angel significantly. Going forward, I think I'd like to play Sword of War and Peace in a Blade Splicer build, since you really only need Sword for the mirror and Solar Flare and Geist is rather easily answered by Phantasmal Image and blockers. Splicer is just so nice against random Pod and aggro decks that I want to have it in my deck all the time. I'd probably even consider dipping into black if I were interested in having some fun and being different at an SCG Standard Open, and Adam Prosak's deck looks really, really good.
Creatures (17)
Lands (24)
Spells (19)
Halfway between U/W Midrange and Solar Flare seems like a fine place to be in a Delver world. I put it as one of the better options on the continuum of Mono-Blue Delver, Yuuya Delver, Stock Delver, Splicer Delver (Costa's Worcester deck), U/W Midrange, Prosak Midrange, and Solar Flare, and one step down from Flare gives you a bit more resilience to aggressive Delver starts while allowing you to take the control role with ease. You can pick your poison, though, since it all depends on your preferred play style and where you want to position yourself relative to the other Ponder decks.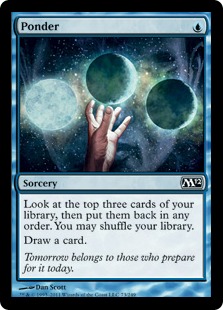 But the nuances of Delver semi-mirrors are so much more art than science, and sideboard decisions, Sun Titan plans, Caverns of Souls, and the number of Sword of War and Peaces all change things enough that it does little good to make generalizations about what's good where. Try to reason out for yourself how a matchup would play out, and think about whether you'd rather be the beatdown more or the control more against your fellow Delver addicts.
I started off the tournament with the always-pleasant two byes, and I eased into round 3 with a close victory over Logan Mize, including an utter beating with a nut draw game 1 and a Consecrated Sphinx game plan game 2. Then I misidentified how I could lose to Gerry and lost a close third game because of it. I should have recognized that he was the beatdown in a given board state and that I needed to trade off my Image for his Geist immediately. A Gut Shot and some Vapor Snags let him tempo me out with that extra six damage from Geist.
This is just an example of how important it is to recognize how you can lose a game if you mistake yourself for the beatdown or simply forget that you need to protect yourself from just getting tempoed out in the Delver mirror before you try to gain value with a card like Snapcaster Mage. Watch out for that trap!
Legacy was, frankly, a miserable experience, but I managed to scrape together a 2-2 record and limp into Day 2 at 5-3. Then I had another disappointing 2-2 Standard record, highlighted by a pair of painful losses in which Delver of Secrets stayed Delver of Secrets for an exceedingly large number of turns, costing me three games. The last two games against Craig Wescoe were especially upsetting, but I couldn't tilt playing against Wescoe as he's always a cool opponent who keeps the matches civil.
Oh well, I suppose it just wasn't my tournament, and after scraping together a 3-1 record in the Legacy portion to finish off the day, I ended up in 35th place with a 10-6 record. Yippee, I guess. The one upside to all of this was that I knew I could play Stoneblade in the SCG Legacy Open the next day and just crush it. Well, here's the list for the curious:
Creatures (10)
Planeswalkers (3)
Lands (23)
Some things need to be changed here, but overall I was fairly satisfied with the deck. I lost a match to U/W Miracles after keeping an embarrassing hand in game 3, and I lost a very close match to RUG Delver when he found the burn spell he needed when he needed it. I lost to U/R Delver after that since my deck didn't cooperate and I didn't have much invested in winning. I think I was wrong to cut Umezawa's Jitte and that there are more fair decks being played than was previously reported, so three Lingering Souls in the 75 is not at all out of the question. Whether I can get away with maindecking them is another matter.
A third Engineered Explosives would be pretty great as well, and I'd be happy playing a single Ponder over a Counterspell to help smooth out my mana. I'm almost certainly going to play this at Grand Prix Atlanta, and I fully expect to go deep. It's time I got back to my roots; it's been too long, and Stoneforge is lonely without me to take her out to events.
Our crew's last Indianapolis adventure consisted of lunch before we headed out Monday morning, and Qdoba followed by Steak and Shake milkshakes was the order of the day. Of course, since we didn't actually get out the door until 1pm, it was exactly 1:48 when we pulled up to the Steak and Shake window. I was unaware, and I'm sure most of you are oblivious as well, but Steak and Shake has a Happy Hour special with half price milkshakes from 2-4 PM.
Immediately after I said that we'd be getting five milkshakes, the drive-thru attendant replied, "It's not happy hour yet." I, of course, responded with the obvious, "What does that have to do with anything?" "Half price milkshakes from 2-4 PM," she replied. Quick thinking led me to glance at the clock and break off with a, "Alright, twelve minutes, we'll be right back!" and zoomed into the parking lot while my friends were practically crying from laughing so hard. Twelve minutes and ten dollars later, we had our delicious milkshakes. Tight play or tightest play of the weekend? I'll leave that for you to decide.
Good luck to those of you playing in SCG Open Series: Detroit this weekend, and thanks for reading.
Best wishes,
Ben Friedman