Announcement Date: June 20 2012
Effective Date: June 29 2012 (Previously July 1 2012)
Standard Extended Modern Vintage
No changes
I'm glad the banned and restricted list announcement has come and gone in part because it lifts the cloud of uncertainty about the future of Standard but mostly because I was getting sick to death of listening to all of the arguments about how Delver is completely broken and dominant and ruining Magic and kicking puppies and stealing candy from babies and how everything from Snapcaster to Ponder to Vapor Snag to Island had to be banned to stop it. I've said it before and I'll say it again: Delver is a good deck sure. It's a great deck in fact. But it's not unstoppable and I'm glad WotC had the presence of mind not to give in to the deluge of ban begging and left Standard untouched.
Frankly I don't think people have been trying hard enough to beat Delver. They haven't been reacting properly to new versions of the deck and have been trying to fight modern lists with outdated technology. I still see people playing G/R with cards like Galvanic Blast and Pillar of Flame. Those were great when Delver was the card that beat you but they get a lot worse when using those slots on cheap burn means you don't have an answer to Restoration Angel. Similarly cards like Whipflare are great against Delver and Geist but they look pretty embarrassing against Angel and Blade Splicer.
Where are your Cavern of Souls? For all the complaining and moaning about how it was going to invalidate Mana Leak and destroy Standard people sure haven't caught on to actually playing it to keep themselves from getting tempoed out by Mana Leak. Yes it requires certain deckbuilding concessions in order to use it effectively but I assure you that you can find enough Humans or Zombies or whatnot to cast if you look hard enough.
This isn't just a bunch of talk either. This past weekend I played in a 5k here in San Diego since I wasn't able to travel to the SCG Invitational and I won the event with this deck which—surprise surprise—isn't Delver.
Creatures (32)
Lands (24)
Spells (4)
Those of you who are regular readers of my articles or watchers of my stream will no doubt recognize the shell of this deck as the Naya Pod list I've been playing for quite some time. There are some subtle yet important changes in this version that go a long way toward improving the deck against the newest versions of Delver.
I've long been an advocate of Oblivion Ring as a great catchall answer to whatever permanents may ail you but it's time has passed. O-Ring was already occasionally a risky proposition against Delver since if your opponent only had a single creature in play they could potentially Vapor Snag it in response to you playing the enchantment forcing you to exile one of your own permanents.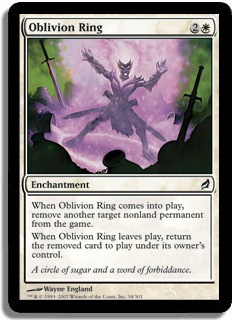 The addition of Restoration Angel to the Delver arsenal however—as well as the roster of many other decks—makes Oblivion Ring far less reliable than it used to be since your target may just up and disappear in response to the exile trigger. Losing Oblivion Ring does make you somewhat more vulnerable to planeswalkers and cards like Batterskull but Zealous Conscripts goes a long way toward making up some of the difference.
Dismember
Delver decks have started playing Dismember to deal with opposing Restoration Angels. My question is: why does it seem like they're the only ones? I see all kinds of G/R and Naya decks with cards like Combust and Plummet in their sideboards but that doesn't help in game 1 when your opponent leaves four mana open and you have to decide whether you can even afford to attack for risk of an Angel blowout.
Not only does Dismember give you the opportunity to attack into Angel mana with impunity but it also helps you get out from behind an early flipped Delver which is one of the ways a midrange deck like this can lose the matchup. It gives you some much needed instant speed interaction in the maindeck to supplement Huntmaster of the Fells or kill a creature in response to a Sword equip. Keep in mind that Birds of Paradise can frequently give you a two life discount on the Phyrexian mana cost—every life point matters with how much incidental damage Delver decks are capable of putting out. In other matchups it provides an inexpensive way to kill an opposing Wolfir Silverheart with the soulbond trigger still on the stack or deal with otherwise hard to kill creatures like Phyrexian Obliterator and Falkenrath Aristocrat.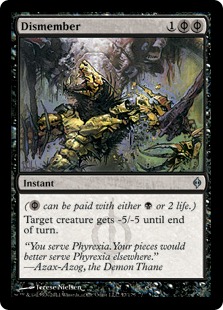 Playing Dismember also gives you additional sideboard room since you clearly need fewer copies of cards like Plummet or Combust if you have comparable effect maindeck. Also while the life loss can hurt the fact that it can be played for a single colorless means you won't die to a Restoration Angel or Hero of Bladehold while sitting with a Combust in hand and no red mana.
Speaking of mana—this is something I got wrong in the version I played at the tournament. I played Cavern yes but I didn't play nearly enough of them. I'm pretty certain the correct number of Caverns for this deck—especially in a Delver-heavy world—is the full four. Cavern does a lot of work in this deck fixing your mana substantially in addition to providing you with Mana Leak protection. Against decks that kill your mana creatures you can frequently lose games with Blade Splicer or Huntmaster in hand and the wrong dual land to cast them. Drawing a single Cavern plus any other colored land in the deck lets you cast just about everything.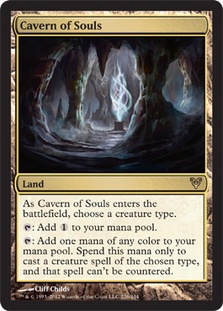 Interestingly increasing the Cavern count to four doesn't require a tremendous reworking of the creatures since almost everything in the deck is a Human already. It's only really Strangleroot Geist that is tough to cast with a mana base full of Caverns. I've actually felt like Strangleroot Geist's stock has been on the decline for a while anyway. The U/B control decks against which he was a stone cold killer are all but extinct replaced by tapout Esper decks that throw Lingering Souls tokens in the way before they quickly outclass the little Spirit that could. I've never been a fan of the Geist in green mirrors since the ground generally gets clogged by bigger creatures and Geist rarely has a major impact. Even Delver against which the Geist was once an important threat to punish them for their Phyrexian mana usage now has Restoration Angel to block.
Cutting (or at least cutting down on) Strangleroot Geists and adding Caverns does a lot to help fix the mana too. I've actually wanted to get rid of the M10 dual lands (Sunpetal Grove and Rootbound Crag) for a while since with only six basic Forests in the deck they often cause your curve to stutter by coming into play tapped. Replacing three of these with Caverns lets you curve out smoothly more often though it does mean you're less able to cast colored spells in the sideboard like Bonfire or Combust. Increasing the Borderland Ranger count can help alleviate this issue while also giving the deck more early bodies to help make up for the lack of Strangleroot Geists.
Here's the list I've been messing around with recently online:
Creatures (32)
Lands (24)
Spells (4)
A couple notes on some of the unusual card choices that I haven't touched on yet:
As anyone who has played much Naya Pod can tell you Gavony Township is one of the best cards in this deck (which is a reason this list has gone up to four of said land). A wealth of mana creatures alongside cards that create multiple creatures like Blade Splicer and Huntmaster (along with Angel to make more with each) makes +1/+1 to your team extremely powerful. Mikaeus gives you more Township effects to help win longer games while also giving you a potential early play.
While Mikaeus isn't nearly as powerful or aggressive of a play as Strangleroot Geist he certainly isn't an embarrassing turn 2 play. If your opponent doesn't kill him he can start pumping himself and subsequently the rest of your team. In a world where your Restoration Angels are likely to face off against their kin in combat having a zero mana way to win that fight is huge. I had tried and liked Mikaeus in an earlier build of the deck and he only gets better with the addition of Cavern to make him easier to cast and the removal of the Strangleroot Geists that had anti-synergy with his ability.
This is still an experiment but I like the idea of having a two-drop in the deck to fetch with Birthing Pod that can potentially have major immediate board impact. Lots of situations can come down to races and being able to lifelink up a Wolfir Silverheart or even just a Restoration Angel has the potential to seriously mess with the math. He's also a Human which makes him a potentially reasonable early play with Cavern. It's possible this should just be a third Thalia but I wanted to try this guy out.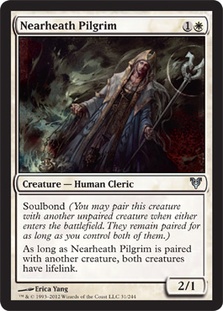 Interestingly Martin Juza and I seem to have arrived concurrently at the idea that casting this guy off of a Cavern would be awesome against Delver. I'm not sold on Martin's all-Bonfire plan or on his decision to totally ignore Birthing Pod (especially with cards like Monk in the deck!) but I have found that this guy is an absolute beating against Delver or against any creature deck that doesn't Bonfire away your board immediately. Monk gets absolutely huge especially with Angel to blink him and the Spirit tokens have tremendous synergy with Township and Mikaeus.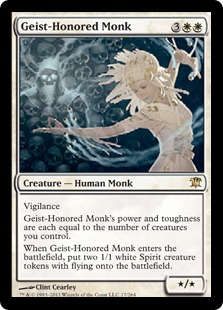 It's possible that Wolfir Silverheart should just move to the sideboard in favor of more of these guys main but I've become rather partial to the big bad Wolf and I'm not quite ready to do that less without more testing. It's worth noting that playing a full set of Caverns also makes Hero of Bladehold dramatically easier to cast so Wolfir Silverheart is less important as an anti-Wolf Run plan since you can present a game winning threat that doesn't die to Slagstorm at turn earlier now that you can easily produce double white.
I don't personally have any major Standard events coming up but frankly I wish I did because I'd love to take this deck (or something very close to it) up against the Delver-ridden fields I've seen lately. My testing hasn't been extensive to be sure but so far I'm undefeated in matches against Mr. Aberration and friends. If people are so sure that it's foolish to play anything but Delver until the rotation I'd highly recommend giving this deck a spin to prove them wrong.
Until next time
bmk