Spoiler season is coming to a close and now that the full M13 set is available the real work begins. Today I'd like to talk about the set's impact as a whole as well as a few surprising cards that I think will impact Standard.
Most of the hype surrounding M13 has been focused on a few cards: a new three-mana planeswalker (Ajani) a powerful addition to the Loxodon Hierarch family (Thragtusk) and a land that threatens to add power to mono-colored decks with consistent manabases (Cathedral of War). Equally as striking are some notable absences: Mana Leak Birds of Paradise Day of Judgment and Doom Blade. These cards are all Standard staples and things we've been able to rely on when building Standard decks for at least three seasons now. I'm excited to see what Return to Ravnica might have in store for us to warrant changes of this magnitude.
Now I realize that there are technically three other colors in the set but I've only got three more months of Seachrome Coast and I plan on cherishing every moment.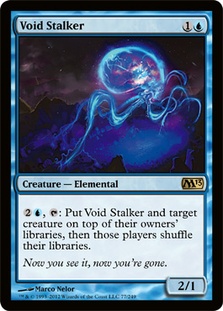 Void Stalker is a card with a relatively unique ability and an effect that blue doesn't usually have access to—unconditional removal on a creature. In a format where the 2/1 body of Snapcaster Mage is considered relevant Void Stalker is a relatively efficient creature with upside. The Stalker also bears similarities to another card: Mangara of Corondor. Combined with Restoration Angel Cloudshift and even Vapor Snag Void Stalker can be used more than once to good effect. If you're a blue deck looking for answers to big creatures coming down through Essence Scatter and Mana Leak (via Cavern of Souls) this may be the card for you.
The last time Rewind was legal in Standard it saw play mostly in U/B Mystical Teachings Control decks. The main reason for this was to combat the Dragonstorm Combo decks which played Gigadrowse. A traditional problem with Rewind is that it's often dangerous from a tempo perspective to hold so much mana up on an opponent's turn potentially in vain.
However there are a number of cards in Standard that might allow us to recoup that loss. Snapcaster Mage Restoration Angel and even the new Yeva Nature's Herald all provide something powerful to do with four mana at instant speed and I'd imagine Rewind into any one of those cards would be backbreaking to most opponents.
It's no Mana Leak but Remove Soul and his more flavorful cousin have seen play in Standard on and off for a long time. You could argue that there are some decks which plan to go long and would prefer the guarantee of Essence Scatter to the versatility of Mana Leak. Only time will tell whether Cavern of Souls is too common to justify playing a creature only counterspell but I'd much rather Essence Scatter a Restoration Angel on turn 10 than let it come into play and Doom Blade it.
I've played my fair share of Court Hussars and Sea Gate Oracles and this card looks to provide a similar amount of value at two mana despite its deckbuilding restrictions. When evaluating a card like this it's important to look at how relevant the creature half is in context. Augur stacks up well against Strangleroot Geist Thalia Snapcaster Mage Geist of Saint Traft and even Huntmaster of the Fells. Augur is yet another card that incentivizes moving the U/W Restoration Angel archetype in a more controlling direction though he is also good in spell-heavy Runechanter's Pike decks. I'm definitely interested to see where and when this guy can be implemented most effectively.
It's not immediately obvious why I've grouped these two together but I think they function very similarly. Both are cheap threats that do very little in the early turns but present a significant board presence in the mid to late game while allowing you to use your mana for other things. Avenger is the less impressive of the two since it doesn't stack up very well against Restoration Angel.
On the other hand Phantasm requires a reasonable amount of effort to turn on. It's very good against any blue deck with cantrips (or Forbidden Alchemy) but I can image scenarios against green decks where getting to ten would be difficult without the help of Thought Scours of your own. I'd start any Jace's Phantasm deck with four Scours and would definitely think about moving it to the sideboard if it turns out to be difficult to activate in enough matchups.
Exalted has a form of pseudo-haste that's not to be underrated. Archangel is at its best with mana guys but it's also reasonably awkward since it encourages you to have lots of creatures in play but only attack with one. If there is a deck in Standard pre- or post-rotation similar to the block Bant Spirits deck then this card is probably a great addition to it. Even on its own Sublime Archangel can attack through Restoration Angel which is a powerful quality to have. That said I'm not sure how much incentive there is to attack with only one creature in a format dominated by Vapor Snag unless that creature has hexproof.
Any cheap instant has to be considered while Snapcaster Mage is legal. As long as equipment are as heavily played as they are now most decks with sideboard space for a card like Erase would prefer that it destroy artifacts as well. However if enough enchantments start to see play Erase is as efficient as it gets and very good with everyone's favorite Coral Merfolk.
Odric reminds me of Linvala in old Mythic. This is the type of card that will utterly dominate creature deck mirrors and demands an answer immediately. On his own his stats are reasonable but it's particularly nice that he can either swing a race in your favor or Wrath an opponent's board whichever is better at the time. The four-mana white creature slot is a tough competition at the moment but Odric has a relevant creature type and the ability to win games that no other card can.
It's no secret that I've saved the best for last. Ajani is the third three-mana planeswalker we've seen and he starts at a huge five (with an activation) loyalty. Ajani is at his best in creature decks and between Birds of Paradise and Avacyn's Pilgrim I get the feeling he'll be coming down on turn 2 much more than I'm comfortable with. What scares me about Ajani is that he's cheap difficult to kill and helps put pressure on the opponent.
Many decks are incapable of interacting with Ajani before he gets out of hand and even fewer strategies are able to do so while under duress from creatures that get progressively bigger as the game goes on. He's like an Honor of the Pure that threatens to end the game if unanswered on turn 8 in addition to everything else. Unlike Liliana of the Veil and Jace Beleren Ajani's plus ability isn't symmetrical which is new territory for such a cheap planeswalker. I expect Oblivion Ring to become a much more attractive card as a result especially when Mana Leak rotates.
Blue and white in M13 provide us with a number of new control options but the most exciting cards out of the set for me are the threats. Blue and white have been more aggressive and threat based of late and I don't see that changing with M13. Ajani Odric and Sublime Archangel give aggressive decks new options and might even spawn new archetypes. At the same time Jace's Phantasm and Serra Avenger can be played in control decks that can't afford to spend lots of mana on a threat especially against a new crop of creatures and planeswalkers.
For those of you who like Jund colors watch out. Glacial Fortress is back again and better than ever.
Thanks for reading