This week we're going to be doing something a bit...strange. Everyone and their brother is doing set reviews, and that kind of thing isn't my bag. I don't really get "excited" over new cards. Every time a new set comes out, my editor says, "Just talk about new cards and build new decks with them. It doesn't really even matter if they're bad or not." Well, I don't try to build bad decks, but when you're stabbing in the dark with things you can't tangibly hold and you have yet to play any physical games with whatever card you are brewing around, the job is a bit difficult.
I don't like to write "throw away" articles. I try to build the best deck for the most important tournament on the horizon or help expand the way you look at a deck or a format. It wasn't always that way. I've written my fair share of bad articles, and I'm not ashamed to admit that. But that was long ago, and someone different sits at this keyboard today. I think that people tend to like new sets, but I honestly hate them. Sure, after a while I want something new to spice everything up, but it makes me absolutely giddy to solve a format. I don't like it very much when they go changing everything and ruining all my hard work!
Core sets are generally worse for old formats, but they've been continually getting better over the last few years. Titans were a huge hit at first. They sold packs. They sold singles. Regardless of whether or not you hate them now, you were probably excited the first time you slammed a Grave Titan. Doing powerful things, regardless of how "hard" they are to actually accomplish, is exciting. We enjoy doing flashy things. That's why they're flashy! This new set does have some cool new toys for me to play with. As I said last week, I'm ready to battle with Talrand, Sky Summoner. He's easily my favorite new card printed, but Quirion Dryad holds a special place in my heart. Both seem to fit into Delver like a glove, and I just can't wait until they are on Magic Online so I can do some work!
But enough about M13. That isn't why I'm here. Today we're here to go over each of the top relevant Constructed formats, and I'll tell you what deck I would play and why. With Grand Prix Columbus on the horizon, Modern is going to get some spotlight for the first time since its PTQ season, but I just love Modern and would write about it every week if I could. First up, Standard!
Standard
Standard is a little bit difficult for me to write about since every time I play it at the moment, I'm using the archaic form on Magic Online. I suppose I can give you a few decklists for Standard since I am in love with my current Standard deck, but I don't know if I would make any changes using the new cards.
Let's talk about this deck for a moment because it needs some explaining. This version of the newfangled "Splicer-Angel" deck just kicks all of the mediocre black spot removal like Go for the Throat and Doom Blade out of the equation. Instead, we get the blowout potential of Bonfire of the Damned. Dismember plays a similar role to the black spot removal from the Esper deck that has been doing well over the last few weeks.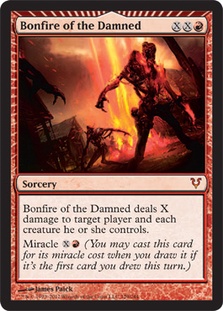 I was never really happy with the mana base and I still can't bear to look at how few red sources are in the deck, but I guess it's fine since you don't need to cast any red spells until the midgame. With Ponders and other dig spells, you have more "virtual" sources of the colors in your deck since a Ponder can see three extra cards or potentially four if you want to shuffle them away.
The black version of this deck couldn't really handle an opponent who was doing something similar to you. Over time, you would both develop a board featuring multiple Golems and Restoration Angels. The only thing I could think of to break open those types of board stalls was either Day of Judgment or Bonfire of the Damned. When you're applying so much to the board yourself, Day of Judgment feels like a bad proposition. Bonfire of the Damned is pretty outrageous and can be made even better by using Thought Scour on your opponent's turn or using Ponder to set it up on a devastating turn.
The reason I like this deck instead of traditional Delver is that it is much harder to hate out. While playing U/W Delver, I went two entire Magic Online Daily Events without attacking with a Geist of Saint Traft since my opponents almost always had Phantasmal Image. The thing is that Geist of Saint Traft is getting outdated. Sure, the card is inherently powerful, but it is much better when your opponent isn't putting too many threats out onto the board or when those threats are inconsequential. In a world full of 1/1s, the 2/2 is king. Unfortunately, today's Standard is so full of Huntmaster of the Fells and Restoration Angel that I just can't stand to spend an entire turn to cast Geist of Saint Traft.
This is one of the biggest reasons I'm excited to play with Quirion Dryad again. As far as updated Standard is concerned, here is the new Delver deck I will be playing with to start out: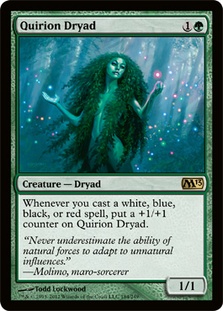 This version of Delver is sleek, efficient, and attacks from a completely new angle. Geist of Saint Traft was a brute force machine, punishing people for slow draws. Quirion Dryad is similar in this function except that it isn't vulnerable to the various Clone effects running around in Standard.
Talrand also gives the deck a late game, which is not something Delver has ever had too much of. He's a one-man army, threatening to obliterate unsuspecting opponents by swarming the board when you untap or when you just drew a lot of Phyrexian mana spells. All of the creatures in the deck encourage you to play a lot of instants and sorceries, turning your deck into an efficient killing machine focused on cycling through your spells at a Legacy-esque pace. While Thought Scour doesn't have as much synergy as I would like, there isn't really much of an alternative. You want to fuel the fire, and it draws a card after all. Alongside Ponder and Delver of Secrets, you have a few ways to get rid of chaff that you don't want, making Thought Scour have some additional value aside from being able to blank an opponent's early Ponder.
Delver is the card that is hardest for people to deal with for some reason. I suppose it has something to do with its efficiency since it is so cheap to cast and easy to protect. When all of the relevant removal in the format costs two-plus mana, Delver is a powerhouse. At the moment, the format is slowing down thanks to Restoration Angel and Blade Splicer, forcing people to play more cards like Day of Judgment to keep up. This means fewer Gut Shots; this means Delver is still awesome.
I'm a fan of these two archetypes in Standard at the moment, and I think you should definitely begin here when deciding on what deck you want to play at your next SCG Open Series or PTQ.
Next up, my fave!
Modern
Plain and simple, Modern is currently pretty awesome. There was a Grand Prix held in Asia just a few weeks ago, and the event was won by B/W Tokens, which defeated a Mono-Blue Faeries deck in the finals. I have played a ton of Modern, and I have never played either of those decks in the format before. That says a lot since I generally try to play something new every other day or so. The breakout deck was a Naya Birthing Pod deck that used the following combo:
While this deck put four copies into the Top 8, I still don't think it's the best version of the archetype. While it does some interesting things, I feel like U/R Splinter Twin is able to interact with opponents a little more easily and is better suited to fight off the hate coming from opponents. I don't like playing an aggro-combo deck. I would much rather play a control-combo deck because you aren't bottlenecked into doing two things poorly.
For Grand Prix Columbus coming up next weekend, I will probably be piloting something similar to the Splinter Twin deck I played in my video series this week, which can be found here:
The logic behind the deck is that since you have more copies of your two-card combo, you can be more consistent than most other combo decks. While your deck is much more on the fair side of combo decks due to being focused around creatures and enchantments, you have a ton of protection thanks to Dispel and Spellskite. The newest addition to the deck? Something I'm sure not many people have tried in the format just yet:
The reason behind playing the Shrine is that the dig spells in Modern just aren't that good. Without Ponder and Preordain, it is much harder to actually find your combo. With Shrine of Piercing Vision helping to solve that problem, you will almost always find what you are looking for whether it is a piece of the combo, a Dispel for their removal spell, or even a Mutagenic Growth for their Combust! Shrine gets much better after game 1 because people play a much longer game against you, trying to build up their hand full of removal and answers. The good news for you is that most people just rely on Torpor Orb, meaning that Ancient Grudge will almost always be live. Even when it isn't, Echoing Truth will likely solve any other problems you might have.
Over time, I think that Splinter Twin will fluctuate on being the best deck because it is incredibly consistent and powerful. When people want to hate you out, it won't be that hard, but there isn't much of that at the moment and the cards people are bringing to the table are generally easy to handle.
Next up:
Legacy
It makes me sad that Reanimator isn't the deck I think you should play. Last week I tried to give you an idea of what you would be facing if you played Reanimator. The hate is erratic. It is powerful. It will beat you.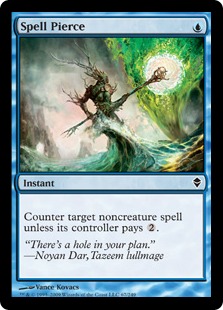 I would not recommend playing any deck with Griselbrand. People have responded, and the hate is just too much to handle. There is a reason why no copies of Griselbrand made it into the Top 8 of Grand Prix Atlanta. If you are going to play combo, try to play something off the radar. Try to play something that isn't easy to hate out. Play a combo that isn't vulnerable on multiple levels, so that you aren't at such a disadvantage after sideboarding!
Over the last few weeks I've written a few times about my favorite Legacy decks, and those haven't really changed much. I think that RUG Delver and Maverick are still the two best "fair" decks in Legacy, and I wouldn't be unhappy playing either of them.
I will just say that playing combo can be a dangerous gamble. With so many Spell Pierces running around, getting your spells to resolve is going to be pretty difficult. You want to build decks that aren't vulnerable to Spell Pierce or at least care less about them than a deck moving all-in on Show and Tell. You only have so many extra spells to discard for Force of Will and Misdirection.
I'm still an advocate of Maverick, but I honestly feel like RUG Delver is the best deck in the format at the moment. It gives the pilot a ton of options on so many turns of the game, and just building your deck correctly can give you a lot of free wins! Stifle will occasionally be amazing but will oftentimes be mediocre. When Stifle is good, it is really good, though.
When you are building a deck that is established, it isn't always easy to figure out the best configuration of cards. Nimble Mongoose needs Thought Scour. Forked Bolt is awesome when Mother of Runes is running around. Spell Snare is great when everyone is playing Stoneforge Mystic. The fact of the matter is that Brainstorm gives you a ton of virtual card advantage, allowing you to shuffle away various dead cards. RUG is the king of situational blowouts, so having access to Brainstorm to help shuffle away the chaff is what gives you so much power.
I still think that Maverick is my top contender, but I would be lying if I told you I thought it was better than RUG Delver. If you aren't great at casting Brainstorm and Knight of the Reliquary is more your style, then try this out:
A few key notes:
I will admit, I forgot about Faerie Macabre. With Thalia in your deck, it should be the go-to anti-graveyard card. I am an idiot for not figuring that out sooner!
You don't need a Taiga just to cast Gut Shot. Man up. Take some damage. Your life total isn't incredibly relevant in the mirror anyway, which is where you want it (mostly).
Two Sylvan Library is almost never correct.
Stoneforge Mystic is not worth it if it only grabs Umezawa's Jitte.
Everything else seems pretty spot on, but I would still try to fit a second Cavern of Souls into the maindeck. Making your Thalia and Knight of the Reliquary uncounterable against Force of Will decks is just absurd!
...
While there are a lot of other formats out there I could write about, these are the three big ones that are most relevant to tournament players. You are my audience, and I write to you about what I know. Whether or not you heed my advice is completely up to you, but I would rather you go into an event knowing what you are going to be up against, at the very least.
This weekend should be fairly relaxing for me, as I won't be attending any major events. SCG is going to St. Louis, but the trek is a bit too far for me. I made that trip once by car, and I don't think I ever want to do it again! I appreciate all the positive feedback and kind words I've received from you guys over the last few months. I just want you to know that it is one of the reasons I keep writing and one of things that keeps me going. And truly...
Thanks for reading.
strong sad on Magic Online
@strong_sad on Twitter (Follow me!)