For a large segment of the Magic community, the introduction of M13 will usher in an exciting era of Standard deckbuilding, even if the set has no relevant Constructed cards (which is obviously not the case). Though we are still a few months away from freedom, M13 represents the beginning of the end for M12 and for Mana Leak and the Titans specifically. While reasonable people can disagree on which cards are more oppressive, in tandem they suppress large swathes of deckbuilding space. Interested in generating some decent value from a midrange spell? Maybe cast a five-mana creature? For the last year that just hasn't been something you can bring to the table, so if nothing else it will be fun to brew in a world that isn't hostile to so many different things.
My color of choice, red, and specifically red aggro, has been on the shelf for a while now. The Delver/Titan dichotomy is the primary reason; trying to build for both decks is an impossible task with the tools currently at my disposal. Ramp asks you to build for the fastest possible goldfish, and the less interactive elements the deck contains, the worse your Delver matchup gets. The fact that Shrine of Burning Rage (the only card in red's arsenal with a sufficient level of raw power to make the deck viable) is poor against both decks only makes matters worse. Still, we only live in that world for a bit longer, and in the interim I believe M13 has some real tools to build around. Specifically, I think Goblins could be a real thing for the next four months, and I know I'll be putting forth a lot of effort cooking up a build.
I'm lumping all three of these cards together, as they're somewhat interconnected. A well-kept secret over the last year is that Goblins was already pretty close to being a real deck. Goblin Chieftain and Goblin Grenade give a healthy dose of raw power to a reasonable curve of creatures and burn, and the new additions can potentially add quite a lot to that skeleton.
I'm not sure the Flunkies belong in such a deck; even though they're technically Goblins I think they're more suited to a Sligh-style deck, and Goblins is more about grinding the board and overwhelming than playing the best power-to-cost creatures available. Krenko and his Command, on the other hand, are right at home in such a deck. The fact that both cards have awesome synergy with Chieftain (Command + Chieftain is an insane deal, Krenko + Chieftain is close to a dead opponent) is sweet, but neither card is shabby on its own. Command gives you two power for two mana and plenty of opportunities to capitalize on Goblin or battle cry cards, and Krenko can put a ton of power on the board while doubling as a Moat against opponents who can't kill it.
For example, a rough sketch:
Creatures (23)
Lands (21)
Spells (16)
This list is about one reasonable Goblin off, unfortunately. There's a variety of 2/1s for two that you could play if you were desperate, but I think that's bad in the abstract and especially with Gut Shot still floating around en masse. Alternatively, you could play different burn spells (Brimstone Volley and Shrine of Burning Rage both have their charms), but I like playing as much cheap stuff as possible with Spikeshot Elder in the deck.
Still, the concept here should be pretty straightforward. A lot of the quality of this deck is going to be predicated on how much spot removal is being played; this deck simply might not do enough powerful stuff if Chieftain or Krenko eats a Doom Blade. That said, this deck can present a good curve, a ton of range from Goblin Grenade alone, and some explosive draws off of Chieftain and Krenko. Again, this deck is likely to be a labor of love of mine for the next four months until Goblin Chieftain marches off into the sunset.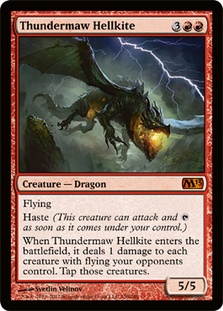 This card is off the charts. Yes, you can kill this with a Murder or counter it with Essence Scatter. This is also true of most creatures. A common comparison is Baneslayer Angel, but I'd like to compare to Inferno Titan instead. Thundermaw arguably makes a bigger impact on the turn in comes into play and certainly makes a bigger dent against an opponent with a sorcery speed answer to it. Thundermaw lines up better against Snapcaster Mage (Snapcaster can be cast and chump after a Titan trigger; Thundermaw flies right over the top), Grave Titan, and Thrun.
Now, certainly Inferno Titan has its merits as well, but keep in mind that we're comparing a card to Inferno Titan (no Constructed slouch) and that it's a full mana cheaper than the Titan. The most natural preexisting home for this in in G/R Aggro, which is always in the market for a good midrange finisher to end the game with. You could start with something like:
Creatures (26)
Lands (22)
Spells (12)
I'm not reinventing the wheel with this one, but I do think Hellkite does more work than, say, Wolfir Silverheart. The impact Hellkite makes on the turn you cast it is more dramatic, and it's less contingent on other stuff going right to make an impact on the game.
Now, Thundermaw Hellkite does come with some limitations. Most notably, it's a bit out of place as a finisher for control decks as it's basically just a raw rate of damage. With that said, I believe this could be the best five-mana creature for an attacking deck ever printed, and it's just a matter of finding the appropriate homes for it.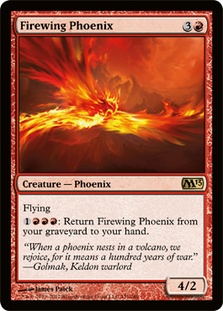 This thing is sloooooooooooooooooooooooooooooooooooooooooooooow (at least, as slow as a four-power flyer for four can be) but can do a lot of work in the correct matchups. It lines up kind of nicely against Delver (blocks the namesake creature and does good work against Geist of Saint Traft and Restoration Angel), though any counterable and Vapor Snagable creature comes with about a thousand asterisks. Also, Pillar of Flame takes some of the wind of its sails.
That said, this thing can grind down any attrition or creature oriented matchup given enough time and a stable board. I anticipate this card becoming much better once Scars rotate out, as the Swords make defensive measures like Firewing unreliable, but I could see this making it into some red sideboards (against Mutilate decks and the like) or into some funky Desperate Ravings control-ish deck.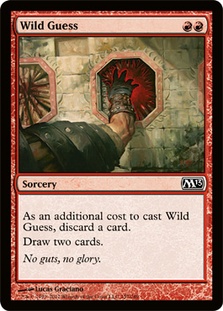 This card can provide a subtle but very powerful tool for aggressive red decks. Thunderous Wrath and Bonfire of the Damned are two of red's most powerful cards in the abstract, but drawing them in your opening hand (Wrath especially) can be a disaster. We already had Tibalt, but he isn't exactly a precise tool and comes with other limitations besides. Is it possible to explore something in this space? (Props to AJ Sacher for the initial inspiration)


Creatures (4)
Lands (22)
Spells (34)
This deck is safely in the realm of "thought experiment" rather than "actual deck," but this is a rough example of something Wild Guess enables besides the more obvious Reanimation style stuff.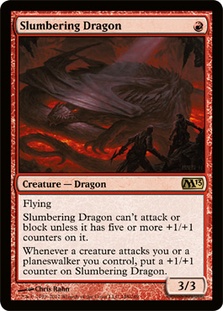 I think it's worth noting that, besides being a sweet design, it's potentially an awesome sideboard card against attacking decks without removal. If you have enough instant speed removal to stop their attacks, eventually Slumbering Dragon becomes Moat. You need some way to wrap the game up, but that shouldn't be too challenging once your opponent can't attack for the rest of the game. This is a fringe application, but something to keep in mind if White Weenie or Elves or something like that becomes a thing.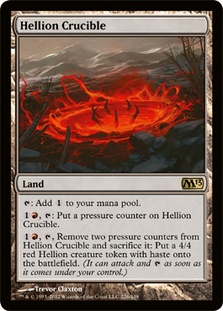 While technically not a red card, this land has the potential to be an awesome addition to aggressive red decks. This card is especially burdensome for control decks, as you're often looking for things to sink your mana into after you get ahead on the board so you aren't playing into their permission and sweepers. This might not be the case until M12 rotates out (this is a pretty anemic response to an opponent who just tapped out for a Wurmcoil Engine, for instance), but assuming the control finishers aren't Moat + extra value, this is an excellent extra tool to finish the job.
Of course, there is the small issue of it being a colorless land, but that's hard to evaluate without extra context. Your Ember Hauler / Ball Lightning deck might not be able to play any copies at all, while less taxed decks can easily slot in four. Or you can treat them as something in between lands and spells, which is how I generally built with Teetering Peaks, for instance. I feel like I might be underselling this card a little bit; there are plenty of decks I've built in my life that would have played this card if the token died at the end of the turn. I expect this card to be in heavy rotation for me over the next year and change.
There's some other action floating around here, like Smelt and Searing Spear, that are clearly tournament-worthy cards but don't really require additional context to figure out. And then there's Worldfire, which is cool as hell but not something I'm really equipped to break. I try to stay in my lane whenever possible.
Still, that's plenty of good action for red, and that's without the implications of additional rotation in the next four months. Hopefully the removal of Titans, Mana Leak, Ponder, and the Swords open up a wider range of viable cards and play patterns. Obviously, there will always be a best deck or the best cards, and that's going to define a lot of what's viable at any given time. But the aforementioned cards aren't just powerful; they're powerful against very large parts of the card pool (primarily midrange cards of all types), and the parameters of the format have been very stifling in their presence. Hopefully M13 ushers in a more fluid environment.
Here's to some happy brewing.
-Patrick