Happy Thursday, readers! I'm pretty excited that the SCG Open Series is coming back to DC, since it's so close to my house. It looks to be an exciting tournament, with a lot of potential innovation waiting for us. Why, just last week, the explosive Elf Wave deck nearly took down Buffalo's Standard Open, and I have no doubt that the mana engine that allows that deck to go to town is going to make a big impact on the metagame for the rest of the summer.
Last week, I talked about some of the most popular decks in Standard and Legacy and what they can do to duke one another out in their respective metagames. This week, since I don't want to talk about more of the same, I'm going to branch out and suggest six different unappreciated gems that you could reasonably take to the Standard or Legacy Open in Washington, DC this weekend.
First up, I'll start with the deck I feel may be best positioned in a field of Avacyn's Pilgrim, Birds of Paradise, and other assorted little dorks. I know this deck is extremely well known, but seeing as how it hasn't done well in any major event for a while, I think that we can classify it as "under the radar." Wolf Run Ramp has the sweepers necessary to blow out these aggressive decks that have been cluttering up the Top 8s of SCG Standard Opens recently, and it can go over the top of any of the midrange U/W-based decks with Cavern of Souls naming Giant. Of course, Zealous Conscripts is a powerful card that can beat a Titan deck, but I feel like the other cards in the Zealous Conscripts decks are not particularly prepared to handle a Titan deck.
Reid Duke and Gerard Fabiano played Wolf Run Blue in Buffalo, as seen here:
Now, this deck is extremely powerful and cards like Temporal Mastery and Bonfire of the Damned will win you lots of games when you miracle them, but I don't think that that's entirely necessary. You don't need to blow out your opponent with a miracle to win with Primeval Titan. I'd be happy to play Reid's deck, but I'd be equally comfortable going back towards what Eli Kassis played: traditional Wolf Run Ramp.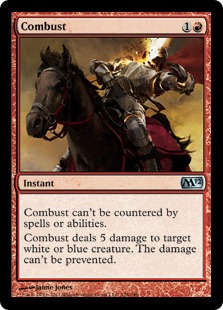 I'd like more Whipflares in the maindeck, potentially cutting a Bonfire of the Damned and a Pillar of Flame, and I'd like a pair of Inferno Titan to increase the amount of top-end spells I have access to, probably over a pair of Beast Withins. I'd cut some of the sideboard lands, as I don't see why you need access to four different lands in the board. The Beast Withins would do good work there against decks where you need that kind of effect. I'd likely get rid of the Inkmoth Nexus and the Ghost Quarter. I also think it may be time for Combust to make a comeback, as you'd like to be able to answer Restoration Angel and Insectile Aberration effectively. A pair in the board over the two Naturalize would not be unwelcome.
With this plan, you can now freely slow down a Naya Pod or Bant Pod or G/W Aggro or Delver or Elf Wave player to the point that you'll be able to start dropping bombs on them and end the game. It isn't pretty or elegant, but I think that people have forgotten about the dumb ramp deck and aren't as ready to beat it as you might think. The Delver decks are getting more aggressive, and some are even cutting Restoration Angel, which plays right into your nine or more sweeper effects and few point removal spells. They're also playing lots of Gut Shots, Mental Missteps, and other cards that are very, very bad against you. So enjoy that bonus!
Additionally, you could try out Reid's old darling, Wolf Run Pod. As the Naya Pod deck to beat other Naya Pod decks, this one gets to play Day of Judgment and ramps up to Elesh Norn, as well as having access to loads of other sweepers and spot removal and plenty of value spells to Pod up through the chain. While your opponents' Pod decks go up to Restoration Angel and maybe Inferno Titan, you are happily casting either Day of Judgment or Primeval Titan on turn 4, and your Pod chain even beats your opponents'.
Again, you're not too vulnerable to Bonfire of the Damned, but you could certainly play some of your own if you were so inclined!
Obviously, Reid was kind enough to help us out with an article a month or so ago describing his particular build of the deck, as seen here: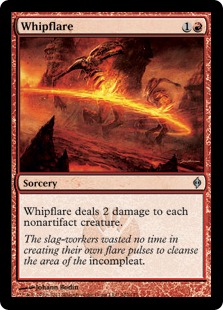 I think that there's plenty of room to tweak these numbers, and I'd love to see a trio of Whipflares over a Birds of Paradise and the Gut Shots main. Unfortunately, the mana doesn't roll that way, so I'll have to be content with Gut Shots. I'd consider a third one over the third Birds, at least.
The Karn Liberated and Purify the Graves in the sideboard could be Whipflares, or they could be Bonfires or even Blasphemous Acts. I'd probably make them Whipflares, but I'd also be interested in some number of Plummet or Crushing Vines. Entreat the Angels doesn't interest me in the slightest, though. I'd rather have another sweet Pod target there. Maybe Melira, Sylvok Outcast needs that slot.
Regardless, this deck has a ton of play to it, and as an alternative to Naya Pod, it seems like it should crush the semi-mirror. These are all things that I like in a deck, so I'd have to say that if I were going to play a Primeval Titan deck this weekend, I'd be happiest with Wolf Run Pod.
As for a Legacy deck that people aren't respecting, I'd have to go with Sneak and Show as my first choice. I think that it has a ton of raw power and can absolutely beat the aggro-control decks with smart play. With most of the attention on RUG Delver, Stoneblade, and Maverick, Griselbrand decks are going to start coming back.
All you need to do is plan out how to effectively manage your mana to dodge their Cursecatchers, Dazes, and Spell Pierces, and you can get them more often than not. Granted, Sneak and Show just made the Top 8 of the SCG Legacy Open this past weekend. I'm sure people are well aware of its existence, but I can definitely see it making a Top 8 every week based on raw power. For reference, here's the list I'd recommend:
I think that this deck is slightly better positioned than Reanimator because even though Reanimator is the more efficient combo engine, Sneak and Show is not vulnerable to graveyard hate and can more effectively fight through Karakas with a Sneak Attack. Merfolk's rise is not helpful for this deck, of course, but I think with the Pyroblasts and Pyroclasms in the sideboard, there's very little reason to believe this deck can't win that matchup. If that's not rogue enough for you, though, I've got a real blast from the past that I've been thinking about recently as a potential contender.
We've been seeing a whole mess of creature-based decks owning Legacy for the most part recently. It's balanced, for sure, but Maverick, Merfolk, RUG Delver, and even Goblins and the Sam Black Special all have a distinct weakness to the perennial Tier 2 deck, Aggro Loam. I think that's a shame and that it's time for a new Loam deck to step up and show these kids how it's done.
This list is certainly powerful and serviceable, but I think that there may be better options; perhaps incorporating more resilience to Griselbrand decks by including white in the deck would be the right move.
What about the following?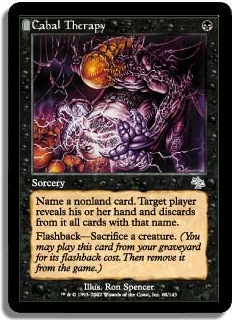 This Loam deck doesn't incorporate Seismic Assault because of mana impossibilities, which is a shame, but it also gains Lingering Souls and has Cabal Therapy post-board. Maybe I love that combination too much, but my god, it is a lot of fun to cast the card Cabal Therapy, and the synergy with the rest of the deck is icing on the cake. Now, with this build, we also get Knight inevitability. Every turn, in the late game, this deck is going to get back a 10/10+ Knight, along with continually Wastelanding an opponent out of the game.
I like where this list is at, and I'm sure with more refinement, there will be a lot of room to beat up on an unsuspecting metagame with this slightly more Maverick-y look at Aggro Loam. The mana is tough, to be sure, and requires more tuning in all likelihood, but it gets pretty intuitive once you have some practice with the deck. Try it out!
Back to Standard! I have a spicy list of Infect that my good friend David Heilker took to a Top 4 finish at a PTQ. Many of you may not know Dave, but trust me when I say that if he was able to Top 4 a PTQ with a deck, you'd do well to take notice! I don't think there's too much to say about Infect's place in the metagame, to be honest. It's that peripheral deck that can frequently blow out an unsuspecting opponent, and when the format slows down with more midrange decks taking a front seat, a savvy Infect player can demolish the competition.
Bonfire of the Damned is often useless against this deck, as it will just finish the job with a pesky Inkmoth Nexus. Playing Mono-Green rather than U/G offered Dave the opportunity to play with Cathedral of War, which I'm sure was an important part of his success. Here's his list: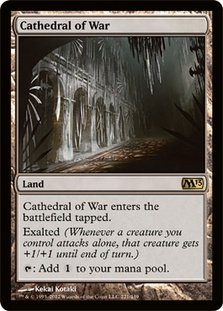 The only change I can immediately see is swapping out a Carrion Call for a third boarded Dismember. We've got to kill Melira from the Pod and Zenith decks on sight, and I think that if we can do that, our win percentage against those decks goes waaay up. Dismember is the only card I can really think of to do that efficiently. This deck reminds me of All-in Red or Belcher at first glance, but with Wild Defiance, I'm sure there is a lot more play to the deck than just going all-in on a single creature.
I'd estimate you probably get two shots in your proverbial all-in gun with this deck, so the more you can milk out extra poison counters before you blow your pump spells, the better. Cards like Blight Mamba and Ichorclaw Myr let you poke your opponent with some impunity until you're ready to actually go for the kill, which is nice. No one wants to block Ichorclaw Myr, anyway, and Blight Mamba's regeneration makes him quite the nuisance, especially when you hook him up with Rancor.
Compare this to U/G, where you're playing an extra color so you can play Blighted Agent, which almost commands you to get more aggressive with when to play out your hand of pump spells. Add to that the mana consistency issues that only complicate an already moderately inconsistent deck and you can see why mono-green might be the better choice for someone who wants to end their rounds in less than twenty minutes.
One more underappreciated deck for Legacy that I've been thinking about is U/B Tezzeret. Adam Prosak took it to a decent finish at a SCG Legacy Open a while back, and it seems fairly well positioned against Stoneblade as well as having a passable Maverick matchup. I don't know how it fares against RUG Delver, especially if they're packing a pair of Ancient Grudge in the sideboard (hint: they usually are), but I do know that I love Engineered Explosives more than most people and it's a great card against RUG and Maverick. I'd probably go off this shell, but I'd play at least one Explosives main: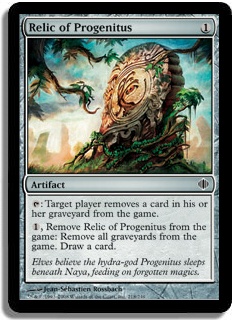 I'd also love to have access to Academy Ruins, and I have no idea why Pithing Needle is anywhere near this deck. Get that crap outta there! I do love the maindeck Relic of Progenitus, as it is just such great value against Snapcaster Mage decks and RUG decks. It also handily crushes Dredge, which is nice added value.
The weakness I see with this deck is a lack of real removal, just because Ensnaring Bridge isn't always going to do it for you. With a couple of Explosives and maybe a few real removal spells rather than just Engineered Plague, I think this deck really has what it takes to be a contender. I mean, turn 2 Tezzeret is no joke, and this deck can do it with a Mox and an Ancient Tomb. I don't think Stoneblade or Maverick is ever beating that!
Against Miracles, this deck shuts them down with its hefty planeswalker count, and against Merfolk, Ensnaring Bridge is actually game over. I can't speak to the combo matchups, but with Thoughtseize and Force of Will main and Chalice in the board, it can't be all bad! If I weren't so comfortable playing Stoneblade, in fact, this would be my deck of choice for the SCG Legacy Open this weekend. Hopefully some brave souls pick it up, because this deck has what it takes to be really, really good!
Good luck to all of you playing at SCG Open Series: Washington, DC this weekend, and if you pick up any of the underrated decks from this article, I think you have an opportunity to do very well at the tournament. Regardless of how much I and others talk about the dominance of certain decks and strategies like Delver, both Standard and Legacy clearly do have significant room to reward innovation and smart metagaming. Who knows? Maybe you'll be the one to shake up the status quo this weekend!
Best wishes,
Ben Friedman