Now that we are here what do we do?
"We play Ponder."
This past weekend's StarCityGames.com Open Series in Washington DC was one for the books. The Legacy Open was the largest Legacy Open ever with 350 players in attendance! The Standard Open featured what is probably the strongest Top 4 of any Open in the tournament circuit's history.
While Josh Cho Charles Gindy and Ben Lundquist had many guessing that Delver would take yet another trophy in the end it was Reid Duke and the Wolf Run Blue deck that he and Gerard Fabiano developed that emerged victorious.
Traditional Wolf Run has fallen by the wayside as Restoration Angel and Swords cost percentage points while G/R Aggro and Zombies are just a bit too fast. Wolf Run Blue hits the format sideways with a number of twists that let you play a different game than people are used to.
Creatures (14)
Lands (26) To begin with Wolf Run Blue features a consistency never seen in traditional Wolf Run Ramp decks. Ponder is absolutely incredible in a deck with fifteen shufflers. As if that wasn't enough it also helps set up your seven miracles. Not only does it help you draw a higher percentage of miracles it also lets you set up your Bonfire for the turn you actually want it (not to mention avoiding awkward turn 2 Temporal Mastery without mana to pay).
Ponder helps fix your mana early including finding more ramp. It lets you play as though you had a ton of sweepers like the old Slagstorm Whipflare builds without being stuck drawing so many. It also lets you find Primeval Titan so well that you don't even need Green Sun's Zenith (freeing up some room and letting Ponder and Temporal Mastery filling the role of more lategame punch while still having applications early).
Temporal Mastery is actually super exciting and is crucial element to this deck having enough raw power to be as good as it is. Early on it can serve as the Explore we wish we had. Later it provides an extremely deadly threat that can win races from seemingly hopeless positions.
Just imagine the common sequence of:
Turn 1: Land
Turn 2: Land Rampant Growth or Farseek
Turn 3: Land any ramp spell
Turn 4: Land either Titan
Turn 5: Land attack with Titan hard cast Temporal Mastery
That is a very normal sequence and a very deadly baseline. I am also sure that Reid benefited from opponent's not knowing the pacing of his deck. At times Reid would appear helpless but was able to set up a miracle Temporal Mastery and drop a Primeval Titan in the same turn. On the following turn he would attack with his Titan then hard cast the Temporal Mastery he had been holding. Suddenly that was game over out of nowhere. Maybe it wasn't safe to tap out for that Gideon...
While Reid had only four sweepers maindeck Ponder makes it feel like six particularly when you factor in the miser's Snapcaster Mage which can recycle a Ponder or even a sweeper from time to time.
Rather than playing like a combo deck or control Wolf Run Blue really is a tempo deck. It doesn't have to hit you very many times but a random hit from a Thragtusk a little Bonfire damage and suddenly you are looking at lethal from a Temporal Mastery or a miracled Bonfire.
Why Frost Titan over Inferno Titan? Several reasons. First of all just one basic Mountain. Second Frost Titan plays into the tempo-oriented nature of the deck. It is sort of like a Temporal Mastery when you Frost Titan their land so that they cannot Day of Judgment next turn. Bonfire is already excellent at cleaning up the small creatures so having more answers to big ones is invaluable. Frost Titan can also help with difficult problems like Birthing Pod. Finally Frost Titan is not nearly as vulnerable to Zealous Conscripts.
As a note I absolutely love the use of three Crushing Vines in the board but agree with not maindecking them here. Crushing Vines is an awesome maindeck card but this sort of deck should be very wary of too many reactive cards main. It is also interesting to note that Reid's deck is almost immune to Crushing Vines (with just three Solemns and the lone Inkmoth) since it has Farseek instead of Sphere of the Suns.
While it was Wolf Run Blue that ruled the day without question it was another Delver weekend. Almost all the Delver decks actually played Delver of Secrets this time!
For reference here are the results from the Top 16 of this past weekend's SCG Standard Open weighted by finish (6 points for first 5 for second 4 for third/fourth 3 for Top 8 and 2 for Top 16).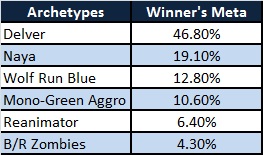 As you can see Delver continues to dominate as it did before and after its non-ban. It's great that Thragtusk has helped elevate Naya Wolf Run Blue and Mono-Green but let's be serious: it would be a better format without Ponder. I get that your deck is probably very good against most of the Ponder decks.
Imagine the following card:
Make 'em Pay! R
Instant
Draw a card then deal 20 damage to target player unless they have a Phyrexian Hulk in their sideboard.
Is this card too good?
Would people play with it? For sure. Many opponents will not have gotten the memo that everyone is supposed to play fourteen-card sideboards now dedicating one slot to Phyrexian Hulk. Besides it is a one-cost cantrip. That is not a ton of opportunity cost and you can punish people that try to game the system and play 15 card sideboards (figuring that people might not use this card since everyone should know to sideboard a Hulk).
Would this card dominate? Probably not. A metagame would emerge. The format would find its own balance. From week to week the number that actually play this card or Phyrexian Hulk would vary. If all we were concerned about is "fairness" it would be totally fair.
What it would not be however is desirable.
The world we do live in is a world where Ponder is legal. You don't have to play it but for the next eight weeks it is shaping the landscape.
Let's take a look at the decks Gindy and Cho finished 2nd and 3rd respectively with.
Creatures (15)
Lands (21)
Spells (24) Creatures (16)
Lands (21)
Spells (23) As you can see these Team SCG Blue teammates played nearly identical lists. After moving Restoration Angel to the sideboard for maindeck Talrands they have now moved the Talrands to the sideboard for maindeck Hero of Bladeholds. I am a huge fan of this move as Hero of Bladehold is very well positioned right now. Most Delver decks don't have a ton of permanent answers and Naya decks will often have zero to one answer maindeck beyond a lucky Bonfire.
It is worth noting that once you are at a place where people want four Gut Shots and two Mental Missteps main that tells you an awful lot about the format. The format is primarily Delver of Secrets decks and Birds of Paradise decks. Gut Shot is excellent under these conditions.
Knight of Glory is a very cool new weapon against Zombies. Obviously they have access to Geth's Verdict and Liliana (not to mention if they have any burn); however it is still very cheap and effective. That it speeds up your clock is easy to underestimate but quite valuable.
Stony Silence is an interesting sideboard card completely devastating Trading Post decks. If we see the trend towards Trading Post decks continue this is a sideboard card that should gain a lot of stock. It is also quite potent at shutting down Birthing Pod and Swords if you happen to face anyone running those...
Next we have former national team member Ben Lundquist who also used Delver of Secrets. His build was a bit more "traditional" with equipment and Restoration Angels. Of course he also updated his list with the new M13 Augur of Bolas as well as an increased Gut Shot count.
Creatures (16)
Lands (18)
Spells (26) Augur of Bolas is very well used here with 23 hits making your success rate over 77% before even factoring in Ponders. Ben got his spell count up this high by maxing on the full twelve cantrips which in turn makes Runechanter's Pike particularly strong. Augur of Bolas also provides another body to carry the Pike which is exactly what we were looking for. Finally Augur of Bolas helps ensure that Restoration Angel is basically always a cantrip (at the very least).
There is not a lot too crazy in Ben's sideboard though it is worth noting the Steel Sabotage. Steel Sabotage is an underrated utility card that has new function in this world of Trading Posts Solemn Simulacrum Wurmcoil Engines Ichor Wellsprings Nihil Spellbombs and other artifacts that are not as vulnerable to Shatter. Hitting a Birthing Pod before they get to use it is awesome and it is not a bad move to bounce a 3/3 Golem for one mana at instant speed. I wonder if some sort of U/B Tezzeret-Trading Post deck is supposed to use a Steel Sabotage or two in the main. The format has so many targets and the ability to "cycle" it on one of your own cards in a nice hedge.
Speaking of Tezzeret Brian Scipp finished just outside the Top 16 at DC with a Tezzeret deck.
Creatures (4)
Planeswalkers (6)
Lands (24)
Spells (26) As discussed threeweeksago Trading Post is the natural evolution of Tezzeret and I fully expect Shouta to be experimenting with them as we speak.
I like the balanced approach Brian has taken with lots of twos and threes. This gives his Tezzeret more searching capability. Basically looking at the top five and getting to choose between a Batterskull and a Wurmcoil is a much better option than two copies of the same one.
Spine of Ish Sah is another card that is likely to see more play as Trading Post decks mature. Combining it with Phyrexia's Core is a very potent long game and sacrificing it to a Trading Post is the very definition of value. The card I keep coming back to is Treasure Mage.
Treasure Mage seems like he could be such a perfect fit for Trading Post decks. You might not be able to play very many of them (unless you are Architecting) but he does a lot of really valuable stuff for a Trading Post deck specifically. Finding Wurmcoil Engine is super valuable as he is great at defense a source of sacrifice material and a fine card to recycle over and over.
Mindslaver is another sweet option that can full on hard lock someone with Trading Post. Playing a single Mindslaver in a deck with two Treasure Mages some Tezzerets and maybe Ponders would make it easy to find at will. Even if it is just a sideboard as Scipp had it the Treasure Mages would make it a much more potent one.
Myr Battlesphere is probably wrong but it does have some sweet interactions with Trading Post. Contagion Engine is a bit pricey but being able to find a sweeper is interesting. Staff of Nim is a very sexy new card drawer that should probably be played more than it is even if it is a bit slow.
Another sweet deck to Top 32 in DC was Rich Stein's Mono-Green Infect deck:
Creatures (15)
Lands (20)
Spells (25) Stein's build was certainly not the only Rancor deck to Top 32 (with a Mono-Green Aggro deck making Top 8 and another making Top 16); however it is certainly the most groundbreaking.
Cathedral of War is a very exciting new tool for Infect decks as every point of power you can pump a creature is worth double. The format is a little hostile for mono-color aggro at the moment but I think we will see more of Cathedral of War as time goes on.
The full four Mental Missteps and four Gut Shots offer Stein a lot more removal than most Mono-Green aggro decks have. Additionally they each have added applications. Mental Misstep is a very important tool for protecting your creatures from Vapor Snag and enemy Gut Shots. Your Gut Shots can actually be used as Giant Growths when combined with Wild Defiance.
Round one of the Battle of Wits challenge ended without anyone even striking distance of the coveted Top 8 spot. The highest finishing Battle of Wits player was Kenny Mayer armed with a Battle Pod variation:
Creatures (94)
Planeswalkers (8)
Lands (100) Personally if I went to all the trouble of playing 235-240 cards I would want some Demonic Tutors to find my Battle of Wits. I still like the idea of a U/B list along the lines of the build found here.
I'm just about out for the week but here is a speculative brew for the road. Patrick Sullivan and Brian Kibler have had me thinking about Mono-Black Control and Sorin's Vengeance (for a change...). I think I'd like to see the two concepts in different decks however. Mono-Black is still looking for the right end game to keep pace with the blue decks or go over the top of them. I kind of think that blue card draw might just be too good to pass up.
If one is going to experiment with Mono-Black it is important to have a reason to be going to the trouble. Lashwrithe Mutilate and Phyrexian Obliterator are all reasons to actually limit ourselves to just one color. Personally I am more interested in exploring the various Pristine Talisman builds (which often end up pulled into a non-Mono-Black direction which is fine by me as it is a trap to be of the mindset that we must play a certain color or color combination rather than let the deck evolve naturally). I would like to point out that if Divination is your thing there are a few black Divinations available if you can keep your life total up. Here is an example of a very different approach to Mono-Black:
Creatures (11)
Planeswalkers (2)
Lands (24)
Spells (23) Fume Spitter is very underrated in the format. After all when Gut Shot is good it is not hard to see why Fume Spitter would be too. Besides if you are going to Nighthawk you really want to Lashwrithe and someone needs to be able to carry the Lashwrithe when Nighthawk isn't around.
It is very possible that Liliana of the Dark Realms is a better fit than Liliana of the Veil. It is hard to want to use both but the four-drop is exciting with Nighthawk so if we can make up for the vulnerability to hexproof creatures it could be worth it.
On the Sorin's Vengeance front it does seem like there might be potential to combo people out with double Sorin's Vengeance but I've always like Snapcaster Mage for such purposes. Here is a rough sketch that might contain some seed that could be better used elsewhere:
Creatures (14)
Lands (23)
Spells (23) Augur of Bolas is just a very good rate and worth using even with no equipment. It also helps us look for Sorin's Vengeance faster (not to mention resetting the top of our deck for Ponder).
Thinking about adding Thragtusk to control makes me wonder if it might be possible to do the same to Mono-Black. That is definitely one way to pay for those Sign in Bloods.
Creatures (11)
Planeswalkers (3)
Lands (25)
Spells (21) The first ever Magic World Cup is just a week and a half away. It will be interesting to see what new decks pop their heads up.
What are the five most important cards in the format right now?
I'd say Ponder Snapcaster Bonfire Angel and Thragtusk.
Any predictions about what card might be on all of our lists next month?
See you next week!
Patrick Chapin
"The Innovator"