You're 6-1 down a game in round 8 against the mirror match. You're at one life and your opponent has a Snapcaster Mage in play with a Vapor Snag in his graveyard and a Restoration Angel in play. You have a Snapcaster Mage Geist of Saint Traft and a Vapor Snag in hand and a Mental Misstep in the graveyard. You also have a tapped Restoration Angel tapped Snapcaster Mage and a Runechanter's Pike in play so if you get in another attack you'll win. The problem is that your opponent has five lands in play and can attack you with Snapcaster Mage demanding a blocker but he can also flash in Restoration Angel to Blink Snapcaster for the last Vapor Snag to get you. You're feeling the heat and think there's an optimal play you should see but you can't seem to figure it out. You have six lands untapped. What is the play?
If you're smart you should realize very quickly that you have to play Geist as a blocker then when your opponent is forced to tap out to try the Angel-Blink-Snag on his Snapcaster you can flash in your Snapcaster and pay mana to flashback Mental Misstep on his Vapor Snag and untap into Snag on the Angel to win the game.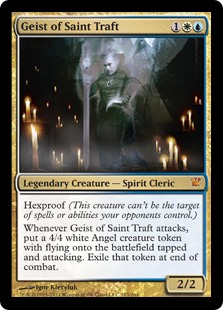 Well that's not how games always work out. What boneheaded play did I make? I Vapor Snagged the Snapcaster Mage and the next turn my opponent had Snapcaster Mage targeted Vapor Snag and flashed it back. When I tried to Snapcaster and Mental Misstep the Snag he had a Mana Leak and I only had two mana untapped.
Ugh. Losing by one life one mana and my opponent having exactly enough mana to ruin me is always unfortunate but I can't get this misplay out of my head right now. I know I can calculate these types of plays. They're the kind of math-intensive situations that I always figure out and are my favorite part of the game of Magic. They don't come up every game; they don't even come up every tournament. Some people never encounter them. I received an opportunity when this board state presented itself to make the correct play and just screwed it up. That's disheartening to say the least. Even worse I didn't quite realize the magnitude of my mistake until the next day after making some pretty embarrassing mistakes in the SCG Legacy Open.
I went into that tournament brimming with confidence as I usually do with SCG Legacy Opens but it was not to be. I played some of the worst Magic in my entire life against an Elves player including not using my Force of Will when I should have and running out of time before I could win game 2. I know you all have had that sinking feeling in your gut when you know you've just punted. If you ever see your bad mistake without getting that accompanying mix of nervousness and nausea you should probably quit competitive Magic because that feeling reminds you how much you really want to win. I had more than my fair share of that feeling on Sunday. It sucks and it makes me want to practice more than ever for Grand Prix Boston because I haven't been playing good Magic lately.
But let's move back a step. Having an SCG Open Series just a subway ride away was quite nice and it allowed me the opportunity to play in it without much of a commitment. That may have been convenient but it may have also contributed to a lack of focus and determination come tournament time. After all I didn't even test or think much about the tournament other than on Friday night when I set my alarm for 8:30 AM. What kind of preparation is that? Barely anyone can totally ignore practicing before a tournament to get the juices flowing and I didn't listen to my own better judgment. Of course I have had a lot of practice with Delver and Stoneblade but that doesn't excuse the mistakes I made mistakes that could have been avoided with a little bit of practice in the mirror match and a reminder to slow down when I'm at a key point in a game.
Of course none of that was on my mind when I showed up and saw Matt Costa and Dave Shiels ready to do battle with a Delver list that they graciously let me use. It derived from the list they played at SCG Open Series: Buffalo as getting more aggressive with many Gut Shots and Runechanter's Pike is a great response to the increase in Avacyn's Pilgrim decks that can go over the top with Bonfire if they're allowed to set up.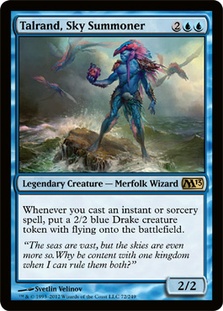 Incidentally it's these decks that make me dislike Talrand Sky Summoner so much in Delver. The card is nice against the mirror match but I have a hard time understanding why you would rather have it than say Hero of Bladehold which Josh Cho and Charles Gindy both played to Top 4 finishes in their Delver decks. After all it's going to be tough for a Naya player to Bonfire out a Hero the turn you play it and it will kill them dead before they have a good chance to topdeck a miracle Bonfire. When removal that answers Hero of Bladehold starts to disappear from the metagame in favor of removal that answers Delver and Birds of Paradise more efficiently then it's time for Hero to show people what's what.
Talrand is the type of card that's good in Delver mirror matches and even then there are going to be a significant percentage of Delver mirror games that don't even get to the point where Talrand can run away with the game. One player can just flip a pair of early Delvers and Vapor Snag the flying tokens in order to finish the Talrand player or a Runechanter's Pike can go unanswered and make the 2/2 flyers look rather anemic. Talrand can get answered by Phantasmal Image and it can be Leaked if you don't have a Cavern of Souls. Dismember is still a real card as well.
Don't get me wrong Talrand is a powerful card that does a lot of work in the right scenario and that scenario is a mirror match that devolves into a grind where one player bricks on the four hard answers to Talrand in their deck (Image Dismember). I just think that Talrand is not necessarily worth building one's deck around considering how much of the format disregards a flock of 2/2 flying Drakes with Bonfire Birthing Pod Whipflare Titans or the hyper combo finish that Blood Artist enables.
With that said I played a pair of Talrand in my Delver sideboard and though game 2 against the underrated Andy Vorel in round 8 ended with a Talrand on my side of the field and lands drawn three turns running I would still consider running them again. The other option of course is Hero of Bladehold. Like Talrand Hero can run away with a mirror match if uncontested although it can't play defense as well as Talrand plus buddies can. The problem is that it costs double white which is tough in the nineteen-land special. Here's the list for the curious.
Creatures (15)
Lands (19)
Spells (26)
Some observations: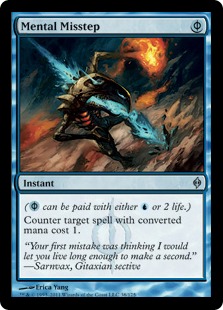 Mental Misstep is as good now as it has ever been in Standard. It's absurd against Infect Naya Elves and Delver and it's acceptable against Zombies. It's not great against Wolf Run Ramp but since the vast majority of the format revolves around getting ahead with one-drops Mental Misstep looks to go out with a bang. I don't know how much more room there is in the maindeck but I'd like to go to two copies of Misstep. I guess you can cut a copy of Gitaxian Probe or Thought Scour but I'd rather keep them. Maybe cutting a Pike is right.
From the sideboard I dislike Oblivion Ring and would like to play Divine Offering or another Dismember over it unless I were to cut the Talrands for Hero of Bladehold in which case you don't need to be as wholly instant-and-sorcery reliant as before. The rest of the sideboard was great and I wouldn't touch a card. If you think you'd rather play with Hero of Bladehold then great! Definitely give it a shot. If there's one thing I've begun to appreciate in Magic recently it's that there's frequently no perfect list of a deck. Rather there is the perfect list of a deck for a specific player.
I may simply not be comfortable piloting the Talrand style Delver deck for example whereas others love the idea of setting up a huge Talrand turn with Phyrexian mana spells to protect him and gain value. I simply want my opponents dead so I lean more towards the Hero side of the equation. As always your mileage may vary so try to take deckbuilding advice with the condition that other players may have different preferences than you. It doesn't make you wrong; it means you each play better with different cards.
My mentality of controlling the tempo of a game before getting my opponent dead applies a lot to Legacy as well. I frequently play Stoneblade as readers of this column are no doubt aware while my good friends Kurt Spiess and Reid Duke chose to play U/W Control to great success at the SCG Legacy Open last Sunday. U/W Control doesn't fit into my preferred play style as it can never take the beatdown role when necessary and doesn't have Stoneforge Mystic + Batterskull to force an opponent into an awkward defensive position. But where it lacks in that department it excels in locking out games and going over the top of whatever an opponent can possibly hope to do.
From my perspective here are the key differences in matchups between Stoneblade and Control that inform my decision to switch decks or not.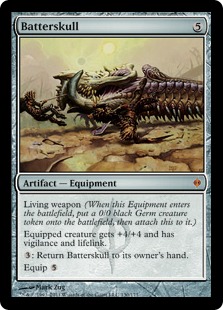 The fact that Stoneblade has Stoneforge Mystic and Batterskull improves its Merfolk matchup a lot. Merfolk takes advantage of the fact that Control has a hard time answering an army of creatures backed up by countermagic as simply holding a Force of Will for the Terminus or drawing two Mutavaults will frequently win the game for Merfolk. Standstill also ruins Control since Control relies on resolving a game-breaking spell off the top and Merfolk can simply counter that spell for a huge blowout.
Stoneblade can wrest the initiative from Merfolk with a turn 3 Batterskull. The 'Folk have a terrible time beating a Batterskull as four life a turn and a big blocker to brick wall the Merfolk offense just shuts the deck down. Of course with four Swords to Plowshares and four Snapcaster Mages as well as a couple of Path to Exiles coming in post-board Stoneblade can almost always keep an Islandwalking Lord off the table which allows Snapcaster to trade effectively with a Silvergill Adept or Merrow Reejery. The fact that Stoneblade can stall better to set up its Jace or Stoneforge end game puts it in a much better spot than Control which has to throw haymakers hoping something sticks through the counter wall because nothing else will stop the Silvergill Adepts and Coralhelm Commanders from coming across for the win.
What Stoneblade gains in the Merfolk match it cedes in the RUG Delver match. Because RUG Delver is often able to grind out the Stoneblade player and has cards that can't easily be answered by Esper's spells Stoneblade doesn't look forward to playing against an experienced RUG pilot. Sulfuric Vortex and Ancient Grudge in the sideboard can also put a huge damper on Stoneblade's party by nullifying the equipment package. I tend to believe that if Stoneblade can just survive and hit its land drops it can grind through RUG's disruption as the utility of Spell Pierces and Dazes drop off but the matchup is not a cakewalk by any means.
For Control though Terminus and Engineered Explosives are perfect answers to Nimble Mongoose Tarmogoyf and Delver of Secrets. Counterbalance-Top is actually insane against RUG because the entire deck is one-drops with the exception of Tarmogoyf Daze and maybe sideboard hate. It makes sense then that Control enjoys a favorable matchup against one-time best deck RUG Delver.
As for the Maverick matchup both decks are slightly ahead in my experience although it seems like Control is slightly more favored because of four maindeck sweepers for one mana. The problem cards are still problems as Choke and Sylvan Library are both going to be troublesome permanents to deal with for either deck. The difference is that Control has more basic Plains so it can function more effectively under a Choke. Usually Control cuts the Counterbalances against Maverick so that is usually not a factor in games. I'd call this slightly in the favor of Control but it's close.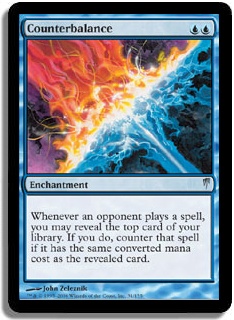 Combo matchups are usually slightly better for Stoneblade as they don't have as many clunkers pre-board as Control and postboard they gain more discard spells to replace the dead cards. Control will usually still have a few bricks in their deck no matter what when they play against combo decks but Counterbalance-Top is often game over against a large percentage of the combo decks so we'll call this one a slight favorite for Stoneblade though it's still close.
Now the heads-up match. I honestly don't know which deck is favored. I'm inclined to say Stoneblade because the discard and multiple angles of attack allow Stoneblade to pick an opening against Control to resolve a key spell and run away with the game. Engineered Explosives neuters Counterbalance to some extent and since Control can't sideboard out all of their removal they're bound to be stretched thin on answers in some way. If Control does establish the Counter-Top lock on Stoneblade it certainly gives them a large advantage as the game goes on but the fact that Stoneblade is going to be better at finding a spot to stick a Jace puts it slightly ahead for me.
So what's a guy to do? I'm stuck in between two excellent decks with no clear choice as to what's better and I'm slightly more comfortable playing one of the two. Additionally Control gives me a much greater chance of drawing a match than Stoneblade since it has to find one of its two Entreat the Angels in order to actually win a game most of the time.
Could I incorporate some of the advantages that Control has against creature decks into Stoneblade? I can't realistically fit in a Counterbalance package but I know a lot of Stoneblade decks have been running a Ponder or two to supplement their mana base. Well I'd love to play Terminus in Stoneblade as a way to answer Maverick and RUG Delver more effectively but with only Jaces and Brainstorms as ways to put Terminus on top of my deck it might not be playable. What if I just play Sensei's Divining Top as a card quality engine? Well it would be very close to my list from the SCG Legacy Open in DC but it would get a little bit better at grinding out opponents once the initial onslaught's been dealt with. Also having access to Terminus makes it that much more likely that I can survive the initial onslaught with success.
What about this?
Creatures (11)
Planeswalkers (3)
Lands (23)
Spells (23)
Alternately I could take a page out of Stoneblade's book and retool Control slightly to give it a better matchup against Stoneblade and combo with discard.
Creatures (3)
Planeswalkers (3)
Lands (22)
Spells (32)
Kurt Spiess played a version of Control with Red Elemental Blasts in the sideboard which I'm sure helps alleviate issues in the Merfolk matchup. Those red cards are also certainly useful in the combo matchups as many of the combo decks run blue spells to help them set up more effectively. That may be the best direction to go with the deck and I'm excited to see what ends up being the best choice. Hopefully he and I can work together on making the deck as good as it can be because I'd love to change it up for a week and run Control in a Legacy tournament the next time a StarCityGames.com Open Series comes within spitting distance.
I'm taking a short break from major tournaments for the next two weeks but I'll be training for GP Boston-Worcester and M13 Limited. It's high time I learned how to play Limited Magic well as it's clearly the biggest hole in my game right now. Next week I'll come back with some observations about that format as well as any updates that SCG: Open Series Kansas City brings us in Standard and Legacy.
Best wishes
Ben Friedman