After the last PTQ I played with Pod, I sat down to loan a friend the deck for the next weekend's event. We talked through the deck, and the discussion turned to why we were playing Naya instead of Bant. That argument was settled when we realized how much worse Seachrome Coast is than Copperline Gorge, but the power level of the blue cards stuck.
Specifically, we were interested in Deceiver Exarch and how it let you turbo through a Pod chain. In his post-PTQ win article, Cedric Phillips laid out the following sequence of events.
1.) Sacrifice Elvish Visionary to find Deceiver Exarch.
2.) Untap Birthing Pod.
3.) Sacrifice Birds of Paradise / Avacyn's Pilgrim to find Phantasmal Image.
4.) Phantasmal Image copies Deceiver Exarch, which untaps Birthing Pod.
5.) Sacrifice the "fake" Deceiver Exarch to find Restoration Angel.
6.) Blink the Deceiver Exarch, which untaps Birthing Pod.
7.) Sacrifice Restoration Angel to find whatever five-drop you'd like (typically Thragtusk).
8.) Smile at what you've just done.
That was cute, but none of the five-drops in Bant Pod were actually that impressive. Even Thragtusk wasn't enough to break open a Pod mirror. You could ramp into an Acidic Slime on turn 4 this way, but you could do that with a mana dude and a four-drop from hand. The biggest gain from this was that you could make a six-drop the next turn instead of having to spend multiple turns Podding up a chain.
But what if the five-drop was Zealous Conscripts? Let's see what happens.
1.) Sacrifice Elvish Visionary to find Deceiver Exarch.
2.) Untap Birthing Pod.
3.) Sacrifice Birds of Paradise / Avacyn's Pilgrim to find Phantasmal Image.
4.) Phantasmal Image copies Deceiver Exarch, which untaps Birthing Pod.
5.) Sacrifice the "fake" Deceiver Exarch to find Restoration Angel.
6.) Blink the Deceiver Exarch, which untaps Birthing Pod.
7.) Sacrifice Restoration Angel to find Zealous Conscripts, which untaps Birthing Pod.
8.) Sacrifice the Zealous Conscripts to find Sun Titan, returning Phantasmal Image to play.
9.) Phantasmal Image copies Deceiver Exarch, untapping Birthing Pod.
9b.) Sacrifice the "fake" Deceiver Exarch to find Restoration Angel. (optional)
9c.) Blink the Sun Titan, returning Phantasmal Image to play. Repeat steps 9 to 9c as desired.
10) Sacrifice the Sun Titan to find Elesh Norn, Grand Cenobite.
11) Smile and ask your opponent if they want to scoop up all their cards with their creatures.
That seemed way too unfair to pass up. If you could fit blue and red into your deck, you could just combo out instead of just being a grindy engine deck.
Having played the Naya list, I knew the red was almost a complete free roll. It's not like Copperline Gorge is much worse than a basic Forest, and you almost certainly would want one Mountain to Borderland Ranger for regardless. It was really just a matter of seeing how much we would have to cut to fit in the blue. We almost immediately excluded the idea of playing any cards that cost double blue, but that only meant losing Frost Titan, Deadeye Navigator, and Mist Raven. Not impressed.
I had no input on the deck between then and when I picked it up for the next weekend, but the return news was good. Most importantly, the mana turned out to be perfect.
After immediately changing two cards and a good amount of time spent hemming and hawing over other changes that would have been huge mistakes, I sleeved up the following 75 and crushed.
Creatures (31)
Lands (23)
Spells (6)
Final record: 9-0-1, and obviously the draw was intentional.
Decks I played against: 2x Pod (Naya and a different four-color list), Delver, Grixis, 2x Zombies (U/B and Pod), Mono-Green Infect, W/G/B Planeswalker Control, Wolf Run Ramp.
Other changes from the last list: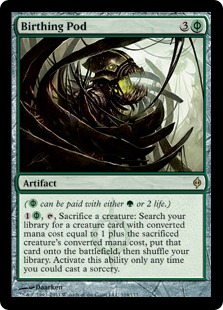 The biggest change was just adding the fourth Birthing Pod. You are adding blue to the deck specifically to make Pod better, so it would be silly not to max out on the card. The ability to chain earlier also makes the card better against Delver, though I would probably still board one out in that matchup as multiples can be clunky.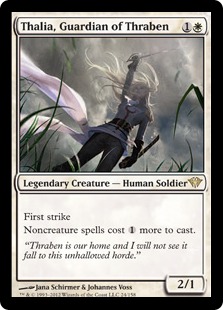 Thalia getting cut is not representative of it being a bad card. It just meshed the least with everything else the deck was trying to do. There just wasn't room for a card you weren't going to Pod for with the exception of Bonfire of the Damned. Cutting Thalia meant dropping down on two-drops to turn into Deceiver Exarch, making the fourth Visionary necessary as Phantasmal Image rarely copies something that costs two.
The three-drop slot also shifted around. The Borderland Ranger count went up to support the third color. As for the drop in Blade Splicers, I kept trying to add more to the list. It just felt wrong to cut the card. Maybe not all four, but at least two. I should have just looked at this quote from my last article on Pod:
"I didn't actually beat anyone with Blade Splicer + Restoration Angel the way I did with Esper. Those cards just did some things that helped build the overwhelming incremental advantage I eventually won with."
When you are Podding, Blade Splicer tokens don't mean much. When you are killing them with Gavony Township, the extra body is nice but not too relevant. That makes it your third best way to actually win a game. Again, not impressed. The card still does good work in matchups where you need to block such as Infect and Zombies, hence the sideboard copies, but the slots it would take up in the maindeck could be better spent on more powerful effects.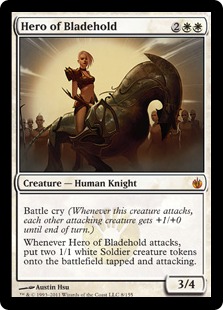 As expected from last time, Hero of Bladehold left the maindeck. It also left the sideboard. The deck got much better at dealing with a Titan due to the blue cards. The combo chain lets you go over the top of Wolf Run Ramp, and even when drawn the cards are naturally good against Ramp. Phantasmal Image makes doubling up on Acidic Slime easier and can copy a Titan, while Deceiver Exarch can serve as a Rishadan Port or hold off a Titan attack.
Geist-Honored Monk was good against Delver and might warrant consideration in the future, but something had to go on the high end to make room for Acidic Slime. Beyond killing all the equipment and value lands floating around the format, you can legitimately send people back to the Stone Age between your three Clone effects and Restoration Angels. Podding a one-drop into an Image for your Slime, then turning the copy Slime into a Sun Titan that gets it back as another Slime is serious business.
The six-drops completely changed. Obviously now that you have Phantasmal Image you want Sun Titan, but the swap of Wurmcoil Engine for Inferno Titan was something I was trying to change until the last minute. As with Blade Splicer, my instinct was just wrong. There are a lot of times you are just making a six with Pod and not executing the full chain but still want to wreck their board or where you don't want to make an Elesh Norn as it will die to a Phantasmal Image. Inferno Titan does a lot more than Wurmcoil Engine would in these cases against most of the major decks in the format. Even when it is worse, it still does good work. It puts most control decks on a one-turn clock to answer it and still easily guns down a field of Zombies. It is obnoxious to cast from hand, but you can do it if you want.
The mana is basically identical. You cut a bunch of Humans so Cavern of Souls gets a bit worse, but you are replacing it with a basic Forest that still makes green on turn 1. Most of the cards you cut are white, making the cut of a Plains for an Island less damaging. The last swap of a Gavony Township for a Hinterland Harbor helps balance the mana, and with the addition of the fourth Birthing Pod you keep the same number of threats as the previous list.
Most of the sideboard remains unchanged. All the cards I said were bad have been cut, and a few newcomers made their way in.
The extra Thragtusk and Huntmaster were very nice to help optimize your curve in specific matchups, notably Delver and Zombies. When your opponent is clocking you, having time or life to activate Pod can prove difficult. Drawing a copy of either of these cards helps you stabilize and start going big. Despite how much I hate on Huntmaster, it is good when your opponent is playing aggressive creatures and doesn't have Bonfire of the Damned.
The third Phantasmal Image was a bit harder to judge, and I'm still not sure if I want it or what it would become if it was cut.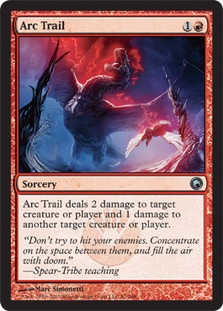 The sideboard Arc Trails did their job very well. In the mirror you want as many ways as possible to kill their mana creatures and maintain a tempo balance, and Arc Trail does this about as well as Bonfire. On the draw it's even better as it means you can now keep hands without a mana guy or not automatically lose when they Bonfire you on their second turn. Despite how good it was, having six copies was too many. I would rather keep the third Bonfire for its other applications, so future lists of the deck should only have two copies of this card.
In its place, I would want a second Acidic Slime. You want to naturally draw it against Wolf Run Ramp and you want the ability to kill multiple lands or artifacts against control even if your first Slime dies.
Some general sideboarding guidelines:
Don't be afraid to board out Bonfire if it won't be good cast from your hand.
One Borderland Ranger is almost always a flex slot. Elvish Visionary may also be depending on the matchup.
Always leave in one Phantasmal Image to chain with. The same likely applies with Zealous Conscripts, though that isn't as clear-cut if Thragtusk is very good in the matchup.
Always be sure to keep in at least two five-drops. Not being able to Pod through to a Titan if your first five-drop dies or is in your hand is a real concern. The same applies with the Titans if Elesh Norn matters in the matchup.
And the more specific ways I boarded and played in each matchup.
Pod Mirrors
Out: -1 Borderland Ranger, -1 Huntmaster of the Fells, -1 Blade Splicer
In: +2 Arc Trail, +1 Bonfire of the Damned
Bonfire of the Damned and Pod into Elesh Norn are the real end games here. Blade Splicer and Huntmaster fight neither of these profitably, and Borderland Ranger happens to be the next worst card. Elvish Visionary is good because it helps you dig for one of the important cards, while Borderland Ranger only finds land. In exchange for these cards, you get more ways to halt their early game.
A lot of this matchup comes down to play or draw, but keeping relevant hands also matters a lot. If your hand is just a bunch of fine midrange cards, it isn't going to beat their Pod. If there's an Arc Trail or Bonfire you can make things work, but you should be making aggressive mulligans.
Delver
Out: -1 Acidic Slime, -1 Borderland Ranger, -1 Solemn Simulacrum, -1 Birthing Pod
In: +1 Thragtusk, +1 Huntmaster of the Fells, +1 Bonfire of the Damned, +1 Crushing Vines
Borderland Ranger and Solemn Simulacrum just don't do enough, while multiple Birthing Pods is a liability to your life total. Cutting the Acidic Slime might be incorrect as you may need a way to kill Runechanter's Pikes, but I figure your high end creatures should clean things up sufficiently. Worst-case scenario you still have Crushing Vines. The Thragtusk and Huntmaster help you play a game without Birthing Pod in play, while Bonfire kills Geist of Saint Traft and Talrand very well. If they are on Restoration Angels, I would probably not add in the Bonfire and opt for Phantasmal Image or leaving in the Slime instead. One Elvish Visionary is another possible swap if you decide you want any of the cards you are cutting.
If you have a Pod in play, always consider that completely chaining isn't necessarily your best option.
Wolf Run Ramp
Out: -2 Bonfire of the Damned, -1 Borderland Ranger
In: +1 Acidic Slime, +1 Phantasmal Image, +1 Zealous Conscripts
Wolf Run Ramp simply doesn't have creatures to Bonfire, and again Borderland Ranger is just hanging out. The cards you are bringing in should be obvious. Kill their lands, and take their Titans. I brought in Ancient Grudge as my finals opponent had Tumble Magnets out of the board to tap my Birthing Pods on upkeep, but as far as I know it isn't the norm.
Zombies
Out: -1 Phantasmal Image, -1 Solemn Simulacrum, -1 Phyrexian Metamorph, -1 Zealous Conscripts, -1 Acidic Slime, -2 Bonfire of the Damned, -2 Elvish Visionary
In: +3 Celestial Purge, +2 Arc Trail, +2 Blade Splicer, +1 Huntmaster of the Fells, +1 Thragtusk
You need to do everything possible to stabilize against their early rush and late game reach. Image and Metamorph don't help with this. Copying any of their guys isn't good for defense, and if you have a relevant creature in play to copy that should be enough already. Solemn Simulacrum, Zealous Conscripts, and Acidic Slime don't provide enough of a swing for their cost. Elvish Visionary doesn't kill any of their guys in combat, and its ability to chump block is mitigated by Blood Artist. These cards turn into life gain, real removal, and good blockers.
Bonfire comes out not because it is bad, but because Arc Trail does more. Arc Trail kills a Gravecrawler and Diregraf Ghoul early while Bonfire doesn't. Arc Trail also allows you to have greater precision with your removal in the late game to prevent you from straight up dying to Blood Artist.
Against Zombie Pod, things change. You want both Conscripts and Slime to combat their Pod game plan. I boarded out a Borderland Ranger and another Visionary when I played that matchup, which can lead to some clunky draws but is a necessary concession to their added power.
Even with all the hate, this matchup is still scary. They can and will just nut draw you sometimes.
Infect
Out: -1 Thragtusk, -1 Solemn Simulacrum, -1 Borderland Ranger, -3 Elvish Visionary, -1 Phantasmal Image, -1 Phyrexian Metamorph, -1?
In: +1 Crushing Vines, +1 Ancient Grudge, +2 Arc Trail, +1 Bonfire of the Damned, +1 Huntmaster of the Fells, +1 Acidic Slime, +2 Blade Splicer
Same concept as Zombies. In come cards that block or kill things, out go cards that don't. Note that most of their creatures are artifacts, hence the Ancient Grudge and Crushing Vines. The Slime is a guaranteed kill when blocking, but more importantly it kills Inkmoth Nexus.
Visionary isn't terrible, but it doesn't profitably block anything other than Glistener Elf. If there were other things to cut, I would.
The last board out slot still stumps me. It might be that you just don't want Visionary at all, or you might want to cut another Borderland Ranger as you are bringing in Splicers. I took out Sun Titan for the PTQ under the logic that making an Inferno Titan then turning it into Elesh the next turn is basically as good as Sun Titan continuing the chain that turn, but it seems wrong.
Various Control Decks
Typical Cuts:-2 Bonfire of the Damned, -1 Phantasmal Image, -1 Elesh Norn, Grand Cenobite, -1 Huntmaster of the Fells
Typical Additions: +1 Thragtusk, +2 Blade Splicer, +1 Zealous Conscripts, +1 Acidic Slime
These are not set in stone. The control lists vary a ton. If they are Trading Post based you want the artifact kill as well. The only real notes I have here are that Blade Splicer isn't 100% necessary to bring in and that Metamorph is very good for making a second Pod. Double Pod makes recovering from sweepers simple and plays around random artifact hate.
This wasn't the only awesome deck I saw floating around towards the end of the season. Here are a few more lurking lower down the totem pole.
Creatures (15)
Lands (16)
This was the other deck I was considering for the PTQ. Gerry went off last week about how all the four drops were bad in the mirror, but he decided to just go for the one that was "best" elsewhere. Matt went the other direction and just decided to cut them all together. This led to land getting cut, and the color white disappeared as Glacial Fortress became more and more of a liability.
This deck reminds me a lot of Modern Affinity. You have Cranial Platings in the form of Runechanter's Pike, Delver is your other win condition, and the rest of your deck is basically blanks. Instead of the blanks being random beaters, you have cantrips that just cycle through into one of your real cards.
Before you ask, that is the right number of lands. If anything, flood was still more of an issue than mana screw.
This deck is amazing against more of the field but is soft to hate for Pike. Ratchet Bomb is a huge problem as is kills everything you have in one shot, and Nihil Spellbomb reverses a lot of hard work. The other way to lose is if your opponent just has a ton of removal, but Invisible Stalker and Mana Leak can usually handle that.
If you find the deck threat light, Welkin Tern was the best option we came up with. It might be possible to fit Geist of Saint Traft into the deck, but that seems like a stretch.
As a side note, the deck name used for this list on the registration sheet was "Sixteen, Going on Seventeen." This alone may have made it worth playing.
Creatures (31)
Lands (24)
Spells (5)
This was the other four-color Pod list I talked about playing against in the PTQ. Instead of the blue cards, Josh opted to play black for Falkenrath Aristocrat. This enables an infinite combo with Fiend Hunter and either Sun Titan or Angel of Glory's Rise. Fiend Hunter exiles the large white creature and is then sacrificed to Aristocrat for a counter. The exiled creature returns to play, reanimating Fiend Hunter, which exiles it and restarts the loop.
This is a powerful end game, but unfortunately neither he nor I could find a good way to chain directly into it. If you make a Sun Titan with Aristocrat in play that should be enough, but that's a multiple card kill. Instead, I think you prioritize the fact Aristocrat is a four-power haste flier and have an aggro backup plan.
Josh easily killed me game 1 with Aristocrat and Thundermaw Hellkite, and I expect that much power should be enough to quickly kill most opponents. The large number of Zealous Conscripts also plays into this plan, and the card has extra synergy with Aristocrat eating the stolen creature after attacking with it. Some of the other portions seem off, such as the two-drop slot and the fact there are only seven mana creatures, but the idea seems like another solid take on one of the most powerful cards in the format.
Planeswalkers (4)
Lands (25)
Spells (31)
Another player who drove down with us won the side event with this deck after narrowly missing the Top 8 of the previous week's PTQ on tiebreaks. I was very skeptical of this deck given how bad the Block version was when I tried it out, but after watching it play it seemed very strong.
This deck is very flexible compared to the Block list. You play a legitimate control role instead of just stalling out with Feeling of Dread waiting for a miracle. Day of Judgment and Oblivion Ring kill things instead of just bouncing or tapping them, you can double up on planeswalkers instead of drawing multiple Tamiyos, and you have the ability to completely stabilize via Pristine Talisman. Ponder is just an added bonus that lets you properly time your miracles and shuffle if there just doesn't happen to be one there.
After playing more with the deck, Brian was very unimpressed with Temporal Mastery. The one time I watched him cast the card it was an extreme blowout that let him double activate a Karn and Tamiyo, but that was not the norm. Alternatives were discussed, and the best options that came up were Oblivion Ring, another planeswalker, or White Sun's Zenith. I would also consider playing the fourth Pristine Talisman, but that might be a bit too much mana.
He also mentioned that the sideboard Geist of Saint Trafts should become Hero of Bladeholds, but I'm unsure on that. Geist seems much better in drawn-out control mirrors than Hero, though if your concern is Wolf Run Ramp you definitely want Hero.
Standard is in a really good place right now. Despite Delver existing and putting up very ridiculous numbers, there are a ton of very powerful decks that are perfectly viable. Even within Delver there are a ton of deck building decisions. As unexcited as I was about the format earlier this year, I'm sad to see the PTQ season end.
-Ari Lax