Nineteen years ago.
It was exactly nineteen years ago at Gen Con 1993 that Richard Garfield unveiled Magic: The Gathering. The first ever sanctioned Magic tournament was won by Alex Parrish armed with Mons's Goblin Raiders Unholy Strengths Dark Rituals Juggernauts Orcish Oriflamme Disintegrate Terror and Stone Rain. His opponent Rich Townsend piloted Scryb Sprites Giant Growths and Circle of Protection: Red.
Thirteen years ago.
It was thirteen years ago that Sixth Edition rules were poised to bring about the "death of Magic." Damage now goes on the stack? The game will never make it and certainly not a decade of this dumbing down will occur before Wizards kills Magic by taking damage back off stack. Change equals scary and things that scare enough people are probably going to bring about the end the world whether it's nuclear war global warming or some banks collapsing.
Seven years ago.
It was seven years ago that Ravnica might have saved Magic. Granted Magic has been saved more than a couple times but nowhere near as many times as it has been "killed." That said Wizards of the Coast turned a corner with Ravnica. More than one R&D member has said that Ravnica was when Wizards learned how to design a good set. (Mirage is when they learned how to design a playable set. Invasion was when they learned how to design a decent set. Innistrad is when they learned to design truly great sets.)
Ravnica is on the short list for best Magic sets of all-time up there with Innistrad Alpha and a couple others. Gold sets are always popular but Ravnica has a special place in history and has long been the most requested place for Wizards to return to.
Now.
Return to Ravnica is just seven weeks away and spoiler season has finally gotten under way. For a brief moment one can't help but get a rush from discovering 23 cards have been previewed already. Of course then one quickly remembers 20 of them are four copies of each basic land. Still three previews from Return to Ravnica have the potential to reveal more than enough to get our gears turning to start painting a picture of the world to come.
Will there be guilds in Return to Ravnica?
Yes.
Azorius - U/W
Selesnya - W/G
Golgari - G/B
Rakdos - B/R
Izzet - R/U
The other five will be the focus of the next set at the beginning of next year Gatecrash (which will also be a stand-alone expansion that is eventually merged with Return to Ravnica once the third set of the block comes out next spring).
What about mechanics?
Well since there are two Golgari cards revealed already let's start with them. Up first the actual Golgari keyword narrowly edging out a return to the dredge mechanic a move that might have actually taken the title from "return to storm" as the most foolish mechanic to reprint ever...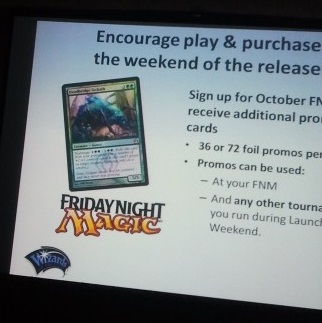 Deadbridge Goliath 2GG
Creature - Insect
Scavenge - 4GG (4GG Exile this card to put X +1/+1 counters on target creature where X is this card's power. Scavenge only as a Sorcery.)
5/5
Want to hear something hilarious?
There are people talking about this being unplayable.
Really? Really?
A 5/5 for four mana is not a bad rate I mean honestly. You aren't even taking a damage each turn or putting an opponent's legend into play. Then when we evaluate this ability we are talking about flashback. This card is basically a cantrip that draws you a six-mana spell that gives +5/+5. Obviously that sounds great for Limited but you aren't going to line up to play six mana for +5/+5 in Constructed...
... Except it is a cantrip you aren't being charged for.
A 5/5 for four is already worth thinking about (and it's not even gold just straight up green). This one draws you a card when it dies for zero mana. The card it draws you is slow but powerful eventually threatening to turn your Birds of Paradise into a FatMoti albeit one that can attack that turn.
Anyway scavenge is pretty sweet. As per always people don't appreciate a good two-for-one but that's ok. How much do you want to bet that the first scavenge creature that is mostly about the scavenge ability rather than the body it is attached to is going to get people excited about that one being the good one? After all you can discard it to a Looter!
At least we are all on board with how sweet this mechanic is in Limited and how good the game play will be. Let's just keep our eyes open for the undercosted ones and try them in Constructed. Hint: this is one of the undercosted ones (though unlikely to be the best given that it is the first one they previewed and that it is merely rare not mythic).
Outside of Slumbering Dragon decks who would use such a beast? Well with that good of a rate he has chances in a variety of places when people just want a four-cost fatty. That said where he'll really shine is when someone has a couple synergies. What are these synergies? Who can tell at this point but I'd keep an eye out for self-mill (including the plethora in Innistrad) discard outlets rewards for +1/+1 counters and so on. It doesn't take very much of this type of business before a card with a good rate becomes a great one on account of synergy.
Up next another representative from Golgari Jarad.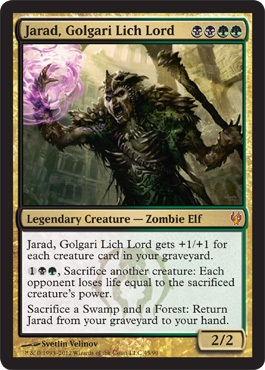 Jarad Golgari Lich Lord BBGG
Legendary Creature - Zombie Elf
Jarad Golgari Lich Lord gets +1/+1 for each creature card in your graveyard.
1BG Sacrifice another creature: Each opponent loses life equal to the sacrificed creature's power.
Sacrifice a Swamp and a Forest: Return Jarad from your graveyard to your hand.
2/2
Wow!
While Deadbridge was merely a decent rate creature that hints at the scavenge to come Jarad is an absolutely wild build-around-me that will be the centerpiece of decks for years to come. He is weird enough that it can be tricky to properly evaluate him but we have to start somewhere.
First of all how big is he? Boneyard Wurm only costs two and isn't turning any heads but of course you can't really take advantage of Boneyard Wurm only costing two that well since by the second turn you haven't really gotten that many creatures in your graveyard (usually...).
Normally costing two and getting +2/+2 isn't that great a deal particularly with as restrictive of a cost as Jarad has; however this type of creature in particular is stronger the later the game is. Another example would be Nightmares. Which of these is better:
Nightmare A 1B
X = the number of swamps you control.
X-1/X-1
Nightmare B 2BB
X = the number of swamps you control.
X+1/X+1
When you are talking about a creature that scales over time the rules change a little. We wouldn't normally want to pay two mana for +2/+2 but here we are talking about a 1/1 for two that is a 3/3 by turn 4 versus a 5/5 by turn 4.
Anyway moving on to Jarad's abilities we see the ability to Fling other creatures at opponents. How much is this worth? At first glance it seems like a reasonable ability that could be worth a few extra points of damage. However deeper consideration suggests this ability is actually quite powerful. After all consider the sorts of decks likely to play the Golgari Lich Lord. Might they have Splinterfright? Ghoultree? This guy is extremely deadly capable of killing opponents at full life out of nowhere quickly.
At least you can kill him right? Besides they have to actually draw him...
Ahh now we come to Jarad's second ability the one that cements his place in Constructed Magic his recursion. If he had only his stats and top ability he would already be a card strong enough to consider. As an added bonus however he has the ability to let you trade extra land into extremely deadly threats.
Maybe you had to discard him early to some sort of Looting. Maybe you pitched him to Forbidden Alchemy. Maybe you only found him because of Armored Skaab or Splinterfright. Whatever the reason the Golgari Lich Lord is now an option available to you patiently waiting in your graveyard for the turn you're willing to trade two land for what is likely a giant monster capable of Flinging your other giant monsters at your opponent no matter their blockers.
If not for graveyard hate this ability would be completely nuts. We are talking about dredge zero here. Instead of giving up a draw step you give up two land. As far as selection goes we already have access to so many tools for dredging or Looting.
It isn't like you can't race Jarad. He is a four-drop without haste or flying or lifelink. If you kill him he effectively costs six to come back (since two lands are gone) then eight (commanding us to draw parallels to other formats...)
It's not like there aren't answers either. After all he can be exiled by Dissipate Appetite for Brains or Oblivion Ring (though Celestial Purge is rotating out). He is an easy target for Vile Rebirth (Surgical Extraction and Nihil Spellbomb are rotating out and Grafdigger's Cage doesn't stop him). Terminus puts him on the bottom which is often close enough to exile.
He is going to take some creativity to beat at times. He is also going to take some creativity to figure out the best way to use but this one has what it takes. That casting cost is a little imposing but remember Overgrown Tomb is a helluva card.
Is Overgrown Tomb confirmed in Return to Ravnica?
Nope.
It's also not confirmed that you'll ever meet the woman or man of your dreams (or if you already did that you'll stay together). I'd have faith though. Expectation and attachment are at the root of suffering but deduction and logic are at the root of prediction.
The only way Overgrown Tomb isn't in Return to Ravnica is if something even better is. Kind of like the only way you aren't ending up with Person A is if there is an even better Person B for you out there somewhere.
When Wizards returned to Mirrodin they revisited basically everything that people loved from Mirrodin. Swords Mindslaver Chrome Mox the list goes on and on. You think there is any way in the world they are returning to Ravnica without sick dual lands for the guilds? Besides they know darn well what the expectation is and if they were really not going to deliver on that expectation you better believe they would be conditioning us for the blow. Instead they are conditioning us to be excited about their return. Just look at the Liliana of the Dark Realms preview on the Wizards' webpage.
"Oh and savvy readers will note that she doesn't just get basic Swamps.
Though I'm not sure how that could ever matter really. There aren't any other kinds of Swamp legal in Standard and I can't see Snow coming back any time soon (it's currently pretty warm up here in lovely Renton WA and we're not exactly hankering to give ourselves the chills).
I'm just pointing that out for completeness' sake. Due diligence. Do it right or don't do it at all etc. etc. I would be remiss if I didn't." -Zac Hill Wizards.com
Do it right or don't do it at all?
Case closed.
Anyway the original Ravnica had Overgrown Tomb Golgari Rotfarm and Golgari Signet. What mana fixing will Return to Ravnica have? Outside of Overgrown Tomb we can't be sure but we can be sure that it will totally rock.
When Ravnica first came out the first four guilds getting good mana fixing immediately thrust them into the Constructed spotlight. Then Guildpact brought about a format heavily dominated by U/R R/G and B/W decks. This trend continued in Dissension with Hallowed Fountain Breeding Pool and Bloodcrypt making new decks possible sometimes without even a single new spell.
When Return to Ravnica drops in October we are immediately going to see a rise of U/R R/B B/G G/W and U/W (for a change) decks. Darkslick Shores and Copperline Gorge being replaced by a number of U/R and B/G dual lands is going to change the face of the Standard landscape without question.
We have one more preview card today from Return to Ravnica. This one gives us our first taste of the new Selesnya.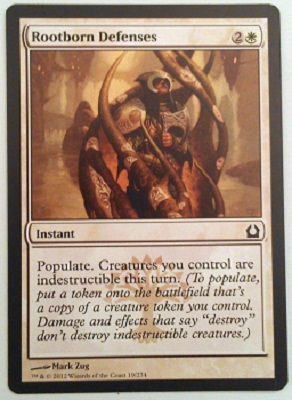 Rootborn Defenses 2W
Instant
Populate. Creatures you control are indestructible this turn.
(To populate put a token creature that is a copy of a token creature you control onto the battlefield).
First of all if you are thinking this is a strange preview card I'm with you. Of course this isn't really a preview card per se. Interestingly it is also not an unofficial leak. The history behind this spoiler is a little odd to say the least.
A player (allegedly) opened this card in a M13 booster. Not surprisingly after telling everyone he could he was lambasted as a counterfeiter. After all surely this must be a fake right? Particularly damning were the minor changes to the small print at the bottom compared to other cards (and the bizarre story surrounding it).
Of course now that Commander's Arsenal cards have been revealed to have adopted this small print modification the evidence is mounting that this really is a common that will appear in Return to Ravnica (though it has not been officially confirmed). I certainly wouldn't bet the farm on it but it is looking pretty likely that this really was some strange packaging error.
While kind of a strange preview this is also kind of a strange common. You make a token copy of a token you control and give your team indestructible? Weird.
How good is this? Well both of these abilities are highly variable in output. After all making your team indestructible could be game winning or it could be a bad trick. In general I'd say it is close but is probably a slightly weaker effect than Safe Passage (you stop Day of Judgment but you don't prevent damage to yourself).
However this isn't the end of the text. We also get populate. How good is populate?
Who knows?
Without the proper context it is wildly speculative to try to imagine how much token making will be in the set and what kind it will be. After all copying a 4/4 is a lot more exciting than copying a 1/1. Interestingly just given the existing card pool it is legal to attack with your Geist of Saint Traft which then gets blocked by stone cold anything while your Angel gets through for four. After blocks you cast Rootborn Defenses. Now your Geist is indestructible (yay!) and you have a copy of your Angel. It may not be attacking but it also doesn't die at end of turn. Impressive.
This is going to lead to some interesting battles of wits in combat. If you Murder the Angel token in response to the Rootborn Defenses that is a massive blowout in your favor. Of course if you tried to Murder the Angel and were met with a Rootborn Defenses it is an equally big blowout the other way. It is going to be pretty important to be able to read your opponent as well as keeping a good poker face.
All we can really do is wait until we have proper context to evaluate populate but I wouldn't be so quick to label it new proliferate. There are some similarities but the game play looks so radically different that there has to be a better comparison. It almost looks like a cantrip that gives you a token instead of a card but at a discount since you have to work for it.
With Gen Con behind us we are forging ahead with Magic's 20th year. It is pretty mind-blowing to think about just how much history this game has and how far it has come in the past 20 years.
Here's to 20 more!
Patrick Chapin
"The Innovator"
Spoiler: Magic will outlive us all.